We're happy to announce the public beta release of Varnish cache monitoring for Dynatrace. Varnish Cache is an HTTP accelerator that's designed for dynamic, content-heavy web sites as well as heavily-consumed APIs. During the public beta release period, you need to manually enable Dynatrace Varnish cache monitoring before you can use it.
To enable Varnish cache monitoring
Go to Settings > Monitoring > Monitored technologies.
On the Supported technologies tab, set the Varnish cache monitoring switch to the On position.
With Varnish cache monitoring enabled, you'll see the following Varnish-specific metrics on each Varnish process overview page (see example below):
Backend metrics
Cache performance
Client metrics
Thread metrics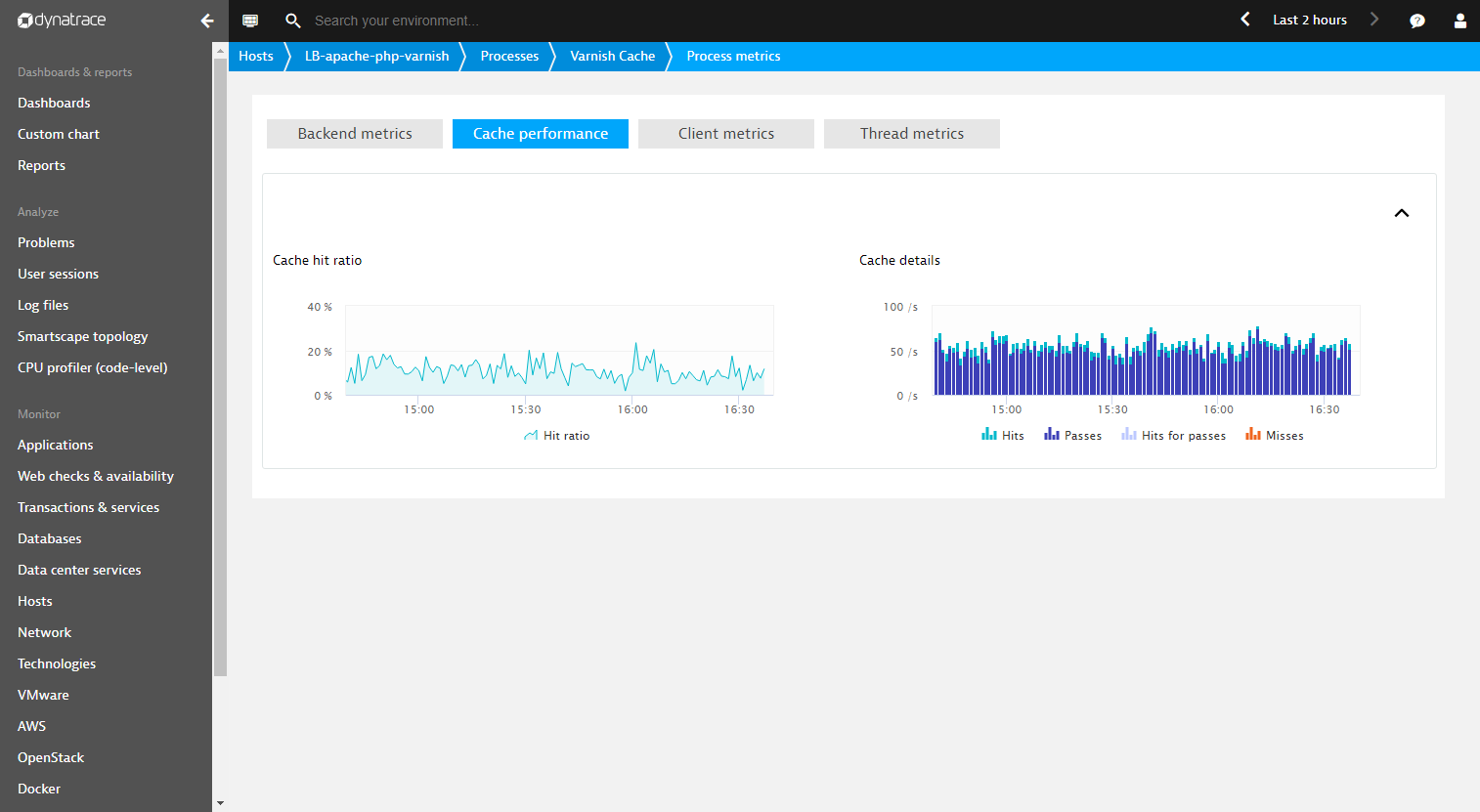 Service-level insights
You'll find the new Varnish cache monitoring metrics provided by Dynatrace to be extremely beneficial. As always, Dynatrace provides outstanding service-monitoring visibility. For example, you get service-level visibility into all requests sent to Varnish (see Service flow example below).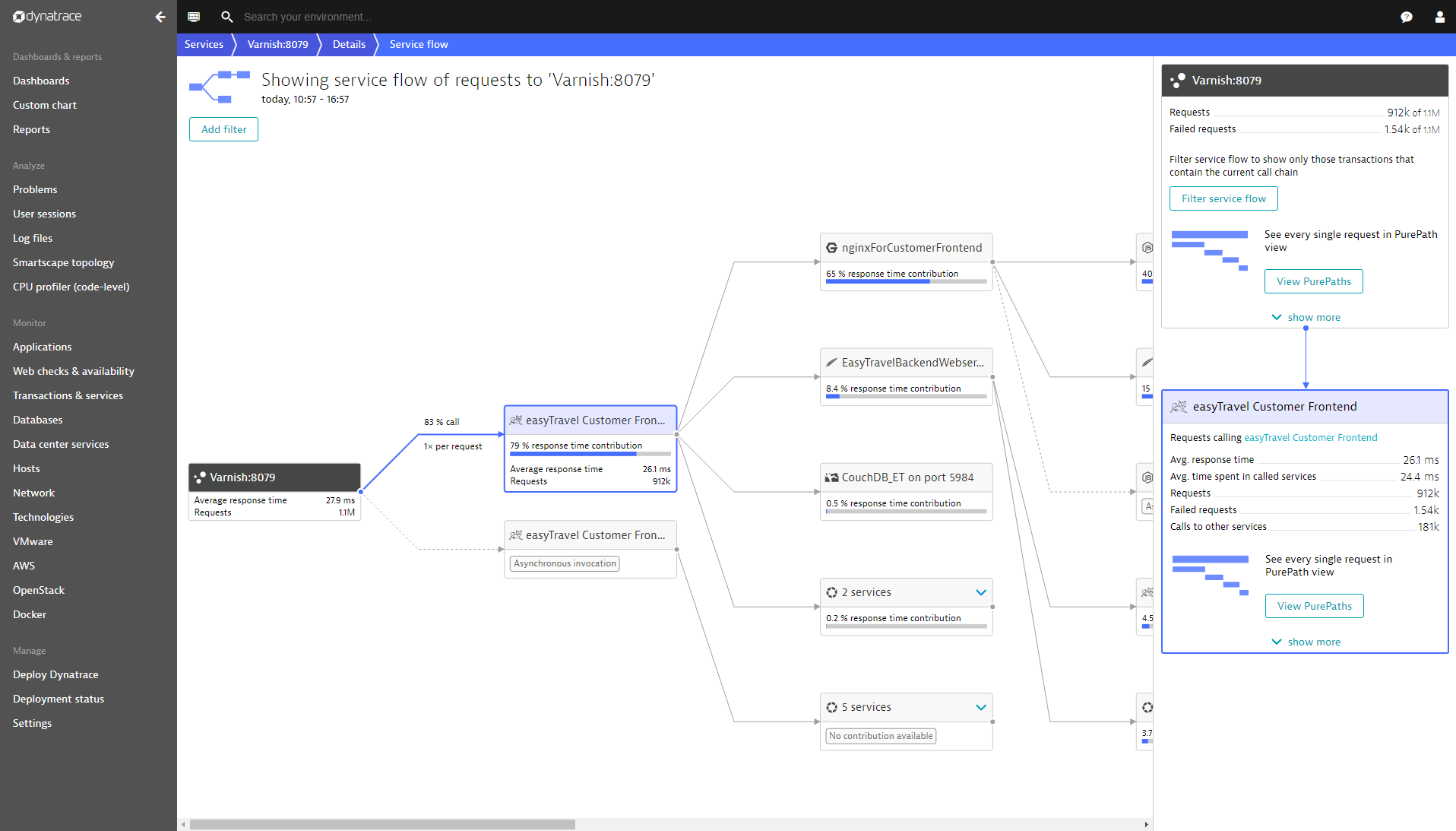 PurePath analysis
Dynatrace allows you to track each individual web request from end to end using PurePath technology. You can begin PurePath analysis of any request by clicking one of the View PurePaths buttons (see example above).
User experience monitoring
With Dynatrace Varnish cache monitoring in place, there's no longer a need to manually configure your Varnish cache to benefit from Dynatrace real user monitoring. Real user monitoring enables you to analyze the user behavior of the applications that call your Varnish cache and use those insights to optimize your application's customer experience. For full details about Dynatrace user session analysis, please see User session analysis and search enhancements.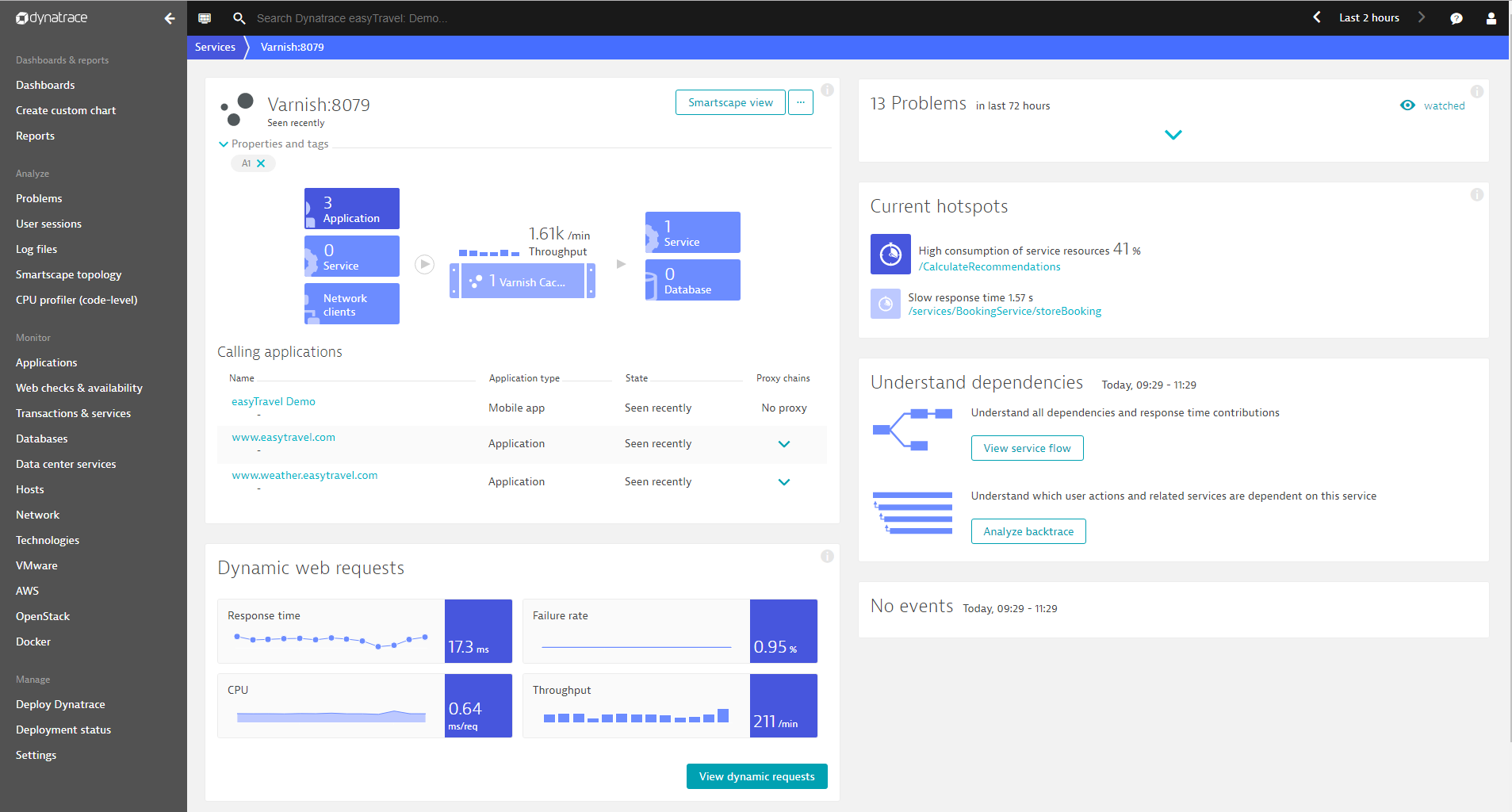 Supported Varnish versions
With the introduction of OneAgent 1.125, Dynatrace now supports the following Varnish versions: 3.0.7, 4.0.0, 4.0.1, 4.0.2, 4.0.3, 4.0.4, 4.1.0, 4.1.1, 4.1.2, 4.1.3, 4.1.4, 4.1.5, 4.1.6, and 5.0.0.
Your feedback is welcome
We'd love to hear from you. Please tell us what you think about Varnish cache monitoring at Dynatrace Answers.