Scaling DevOps to deliver better software faster
AI-based 'quality gates' for your cloud-native continuous delivery pipeline
Competitively driven DevOps embraces cloud
More and more businesses are moving to Cloud technologies to take advantage of automation, scalability, speed, and faster delivery of reliable apps.
This exponentially increases the speed, risk and complexity of successful app delivery. Traditional application monitoring tools are not equipped to bridge both enterprise DevOps and Cloud native DevOps.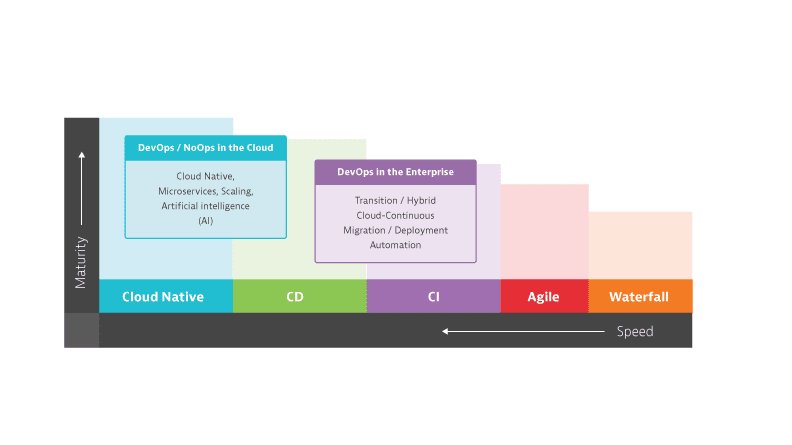 DevOps in the Cloud
Dynatrace provides the industry's only Artificial intelligence (AI)-powered application monitoring that transcends the challenge that human beings struggle with to manage these complex, hyper-dynamic, web-scale applications.
Dynatrace for DevOps empowers organizations to redefine monitoring as Cloud native enterprises mature from CI to CD to DevOps to NoOps.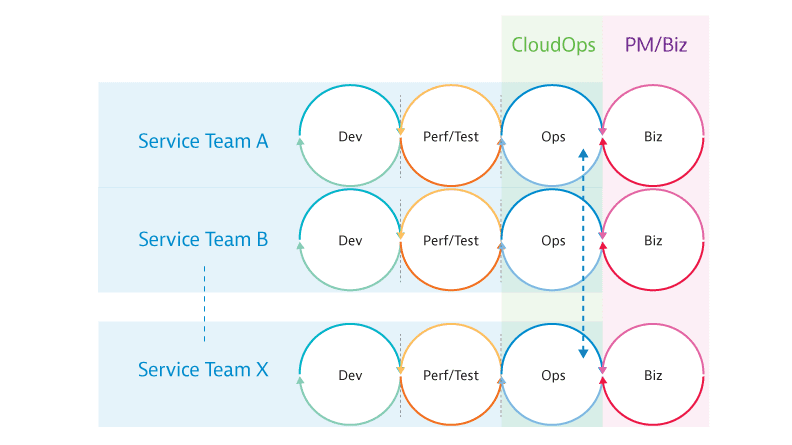 Value of DevOps in the Cloud
AI enabled monitoring helps dev, test, operation and business teams light up cloud-based applications from the core — and automate not just how the apps are monitored — but how intelligence from these apps can be used to produce high value performance and customer data.
Service Teams
Shift-Left Quality! Shift-Right Metrics!
Scale from 1 DevOps team to many
Automated Architecture validation across Cloud Native and Enterprise Stack
Continuous Performance Validation
AI supported fact-based actions for monitoring as pipeline feature, optimal operational feedback
Cloud Ops Teams
Unified full Cloud native and Enterprise stack monitoring and support
Monitoring as a Platform Service to Development and Business
AI driven assistance for operations decisions
AI supported fact-based actions for best feedback next dev cycle, resource requirements
Business Teams
User behavior driven decisions
Continuous innovation and experimentation
AI-driven assistance for business decisions
AI-supported fact-based actions for user behavior, cost of features, decisions for best A/B testing
Using Dynatrace, you are backed by an AI-powered monitoring strategy that manages this complexity and makes apps and infrastructure stable, scalable, and fast.
Ops receives the right intelligence to avoid outages and performance degradations
Dev speeds up new capabilities to market with confidence through faster feedback on quality, performance and scalability of code changes pushed out
Business owners gain real time insights into user experience to make better competitive decisions.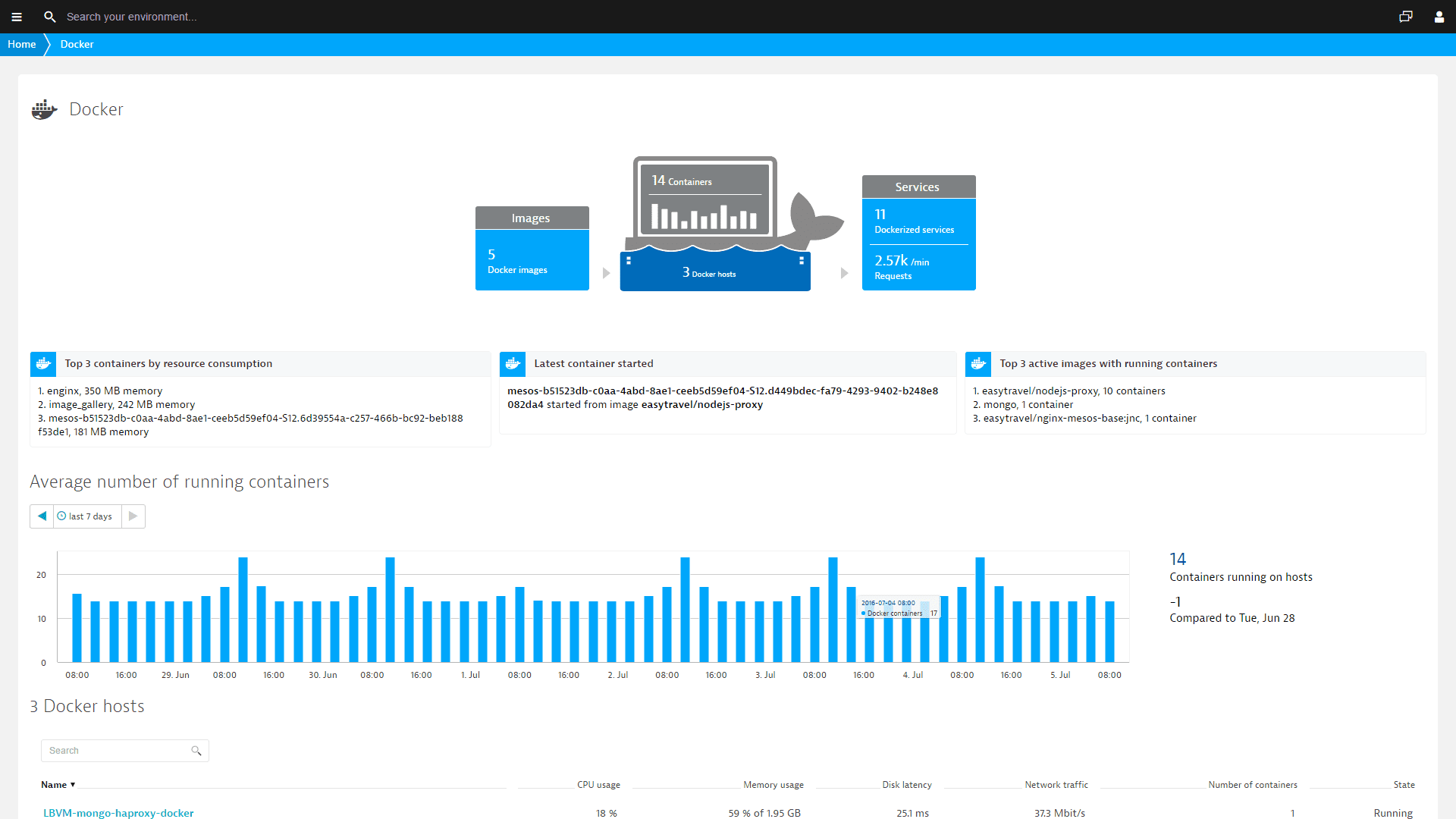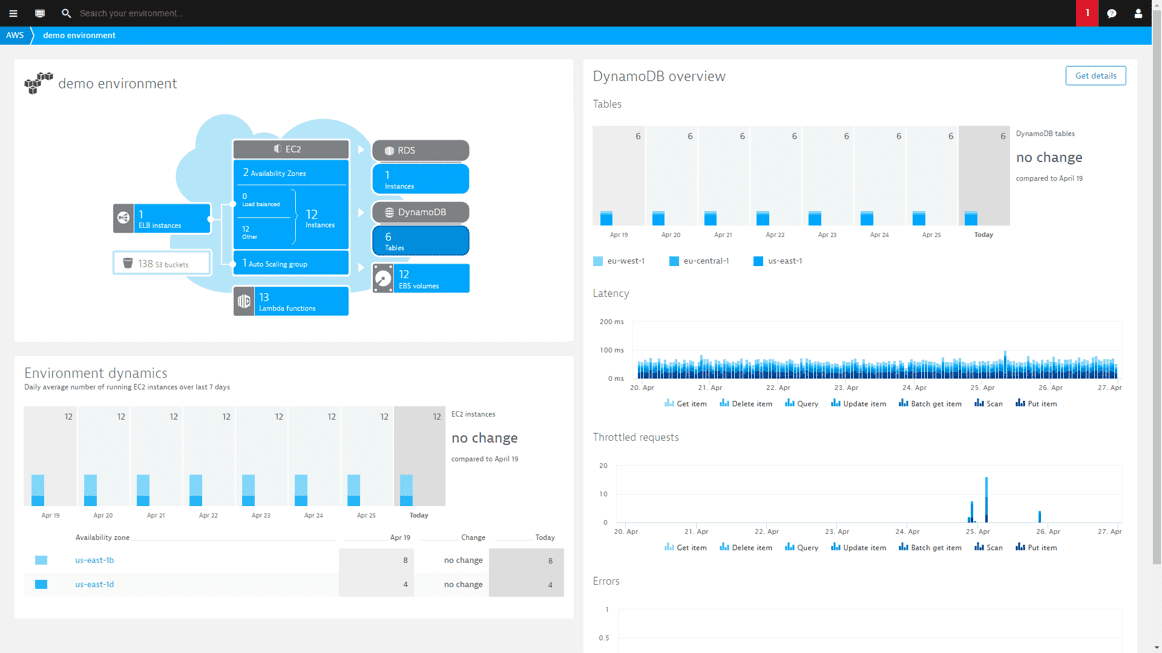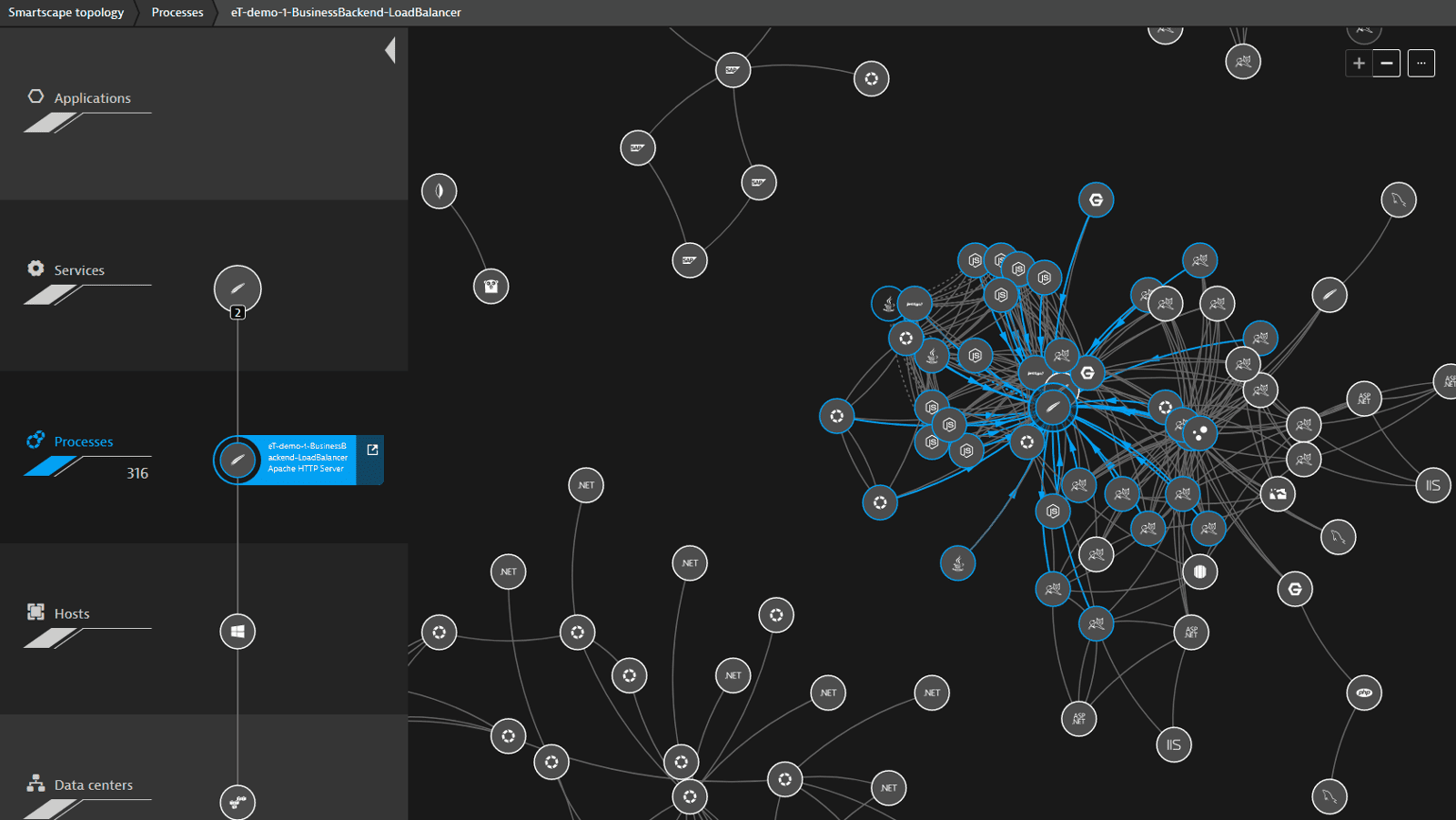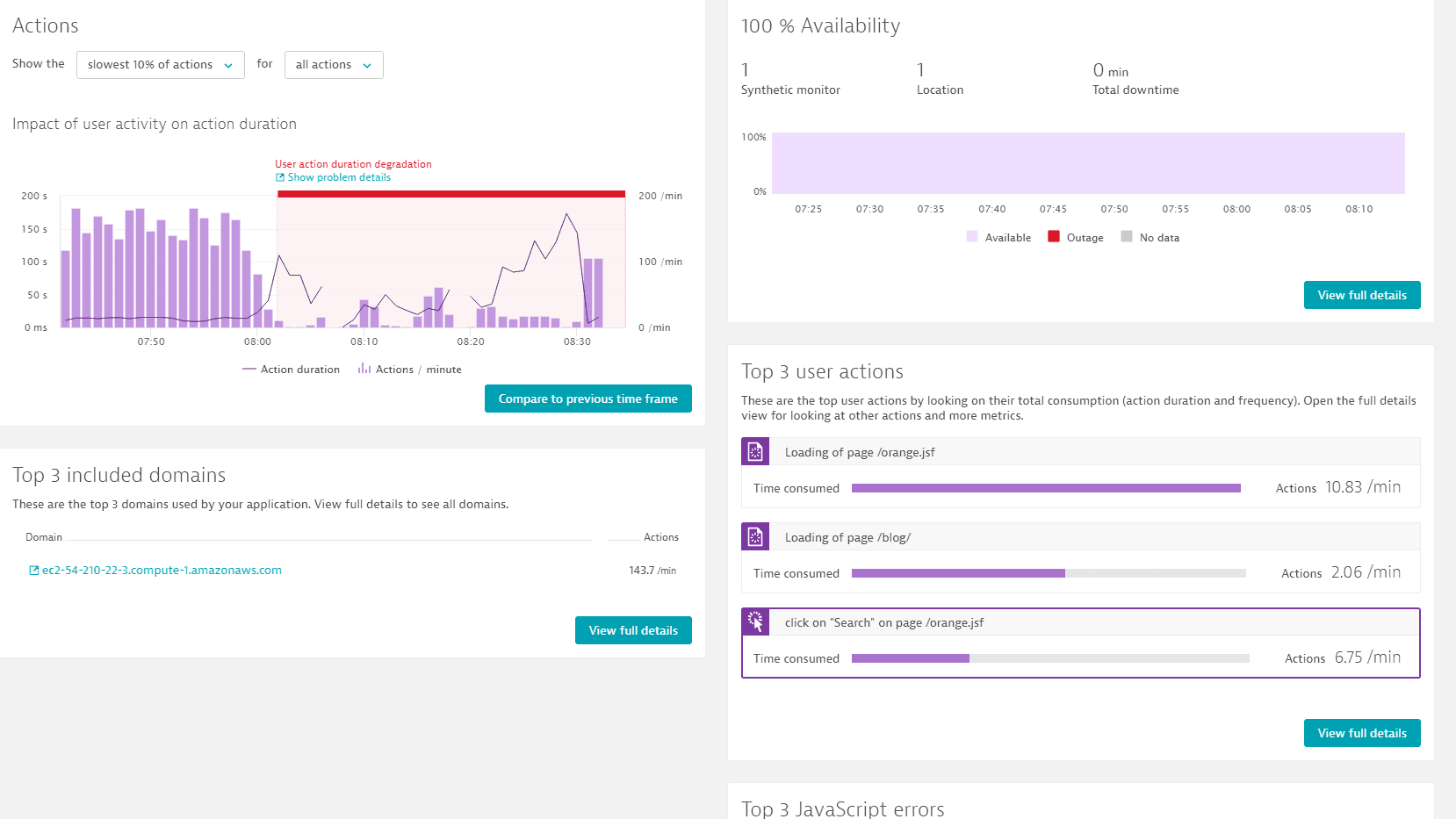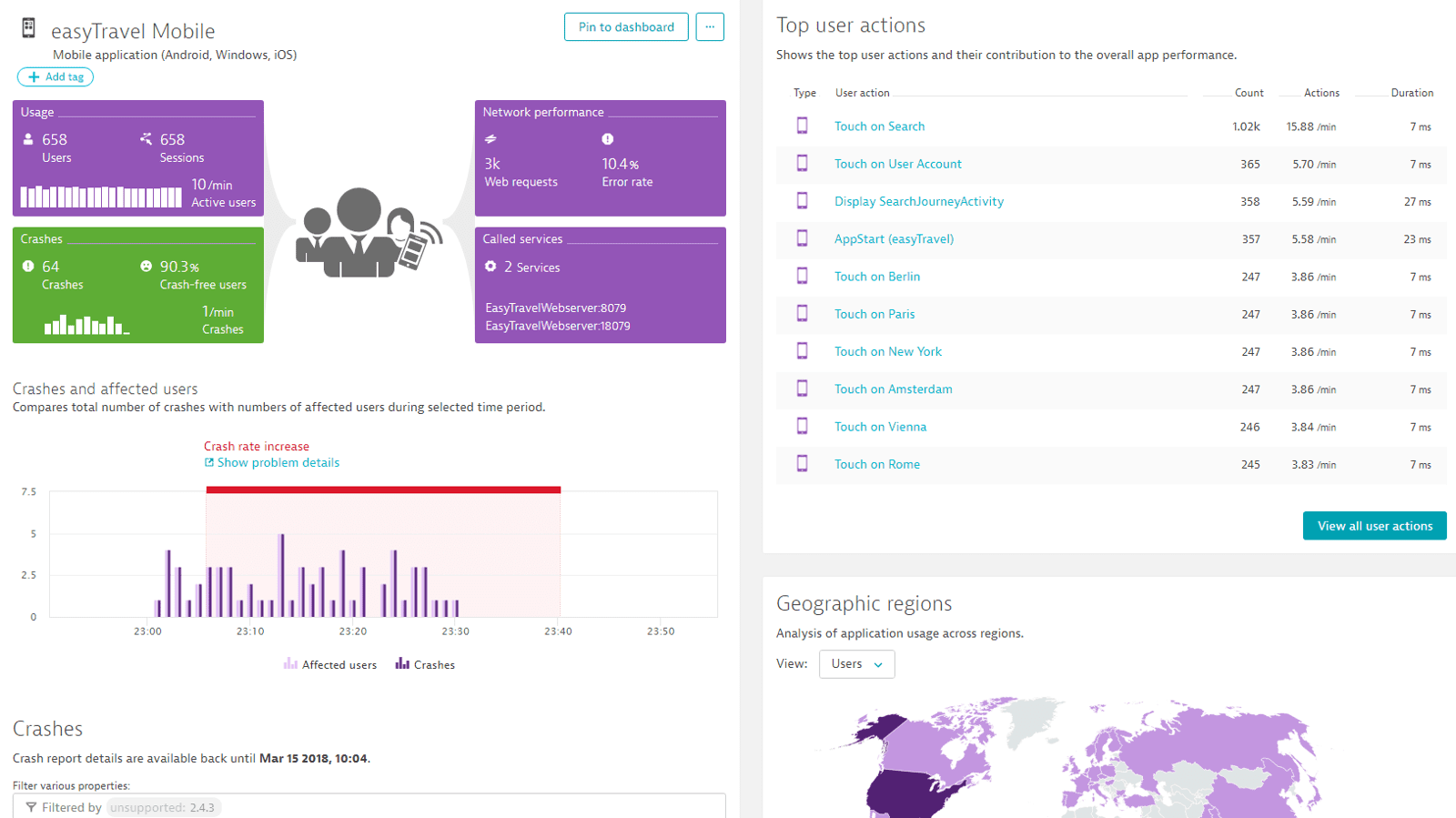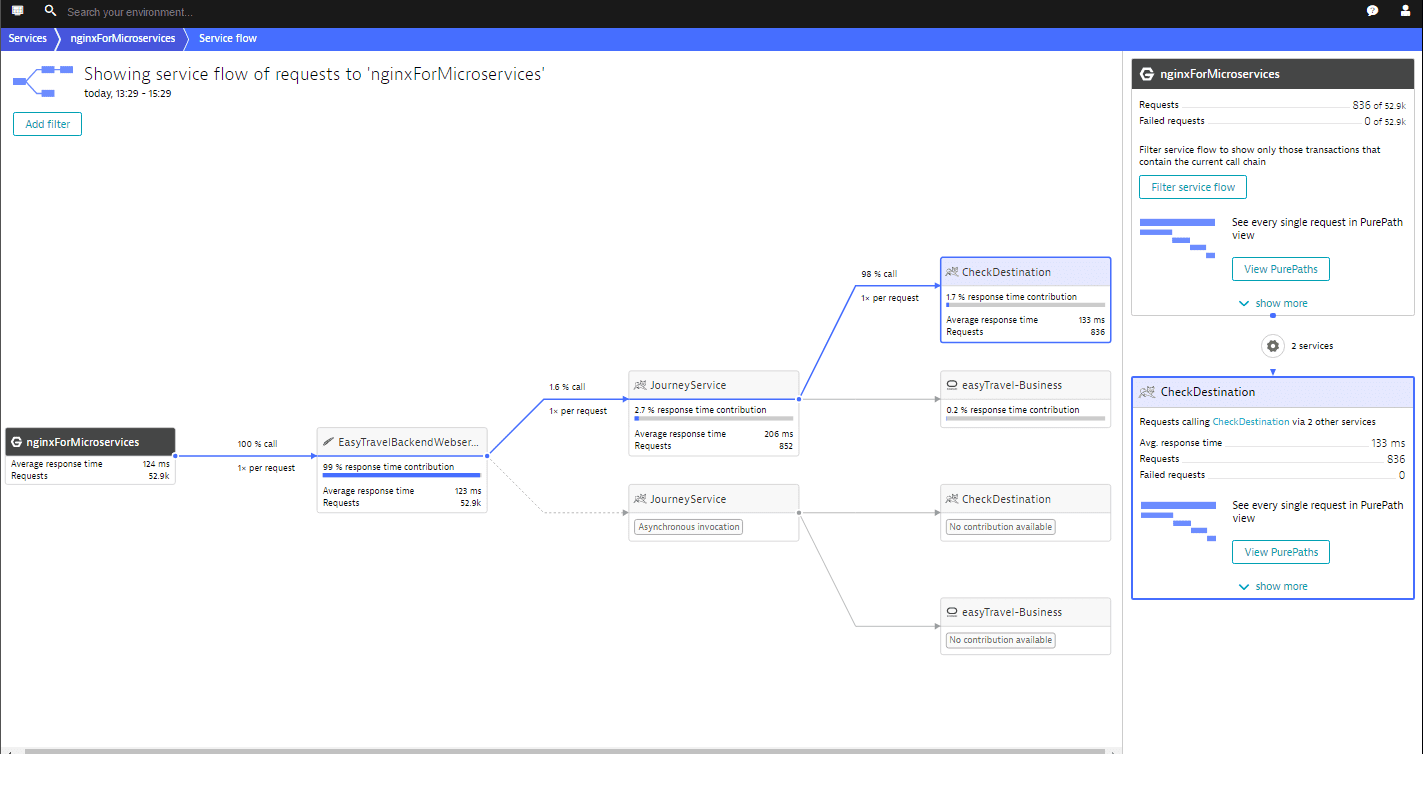 Dynatrace on Dynatrace
Dynatrace as a company, a technology leader and software organization, made a major transformation from a Waterfall/Agile model towards a DevOps continuous deployment — actually a NoOps model - that greatly helped us to innovate much faster.
— Bernd Greifender, CTO, Dynatrace
Learn more as Bernd Greifender, CTO, Dynatrace and team discuss Dynatrace's internal transformation "From 0 to DevOps in 80 Days"
Get Started Now — Dynatrace 15 Day Free Trial
Join the journey: Practical tips for scaling DevOps
Explore! Jump in and join your fellow colleagues in gaining practical tips that all IT groups, from Dev to Ops to Biz, can use to get started quickly. With experience working with hundreds of DevOps deployments, these webinars, blogs, tech notes and podcasts will provide insights it would take your team months or years to learn firsthand.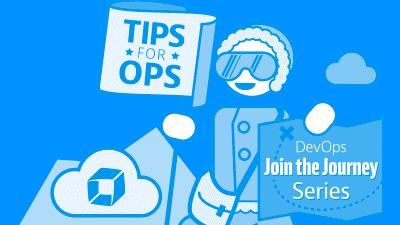 DevOps in the Enterprise
Dynatrace empowers organizations to easily execute maturity adoption from CI, to CD and to Enterprise Cloud native.
Master the velocity and complexity of operations as part of the integrated application delivery
Shift-Left and find issues early so only "good builds" reach production
Shift-Right into business teams: get developers engaged with production data for fast improvements
Create a source of "business truth" for true DevOps collaboration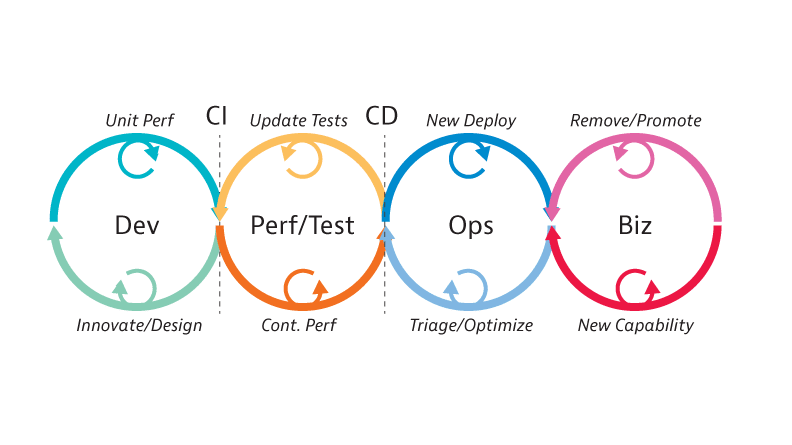 Value of DevOps in the Enterprise
Dynatrace monitoring redefined – the value of continuous performance quality gates in your delivery pipeline benefits every stakeholder in the application pipeline.
Dev Teams
Shift-left quality: Automate performance and architecture regression detection
Shift-right metrics: Define production feedback loops
Integrated into your idea and build server
Commit better quality code into your pipeline
Perf/Test Teams
Shift-Left performance: Continuous performance validation
Update load test scenarios from production load feedback
Integrated into your automated testing tools and build server
Promote better scaling code into production
Ops Teams
More successful deployments/ensure deployment success: React faster on bad deployments
Provide monitoring as service to development and business
Monitoring for multi-platform/technology: Enterprise stack, cloud native, virtualization, containers, end users
Better deployments through understanding dependencies between services
Business Teams
More successful product and feature releases
Innovate based on real user feedback
Optimize costs per feature
Continuous experimentation through modern deployment strategies such as feature flags, blue/green deployments
Accelerate your time to market with Dynatrace metrics-driven DevOps that is easy to integrate into existing dev processes
Fact-based feedback loops track all key technical metrics from dev through CI and into prod
Remove bad code in delivery pipeline and deploy quality with confidence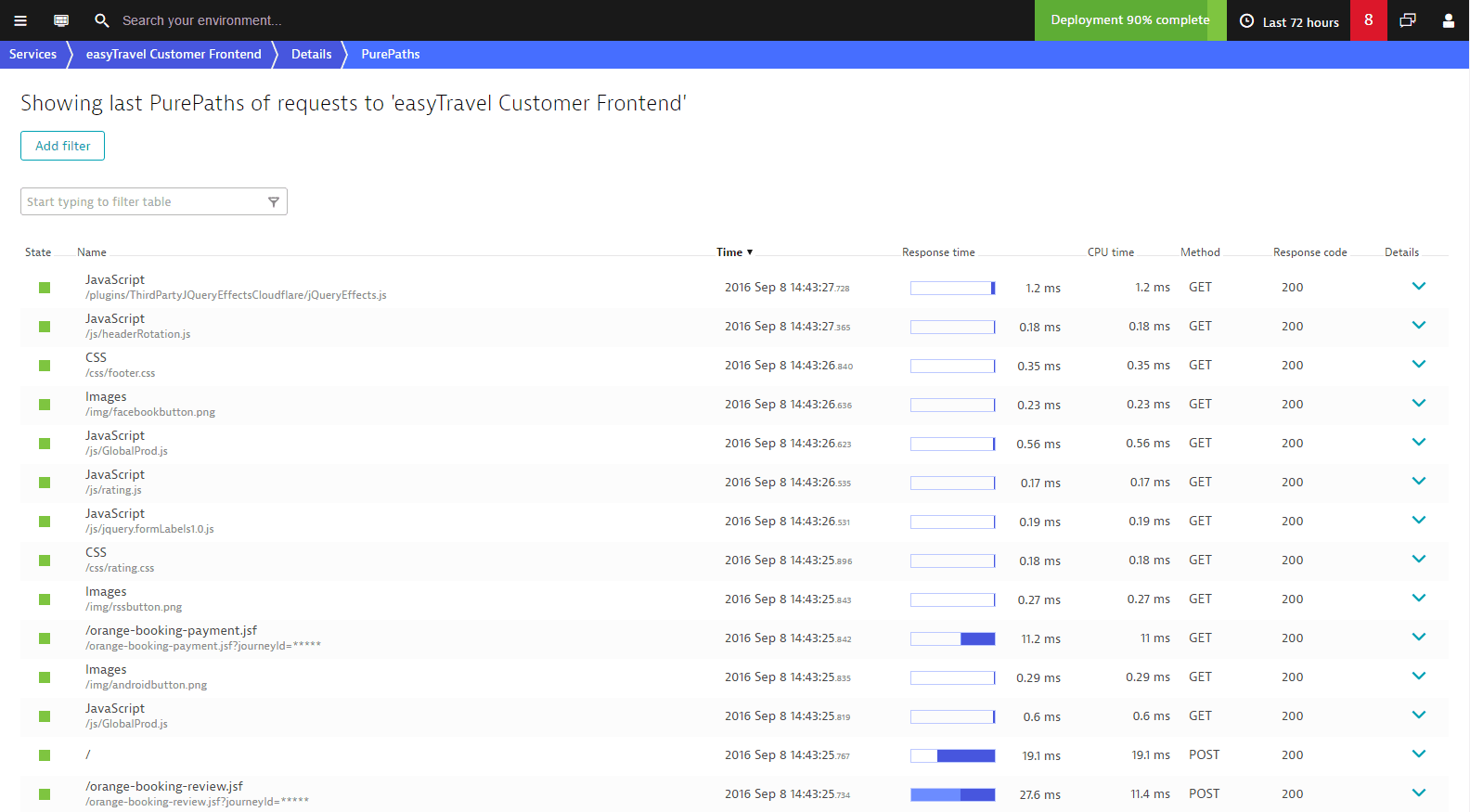 Improve the quality of your development process with immediate feedback on key metrics at each step of the CD pipeline for higher quality and shorter cycles
Optimize hotspots to reduce operational costs
Stop bad builds earlier in your delivery pipeline
Analyze scalability problems with load tests and reduce test cycles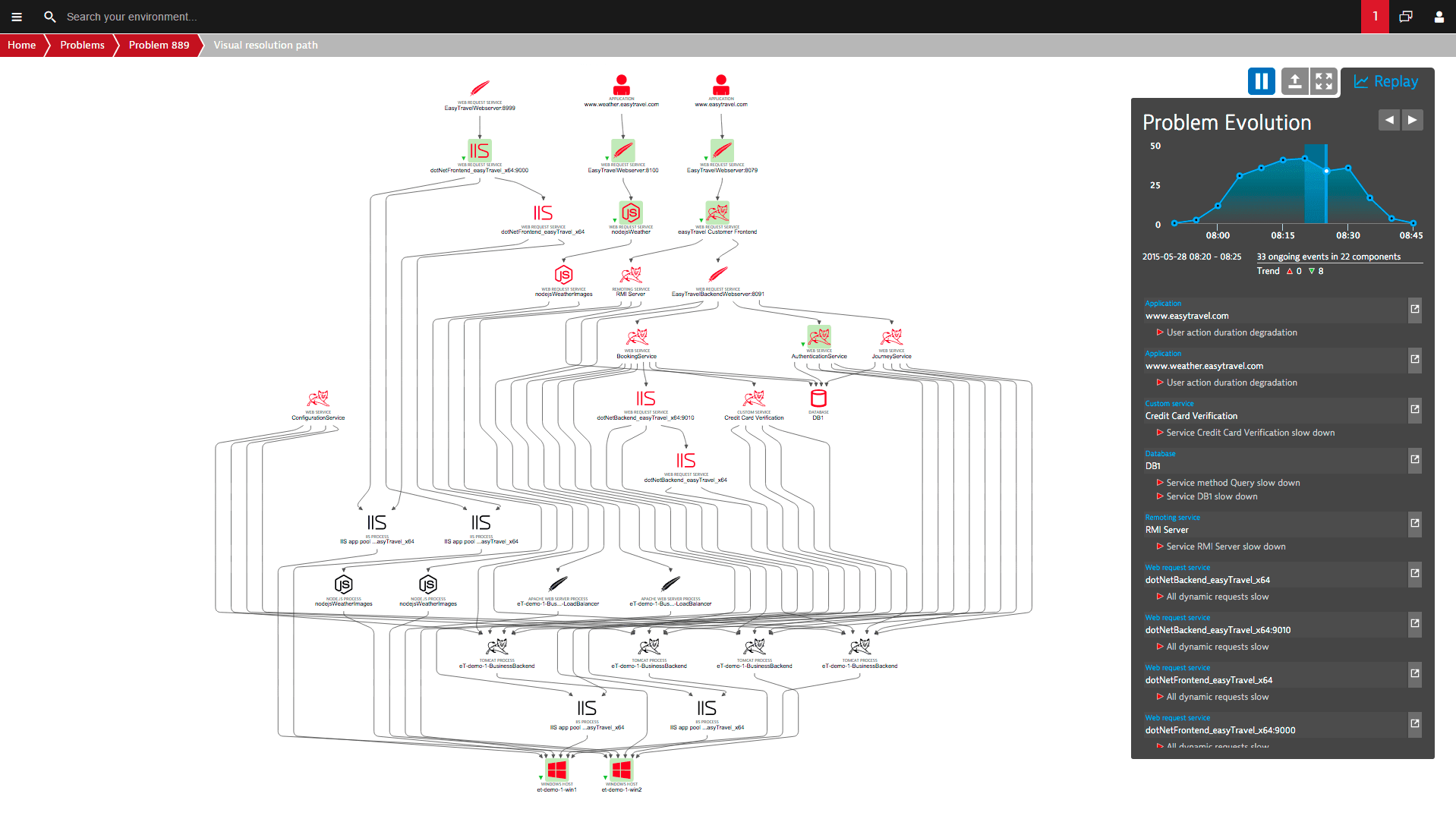 Promote DevOps culture 'speak the same language' throughout the delivery pipeline, everyone sees quality feedback on their dashboard
Automatic problem detection and artificial intelligence - everyone can be a performance expert
Analyze end user behavior per application and feature
Enable developers, DevOps, architects, and business owners to define custom metrics with a single click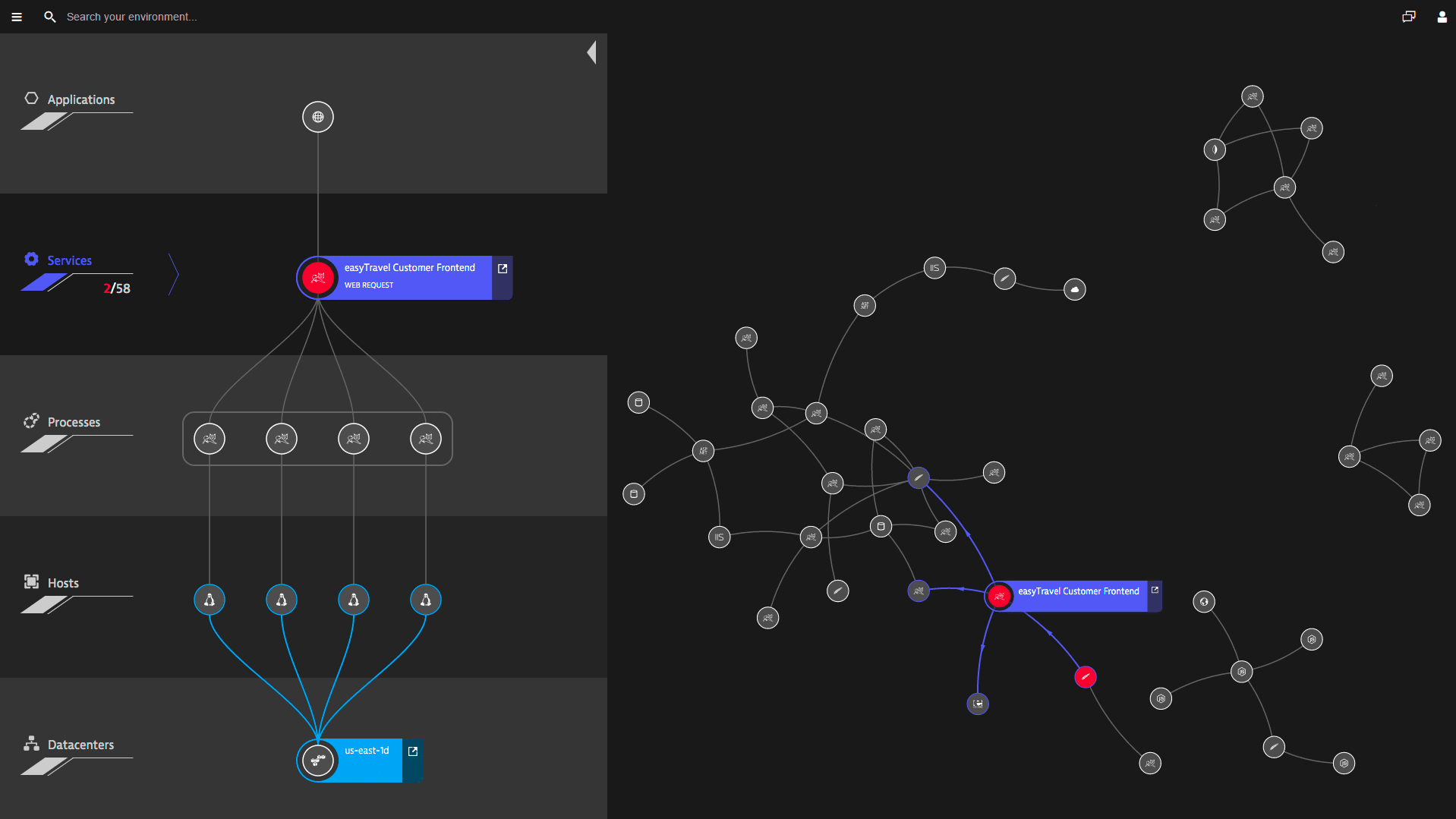 Verizon on Dynatrace
"For us [at Verizon], monitoring has meant more than just traditional user monitoring — not just looking at systems health or maybe creating a dashboard. Monitoring has become critical to the way we do business, ensuring that everything is running smoothly and proactively, improving performance before a problem occurs."
— Nita Awatramani, Associate Director, Verizon Enterprise Solutions
Learn more as Nita Awatramani, Associate Director at Verizon Enterprise solutions discusses "Digital Transformation through Agile and DevOps"
Dynatrace embraces the full DevOps tool chain
Apache Ant

Eclipse

Git

GitHub

Gradle

IntelliJ

JUnit

Maven

MS Build

Nant

NUnit

Subversion

TeamCity

Visual Studio
. . . to see the complete end-to-end DevOps tool chain click here
Trusted solutions for DevOps acceleration by thousands of global organizations
Curious to see what Dynatrace can do for you? Learn more from our customers:
Get Started Now — Dynatrace 15 Day Free Trial