In this topic, you can learn about early access and beta programs and how you can participate in them.
Early access programs
Dynatrace Early Access Programs (EAPs) provide you with access to new features so that we can hear your feedback and ultimately deliver features that exactly meet your needs.
Disclaimer
While planned, there is no guarantee that an EAP feature will ever reach GA status.
EAP features aren't meant to be used in production environments.
EAPs aren't covered by our Support team, but rather by product management. SLAs don't apply.
Qualifying customers are selected based on technical criteria. Final decisions are made by product management and there is no guarantee of participation.
While participating in an early access program, you agree to stay in touch and provide feedback.
EAPs are available to both SaaS and Managed customers.
The following EAPs are currently open for participation.
The following EAPs have been completed.
Beta features
New features are introduced in a beta phase on an opt-in basis. Beta features aren't feature complete, but they are publicly available, fully supported, production-ready, and available as a user opt-in.
The following beta features are currently available:
OneAgent beta features
A OneAgent beta feature can be enabled either for the entire environment or within a few process groups for testing purposes. Each feature specifies a minimum OneAgent version. A beta feature can only be activated for OneAgents that satisfy the minimum version requirement. Some beta features also require a process restart before becoming operational.
Enable/disable beta features
Go to Settings > Server-side services > Deep monitoring.
Expand OneAgent beta features.
To enable or disable a feature, use the corresponding switch.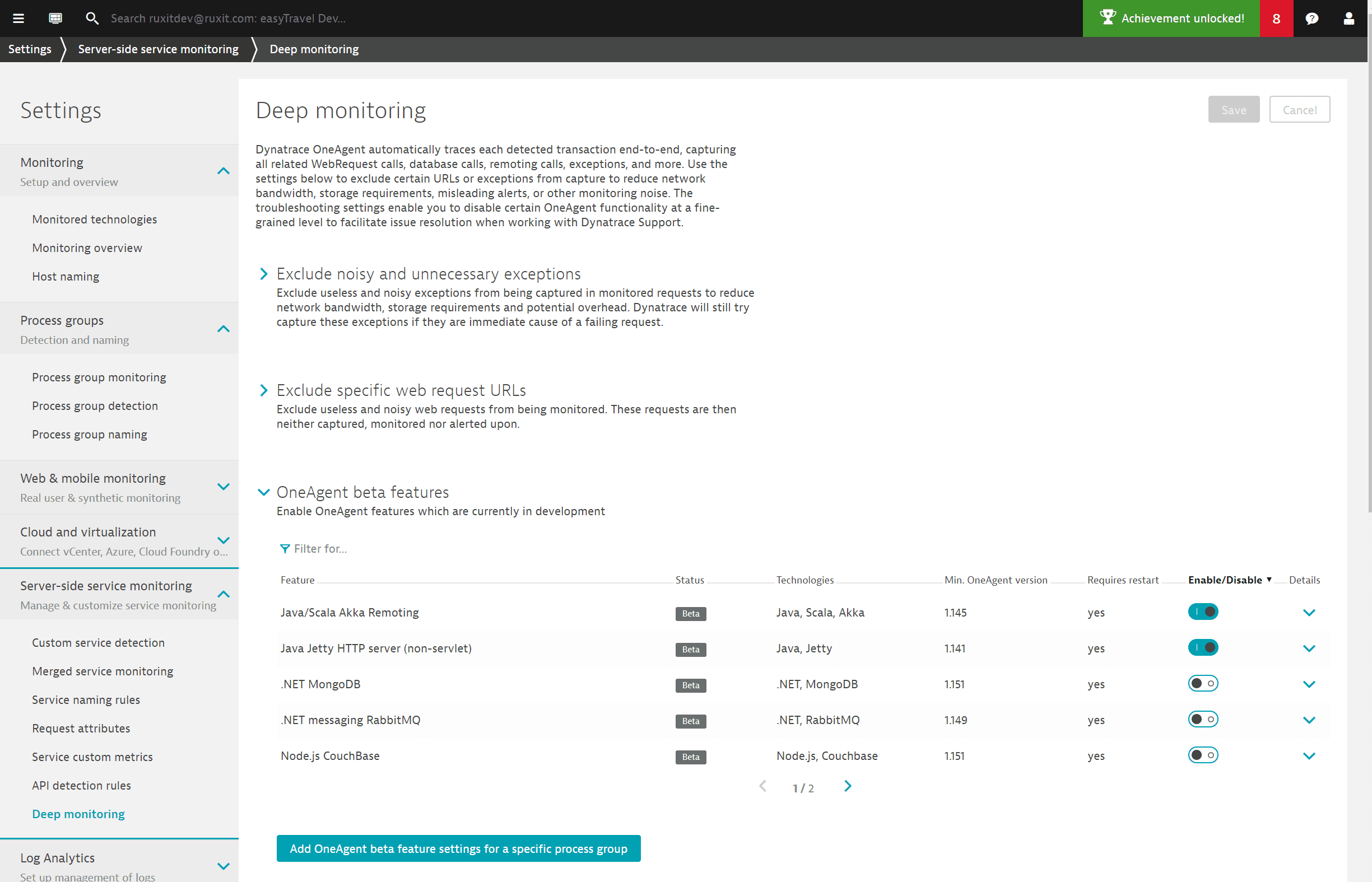 To make a feature available for testing within select process groups, click Add OneAgent beta feature settings for a specific process group.
The following OneAgent beta features are currently available: