Distributed tracing by PurePath® technology
A core feature of Dynatrace, PurePath® distributed traces combine distributed tracing with code-level visibility, topology information, and metadata to provide the highest level of data granularity and fidelity.
OneAgent automatically captures distributed traces across the entire transaction, spanning multiple devices, operating systems, page actions, and code methods. The rich and contextualized information provided by PurePath® technology fuels unique features like:
On top of that, the collected data enables you to explore various aspects of your systems by slicing and dicing in a multidimensional analysis view.
PurePath traces are a vital ingredient to automatic baselining by Dynatrace® Davis with a unique root cause analysis that provides you with actionable insights.
Through PurePath technology, Dynatrace enables you to efficiently find the proverbial needle in the haystack and focus on those few requests (out of tens of thousands) that you're interested in. You can view requests from multiple vantage points—from the perspective of the services you're responsible for or from the point of view of where a request originates in your system.
Dynatrace also supports OpenTelemetry tracing side-by-side with PurePath, to allow both technologies to complement each other. This enables you to enhance your observability coverage, using the best of both.
Distributed tracing with Dynatrace
Dynatrace has been pioneering distributed tracing since 2006 with the patented PurePath® technology. PurePath® technology combines distributed tracing information with additional insights like user experience information, logs, metrics, topology information, metadata, and even code-level profiling information to provide the highest level of data fidelity and granularity. In its latest increment, PurePath® technology was opened to integrate OpenTelemetry tracing signals to traces that are fully automatically captured via OneAgent.
How does PurePath® technology work?
Each activity—called a segment or span—triggered by a request is recorded as it moves both through and across services. The information that is collected includes a name, start and end timestamps, and other attributes. When an activity—a parent span—is completed, the next activity passes to its child span. The distributed trace places these spans in their correct order.
Applications need to be instrumented to produce trace data and propagate a unique identifier for a specific request. This can be done automatically without the need for any code changes (for example, via the OneAgent or existing OpenTelemetry instrumentation libraries) or manually (for example, via OpenTelemetry) by using an instrumentation SDK.
Each trace contains semantically different elements that comprise a single trace and makes it possible to interpret and understand the collected data.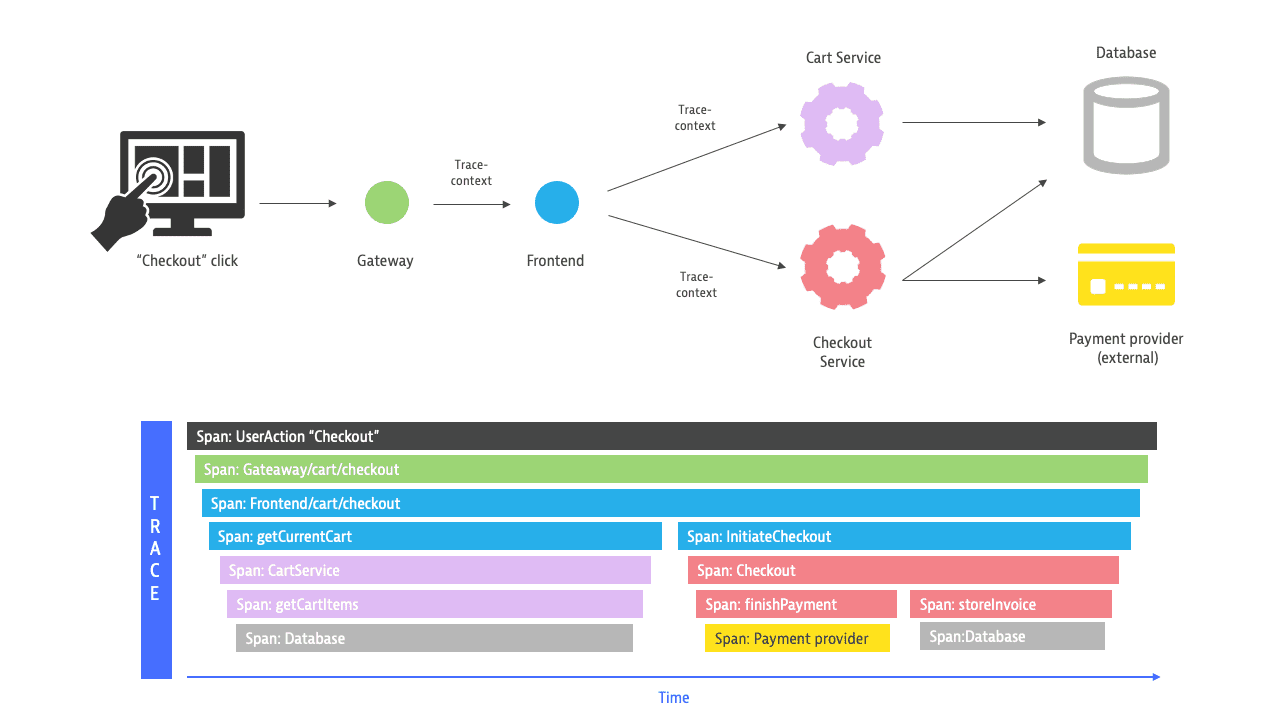 Frequently asked questions