Where can I monitor my services?
When you see your home dashboard for the first time, you see load for the 3 Most Loaded Services in your environment. If any database services have been detected, you see summary information for those, too.
Default service information on home dashboard
The home dashboard is a great place to begin analyzing the performance of your application's server-side services. The Services tile provides an overview of all services monitored by Dynatrace, including the number of services experiencing performance degradation. This tile also provides an overview of current load (monitored requests, calls to the Internet, and calls to unmonitored hosts).
Click the Services tile to view the monitored services running in your environment. You can access performance details for each service and see how each service functions in your environment. You can, for example, see which other services each service calls, the hosts and platforms where each service runs, and which other services call a given service.
Dynatrace includes a separate tile that shows the health status of your database services. You can use it as a shortcut to the All monitored databases page, where you can view all the database services running in your environment.
Extended service information on home dashboard
You can add additional tiles to extend and focus monitoring granularity for the services and databases in your application environment. For example, the 3 Most loaded services tile gives you a quick overview of the most active services.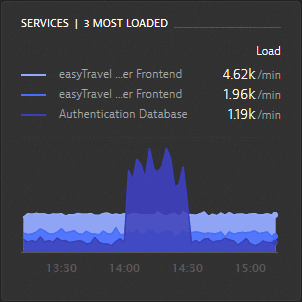 From any Service overview page, you can click the Browse button (...) and then Pin to dashboard to have detailed statistics for a single service displayed on the home dashboard.
Our tile repository contains tiles dedicated to database services as well. If you want to inspect details for one of your databases, just add a dedicated Database tile to your home dashboard. Single-database tiles work similarly to single-service tiles. The difference is that they show commits and statements, which are more meaningful in conveying database usage.