Subscribe to dashboard reports
Users with access to a dashboard can subscribe to either a weekly or a monthly email report that's specific to that dashboard. Once subscribed, users receive emailed reports based on the subscribed schedule:
Weekly subscribers receive the report every Monday at midnight.
Monthly subscribers receive the report on the first Monday of the month at midnight.
Each dashboard report email contains a public link with the respective timeframe. Reports can be viewed without entering Dynatrace credentials. With this approach, report emails can be forwarded to external recipients who don't have access to Dynatrace.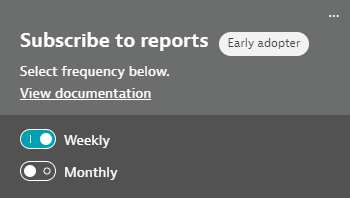 Enabling reports
Dashboard reports are disabled by default. They can be enabled individually for each dashboard to allow users with access to a dashboard to subscribe.
Dashboard report settings can also be configured in the Settings tab when editing any dashboard.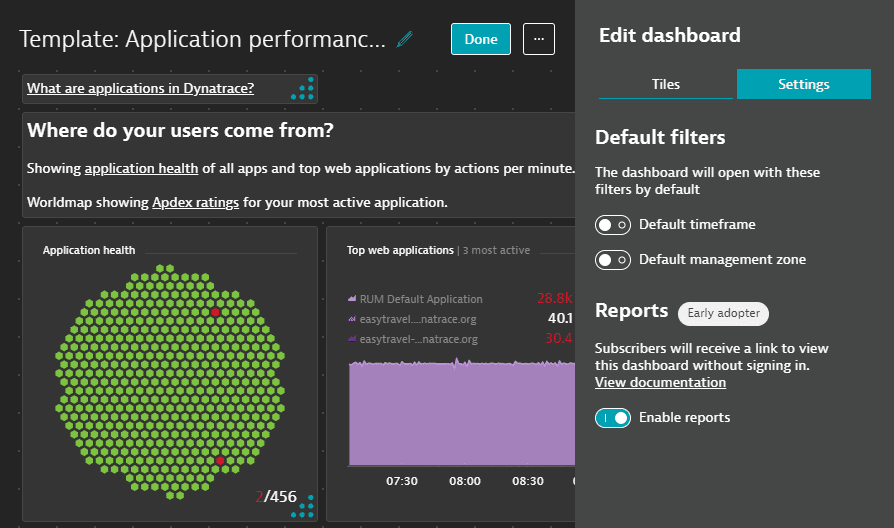 Unsubscribing from dashboard reports
Unsubscribing from a dashboard report is as simple as disabling the Enable reports toggle on that dashboard's Edit dashboard dialog box. Additionally, every email report contains an unsubscribe link. Select this link to remove the recipient's email address from the list of subscribers to that dashboard report.
Subscribing external users
Subscribing to dashboard reports using the user interface adds the active user's email address to the list of report recipients.
In some scenarios it's desirable to add a subscription for someone else who might not even have access to Dynatrace. With Reports API you can specify any valid email address regardless of the existence of a user profile for that address.