Configure and use a pie visualization in Dynatrace
Displays the selected metrics as a pie/doughnut chart.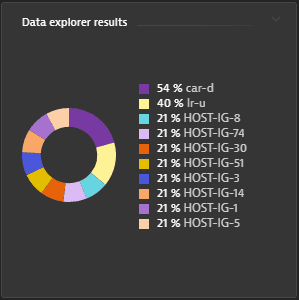 Select a different metric
By default, this visualization shows the first metric of a multi-metric query.
To select a different metric from a multi-metric query, select the letter next to the metric you want to visualize. In this example, you would change the selection from A (CPU usage %) to B (Memory used %).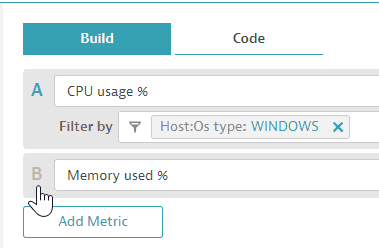 Visual settings
Visualization
You must select Pie to display this type of visualization.
Show legend
Whether to display a legend under the visualization.
Note that the legend is active: you can select a legend entry to toggle display of the corresponding entry on or off.
Fold transformation
The fold transformation combines a data points list (a timeseries: a collection of data points over the time period) into a single data point.
The default fold transformation is Auto, which automatically selects the most appropriate time aggregation based on the metric.
You can manually override Auto with any of the following: Last value, Average, Count, Maximum, Minimum, Sum, Median, Value, Percentile 10th, Percentile 75th, Percentile 90th.
If you need to see the last reported value for a metric (rather than an aggregation), select Last value.
Per-metric visual settings
The Visual settings section also displays visualization options per metric selected for the query.
Rename a metric
You can change the name of a metric as it is displayed on the chart and in the chart legend. The query definition retains the metric's original name.
In the Visual settings section, select for the metric you want to rename.
Edit the name, and then select the checkmark to save the new name.
Change color palette
To change the color palette for a metric, in the Visual settings section, select a new palette from the list.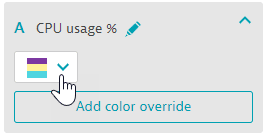 Format
Use the Format setting to configure the number of decimal places displayed for the selected metric.
None = No formatting
Auto = Dynatrace selects an appropriate format
Other selections specify the number of decimal places to display: 0, 0.0, 0.00, 0.000
For example, where None would display 5.062357754177517 %, Auto would display 5.06 %.
Add color override
To force a different color (override the color palette) for a specific series such as a selected host
In the Visual settings section, select Add color override
Select the series from the list
Select the override color for that series