Use Dynatrace dashboards and reports for quick, focused access to the data you need to monitor your environments.
Dashboards
Each dashboard consists of tiles and charts that can be selected, configured, and positioned to best meet your needs. Dynatrace provides many preconfigured tiles in addition to a number of configurable tiles that you can customize to visualize the metrics that are most relevant to the people using the dashboard. Select any dashboard tile that reports on monitored entities in your environment (hosts, processes, or services) to view the list of monitored entities.
Example dashboard
This simple example has four standard tiles.
Everything's looking good: all green, no red, no problems.
If you did have problems, you would see an indicator to warn you, and you could, for example, drill down from a problematic (red) host to investigate.
For more elaborate examples, go to Dashboards in the Dynatrace menu, filter the table by Owner: Dynatrace, and open some of our out-of-the-box preset dashboards.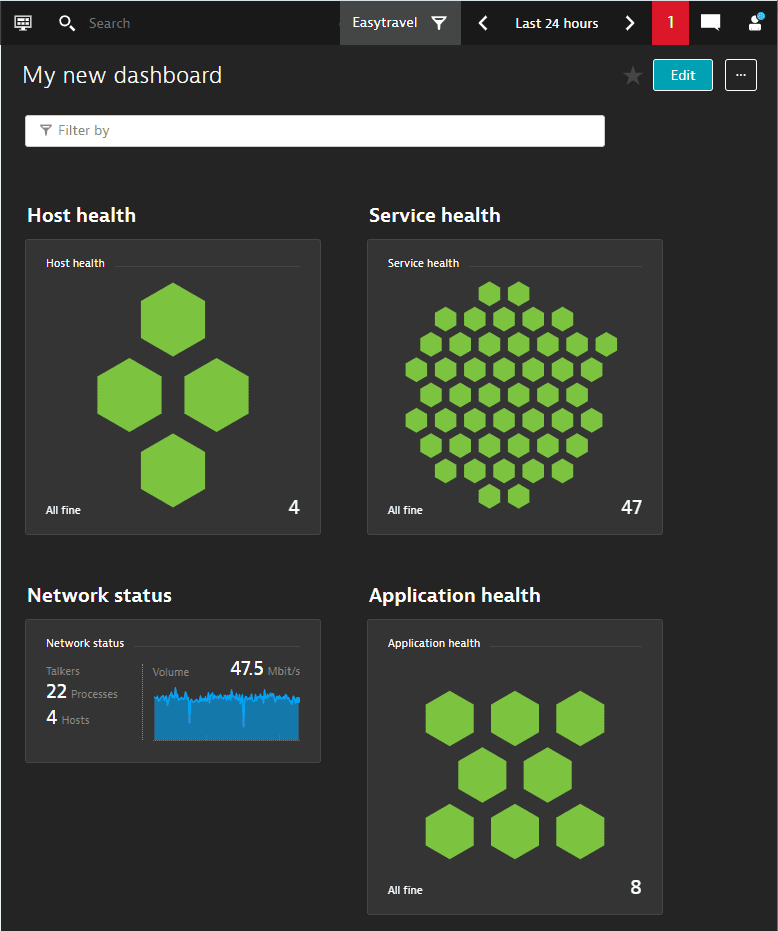 You can make different dashboards for specific people, roles, and teams, so everyone can focus on what's important to them.
Dashboard tile refresh rates
Every dashboard tile is refreshed automatically to update visualized data. Depending on the content shown in a tile and especially the applied timeframe, the refresh interval can vary.
| Dashboard timeframe | Refresh interval |
| --- | --- |
| Last 2 hours and less | 1 minute |
| Last 2 hours to last 6 hours | 5 minutes |
| Last 6 hours to last 24 hours | 15 minutes |
| Last 24 hours to last 72 hours | 30 minutes |
| Last 72 hours and more | 1 hour |
Dashboards
Dashboards consist of tiles and charts, which can have their own settings for timeframe, management zone, and sharing.
Charts and tiles
Tiles are the components of dashboards. To edit the tiles on a dashboard, you need to edit a dashboard and then do any of the procedures below.
Dashboards API
You can manage dashboards through the Dashboards API:
Reports