Dynatrace menu
New Dynatrace menu
Starting with Dynatrace version 1.221, the Dynatrace menu has a totally new design.
Dynatrace capabilities are organized into groups tailored to broad use cases
The menu filter lets you display only the entries that match what you're looking for
The Favorites section lets you build a list of your personal favorites, so they're always right at your fingertips
Filter the menu
Use the filter box above the menu to find and select Dynatrace pages.
Old menu entries
The new menu is aware of the old menu entries. If you filter the menu for an old entry, the menu will suggest the closest new matches.
For example, if you filter for old menu entry Applications, the menu will suggest the following closest matches pointing to the Applications overview page, but pre-filtered to the application type context.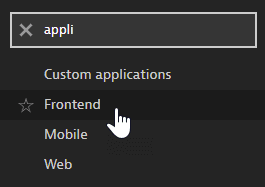 Save your favorites
Expand and collapse menu sections
Hide or show the menu
User menu
Select the user button in the upper-right corner of the web UI to open the user menu.
The contents of your user menu depend on whether you have deployed Dynatrace SaaS or Dynatrace Managed, and on your configuration and permissions.
Go to the user menu for your own account information, to sign out, to switch between environments, and to get the latest Dynatrace news.
If you have administration rights, select Account settings on the user menu to manage user, group, and account settings.