GDPR compliance for Managed clusters
To enable our customers to run their Dynatrace Managed clusters in GDPR-compliant fashion, we've added a toggle for disabling backup of Real User Monitoring data that contains private data, as shown below.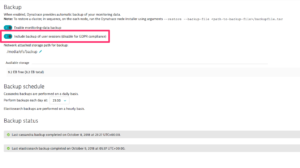 The original backup may contain user-identifiable data and must therefore not be retained for more than 30 days. To turn off backup of RUM data, go to Settings > Backup and disable the toggle Include backup of user sessions (disable for GDPR compliance). The setting is enabled by default.
Support of Management Zones in public API
We've added a permissions management API for management zones on the user-group level. You can access the generated documentation via the Cluster Management API in the Cluster Management Console: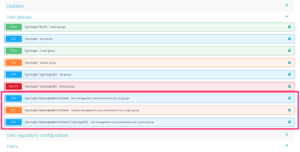 With the API in place, you can now obtain group permissions for all active environments or a given group, and update permissions for specific groups.
Simpler configuration of self-monitoring traffic
As described in Outbound access to Dynatrace Mission Control, we previously required each Dynatrace Managed cluster to allow traffic to our self-monitoring environment. With the latest release, we proxy self-monitoring traffic through Mission Control and thus only require that you unblock Mission Control IP addresses on the cluster firewall.
Resolved issues
ActiveGate

Embedded ActiveGates (on cluster nodes) didn't preserve changes made to custom.properties during upgrade. This fix has also been back-ported to version 152.

SSO

Changes in OpenID Connect settings haven't been properly propagated between cluster nodes.
The fragment part of the URL (#fragment) wasn't transmitted to the server when doing login with SAML.

Backup

Network utilization of nightly Cassandra backups has been limited so that it doesn't impair the communication of other infrastructure components.
Backups aborted due to failed verification of network paths.

Licensing

We resolved issues around unavailability of Real User Monitoring, incorrectly calculated custom metrics quotas, and OneAgents that contributed to host unit consumption even while disabled.
Also in this release
We've added support for Amazon Linux 2.
Nodes that are being upgraded are now indicated with an Upgrading label on the CMC Home page.
The backup timeout for Cassandra has been increased to 12 hours.
Validation of proxy settings has been extended to validity checks of the host name.
Other new features
Additionally, all new features introduced with Dynatrace SaaS Version 1.153 and Version 1.154 are now also supported by Dynatrace Managed.