Monitoring tools
Dynatrace consolidates monitoring tools into a single, easy to use platform.

Cover your monitoring needs for application performance, digital experience, business analytics, AIOps, and infrastructure monitoring with Dynatrace: All-in-one, AI-powered, fully automated, enterprise grade.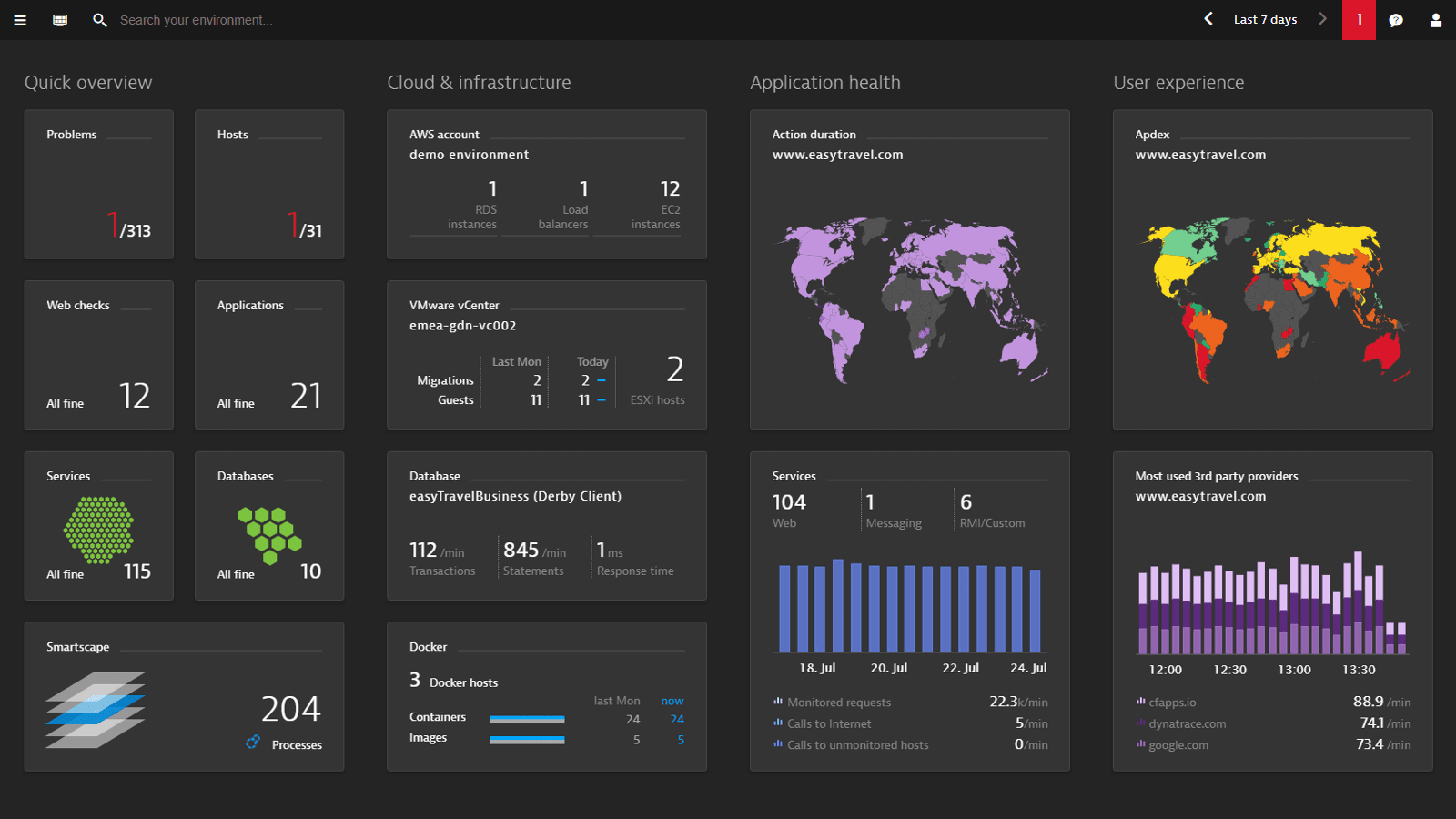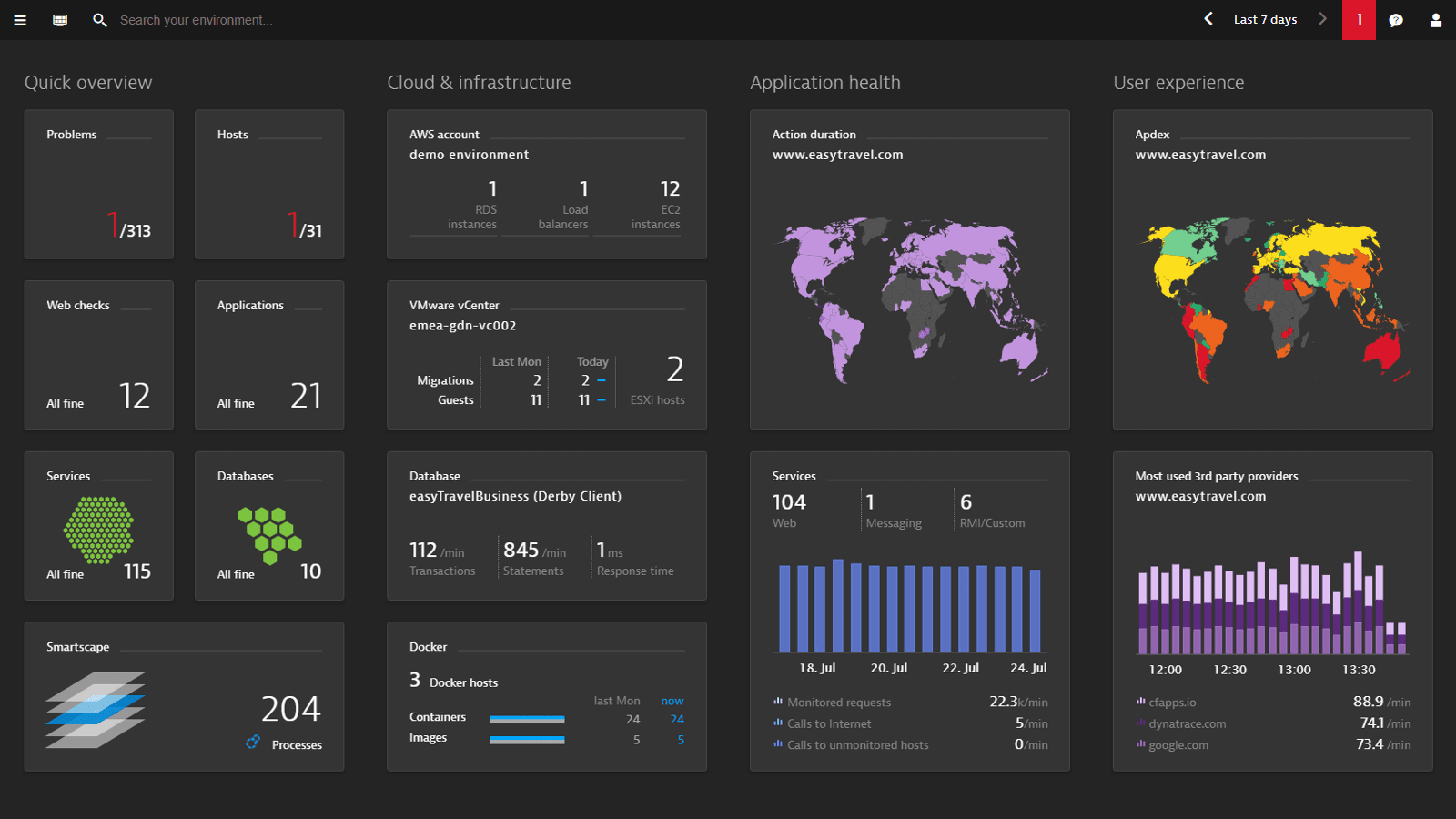 What is the purpose of monitoring tools?
---
Monitoring Tools ensure high performance for your software. Constant monitoring of your system allows you to manage the performance and availability of software applications. This leads to quick response times, improved computing processes and satisfied customers. Especially digital end user experience is one of the main goals when dealing with real user interactions and business transactions. Dynatrace monitoring tools save the effort of interpreting such dependent events on your own and directs you to the component that might cause performance issues or problems for your customers. Fixing, accelerating, and optimizing your servers and software applications has never been so easy.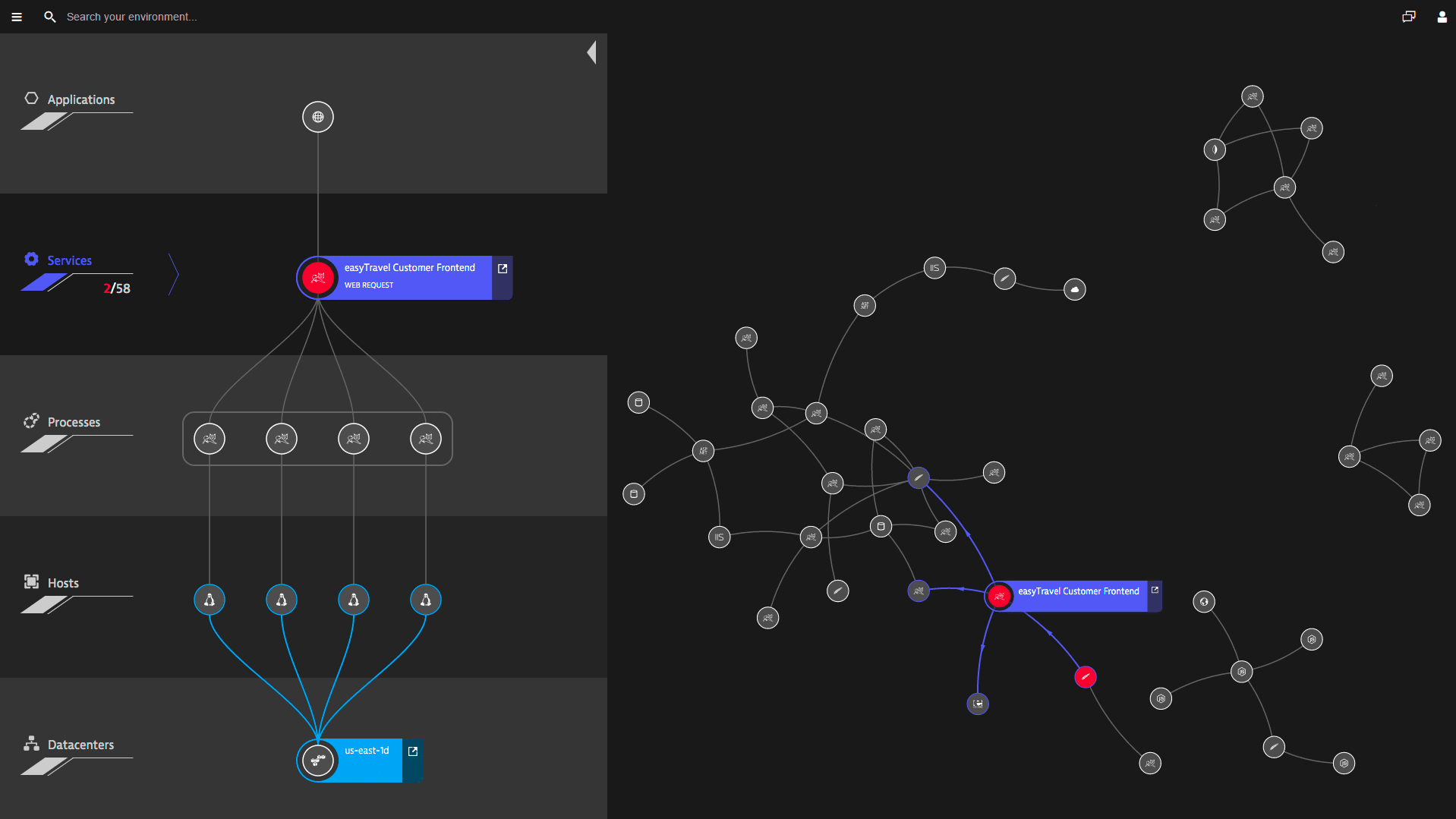 Why choose monitoring tools?
---
Accessible software structure and artificial intelligence allow the adaption and automation of internal services. Dynatrace APM helps to automate orchestration with open APIs as part of your fabric.
The choice between SaaS and on-premises configuration offers a deployment plan for any needs.
Extensive cloud support and compatibility with all major database technologies provide an all-round carefree package.
Smart AI-driven problem detection shows easy-to-handle findings in seconds.
The Dynatrace APM solution integrates into your delivery pipeline, providing automatic quality checks and KPIs to accelerate your time-to-market processes seamlessly.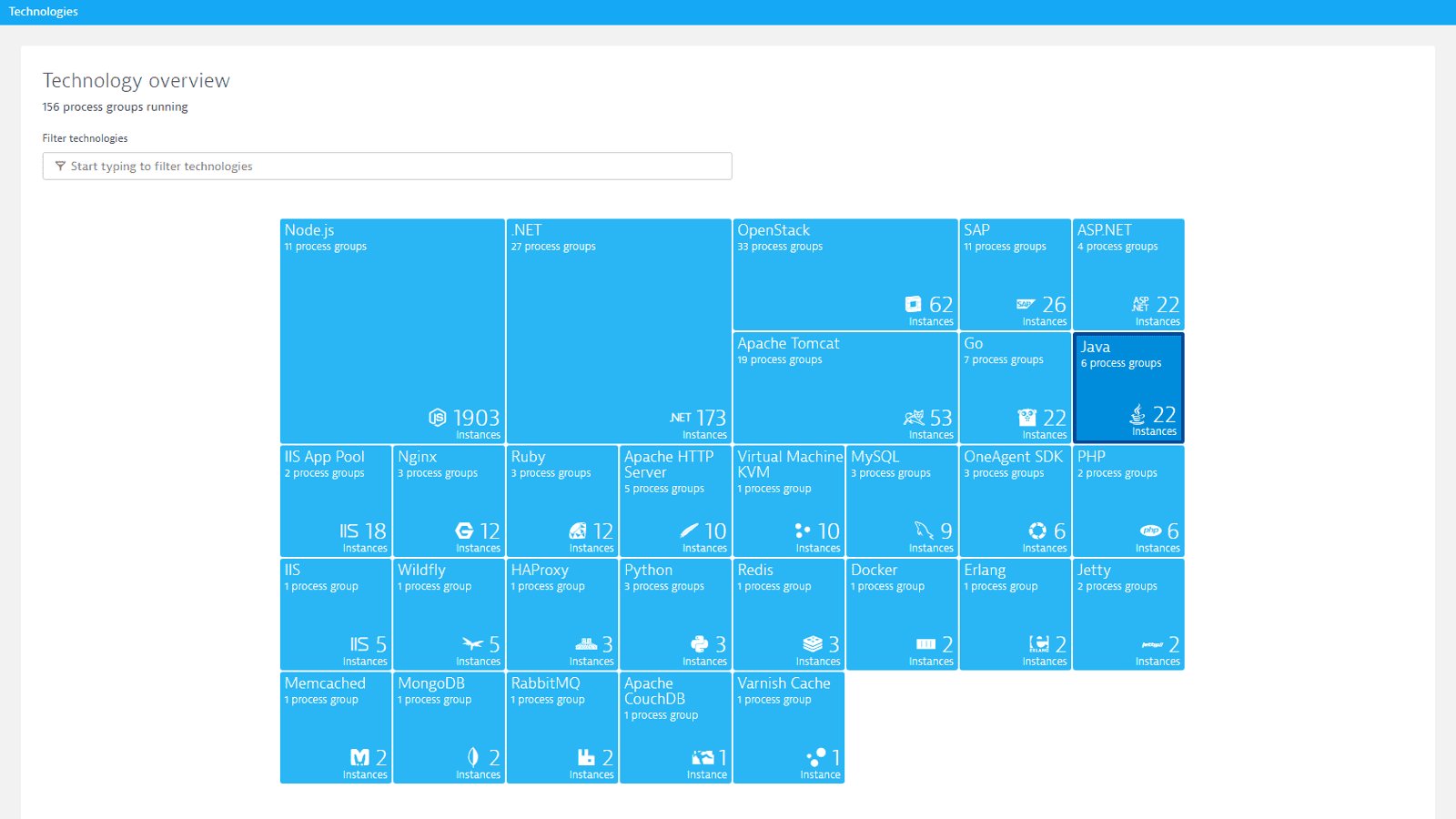 See the platform in action
---
Explore our interactive product tour to see how the automation and intelligence at the core of the Dynatrace platform enables Ops and Apps teams to
increase efficiency up to 75%, and innovation throughput up to 80%
.
Tour the platform
Application performance monitoring
---
Ensure application performance, innovate faster, collaborate efficiently, and deliver more value with dramatically less effort.
Learn more
Cloud, container, & infrastructure monitoring
---
Advanced observability across cloud and hybrid environments with continuous auto-discovery.
Learn more
AIOps
---
Dynatrace's AI continuously looks for problems and provides the precise root cause.
Learn more
Digital experience monitoring
---
Improve user experiences by ensuring every application is available, functional, fast and efficient.
Learn more
Business and performance analytics
---
Gain real-time visibility into business KPIs—enable more efficient IT and business collaboration.
Learn more
What killed traditional monitoring?
---
As software development transitions to a cloud-native approach that employs microservices, containers, and software-defined cloud infrastructure, the immediate future will bring more immense complexity than the human mind can envision.
You also invested in monitoring tools—lots of them over the years. But your traditional monitoring tools don't work in this new dynamic world of speed and scale that cloud computing enables. That's why many analysts and industry leaders predict that more than 50% of enterprises will entirely replace their traditional monitoring tools in the next few years.
Manual effort
Slow, manual deployment and configuration + manual upgrades and re-work for changing environments = a maximum of just 5% apps are monitored
Monitoring tool proliferation
Multiple monitoring tools for different purposes with siloed teams looking at myopic data sets
Agent complexity
A complex mix of agents for diverse technologies and types, each with different deployment, installation and configuration processes
Charts and data, but no answers
Having data from multiple agents, and different sources, look like a lot's going on but provide little value or answers to problems
Dynatrace monitors and analyzes everything, from top to bottom
---
Other tools may claim to be full stack, but nobody comes close to Dynatrace when it comes to monitoring your entire environment, top to bottom. And we do it all in context, with a single solution, common data model and one agent.
Dynatrace not only sees every component of your hybrid cloud environment, but we also understand how everything is connected – all the relationships and interdependencies – so that our AI engine can provide causation-based answers and proactive, actionable insights. No more wading through alert storms from dozens of monitoring tools.
You may be also interested in...
---
More than just a bunch of tools: Take the Dynatrace platform for a test drive
---
You'll be up and running in under 5 minutes:
Sign up, deploy our agent and get unmatched insights out-of-the-box.
Just a few of our enterprise customers