Deep dive application monitoring and performance management
Monitor and optimize application performance and business transactions at scale with gap-free code-level data
Try for free
See the magic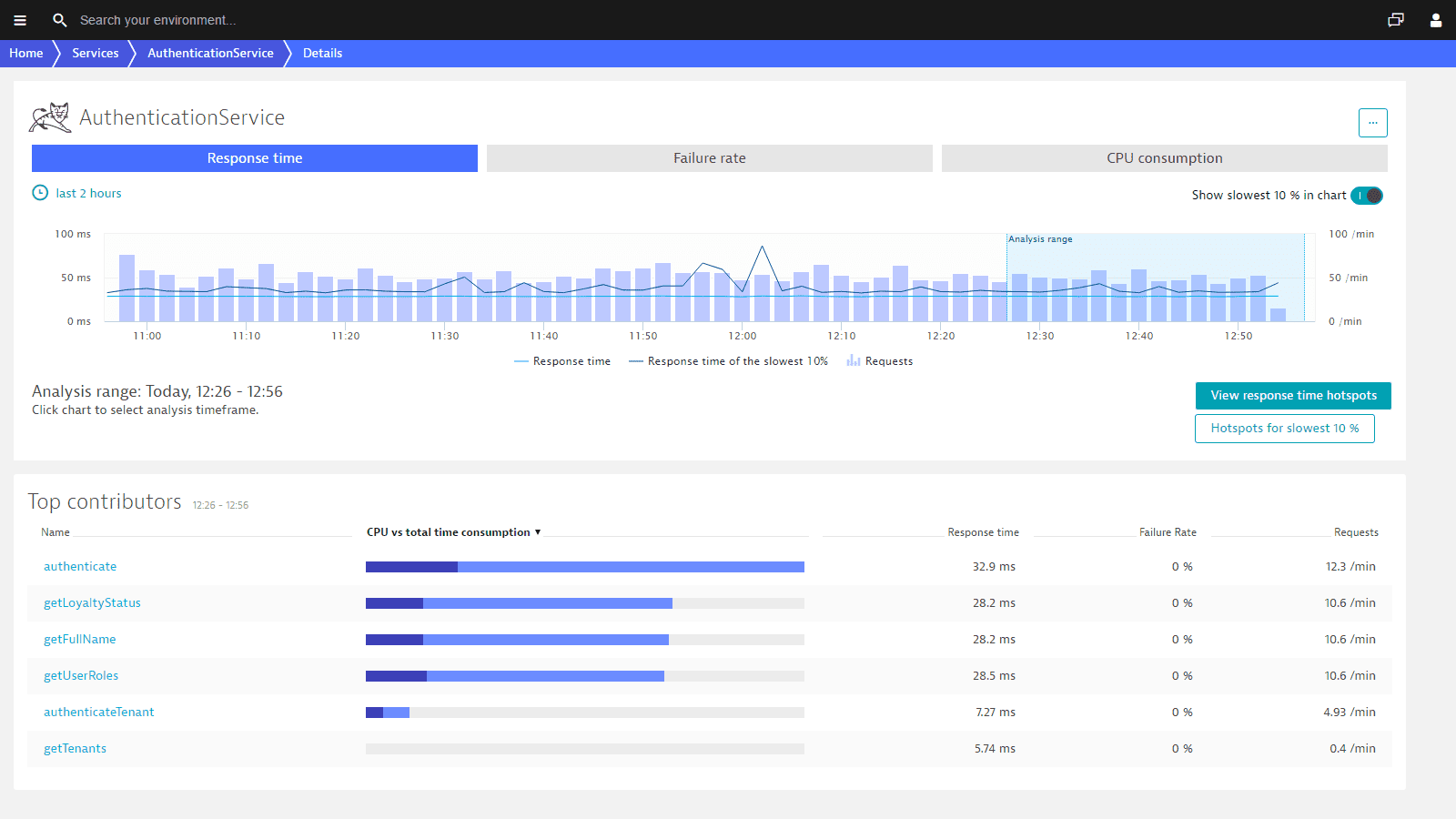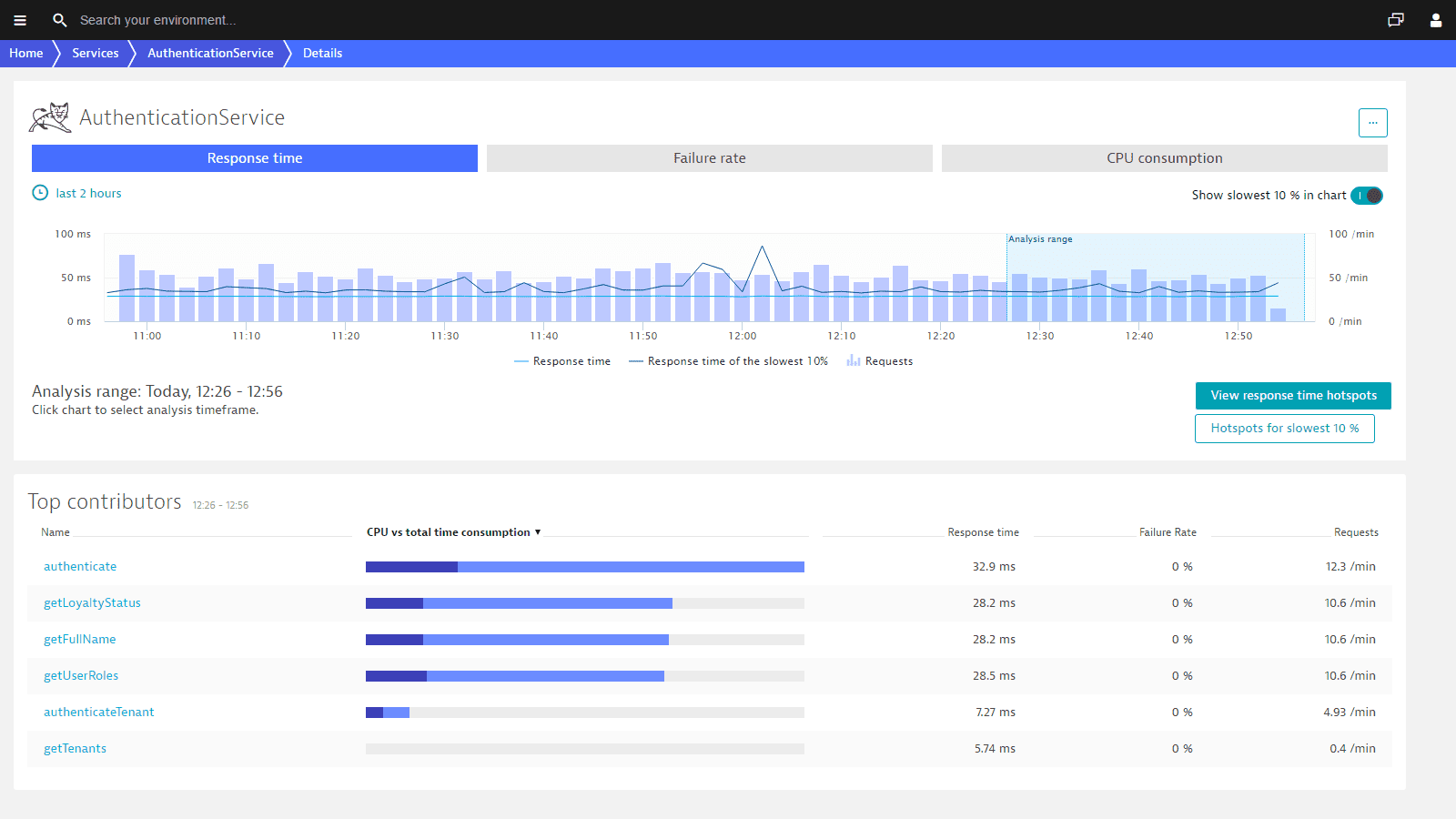 See all performance metrics in real-time
---
Application performance monitoring (APM) is critical to business success today. Dynatrace automatically sees and analyzes every single user transaction, all the time. All relevant metrics, environment changes, and application deployments are shown in real-time.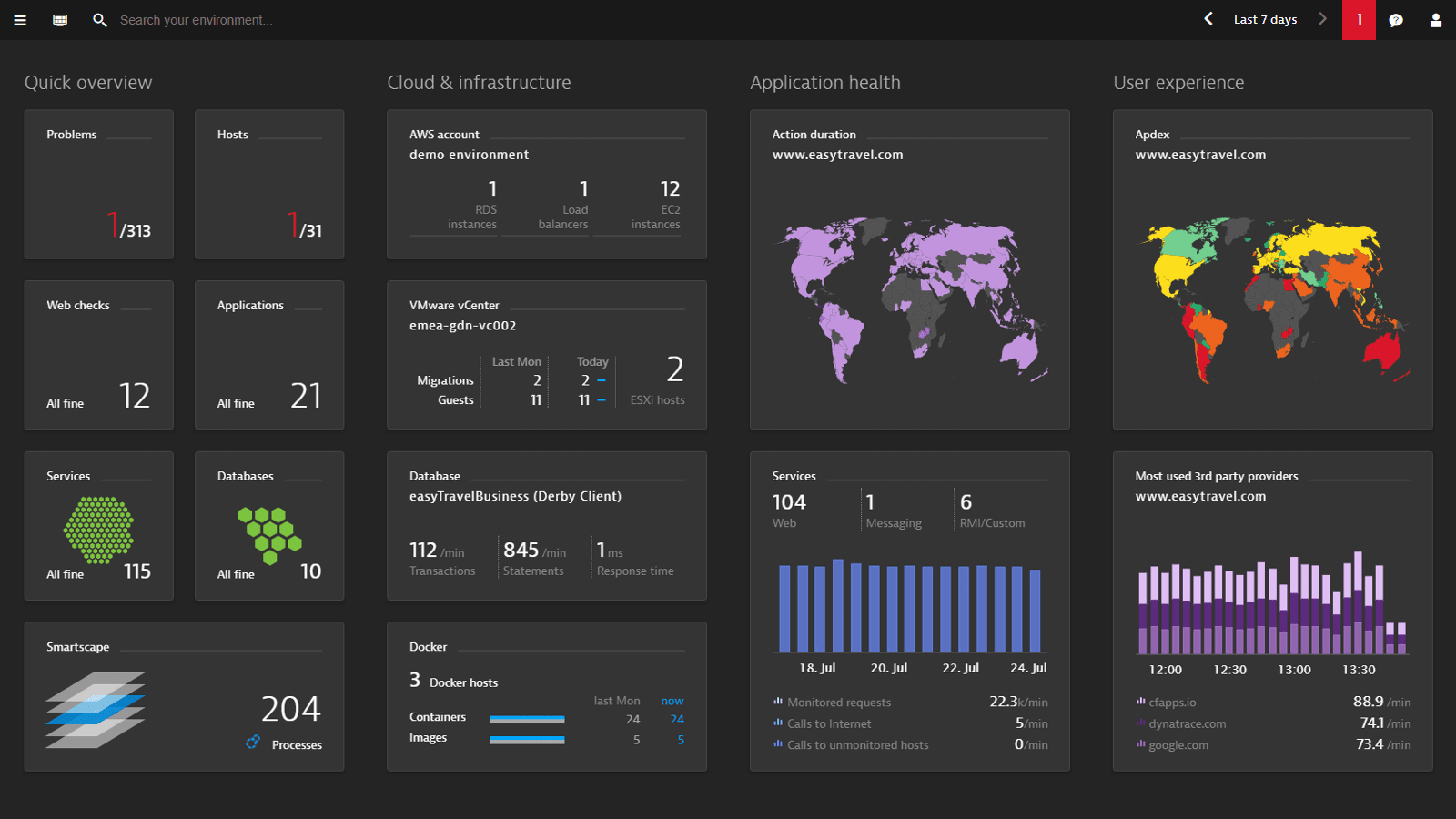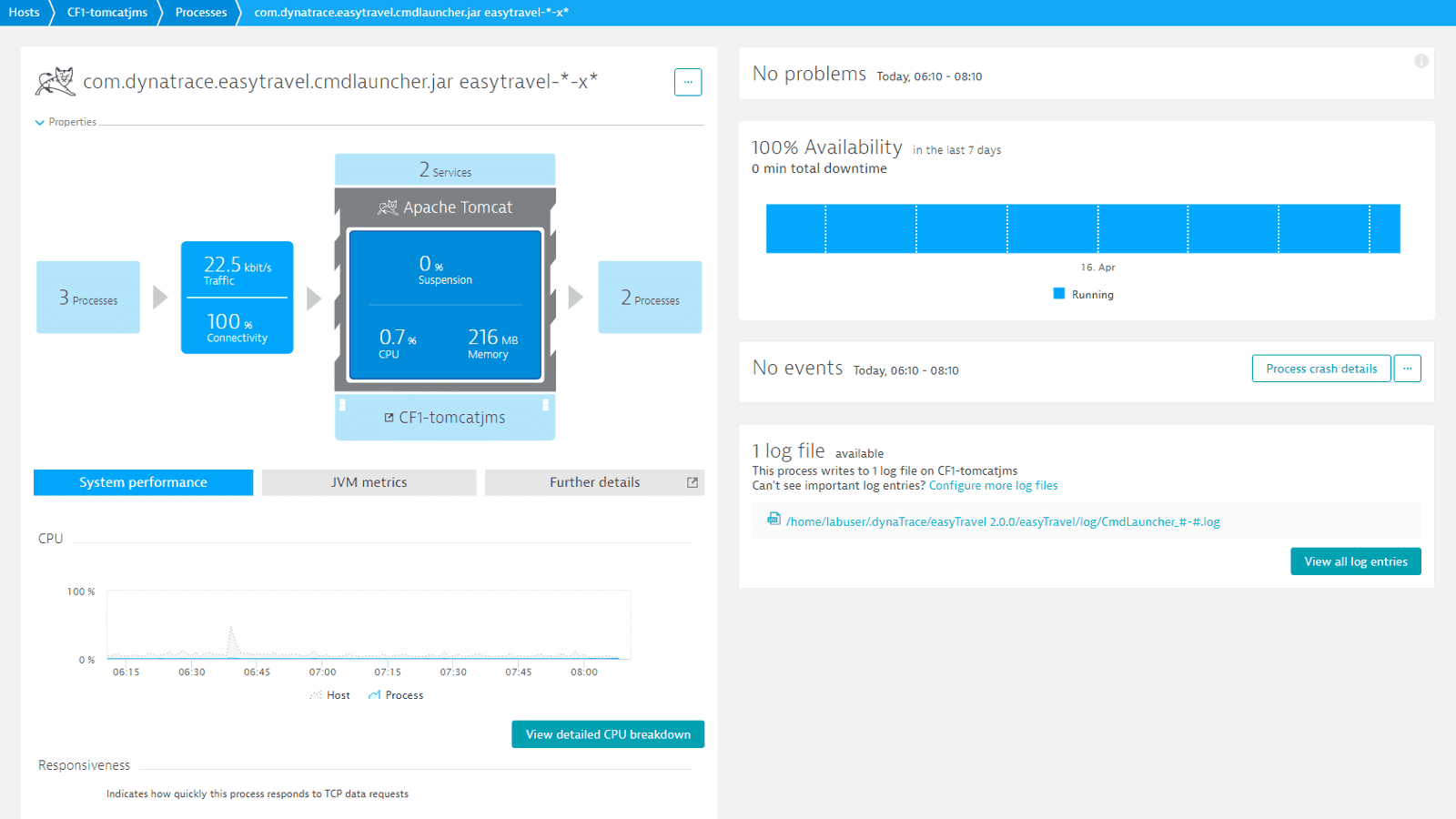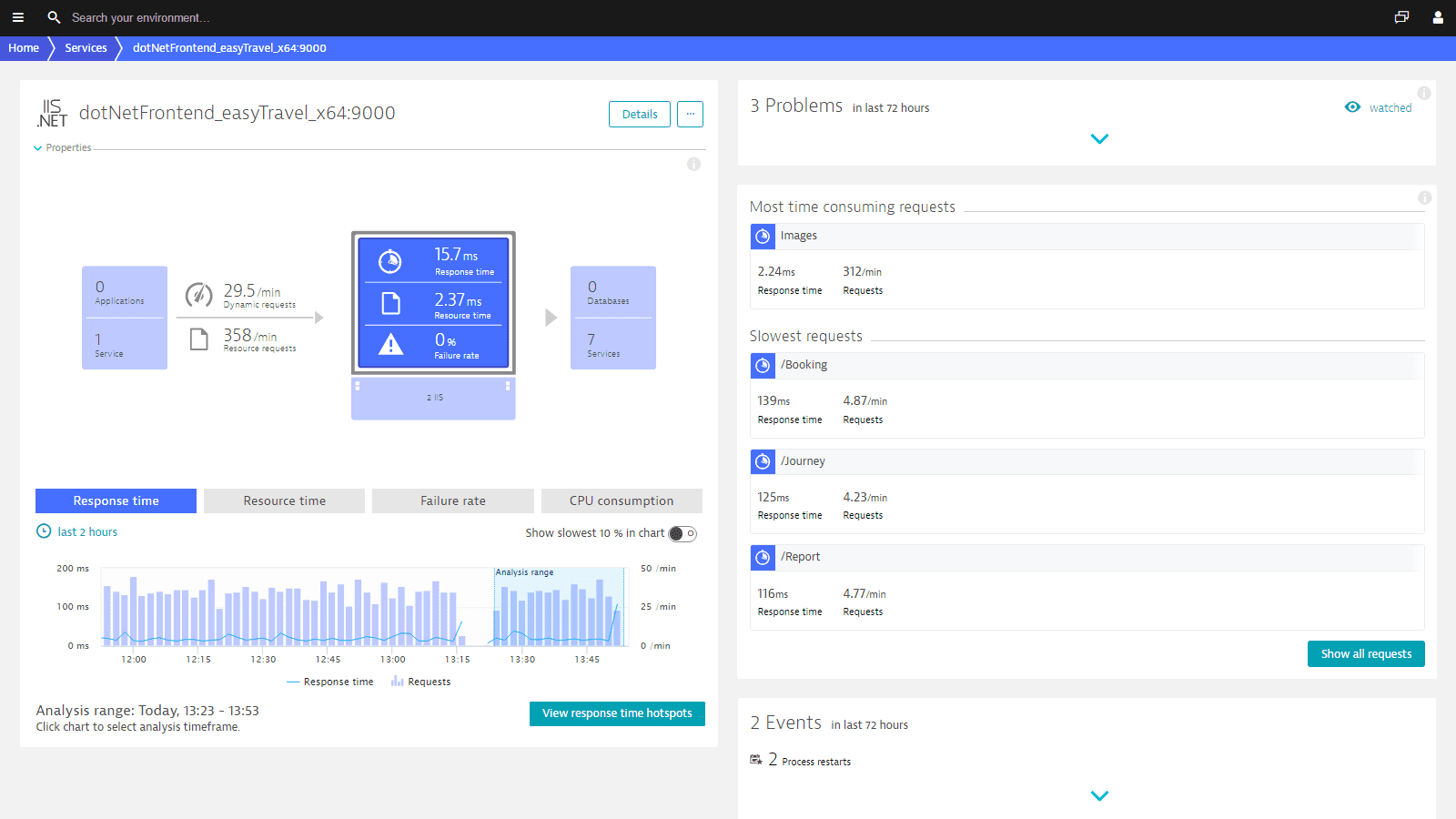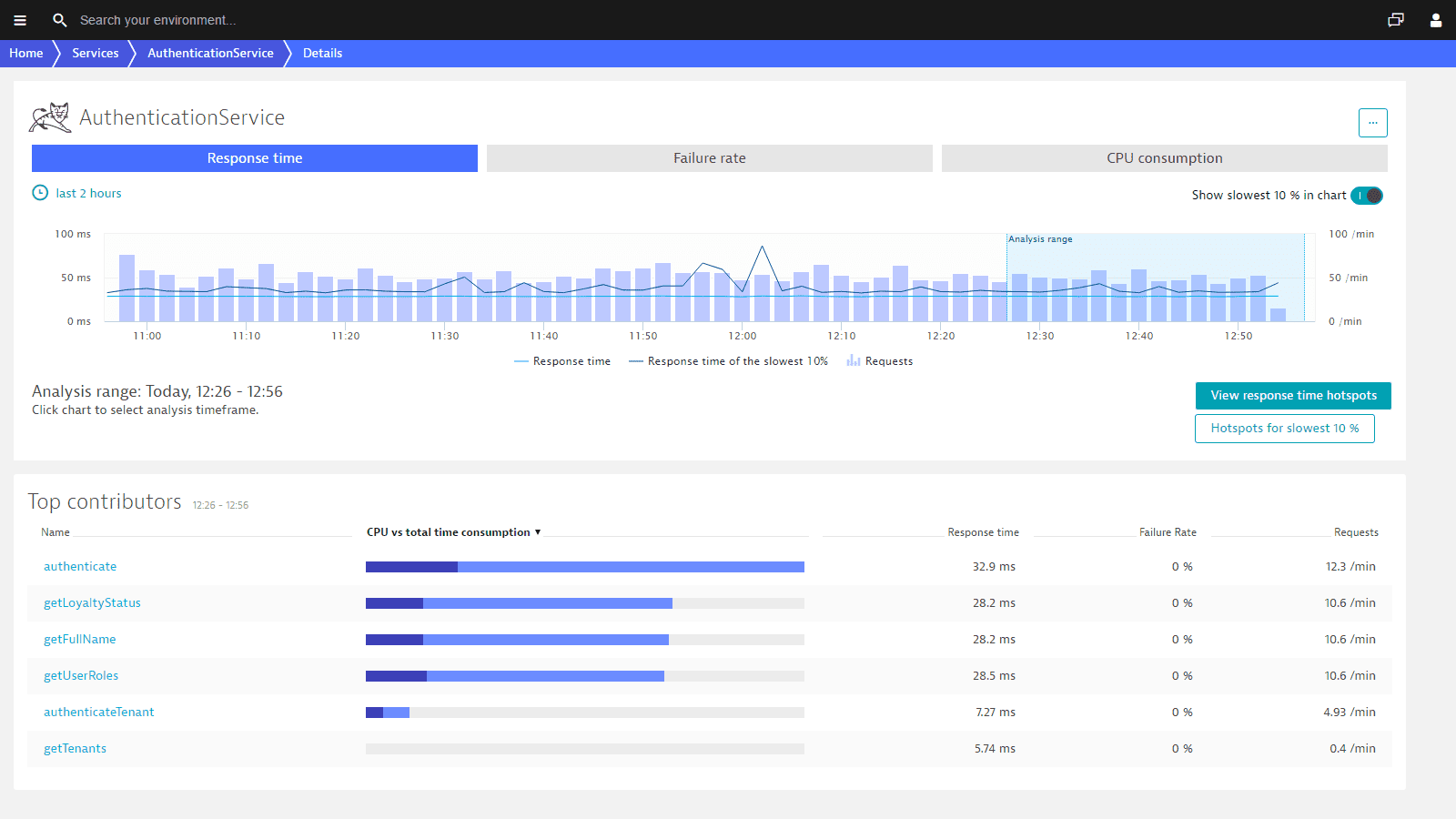 Get all the details you need for application performance monitoring
---
Every single click and page load
Response time and code-level hotspots
Failure rate and root causes of errors
Throughput and cluster distribution
Request and response sizes
All database statements
All Apache and Nginx module timings
Restarts, crashes, & deployment changes
Apdex score
CPU and memory usage
Garbage collection metrics
Network traffic for each host and process
TCP requests and retransmissions
All requests, all dependencies
All CDN and 3rd party requests
Follow every single transaction, end-to-end
---
Dynatrace uses patented PurePath Technology® to capture timing and code-level context for every transaction, across every tier, without gaps or blind spots.
Drill into all services and components called upon with each user interaction.
Analyze response times and find hotspots at the method level.
Understand the impact of methods and database statements on user experience using our unique Service backtrace feature.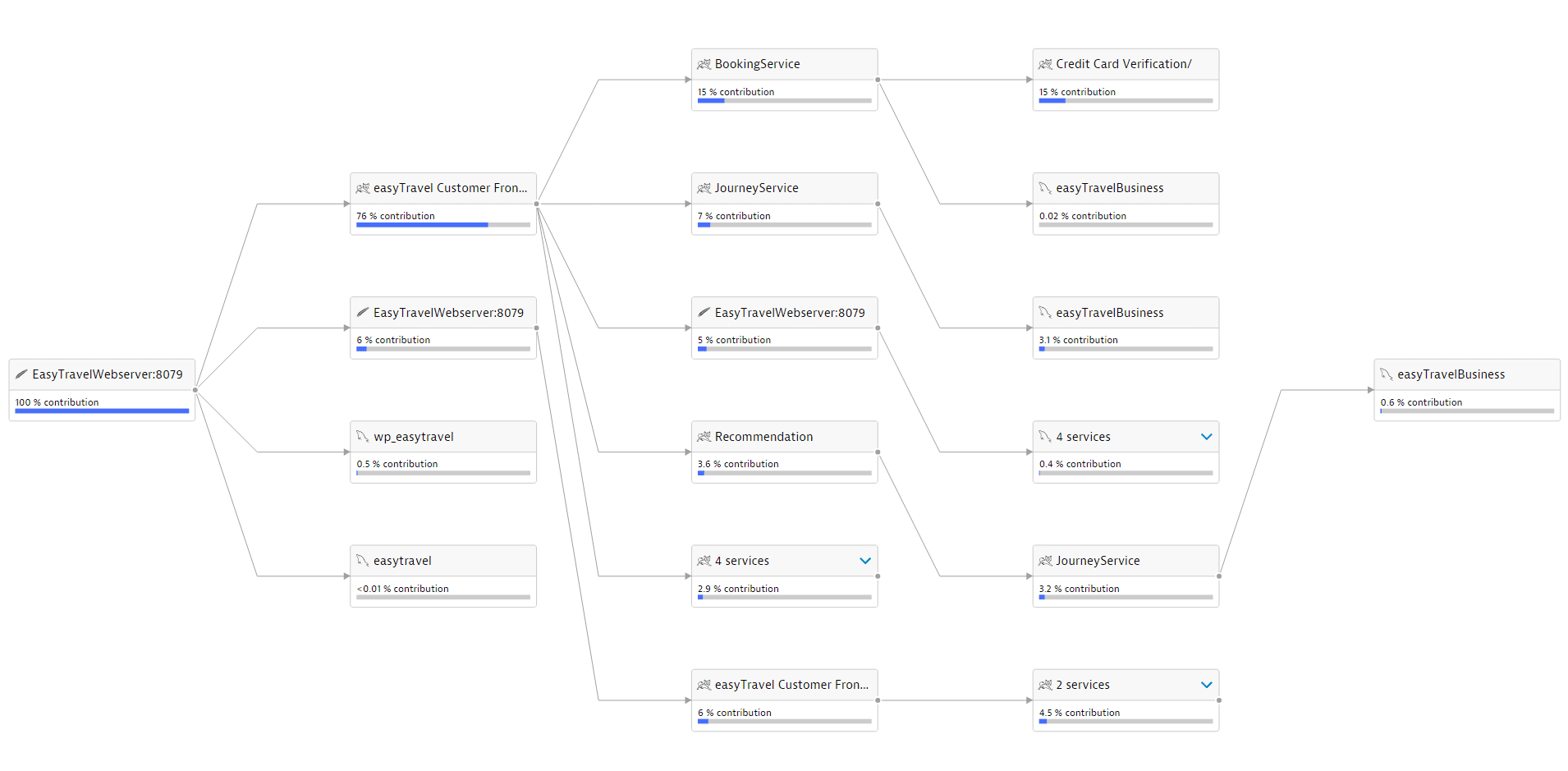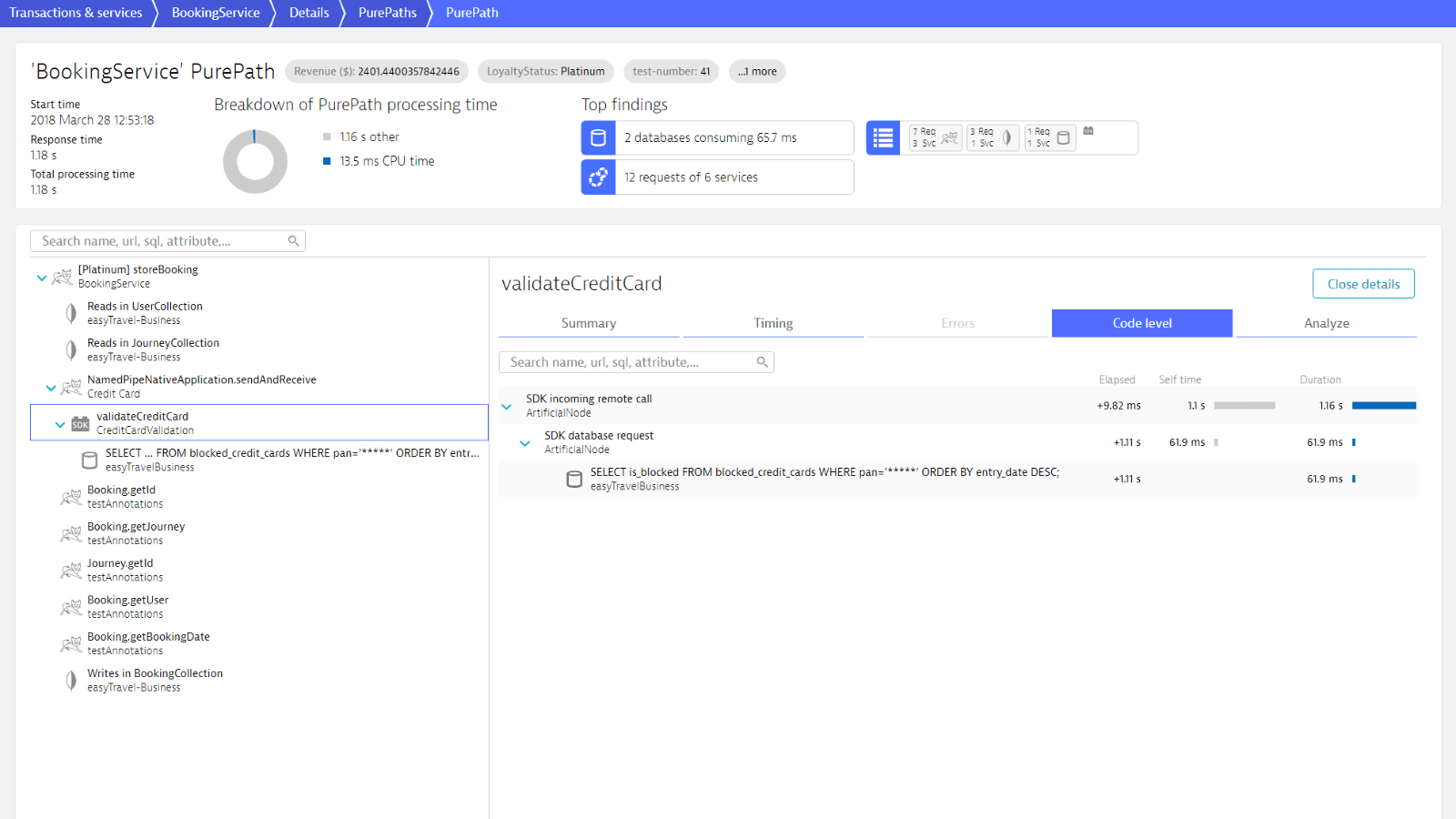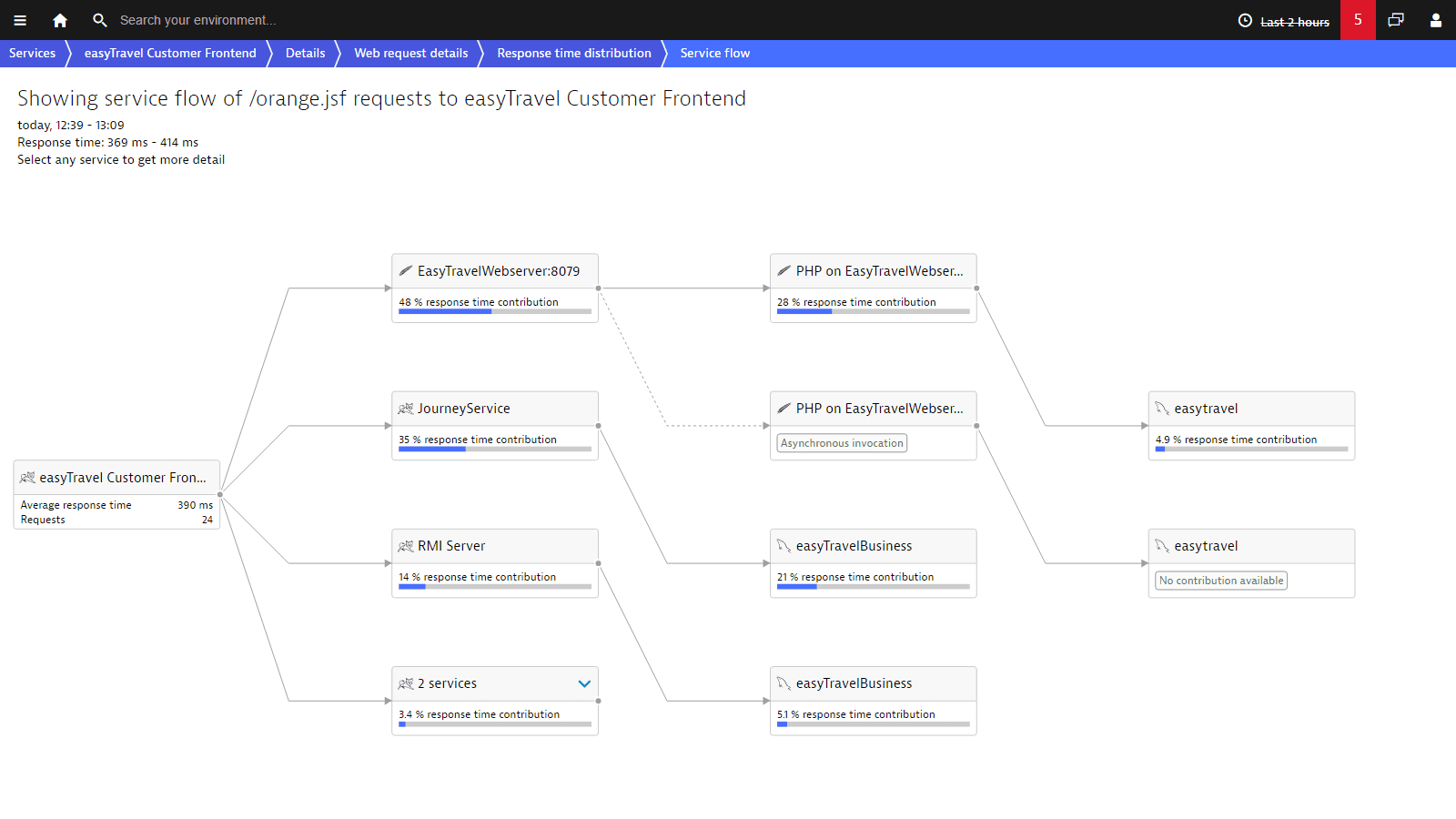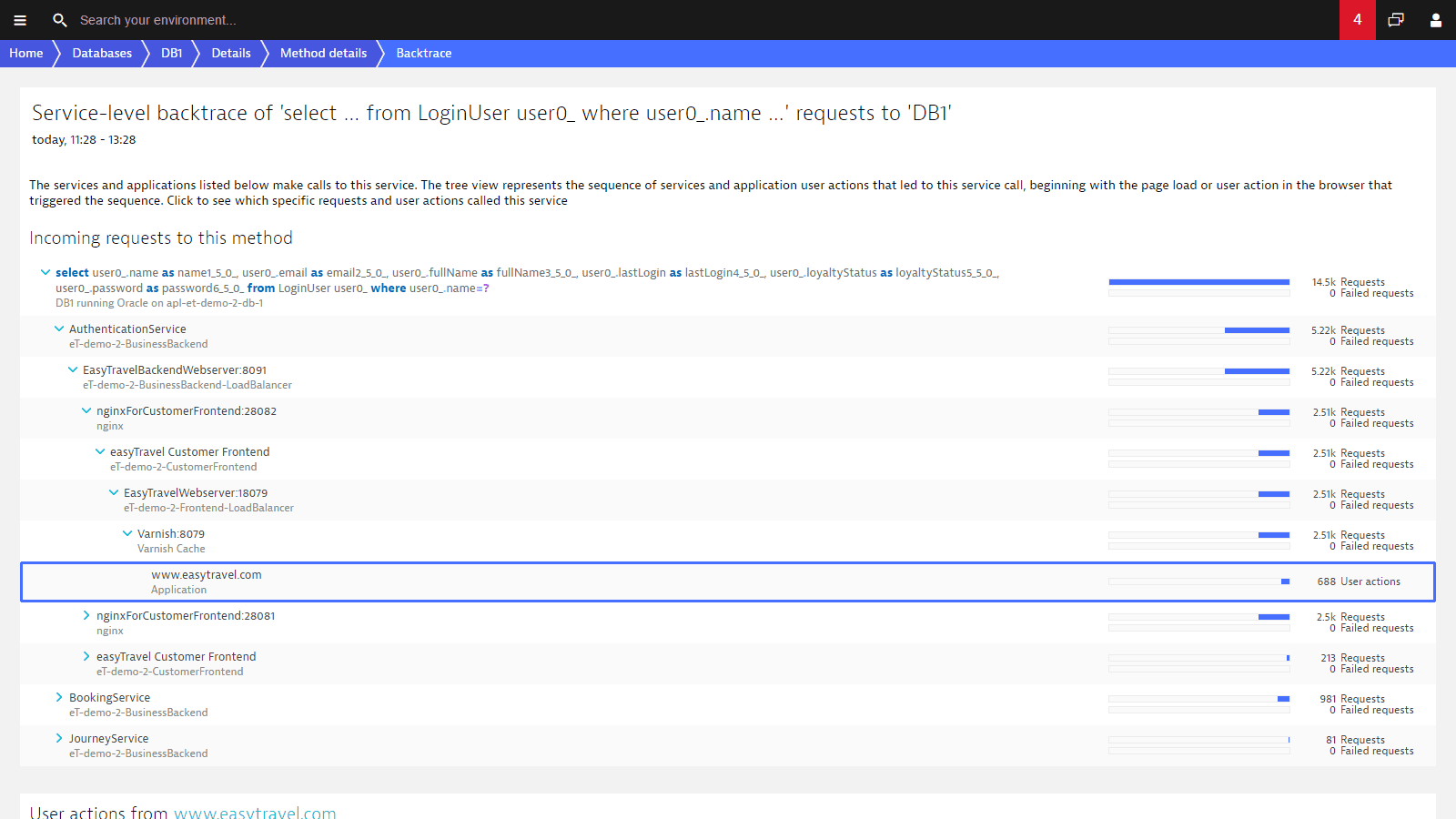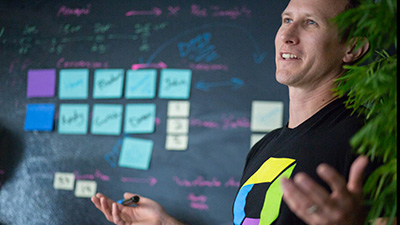 Blog post
APM solutions vs. APM tools
Why does some APM succeed where others fail? This blog post Choose an APM tool for the solution—not for the problem! summarizes 4 factors to consider when looking at APM vendors.
See all the Dynatrace blogs—about performance, digital customer experience, smarter monitoring for cloud natives.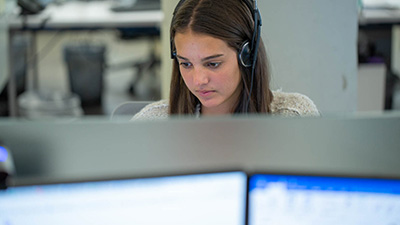 Blog post
The brutal truth about application performance engineering and operations
If you're responsible for your company's application performance, then don't miss out on our PurePerformance podcasts—the industry's leading source of real-world practical advice, best practices, and hard-won lessons learned. Be prepared to learn a lot about metrics.
Sign up for Dynatrace application performance monitoring today!
---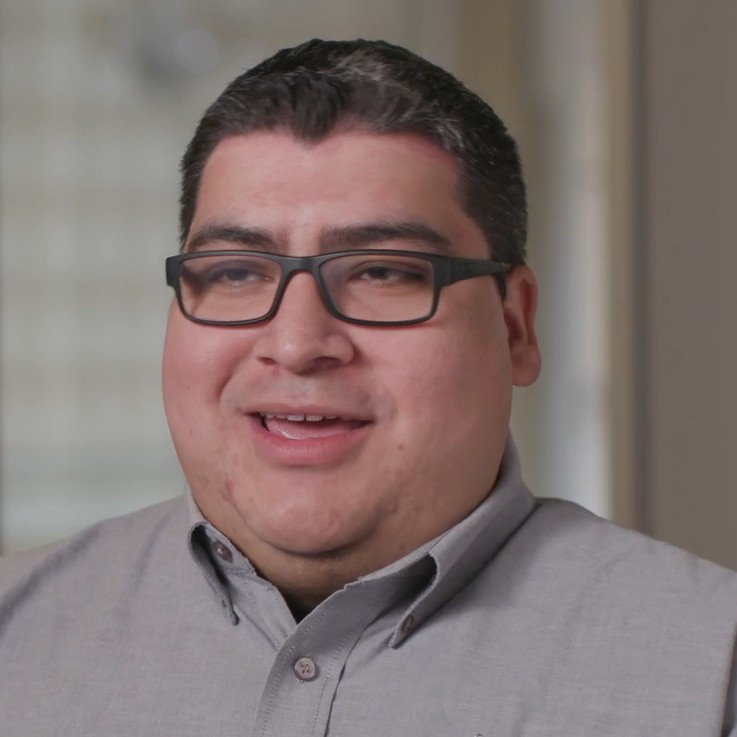 "Dynatrace told us exactly how we're using our environment, so we know what resources to move to the cloud for greater productivity and efficiency. You get instant value from Dynatrace."
Lead Systems Administrator, Citrix

Go from user click to code-level in seconds
---
Dynatrace application performance monitoring locates problematic methods throughout your entire stack, from user clicks to the application code.
Identify methods that result in CPU or network bottlenecks.
See a breakdown of service execution times at the method level and analyze failure rates.
Get an overview of how much time is spent on garbage collection so you can tweak your application's heap memory settings.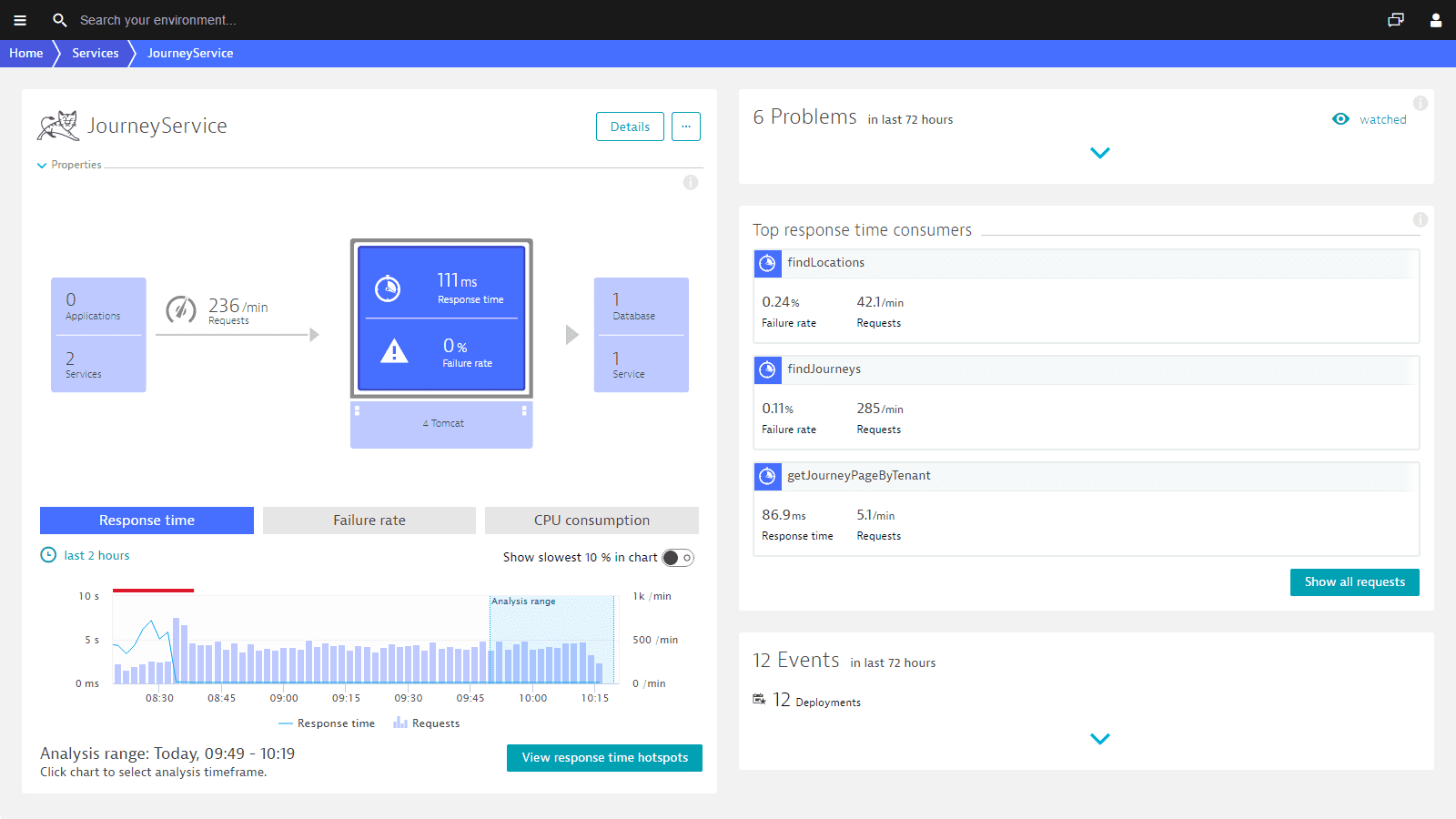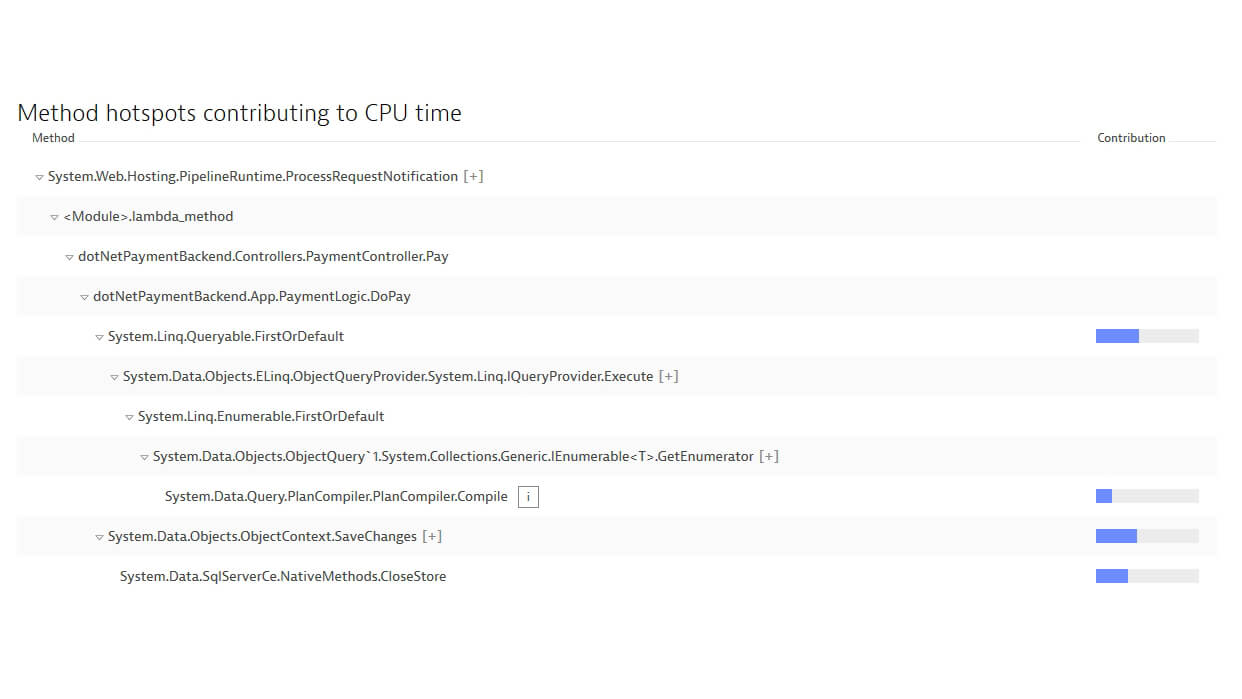 No gaps, no guessing, no boundaries—no problem
---
Download the Dynatrace fact sheet to learn how you can tame unruly applications before they become problems, moving you from reactive crisis mode to proactive management.
Dynatrace offers the broadest range of technology support in the APM industry
---
Sign up for Dynatrace APM today!
---
Monitor database query executions
---
Dynatrace tracks and inspects all the SQL statements and NoSQL queries that your application sends out.
Get instant insight into database problems, in a single view.
Dig into execution frequencies, response times, and long-running queries
Databases are auto-detected and analyzed without manual configuration.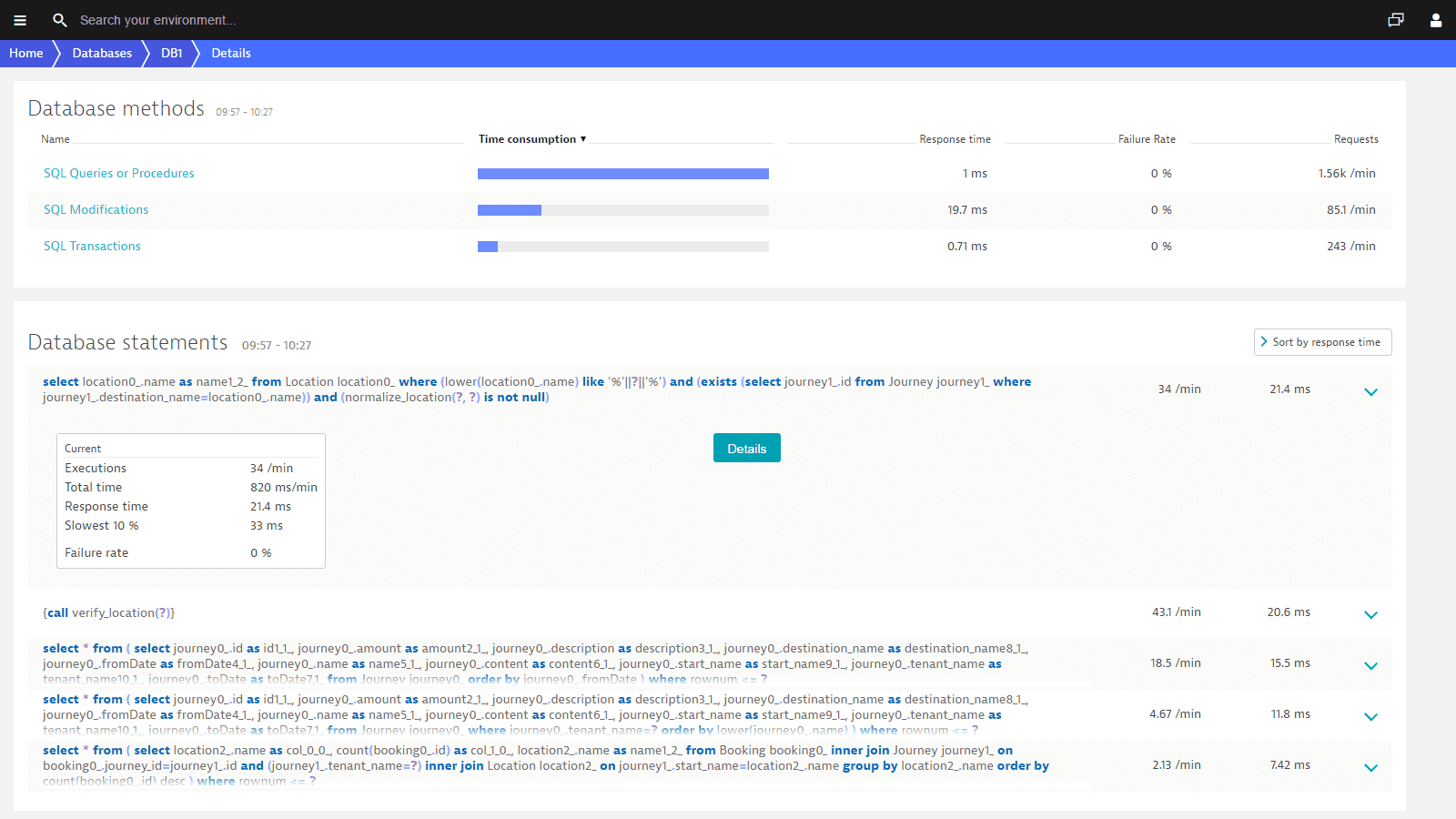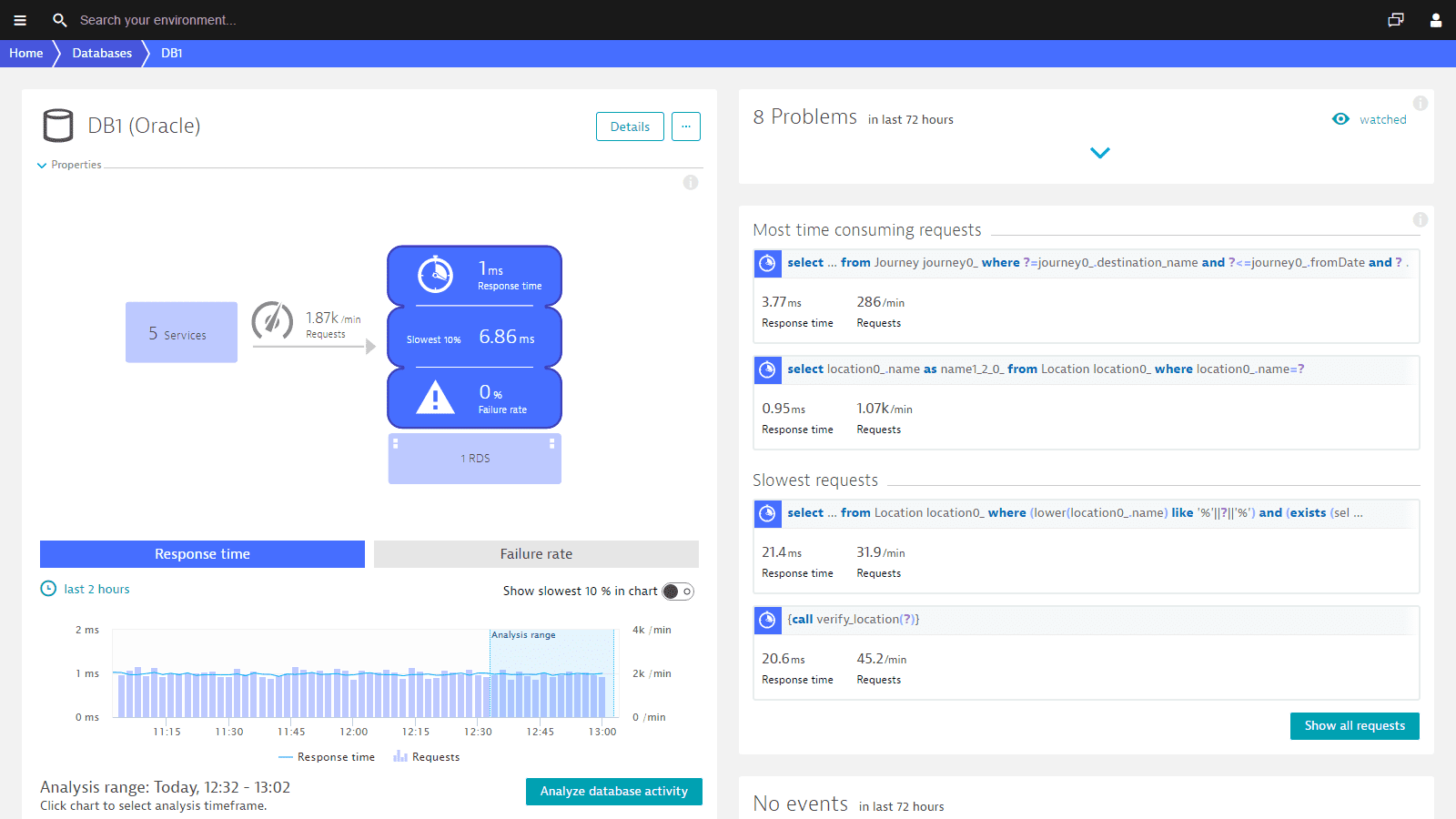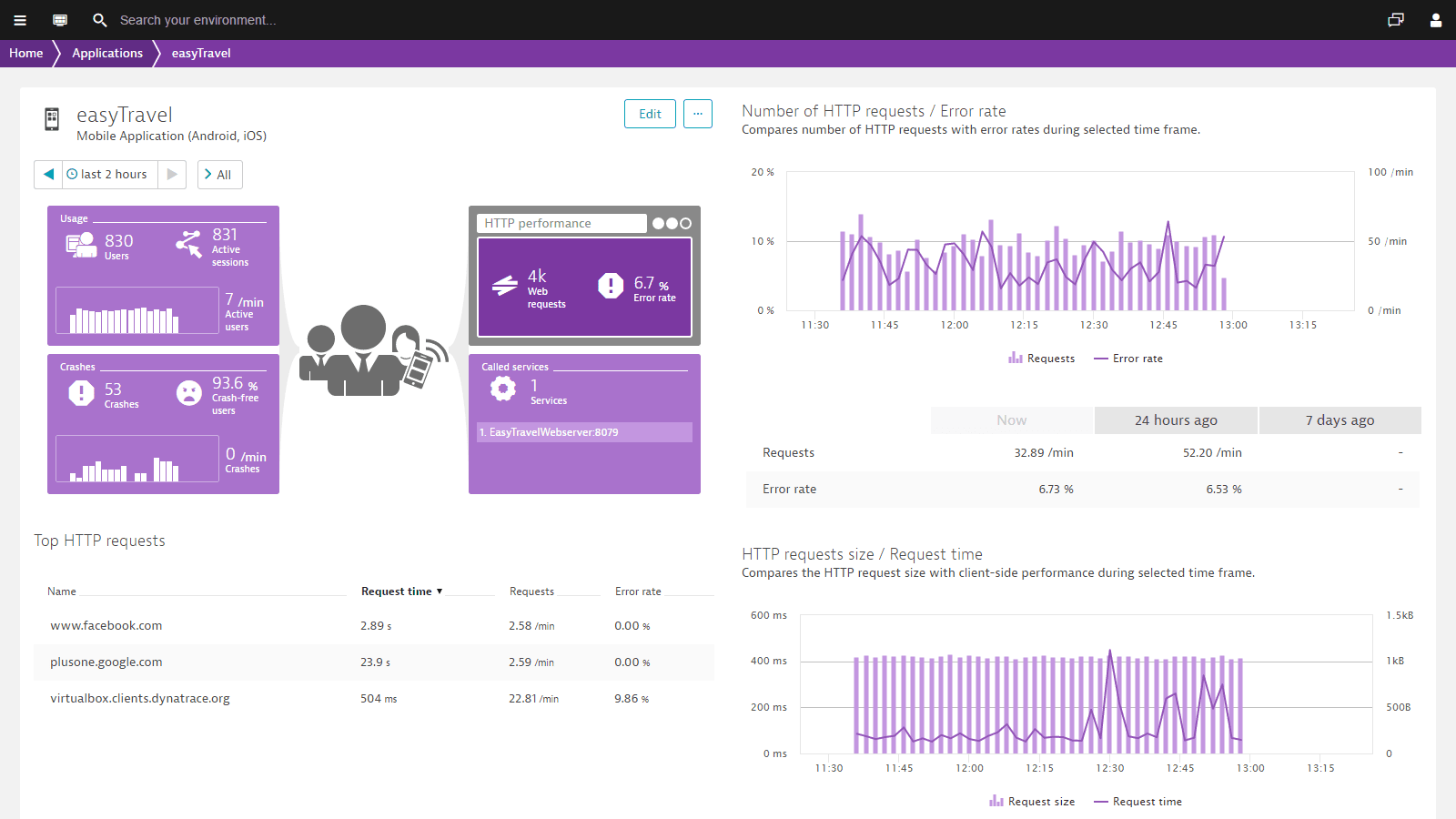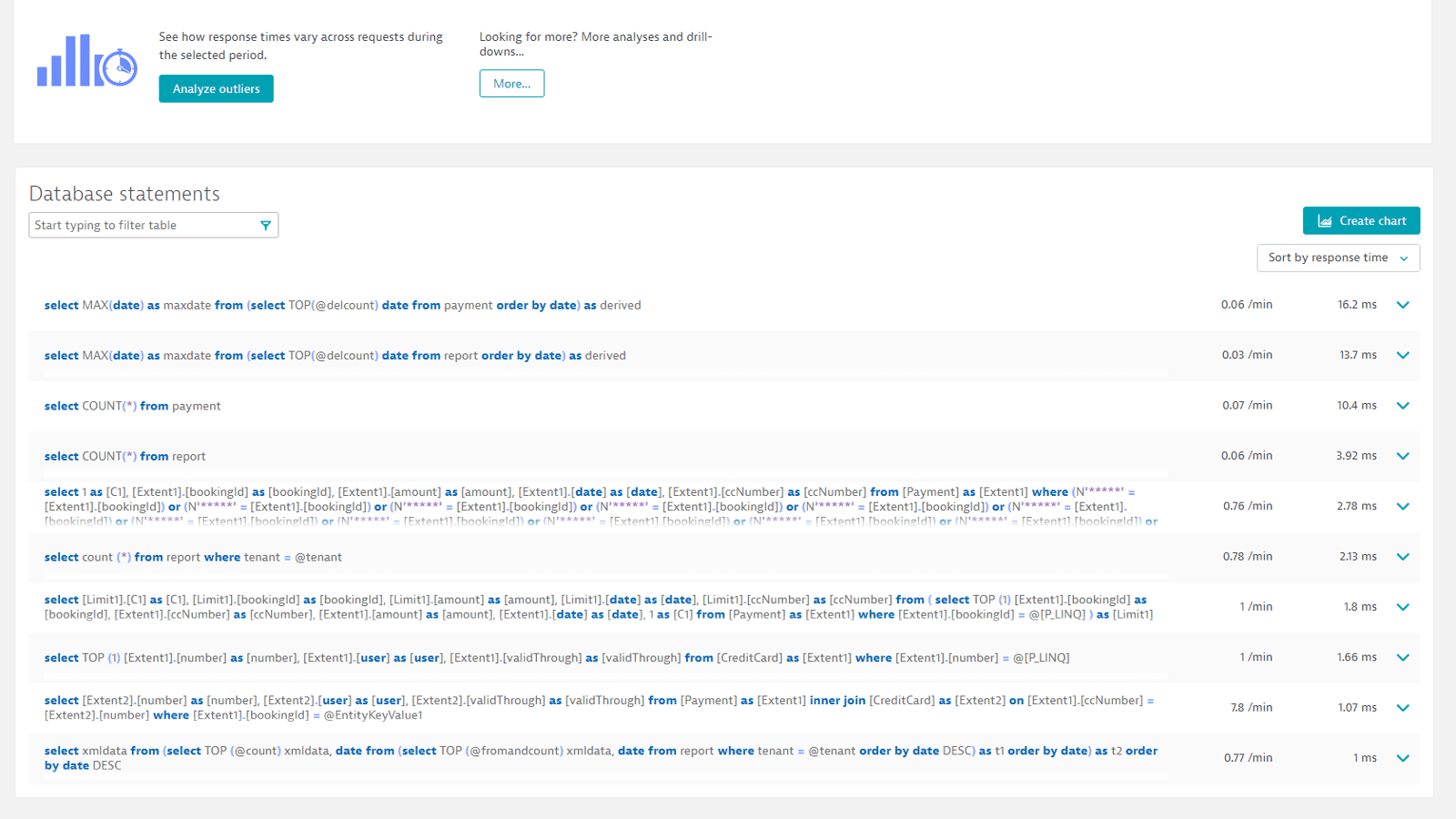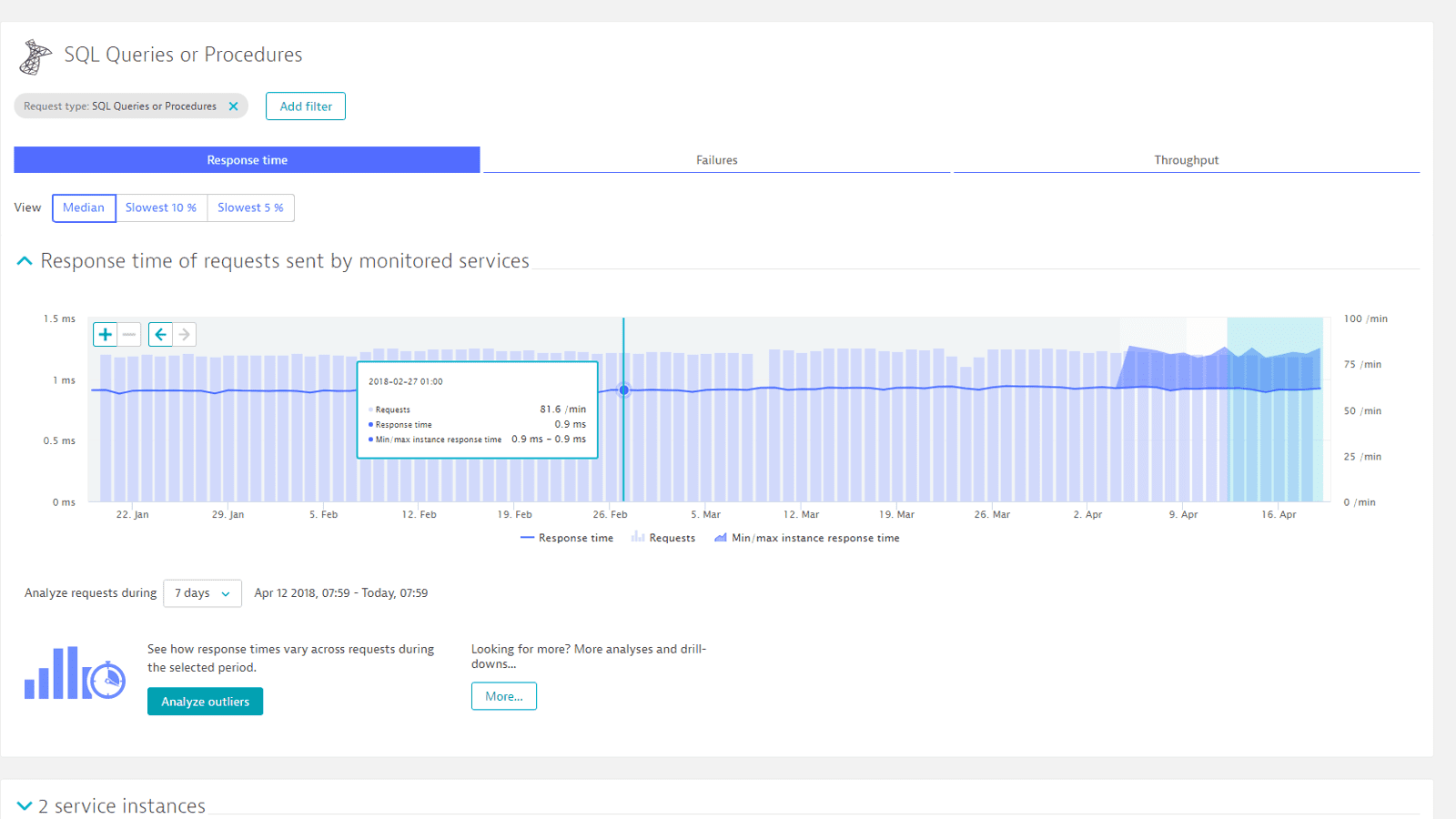 Dynatrace shows you the root causes of problems!
---
Dynatrace detects and diagnoses problems in real time—pinpointing root causes all the way down to the offending lines of code—before your customers are affected by them.
Proactively detect availability and performance problems across your stack.
By applying big data analytics to billions of dependencies within your application stack, Dynatrace directly pinpoints the components that are causing problems.
Visual replay of problem evolution helps you understand how problems evolved over time.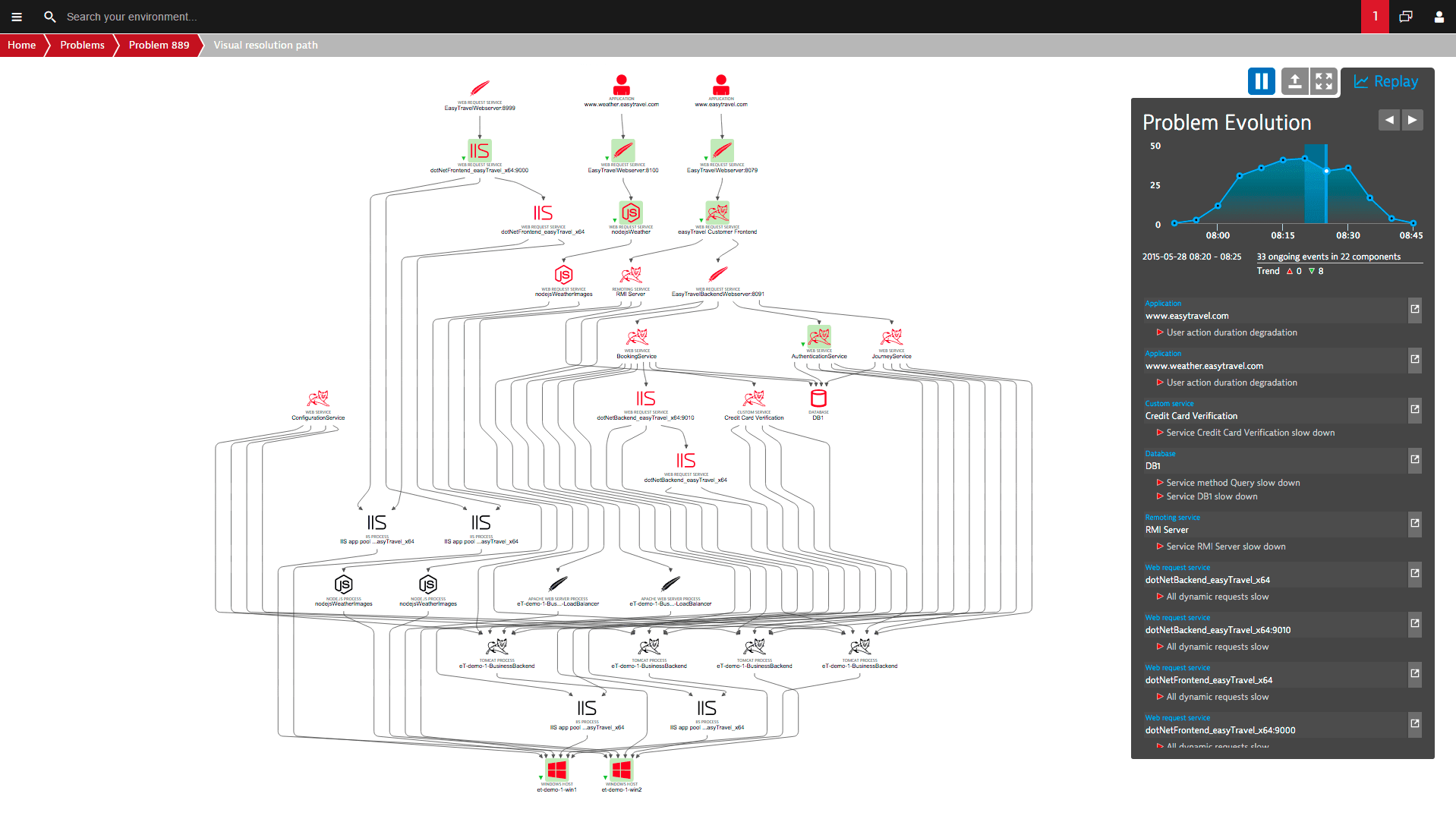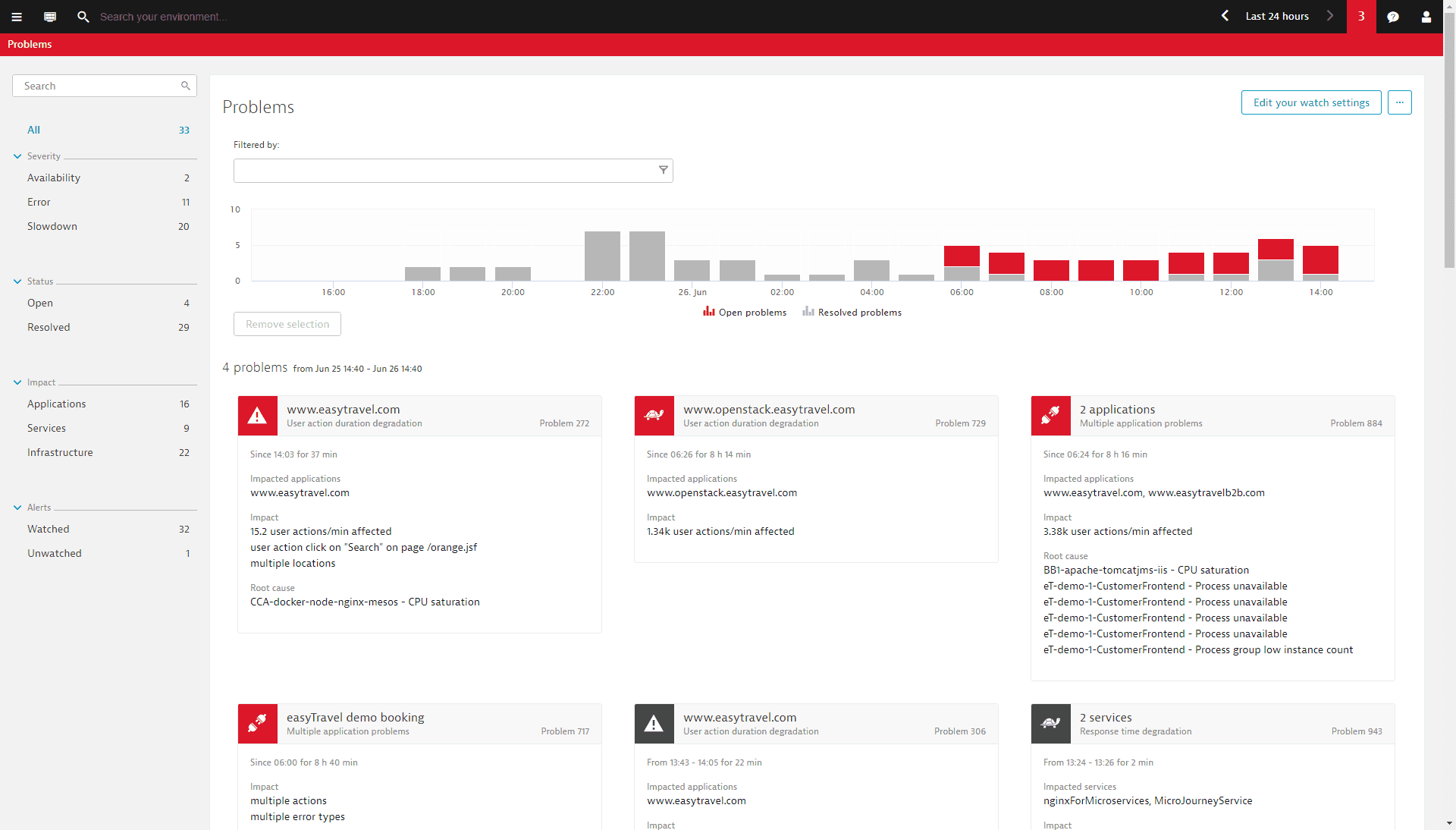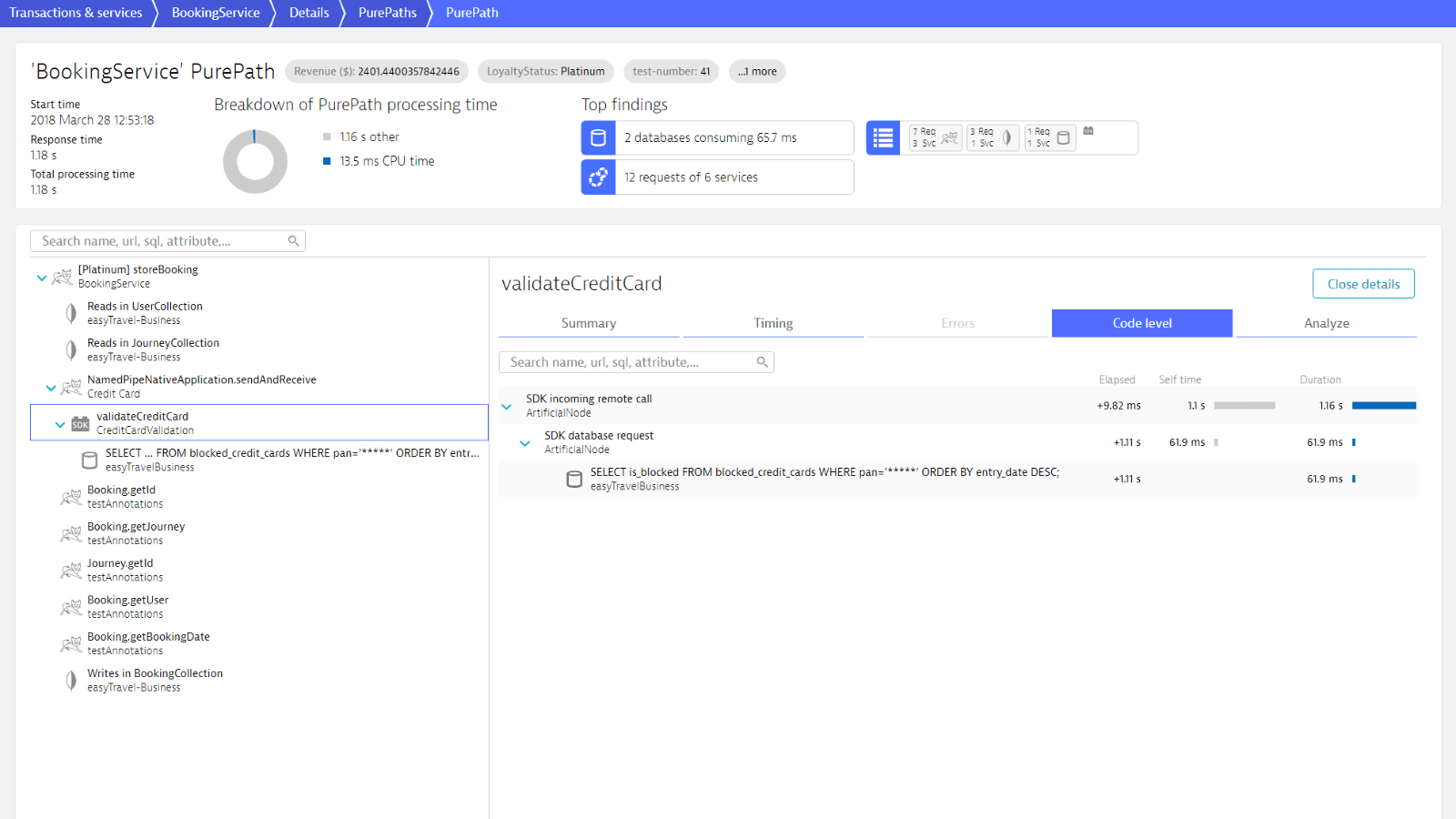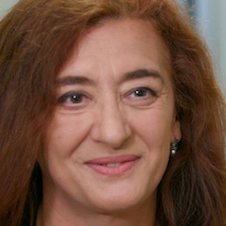 "With Dynatrace, finding a problem only takes us minutes to identify, saving us precious time and resources."
Eugenia Gillan, VP Engineering at ZoomInfo

Automatically discover and map applications and infrastructure
---
Dynatrace APM automatically detects and visualizes your web application and its dependencies end to end—from website, to application, to container, infrastructure, and cloud. Our application performance monitoring solution works out-of-the-box with zero configuration.
Dynatrace Smartscape provides an interactive map of your application across all layers.
See how all components relate to and communicate with one another.
Our unique performance tool was designed for cloud environments where instances are rapidly created and deployed, making it a perfect fit for microservices environments.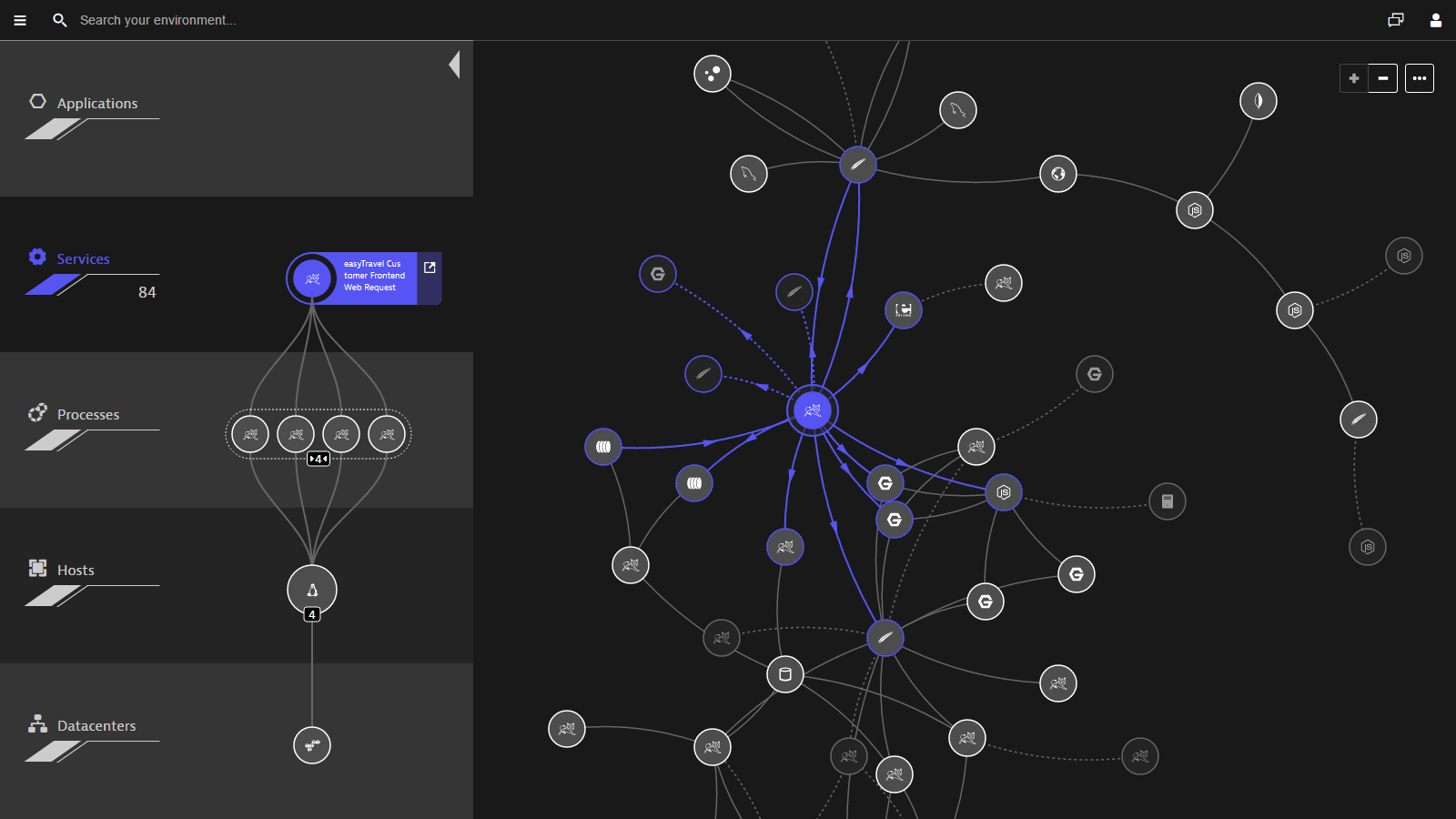 Get the full picture, including network health and log-file analysis
---
Dynatrace provides a clear picture of all inbound and outbound process connections running over your network interfaces (both physical and virtual) and automatically discovers all log files on your monitored hosts and processes.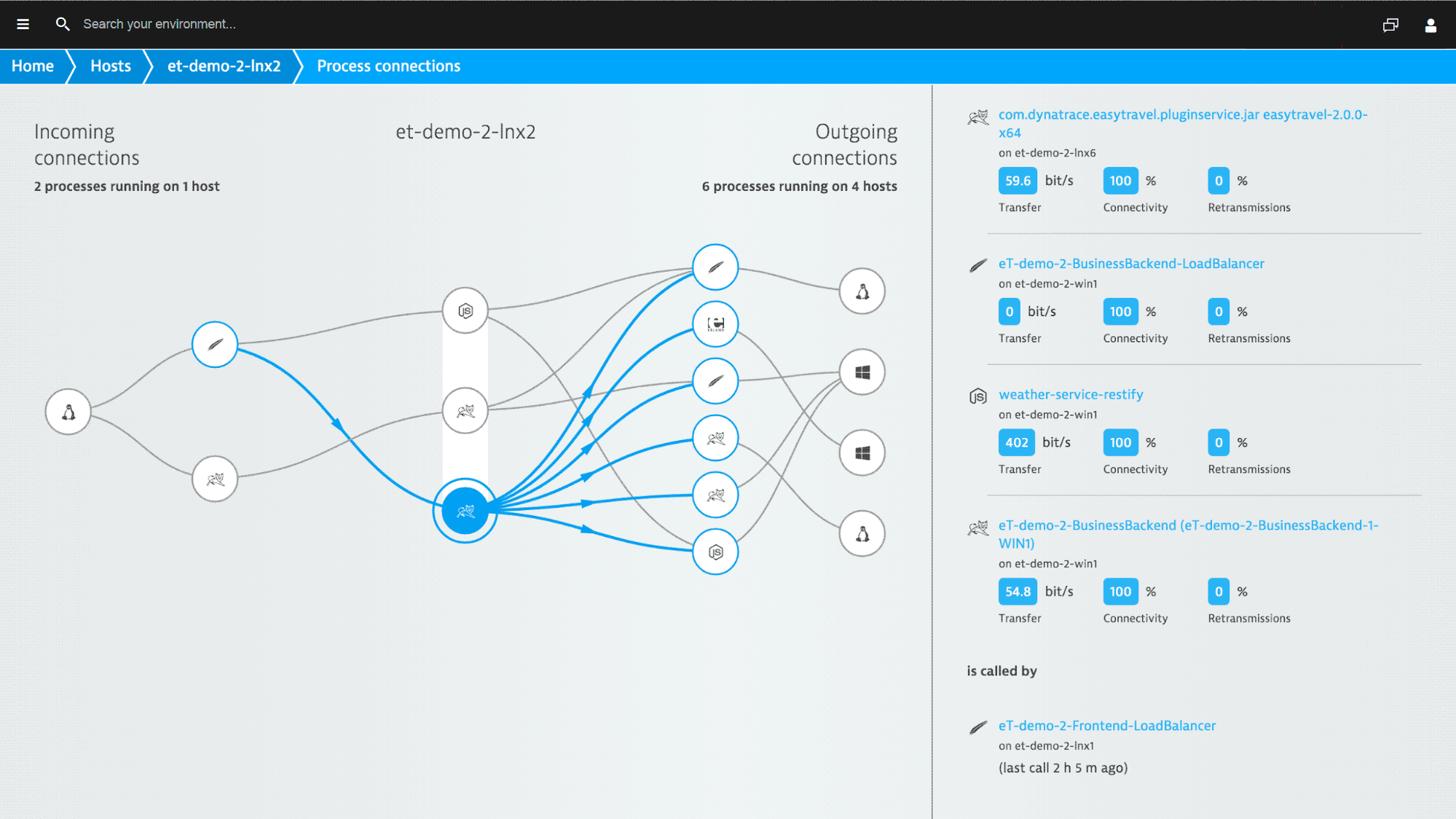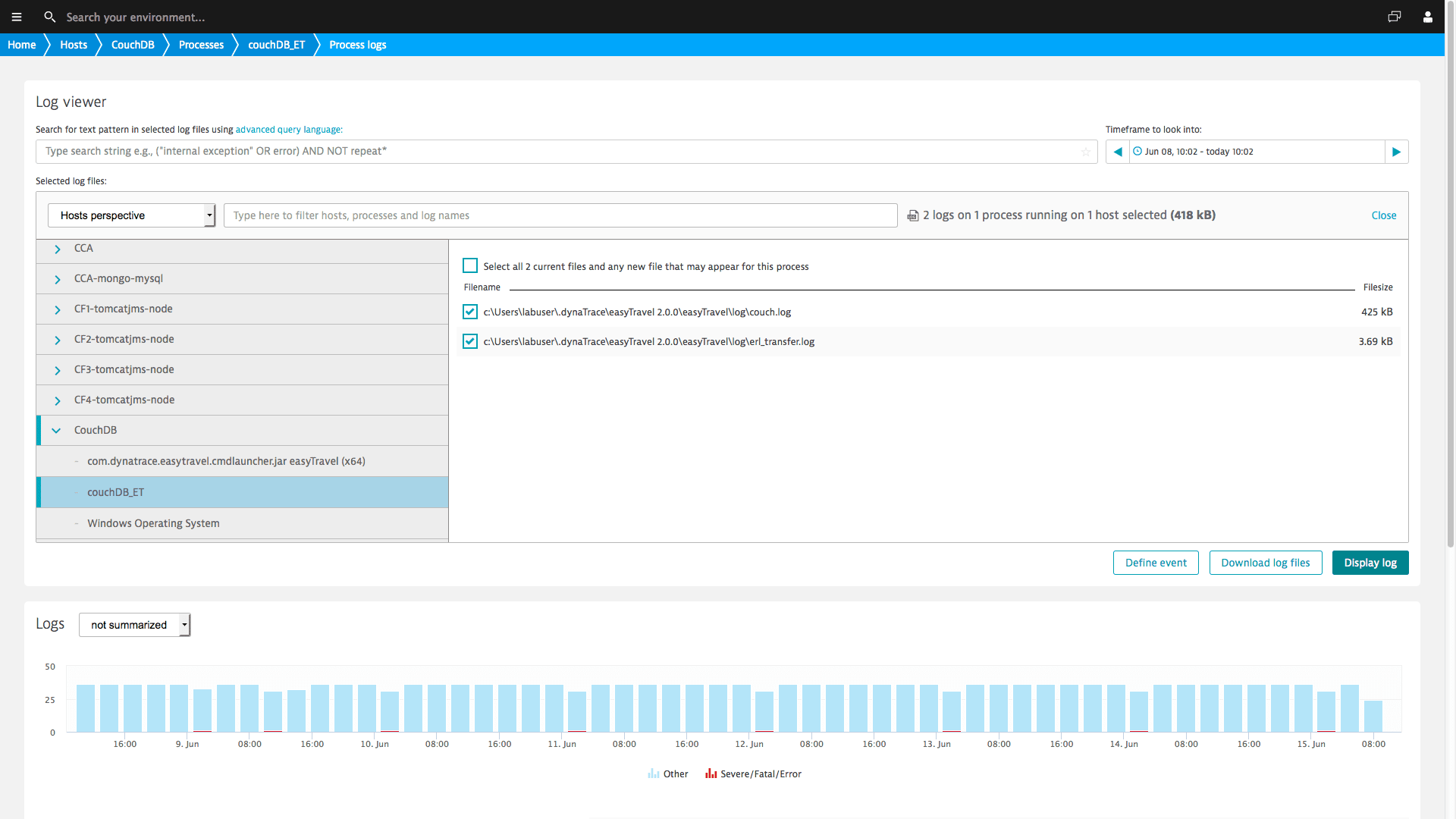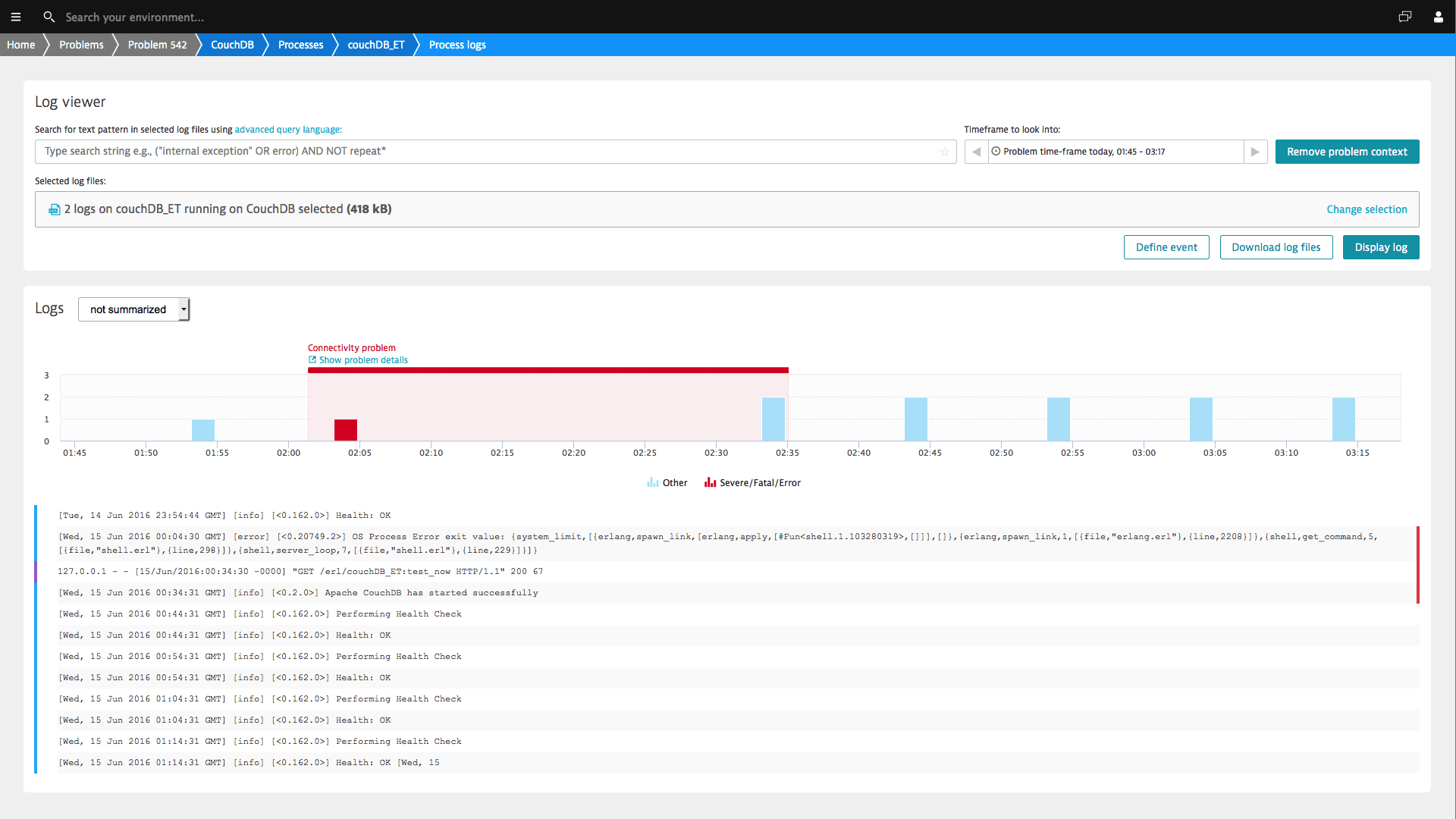 Continuous integration and delivery
---
Dynatrace integrates seamlessly with popular CI/CD systems, making performance-driven development and delivery a continuous process.
We integrate with your DevOps toolchain to automate issue detection during QA and testing.
Detect regressions automatically, comparing production and dev builds at the code-level.
A single dashboard displays the current build status from both the functional and performance perspectives.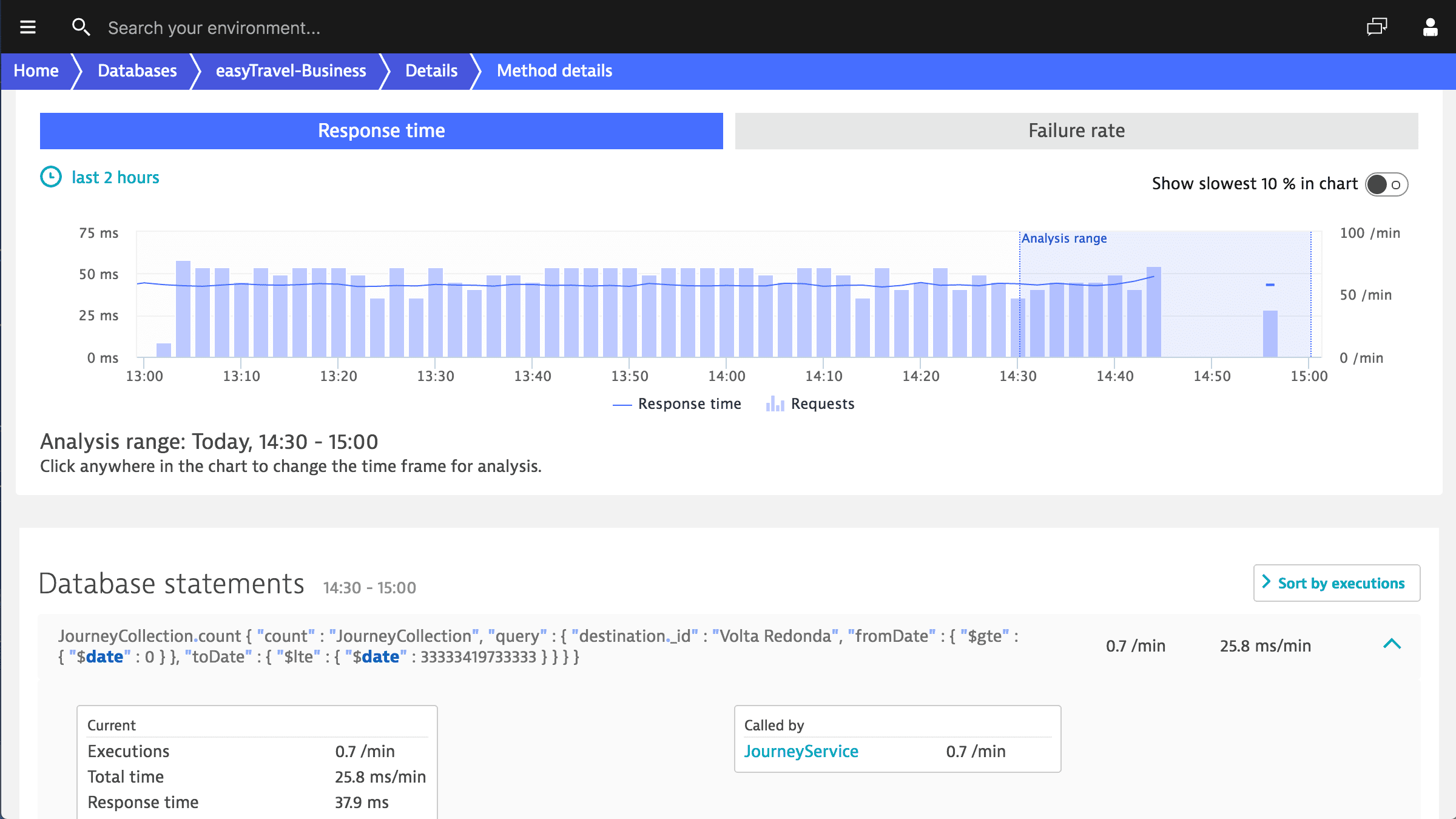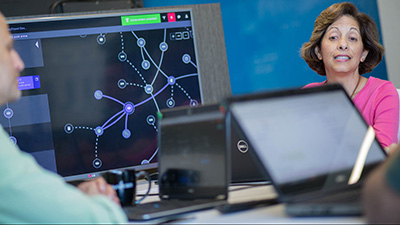 eBook
7 performance metrics to release better software faster
Download our exclusive eBook 7 performance metrics to release better software faster—no registration required—to see some real-life examples of application failures and how to avoid them.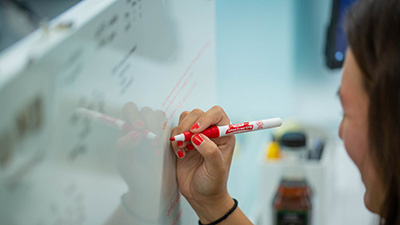 Blog post
Measure More Frequent Successful Software Releases
Need a more rapid deployment model but not sure if you can technically deliver? Read this blog post to learn which critical success factors to measure and monitor whether you're moving in the right direction.
Start your free Dynatrace trial today!
---
Just a few of our enterprise customers
Dynatrace named a 2021 Gartner
Magic Quadrant Leader
---
2021 Gartner Magic Quadrant for APM
Named a Leader for the 11th consecutive time
Download report
2021 Gartner Critical Capabilities for APM
Scored highest in 4 out of 5 use cases
Download report