Advanced scripting and advanced scripting log
Both Transaction Perspective and Application Perspective scripts can include advanced scripting using a JavaScript-based API to meet special needs.
These help files describe advanced JavaScript scripting APIs:
Advanced scripting dialog

This dialog is used to enter advanced scripting commands.
To open the Advanced Scripting dialog:
Select an action

Right-click the action and select Add Advanced API Script (or Add DOM Script or Add Advanced Script in TxP).

Select the advanced script item in the Script Viewer if not already selected:

Click the ellipses (…) to the right of the [script] line in the Script Properties Editor below:
Advanced scripting log dialog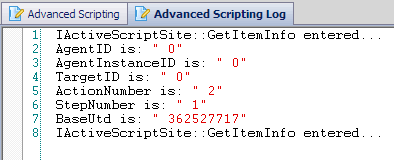 This dialog provides logging information for advanced KITE scripting.