Editing a Web recorder script
When you have completed recording a script, or when you choose to edit a test script previously recorded in the web recorder, the recording interface displays the transaction summary.
Transaction summary
The transaction summary consists of a series of thumbnails, each representing a recorded action. Actions are further grouped into steps, as when there are multiple actions on the same page. Going to a new web page creates a new step.
Steps are numbered and step names displayed above the actions. Steps are separated by the 

 icon while actions are separated by the 

 icon. The

 icon allows you to add a cookie before every action.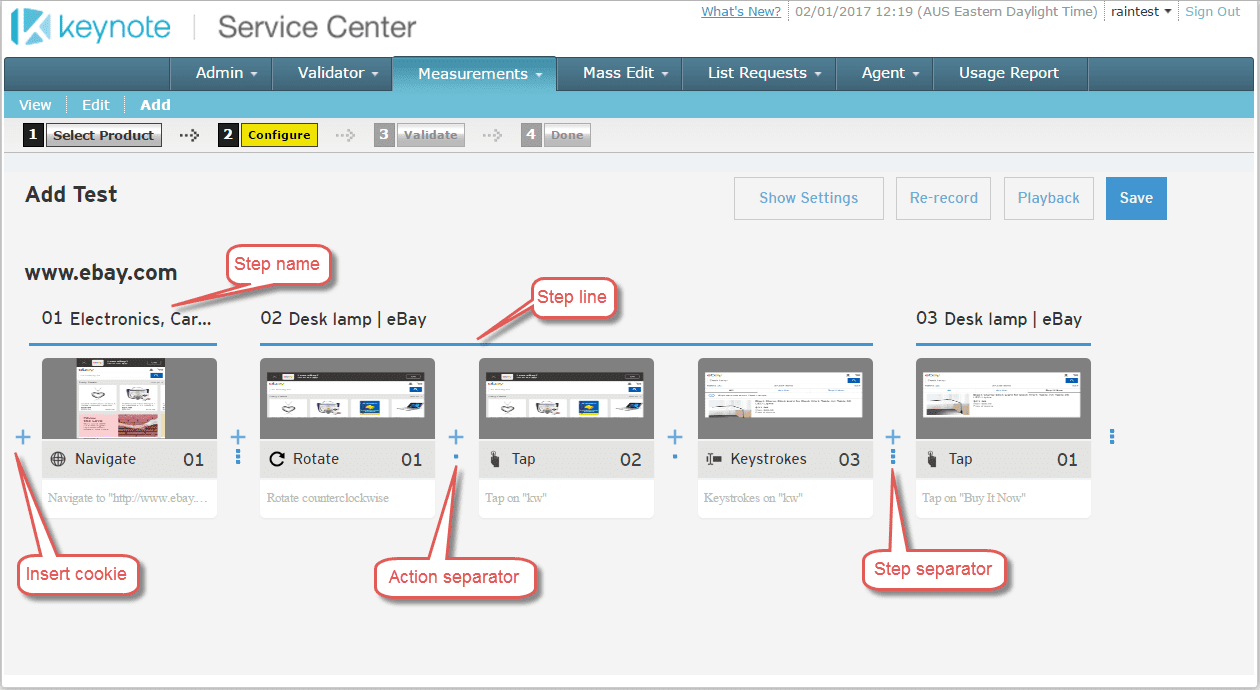 When editing a previously created measurement, the action and step thumbnails are displayed after you Playback the recorded transaction.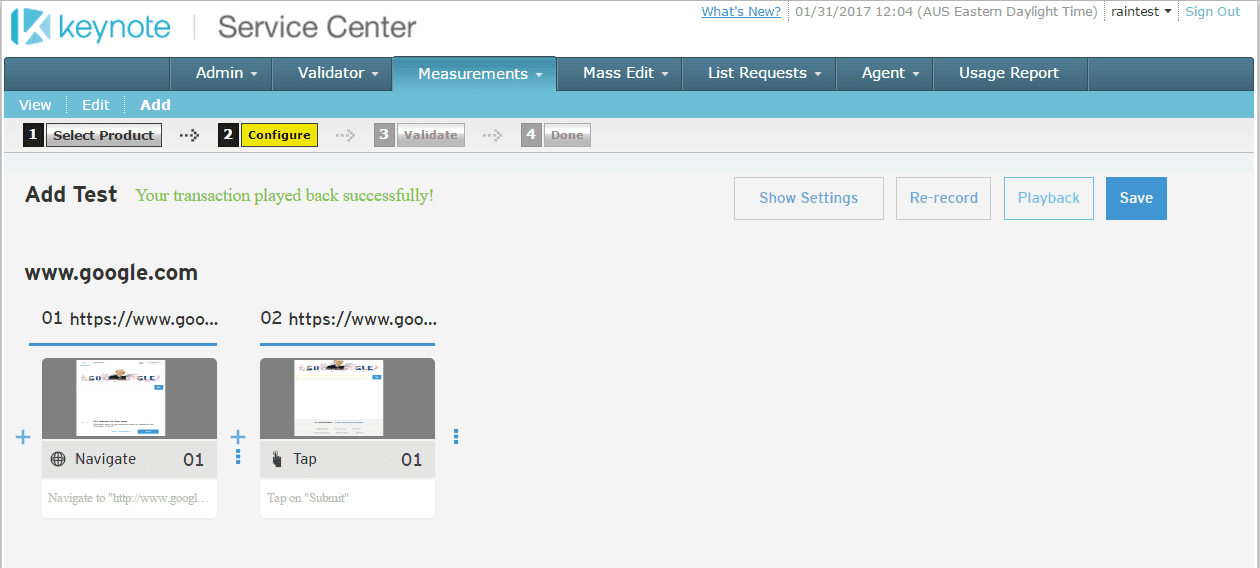 Hover over an action to see its name, which names the action type and its target, e.g., Keystrokes on "Email" or Navigate to "http://www.keynote.com".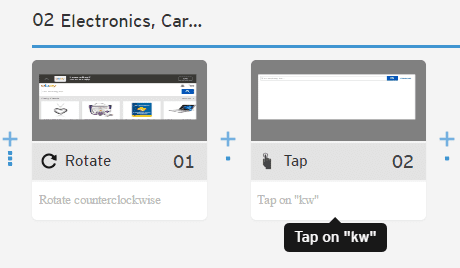 To edit an action name, click to select and type the replacement text. You can also edit the name when viewing action details.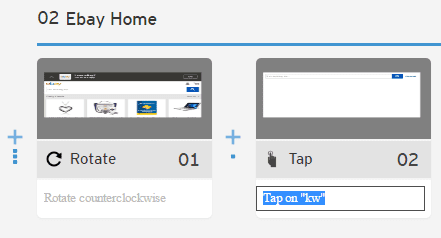 To edit the step name, click to select and type the replacement text.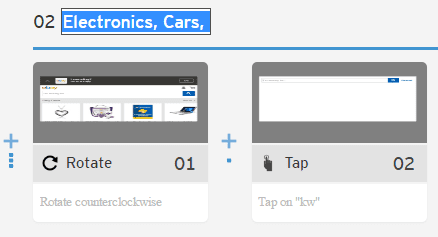 Add a cookie
If your test requires a cookie with the same value for every run, you can insert a Cookie action from the Transaction Summary after recording your script to provide that value. For details, see Web Recorder Actions.
Action details
Click an action thumbnail to display its details.
Actions have different properties depending on their type. Common desktop recorder actions include Navigate, Click, Keystrokes, and Select Option. Additionally, mobile recorder scripts can contain Tap and Rotate actions. See Web Recorder Actions for a complete reference of actions and their properties.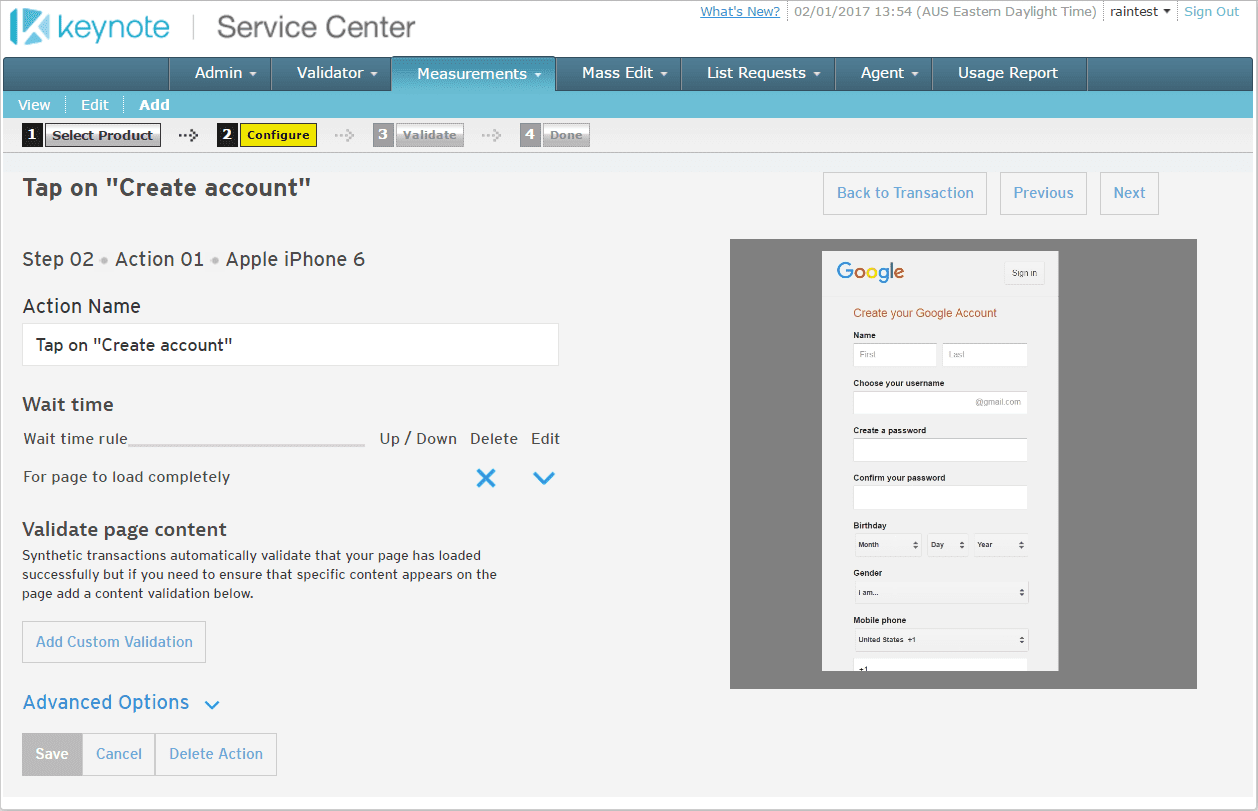 Click Back to Transaction to return to the transaction summary. Click Previous or Next to scroll through your recorded actions.
Click Advanced Options to see a full list of properties. From the action details view, you can:
Edit the action name. The default name describes the action and its target, e.g., Keystrokes on "Email" or Navigate to "http://www.keynote.com".
Specify or change text entry values (Text value).
Specify how long the web recorder (or agent) should wait after playing back the action in Wait time: wait for the page to load completely, wait for background network activity to complete, or wait for a specific period of time (see Web Recorder Actions for details).
Validate the action (Validate page content) using text values from the page (see Web Recorder Actions for details).
View Advanced Options (see Web Recorder Actions for details).
Note
We do not recommend editing any automatically captured advanced options.
Delete an action (Delete Action).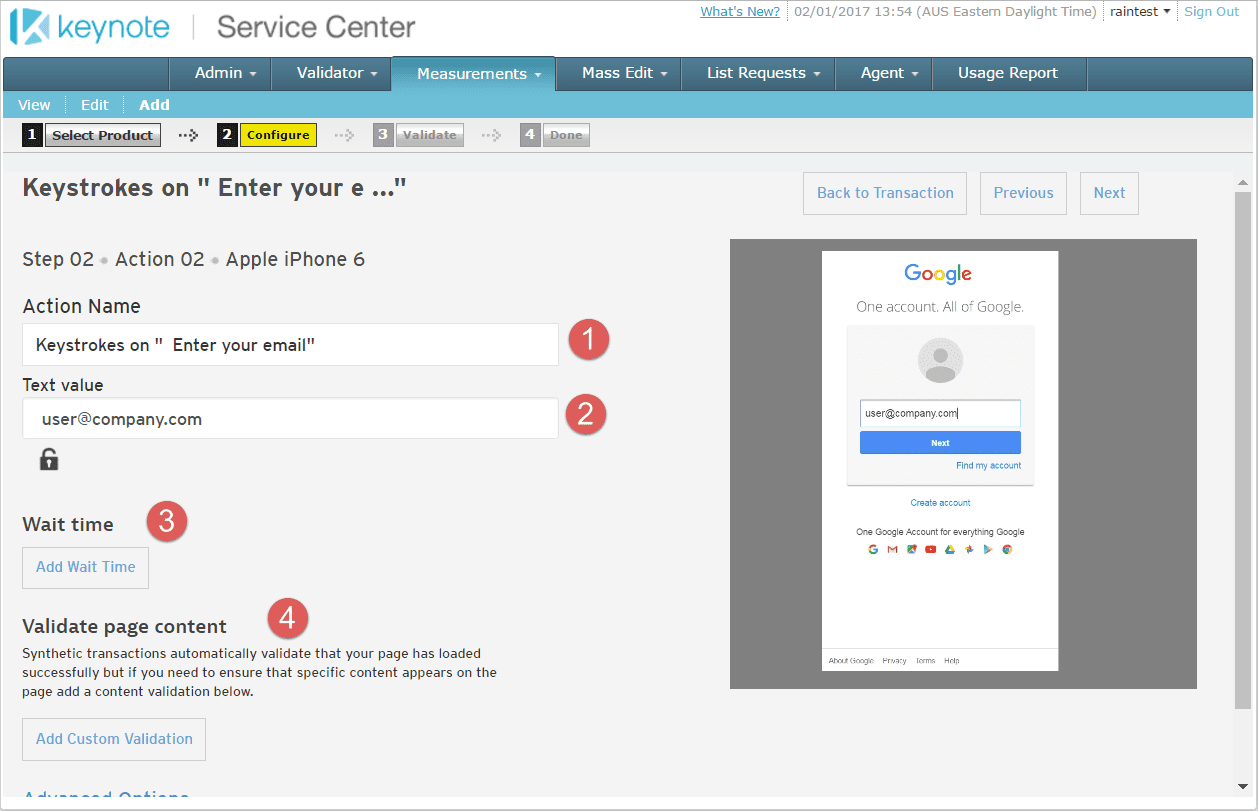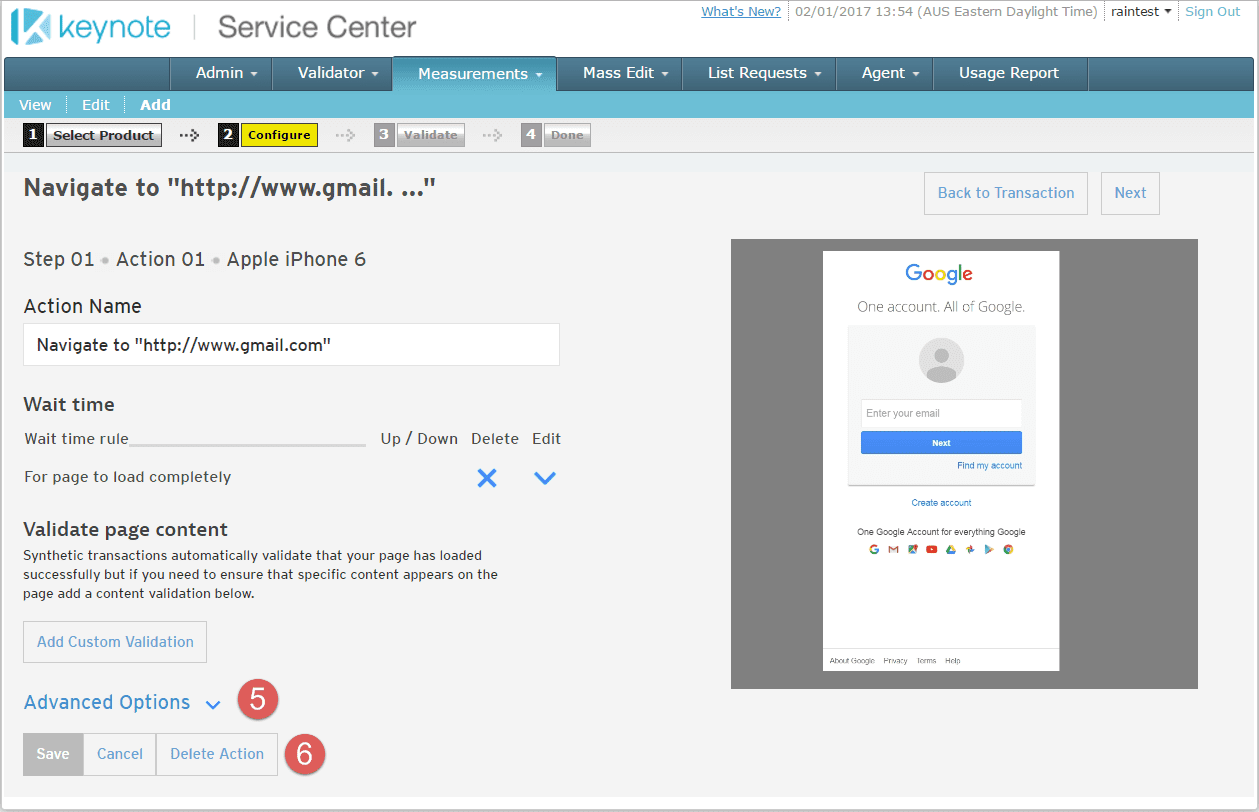 Script options
Script options are accessible from the transaction summary by clicking Show Settings at top right.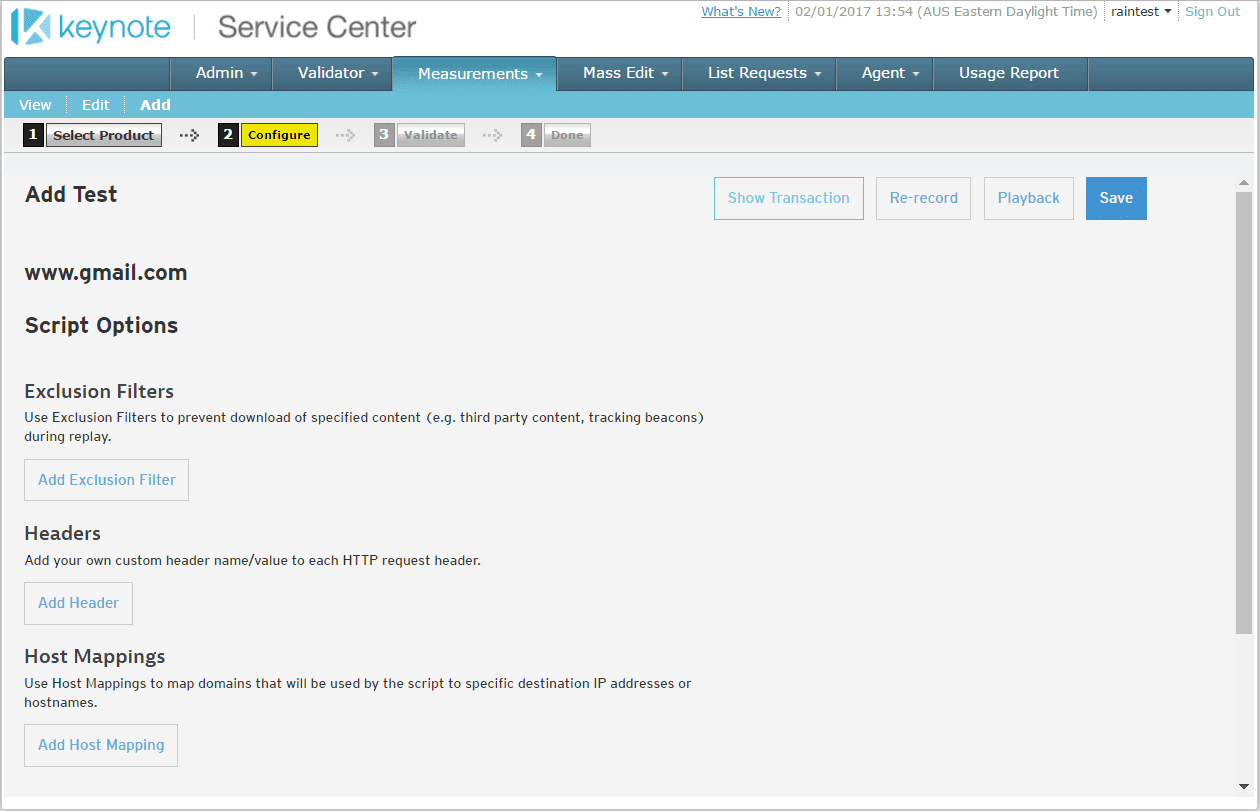 Click Add Exclusion Filter to omit all objects from a domain, e.g., type google to exclude objects from any domain with the term google in it. In mobile web recorder scripts deployed on agents, exclusion filters are treated as DNS override commands.

To specify and include HTTP request headers that aren't automatically generated by the web recorder, click Add Header. Enter a Header Name and Header Value, then click to Save Header Changes. You can define multiple headers. Every web request for the script will include the name/value pairs defined as part of the headers sent.


Use host mapping to map domains defined in the script to specific destination IP addresses or hostnames. Host mapping causes the test to ignore the system/Internet DNS servers. You may find this useful, for example, if you are testing a website that is not yet public. You can set up multiple host mappings.


Enter the Hostname to map.
Select whether to Map To an IP Address or Hostname.
Enter the Destination IP address or hostname.
Click Save New Host Mapping.

Click Script Timeout to set the time after which the script is considered to have failed. Enter a timeout in seconds and click Save Timeout Settings.

Note
In mobile (MWP) scripts, this setting is only functional for web recorder playback; it is not functional for scripts deployed on agents.
This setting is fully functional for desktop recorder (TxP) scripts.
Advanced script settings
Click Advanced > View GSL Script to view your recorded script in GSL format in a separate window. Click View Base64 GSL Script to view the GSL script with Base64 encoding.
In mobile (MWP) scripts, click Advanced to display the Device and Geolocation settings. You can change which mobile device to emulate and specify or change the location of the website, as described in Recording a Transaction.