Mozilla is fast with releasing new versions of Firefox and following fast is the Dynatrace team. As many of our users have asked about Firefox 5 support we are happy to announce that we have support with Dynatrace AJAX Edition 3.2 Beta. Release support for Firefox 5 will follow shortly for both our dynaTrace AJAX Premium and Dynatrace AJAX Edition users.
Deep Tracing in Firefox 5
If you are new to Dynatrace Ajax Edition I recommend watching the following Video Tutorials – they will get you started:
Once you have recorded a session with Dynatrace AJAX Edition you can analyze the recorded data in the Performance Report. The following screenshot shows the Performance Report for twitter.com. I loaded twitter.com being logged in with my @grabnerandi account. I moved the mouse over different posts and clicked on different links. As twitter.com is a great example for a Web 2.0 Application we see all activity being executed on a single URL:

The Timeline view shows different events in the event row. Events include things like First Impression, OnLoad or Fully Loaded Time. It also includes Mouse and Keyboard events as well as AJAX/XHR calls triggered by a JavaScript handler. Double-clicking an event will open the PurePath – which is the full trace of the JavaScript handler that was executed for a particular mouse or keyboard event handler or that executed a specific XHR Request. The following screenshot shows the PurePath when double clicking on the XHR Requests that were executed when I clicked on the Profile link on my twitter page: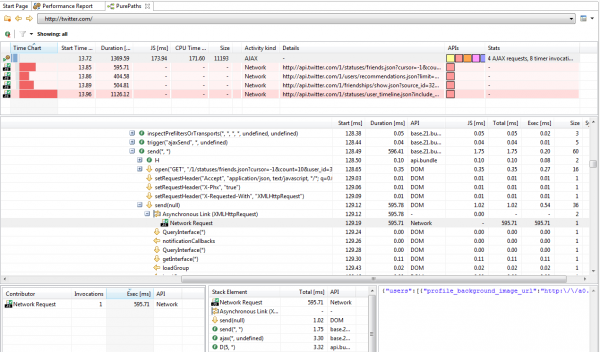 For more information on the PurePath View I recommend watching the PurePath View and the JavaScript Tracing tutorials.
Dynatrace AJAX Edition provides many more options to analyze your Web page performance. Check out the tabs on the Performance Report that help you optimize your page in terms of Browser Caching, Reducing Network Round-trips, Client-Side (JavaScript/AJAX) and Server-Side Performance.
Other enhancements
The beta contains several smaller enhancements and fixes we made based on user feedback:
Performance Report by default shows the initial URL that was entered. In case pages get redirected this was sometimes misleading.

Performance Report now provides a context menu entry to show Redirected URLs

Improved handling of mouse wheel scrolling

Performance and User Experience Report were optimized when scrolling with mouse wheel

Better handling of corrupt Dynatrace Sessions – these are sessions that do not contain full session information

You can now open corrupted Dynatrace AJAX Sessions. We will display all data available in the session

Certain pages in Firefox (using a specific version of jQuery) could not leverage DOM and XHR Tracing

This problem has been fixed. You can turn DOM/AJAX Tracing on for ALL pages in Firefox
Give us your Feedback
We get a lot of great feedback through our dynaTrace Community Forum. If you have questions on the tool or feedback about enhancement then please let us know.
If you want to take Browser Performance to the next level – check out dynaTrace AJAX Premium – which will enable you to compare different test runs, perform automatic baselining and regression alerting, provide server side visibility, and more.