dynaTrace Labs just released the next update of Dynatrace AJAX Edition. Download it on our dynaTrace AJAX Website.
After the major release in March which focused on Firefox and Cross-Browser Diagnostics this version comes with the following new features and enhancements:
User Experience Report
Experimental Support for Internet Explorer 9
New Categories for Performance Comparison
User Experience Report
As explained in our recent blog posts Why Best Practices alone don't work to test and optimize Web 2.0 Applications, State-of-the-Art Web Applications are harder to test, optimize and monitor than traditional Web applications. Optimizing the initial page load time is no longer enough in order to deliver good end user experience. Every user action (Mouse and Keyboard interactions) needs to be optimized in order to deliver acceptable End User Experience. For that reason we implemented the User Experience Report. This report analyzes the number of End User Actions you have in your session that are not necessarily related to a full page load. Traditional monitoring or diagnostics tools typically focus on Page Views but are blind to Web 2.0 Actions. The following screenshot shows the report for a Web 2.0 Web Application and tells you the number of normal Page Views, Web 2.0 Actions and their ratio. The higher the ratio the more likely it is that traditional monitoring and testing approaches miss performance relevant information: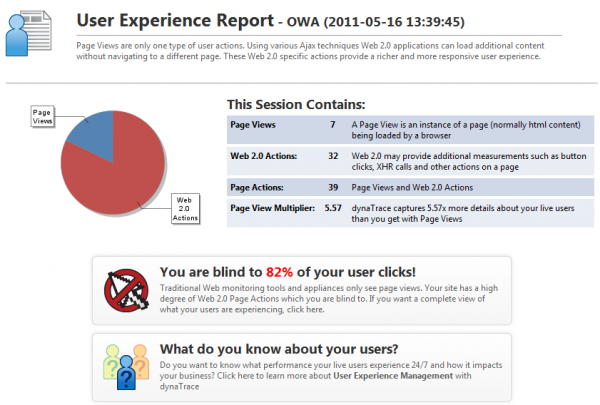 Use this report to get a better understanding of the Web 2.0 complexity of your application. The report provides additional links with information on how to optimize user experience in these types of applications.
Experimental Internet Explorer 9 support
We are working on expanding our support for browsers and browser versions. Additional to Internet Explorer 6, 7, 8 and Firefox 3.6 and 4 we are working on supporting Internet Explorer 9. We are currently in a stage where we want to provide experimental support for IE9. This currently includes Network, Rendering, Page Events and High-Level JavaScript Executions. It does not include full JavaScript and DOM Tracing.
When opening a session that was recorded with IE9 you will be able to perform all analysis options except getting detailed PurePaths for JavaScript executions. Dynatrace AJAX Edition also indicates that you are currently working on an IE9 recorded session to remind you that it is only experimentally supported: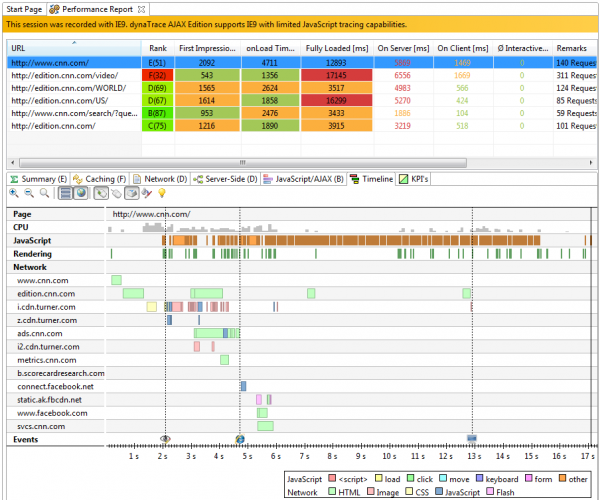 Please provide feedback on this experimental support through our dynaTrace Community Forum and stay tuned for further updates.
New Categories for Performance Comparison
Dynatrace AJAX Edition downloads live performance data and allows you to compare your performance results against results from real, live Web sites. This feature has been in Dynatrace AJAX Edition for a while but has now been extended with additional categories such as Shopping, Business, Sports or News. When you open the Performance Report select the category you want to compare yourself against and the report will show you how well you do in areas such as Caching, JavaScript, Load Times or Number of Resources:

The Performance Data will be downloaded when starting Dynatrace AJAX Edition. You will be prompted for your dynaTrace Community Credentials. In case you have disabled this feature with a previous installation of Dynatrace AJAX Edition you can enable it by clicking on the Enable automatic download link in the Performance Report. This will open the Preferences Dialog where you enable automatic download and where you specify your user credentials:

This comparison helps you focusing on those performance areas where you are not doing as well as your competition.
Getting Started with Dynatrace AJAX Edition
If you are new to Dynatrace AJAX Edition or if you want to explore features that you haven't found time yet to try, we recommend watching the AJAX Edition Tutorial Videos. You can either watch them on our Getting Started Page or on our YouTube Channel.
Enjoy this next update of Dynatrace AJAX Edition. Keep us posted with your feedback and make sure your users get the end user experience they deserve 🙂