Deliver perfect digital experiences
AI-powered, full stack, automated performance management.
See every user, every app, everywhere.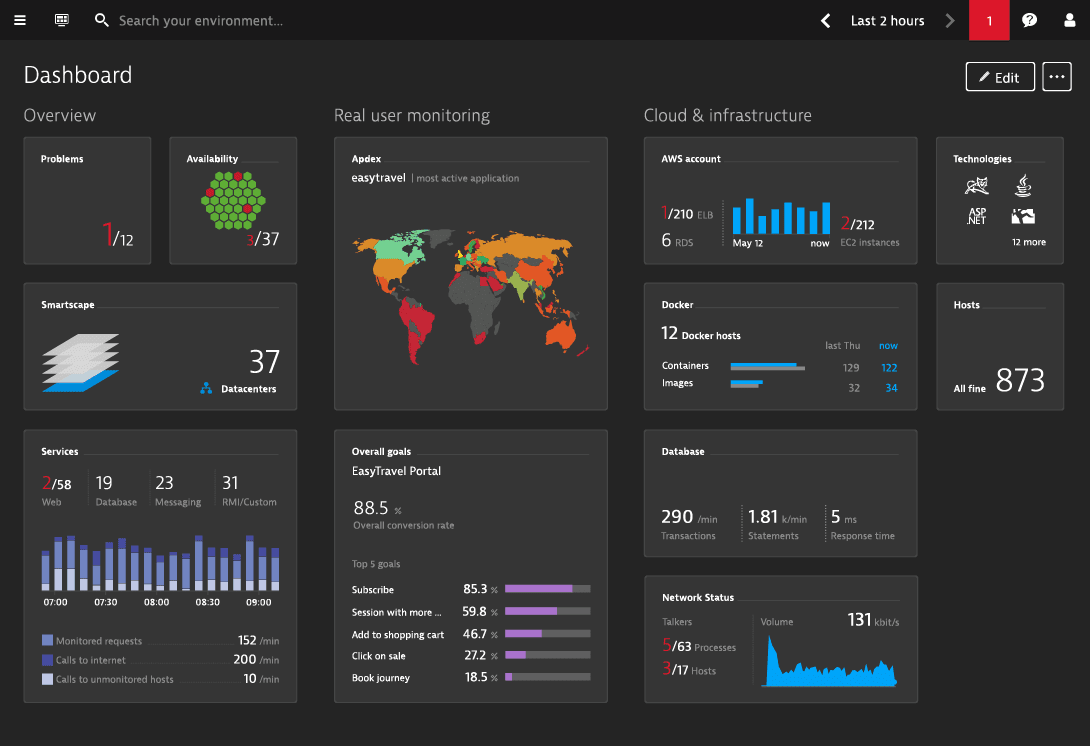 We accelerate innovation and transformation
for the biggest and brightest brands
"Dynatrace gives you the full picture of why your apps crashed and how to prevent it from happening again. It has also told us exactly how we're using our environment, so we know what resources to move to the cloud for greater productivity and efficiency. You get instant value from Dynatrace."
Nestor Zapata, Citrix
Heterogeneous, hyper-complex ecosystem

Citrix needed to shift to the cloud efficiently

Now, less time troubleshooting, more time innovating

Problems prevented before users hit; rapid problem resolution
The #1 leader in application performance management
7 years a Gartner Magic Quadrant leader. And proud of it.
We've redefined monitoring. Our capabilities are unrivaled.
AI-powered analytics
Full stack discovery
Fully automated
Self-healing at scale
Unified monitoring for the full stack environment.
Installed in minutes.
Digital experience analytics
Real user and synthetic monitoring
Session recording & replay
Mobile app analytics
Business transactions
Connected device experience / IoT
Application performance management
Deep-dive application monitoring
Code-level visibility
Database monitoring
Continuous delivery analytics
Enterprise application monitoring
Cloud & infrastructure monitoring
Cloud monitoring
Microservices & container monitoring
Infrastructure monitoring
Log analytics
Network monitoring
Auto-deploy and configure in the cloud with ease.
No matter which cloud technologies you use.
Start my free Dynatrace trial!