Cloud monitoring
Dynatrace supports all types of cloud environments with easy, automatic deployment.
Cloud monitoring taken to the next level
Dynatrace provides a complete picture of health of the entire cloud infrastructure. All your nodes, transactions, and users in one pane of glass: Whether you've launched a new app in a public cloud or in your virtualized data center, we've got you covered.
Get full visibility across all cloud and on-premise tiers, including OS-level and crucial network metrics.
Eliminate all blind spots. Detect issues with 3rd party services, load-balancers, hypervisor dynamics, disconnected hosts, or limited network visibility.
Leverage advanced root cause capabilities with an indication on end user impact.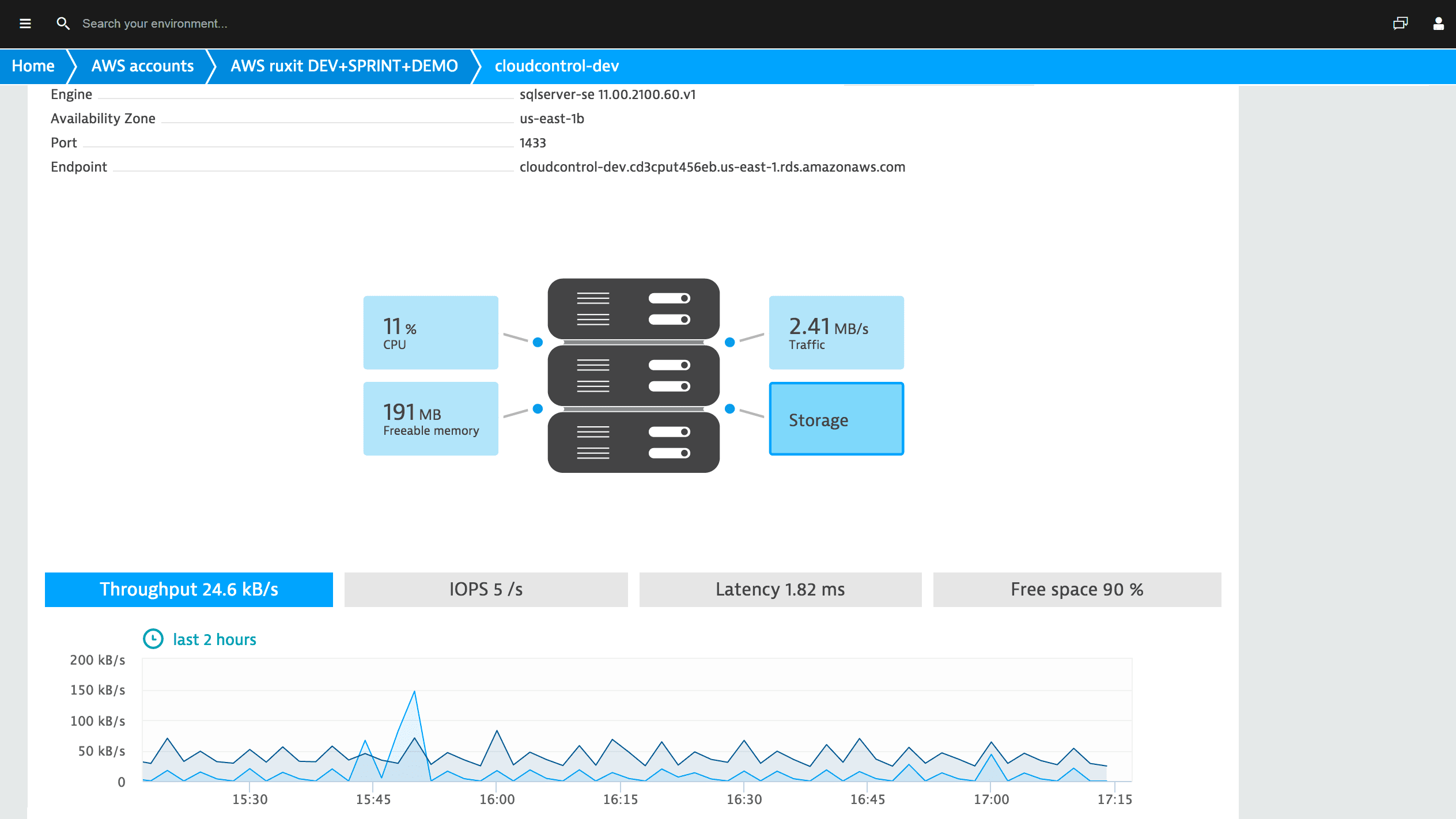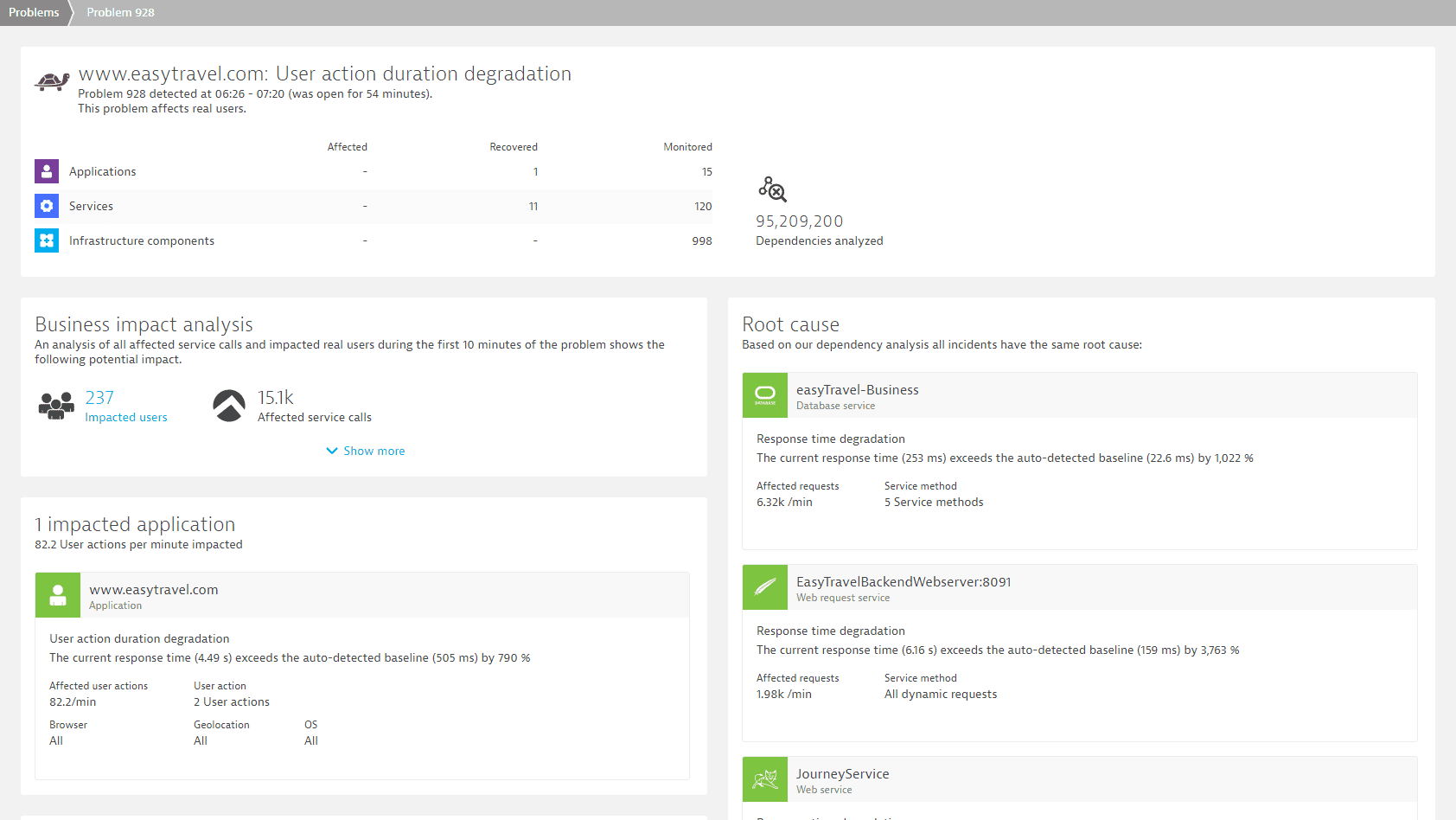 Plug-n-play for the modern cloud
Whether you run in a public, private, or hybrid cloud, Dynatrace auto-detects and monitors cloud components and keeps up with any changes of the dynamic environments.
Maintain gap-free visibility of user transactions in modern cloud environments.
Auto-detect cloud applications and services on AWS, Microsoft Azure, Cloud Foundry, OpenStack, OpenShift, and more.
Gain complete insights across all cloud and on-premise tiers with a real-time map of dependencies between applications, services, processes, and cloud components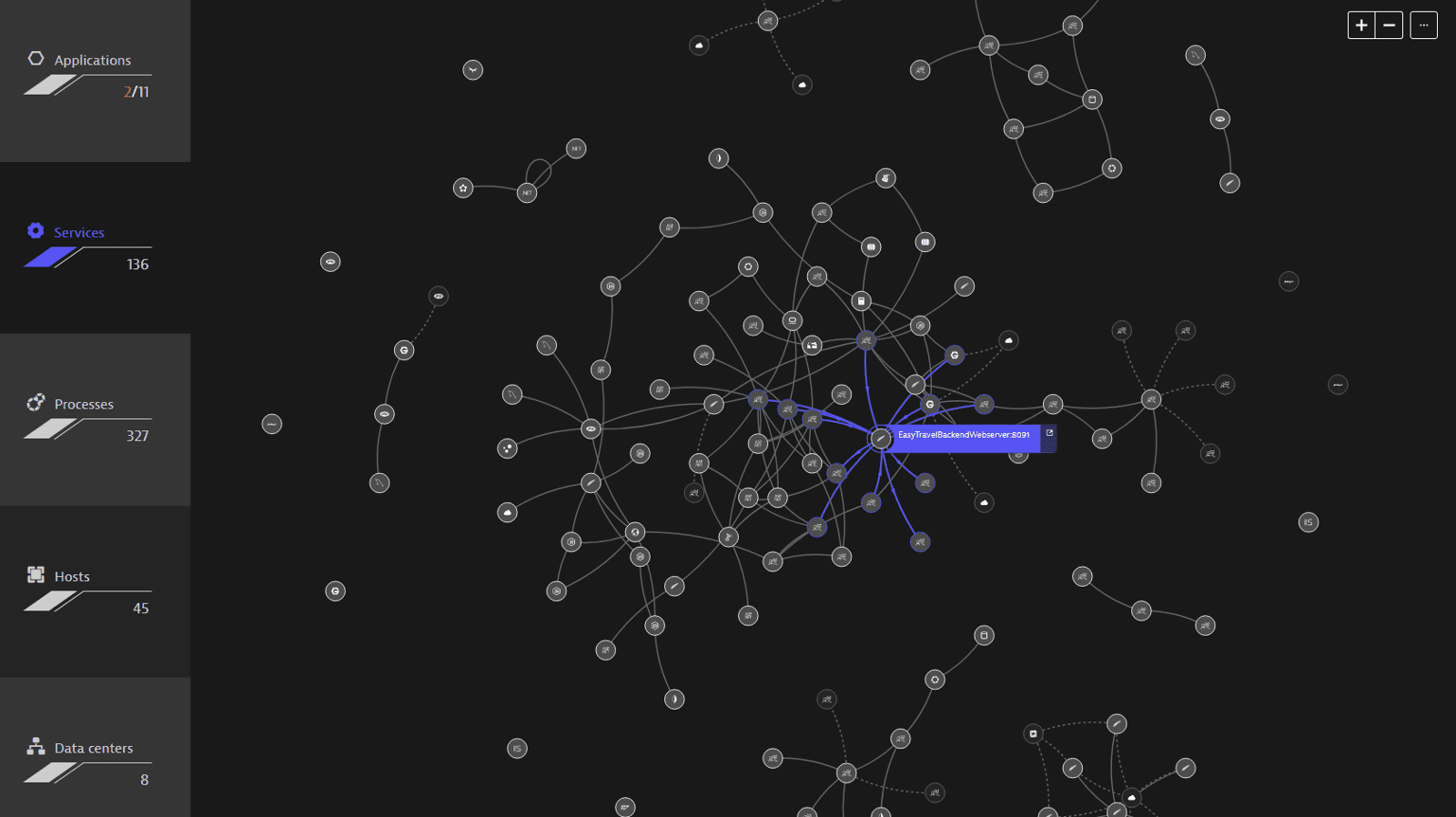 Dynatrace seamlessly integrates with your cloud and container environments
Start monitoring your cloud environments with Dynatrace today!
Dynatrace has been built from the ground up with dynamic environments in mind
Check out these resources to see why monitoring in the cloud means monitoring with Dynatrace
Monitor private, public and hybrid cloud environments
Dynatrace monitors the virtualized environments in private or public datacenters. Dynatrace cloud monitoring tools provide full transparency into your enterprise-cloud technologies including VMWare, KVM, Xen, or CenturyLink.
Track the performance of all virtualized components of your application.
Get full insights into the resource utilization of your virtualized environments.
Understand how your applications are deployed across cloud instances.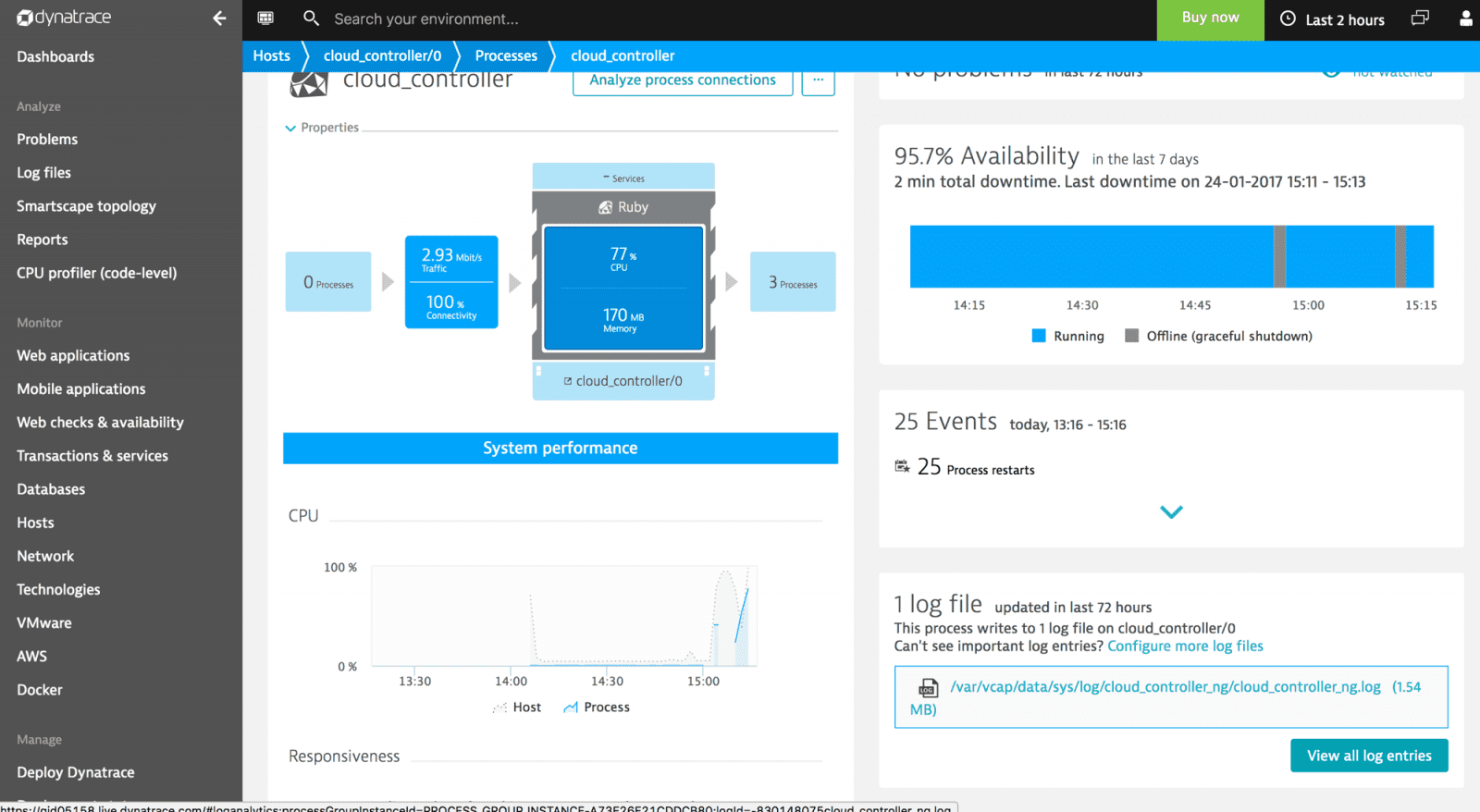 Containers and microservices
Dynatrace monitors the distributed applications that you deploy via containers across your hosts and cloud instances.
Gain visibility into containers from the application perspective without touching your images or making special configurations.
Learn more about containers and microservices monitoring.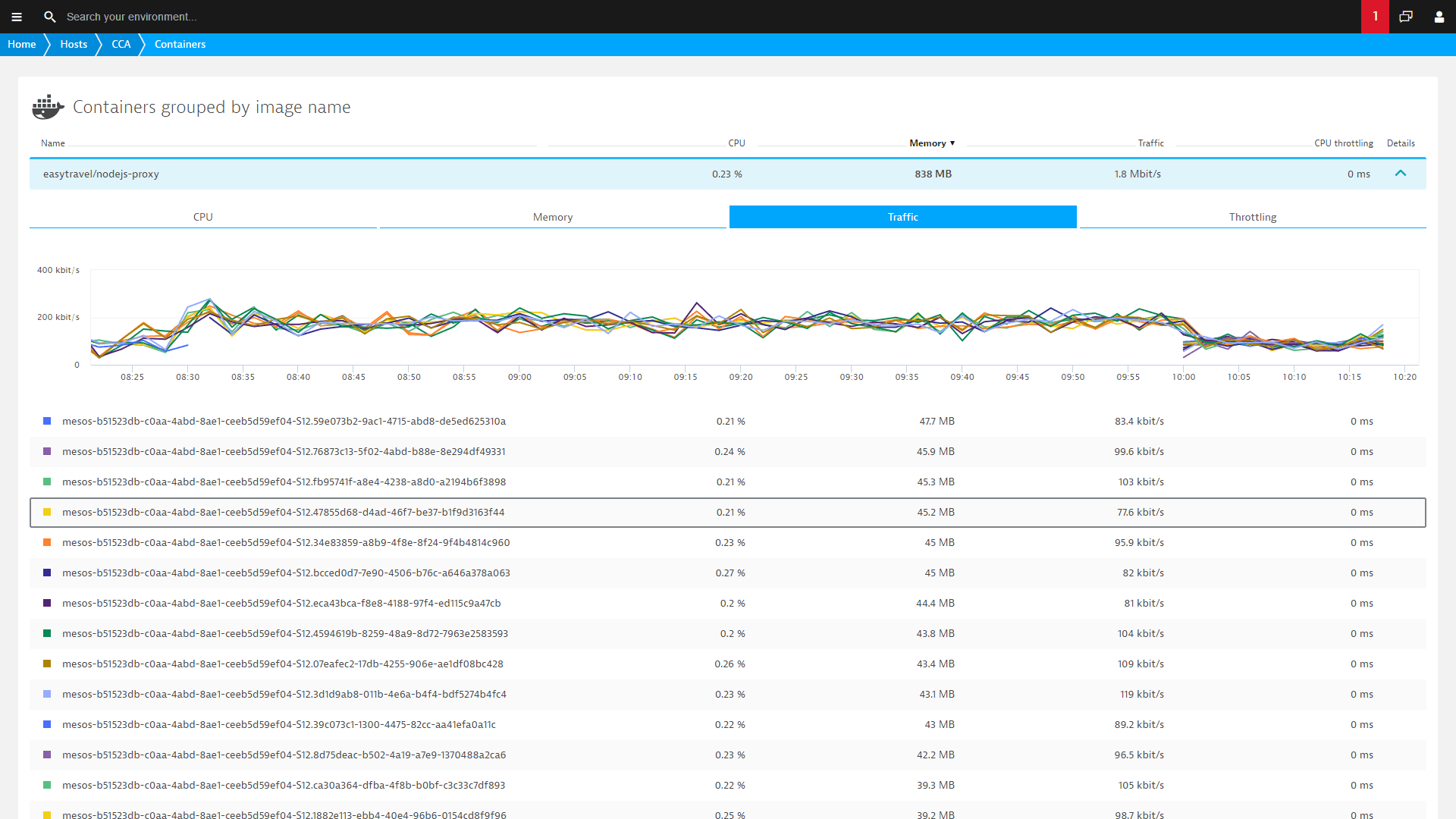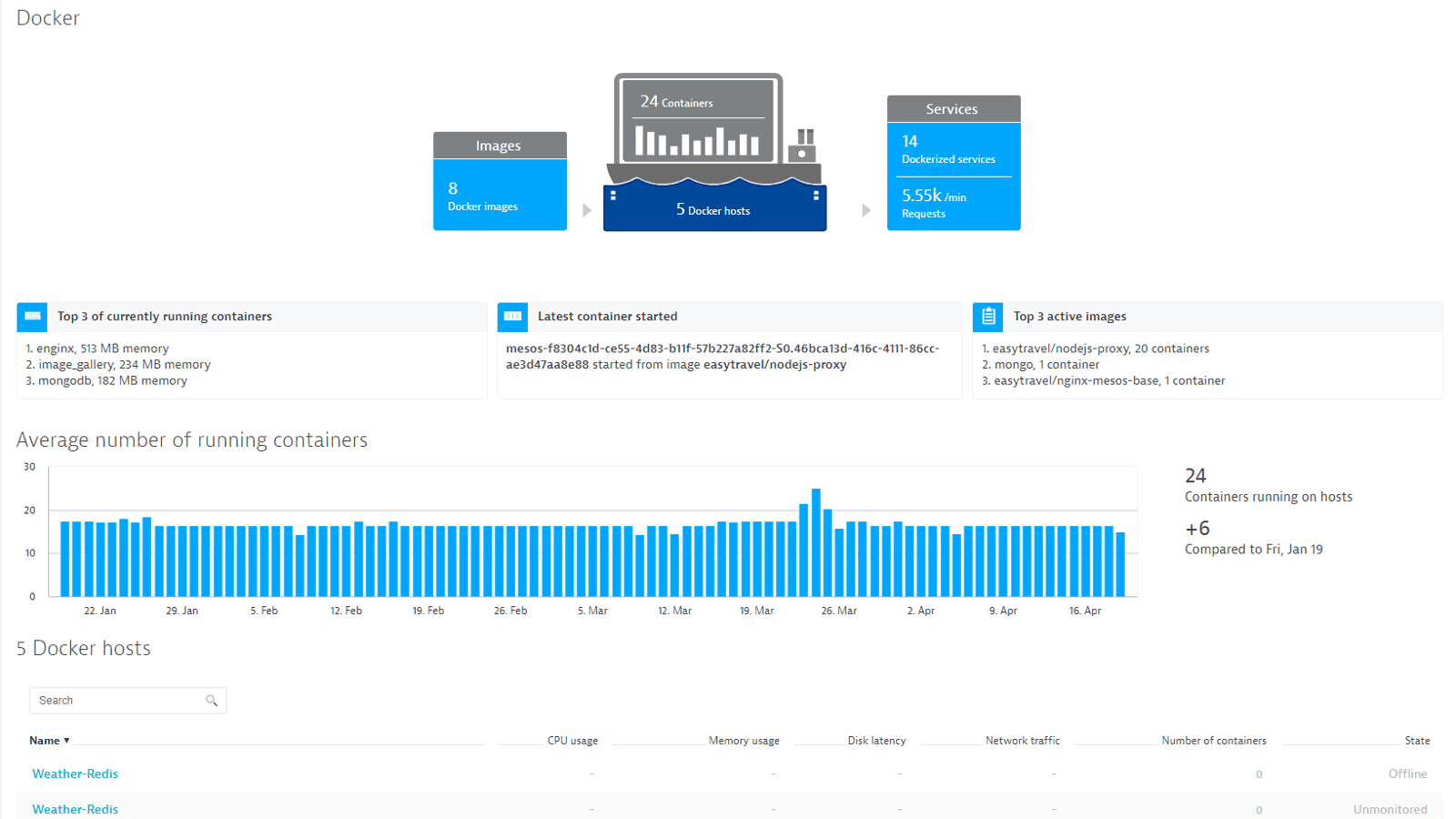 Intelligent cloud scaling for elastic response
Dynatrace traces all business transactions through your environment enabling you to effectively understand capacity requirements on a per-transaction and per-user level.
Dynatrace cloud monitoring tools provide all facts for cost optimization of cloud applications.
Leverage understandable metrics like transaction-load or user-load patterns for capacity management.
Fully benefit from the auto-scaling capabilities of the public cloud such as AWS.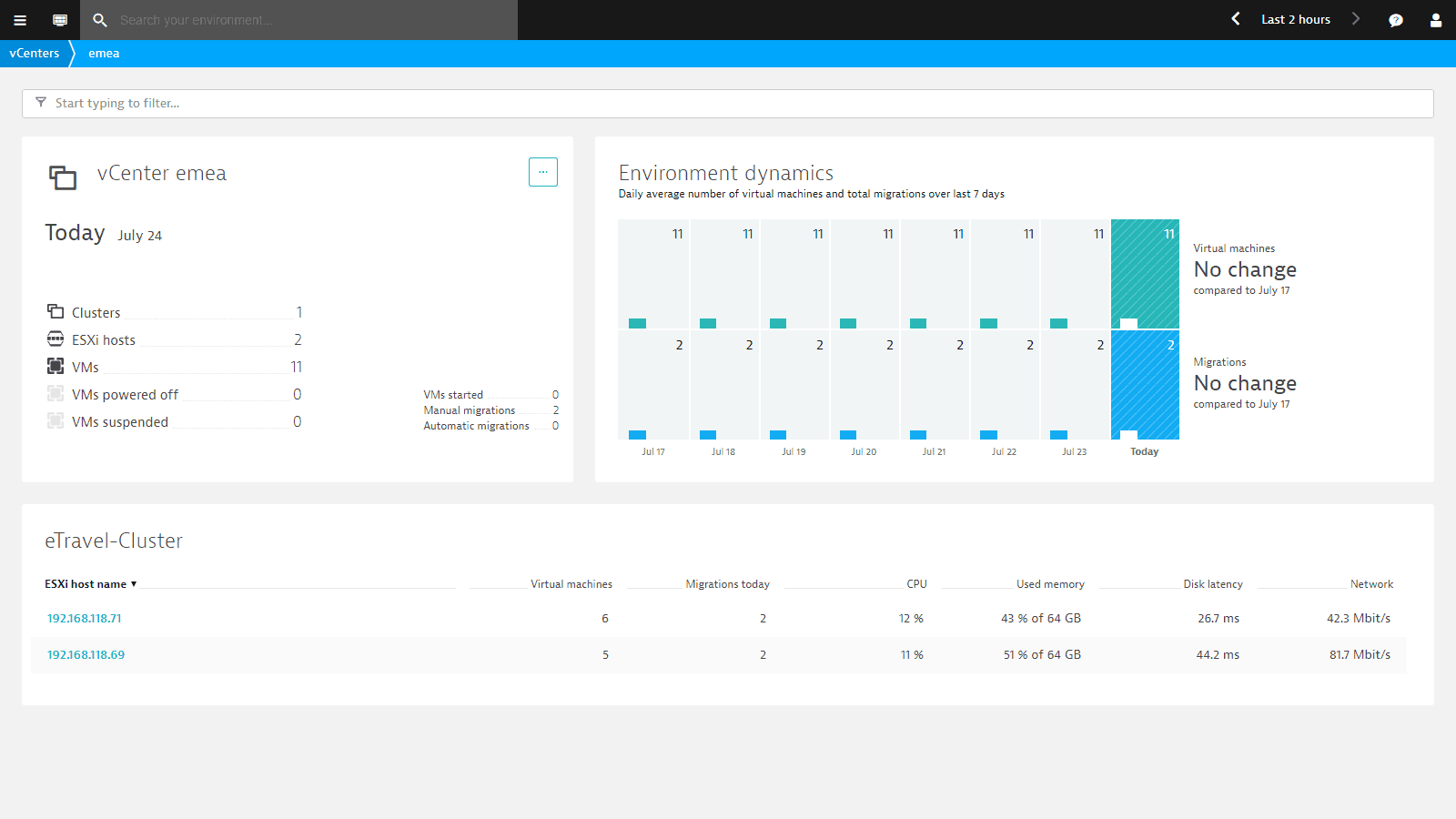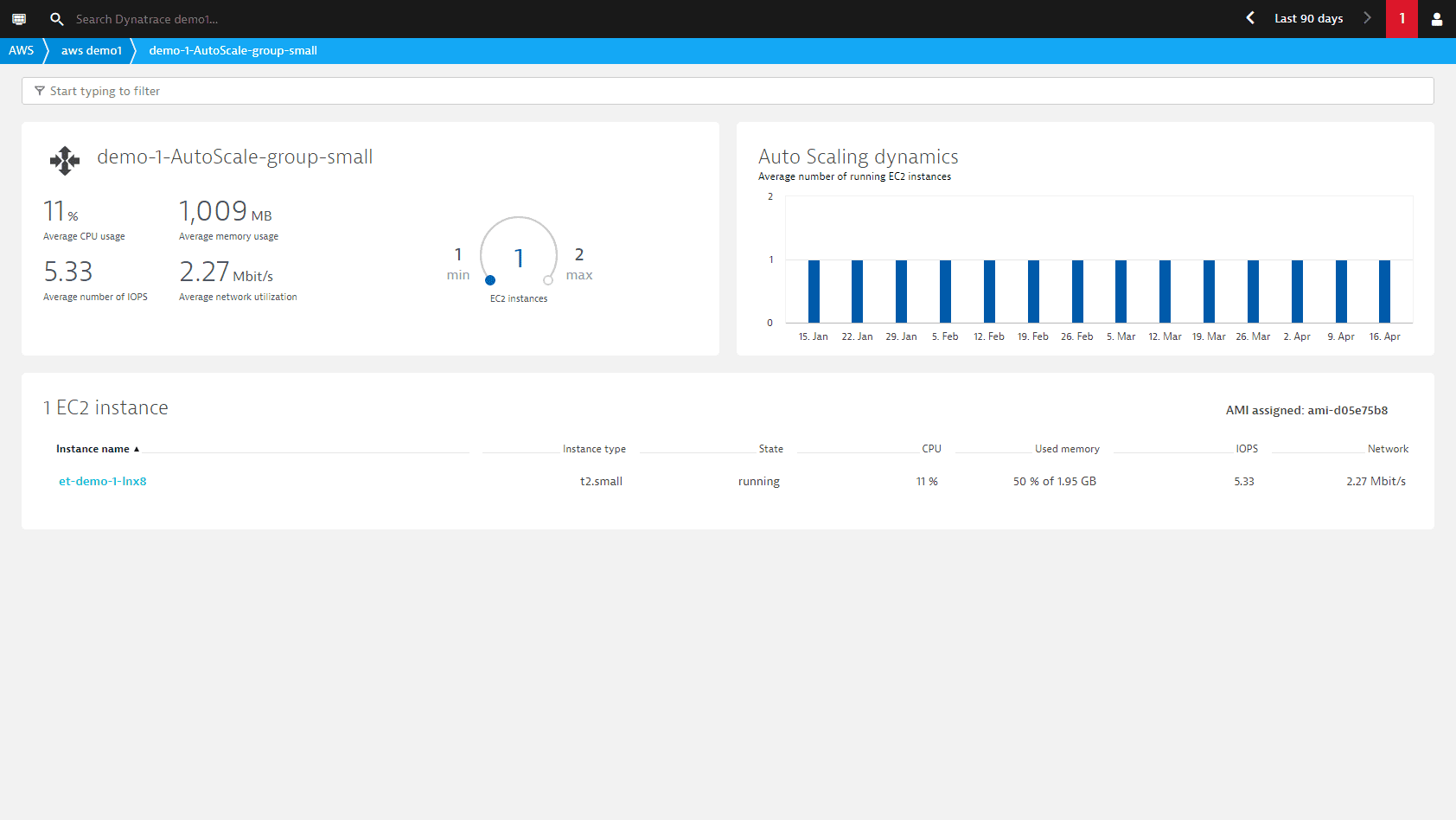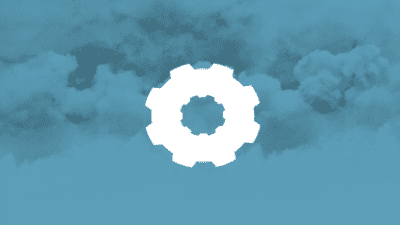 How do you avoid finger-pointing when your infrastructure is in multiple hands? Download our free eBook Ensuring App Performance in a Multi-Cloud World to:
Learn how you can best manage app performance and detect app delivery problems in hybrid cloud environments
Understand what approach best aligns with both the technical challenges and the business imperatives associated with cloud-based provisioning of new and legacy workloads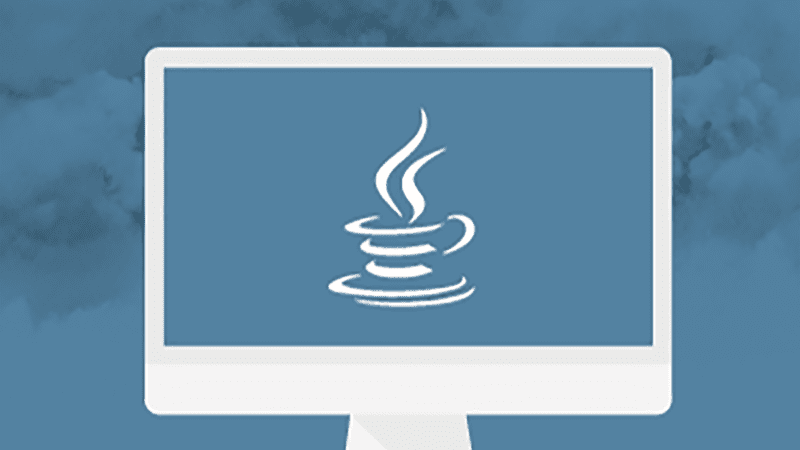 Senior leaders from the Dynatrace Labs and Center of Excellence teams have collaborated to develop the only definitive reference on practical, day-to-day application performance management.
The must-read chapter on Monitoring and Understanding Application Performance in the Cloud is available exclusively online.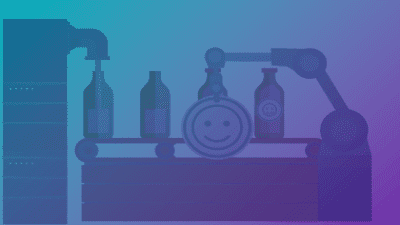 The software-defined data center (SDDC) promises increased agility, real-time elasticity, and effective cost containment. But how will the foundational SDDC virtualization technologies impact your organization?
In our free eBook Operational Visibility in the Software-Defined Data Center—no registration required—four industry experts share practical guidance and strategies on how to effectively implement and manage today's modern data center.
Cloud migration
Migrating your infrastructure to the cloud requires careful preparation. Whether you're moving an application or your entire datacenter to a public, private, or hybrid cloud, Dynatrace supports you along the way.
Learn more about cloud migration.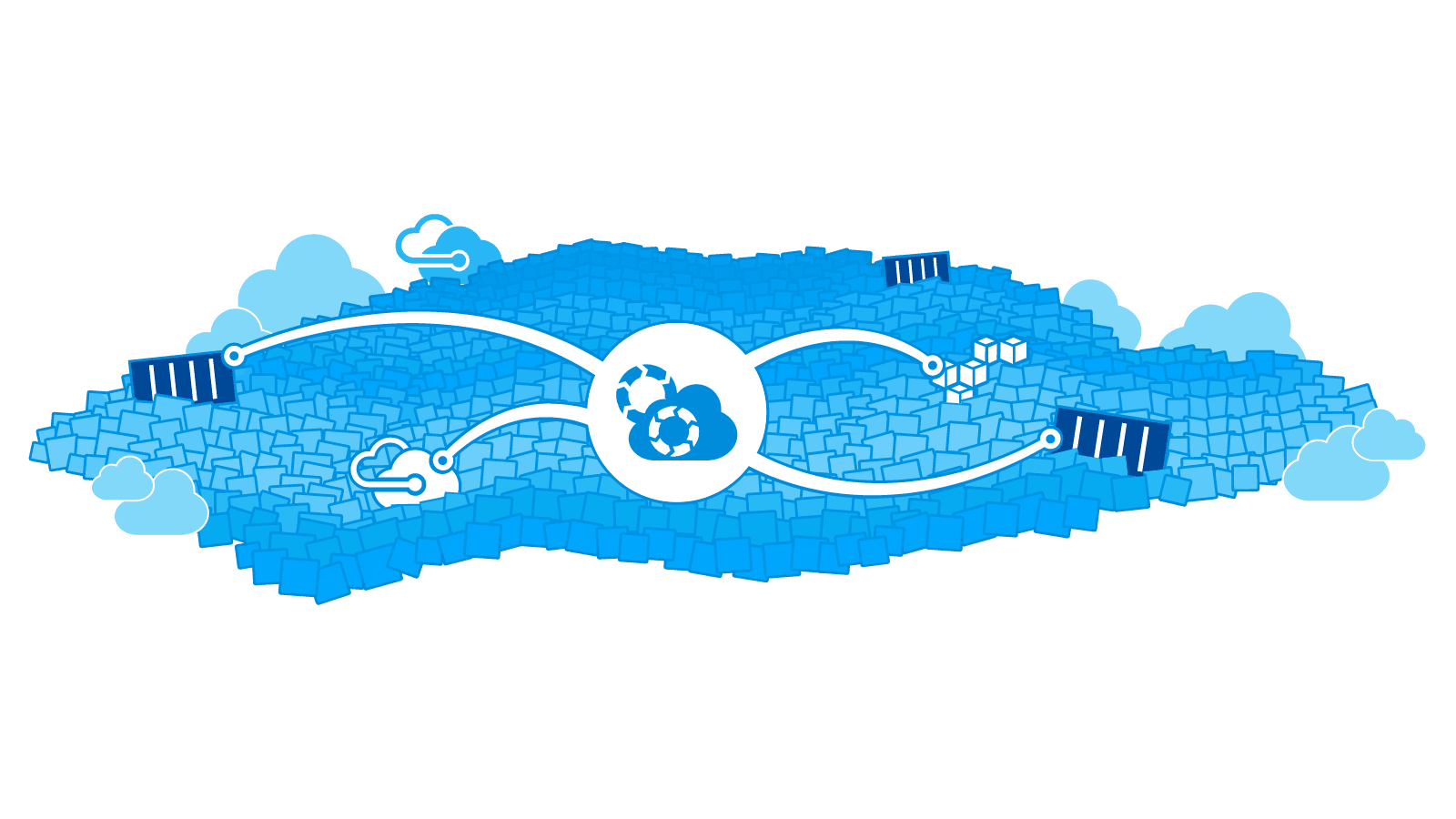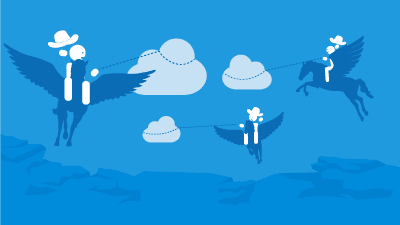 A recent O'Reilly Media-Dynatrace survey found that 92% of companies anticipate going cloud-native within the next 5 years. So, exactly how do you successfully migrate toward cloud-native technologies and practices?
Register to download our exclusive eBook Cloud-Native Evolution: How Companies Go Digital to learn the 3 stages of a cloud migration strategy, including case studies that show you how to tackle both technical and cultural problems.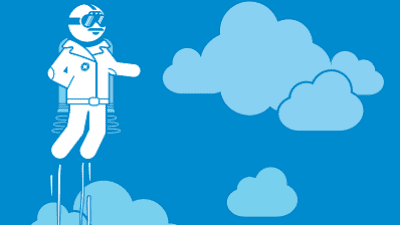 Hear Alois Mayr, Tech Lead for cloud and virtualization technologies in the Dynatrace Innovation Lab, as he discusses a 3-step path to modernizing applications and the unique benefits Dynatrace provides along the journey. You'll learn how to:
Manage highly dynamic larger-scale microservices without increasing operational costs
Automate monitoring—even in polyglot development environments—and minimize customer impact during cloud migration
Identify problems in seconds and pinpoint their underlying root causes using artificial intelligence
Check out our full library of 60+ on-demand webinars here!
Sign up for Dynatrace cloud monitoring today!