As an Amazon Web Services (AWS) Advanced Technology Partner, Dynatrace easily integrates with AWS to help you stay on top of the dynamics of your enterprise cloud environment​. In addition to automatic full-stack monitoring, Dynatrace provides comprehensive support for all AWS services that publish metrics to Amazon CloudWatch, providing advanced observability for dynamic hybrid clouds.
We're therefore excited to announce that Dynatrace has received the AWS Outposts Service Ready designation. The AWS Service Ready Program was established to support the seamless integration and deployment of AWS services. It differentiates Dynatrace as an AWS Partner Network (APN) member with a fully tested product on AWS Outposts.

"We are delighted to welcome Dynatrace to the AWS Outposts Ready Program. Dynatrace can help customers monitor, troubleshoot, and optimize application performance for workloads operating on AWS Outposts, in AWS Regions, and on customer-owned hardware for a truly consistent hybrid experience."

Joshua Burgin, General Manager, AWS Outposts, Amazon Web Services, Inc.
What is AWS Outposts?
AWS Outposts provides fully managed and configurable compute and storage racks that bring native AWS services, infrastructure, and operating models to any data center or on-premises facility, allowing customers to run computing and storage virtually anywhere while seamlessly connecting to the broad array of AWS services in the cloud.
There are two important use cases for AWS Outposts:
As a step in your

AWS

cloud migration journey, or
For running sensitive workloads that need to remain on-premises while benefiting from the AWS cloud management plane
Gain automatic, intelligent observability into hybrid cloud workloads
As Dynatracers we are proud that our single platform allows us to be the only vendor to offer the same observability, automation, and intelligence regardless of your deployment model.
With Dynatrace and AWS Outposts, enterprises gain automatic, intelligent observability into hybrid cloud workloads spanning AWS public regions as well as on-premises and AWS Outposts deployments. This is achieved with a single, all-in-one platform that enables you to get answers, not just data, for your most dynamic hybrid cloud environments.
Run your Dynatrace Managed cluster on AWS Outposts
Dynatrace now monitors your AWS Outposts environment just like any AWS cloud Region.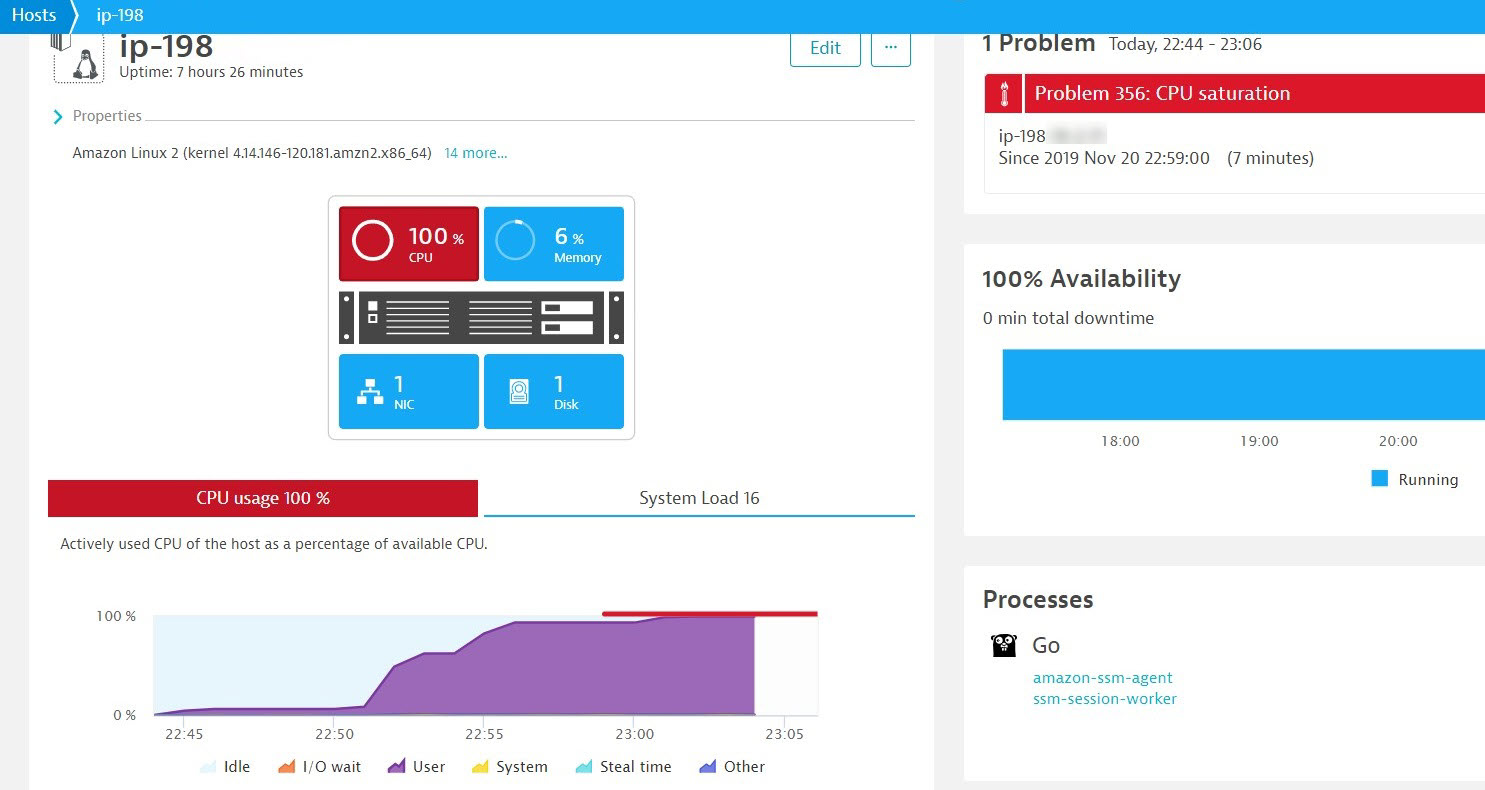 Automatic observability into your Amazon EKS cluster running on AWS Outposts
What's more, you can now also monitor your EKS cluster on AWS Outposts by deploying the Dynatrace OneAgent Operator, a sample application, and connecting to the EKS API.
As you can see in the following screenshots, EKS metrics flow into the Dynatrace Cluster and from there to the Dynatrace web UI, where you can view metrics, events, and logs for an Amazon EKS cluster running on AWS Outposts.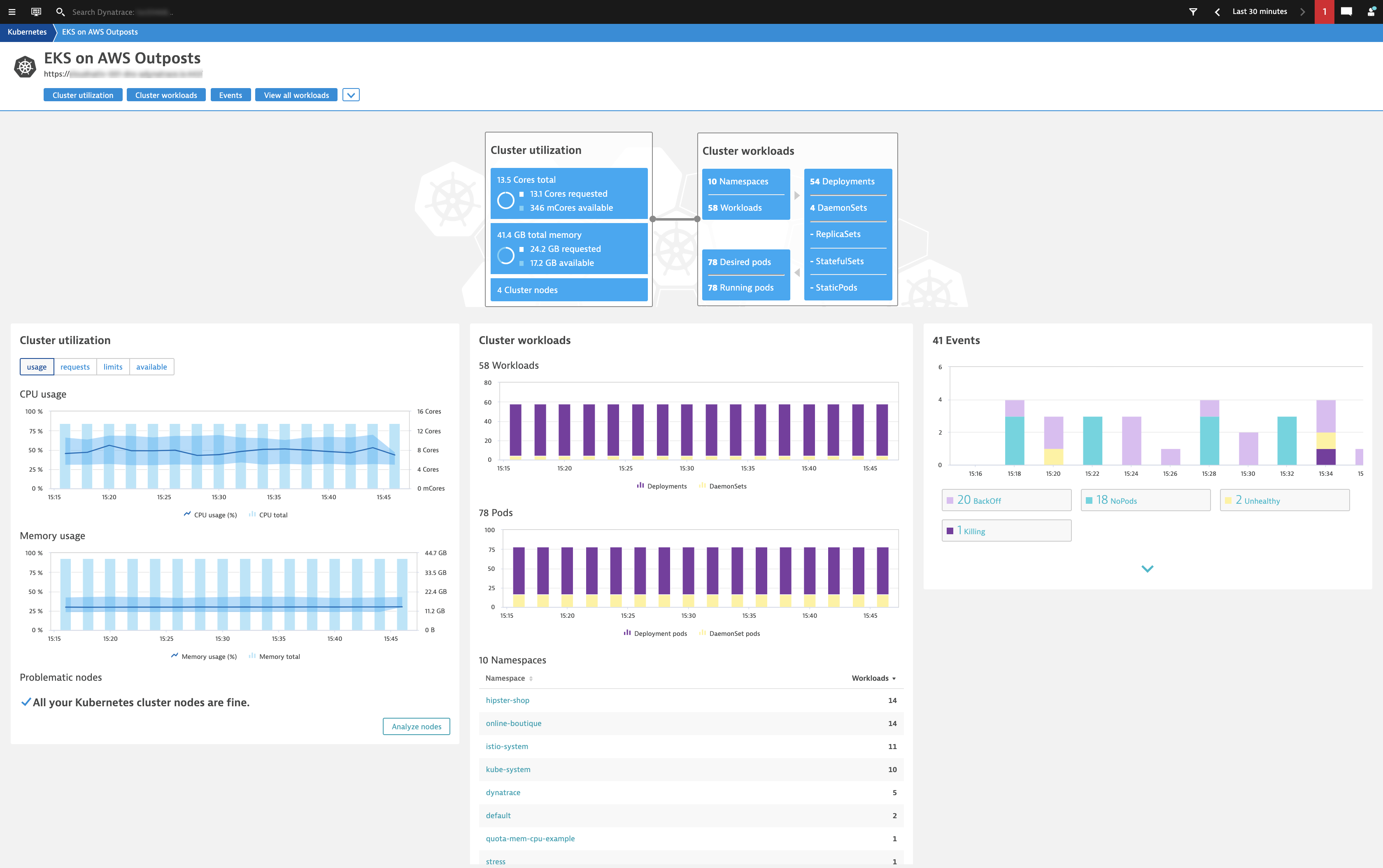 All-in-one, AI-powered monitoring of AWS applications and infrastructure
Fully automated: With zero-touch configuration and continuous discovery and mapping, you'll have more time to innovate.
Full stack: Dynatrace understands all the relationships and interdependencies, from top to bottom, so you don't have to.
AI powered: The powerful Dynatrace Davis® AI provides real-time, precise answers. Minimize troubleshooting, and spend more time innovating.
Next steps
Watch this Dynatrace Power Demo to learn more about Dynatrace AWS monitoring and how Dynatrace Davis spots problems in real time and provides business impact and root cause analysis. Or give Dynatrace a try and see the magic for yourself.