Dynatrace & ServiceNow - Put your IT Operations on auto-pilot
Unified monitoring, customer impact, automatic problem remediation


Automate your IT Services and Operations with Dynatrace and ServiceNow
Modernize IT with unified monitoring
Single source of monitoring data with a unified solution built for the cloud, powered by AI.
Out-of-the-box, zero configuration.
Customer & business impact
Automatic identification of issues and their underlying root causes with artificial intelligence.
Prevent disruption to business and end users.
Automatic problem remediation
Dynatrace automatically pushes the problem and its impact to ServiceNow problems list in real-time.
Resolve issues before they have an impact.
The Dynatrace ServiceNow app
We've simplified the direct integration of your monitored environment with your ServiceNow configuration management database (CMDB) by providing a free app.
Install the Dynatrace ServiceNow app within your own ServiceNow environment to directly synchronize the list of automatically discovered hosts, applications, and services with your ServiceNow instance.
Once Dynatrace detects an anomaly within your environment, it automatically pushes the problem and its impact to the ServiceNow Problems list. Now, each problem detected by Dynatrace is automatically transformed into a ServiceNow incident.
Unified Monitoring for Modern IT
Dynatrace has a modern and unique approach when it comes to problem detection. Built for highly dynamic environments, Dynatrace offers a holistic approach to monitoring the health of your applications:
Applications (real user): Real user experience is what counts. It represents how your customers experience your applications within their own browsers or mobile apps. Dynatrace measures real user experience in terms of performance and errors in real time for millions of your customers.
Server-side services: These are the various backend software services which collectively deliver your application to your customers. These include web requests, database requests, and communication between services.
Infrastructure: This level comprises the physical and/or virtual machines or cloud that serve your application to your customers. This level includes the servers, databases, hosts, and processes running in your environment.
This full transactional views and capability of catching and evaluating every single service request in real-time, is a value only Dynatrace can bring to ServiceNow environments, eliminating the need for other monitoring vendors.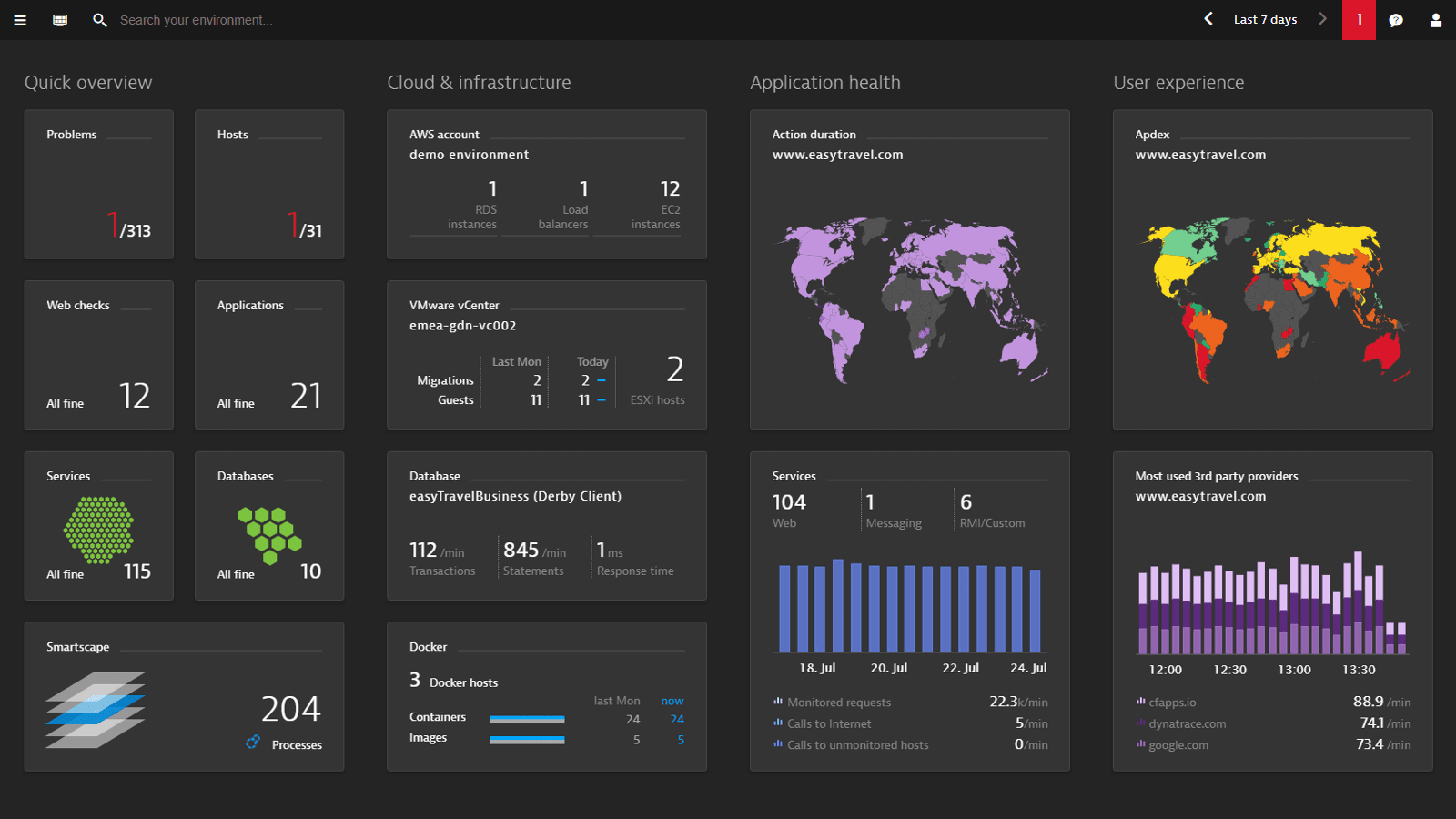 Full transactional view - business, real-user, applications, network, infrastructure, cloud.
Eliminate service outages and disruption to end users
With the seamless integration between Dynatrace & ServiceNow, you can resolve incidents in real-time, which significantly reduces MTTR and eliminates business and end user disruption, which can be detrimental to your business. Benefits of Dynatrace & ServiceNow together:
Seamless integration to automatically map and detect incidents with configuration items (CMDB/CI).
Relevant problem notifications within ServiceNow with a single alert, showing which component is responsible and the root cause.
Trigger workloads (automated or human) in real-time with AI monitoring for immediate incident remediation.
Automatic topology discovery of ServiceNow CMDB for technology insights to make better business decisions.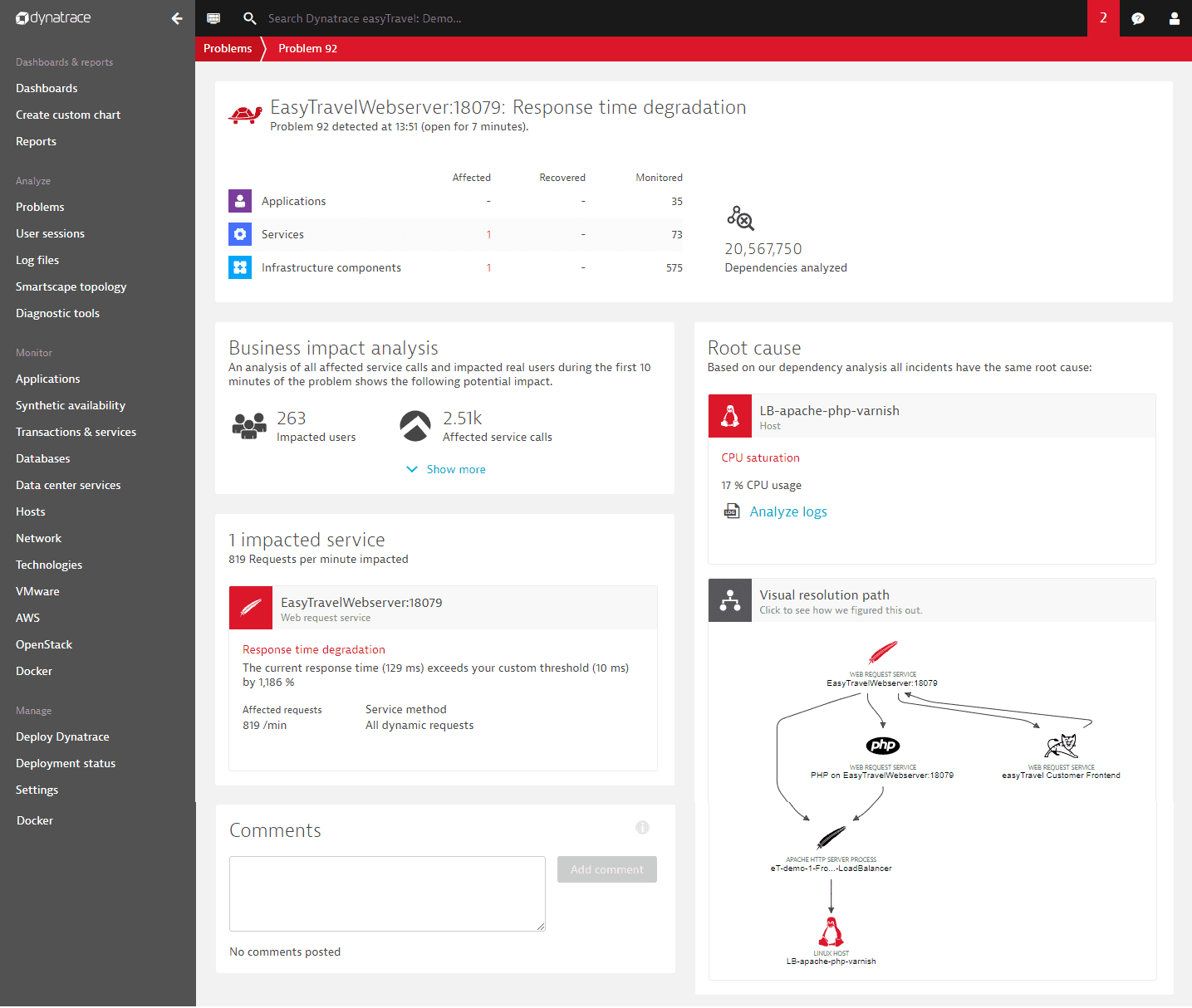 COOP Denmark
"The real key thing is the integration point with ServiceNow. It gives us the ability to automate and distribute problem notifications to the right team. That means instead of chasing down people and looking manually on dashboards, there is a notification pushed directly to the development team if its an application problem or the infrastructure team if its an infrastructure problem."
- Jeppe Lindberg, Application Performance Manager
Dynatrace anomaly detection
With today's highly dynamic service and application infrastructures, managing a CMDB database can be cumbersome and error prone with thousands of individual business-critical services and related dependencies. By installing Dynatrace OneAgent into your IT environment, you'll successfully manage your software systems to efficiently route incidents to responsible teams.
Automatic synchronization of auto-detected services and applications, along with their dependencies, in real time.
Automatic detection of software service and application availability, errors and slowdown problems, which are then automatically synchronized into your ServiceNow environment.
Automatic linking of detected problems with all affected CMDB configuration items and keeping them in sync.
For more details on Dynatrace seamless ServiceNow CMDB synchronization and problem detection, click here.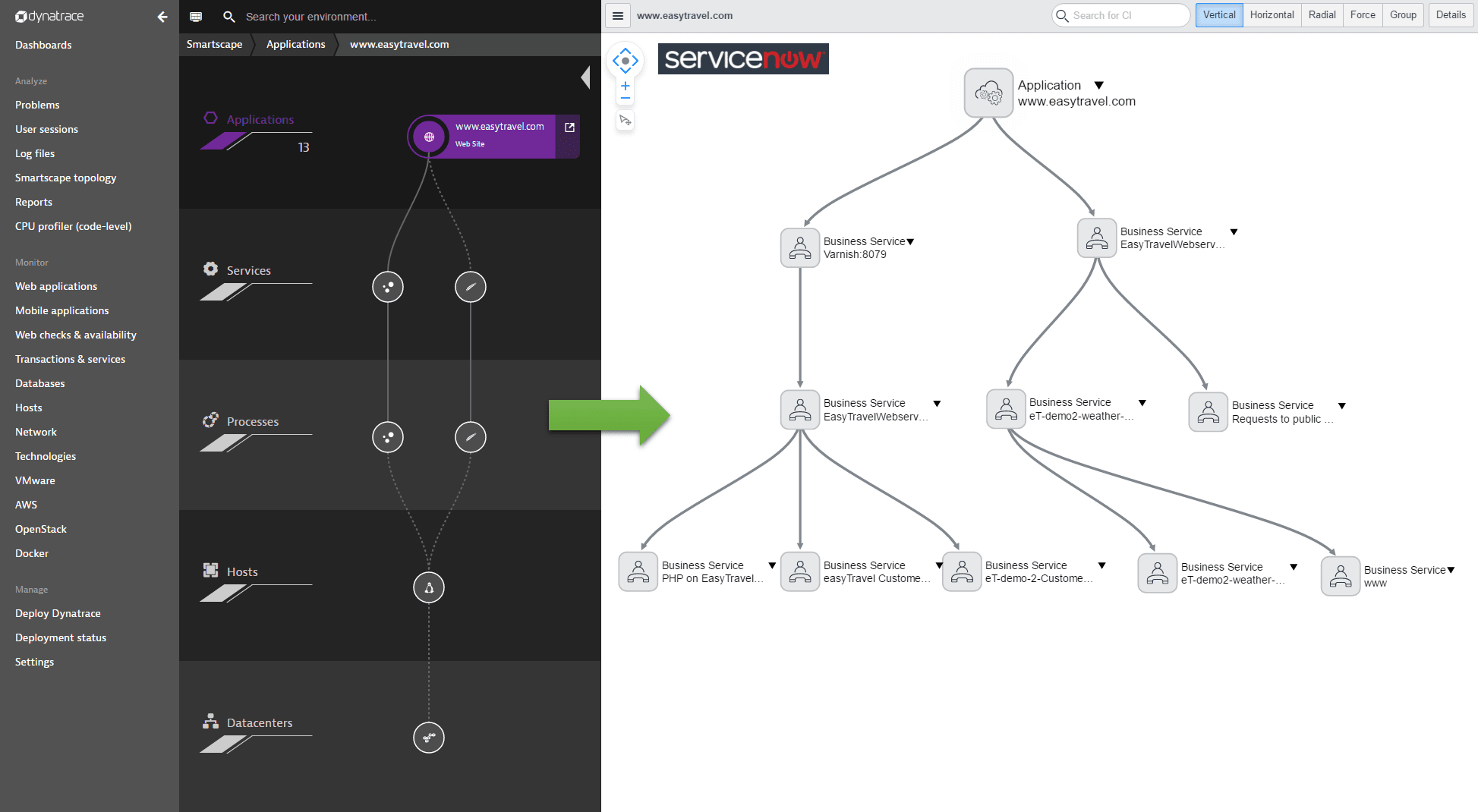 Star Entertainment
"One of the reasons why Dynatrace was chosen was because it integrates into ServiceNow, and helps us with incident management. Dynatrace sends events and alerts to ServiceNow - expediting the process drastically for us."
- Eric Lewis, Manager, Service Management
Seamless integration with ServiceNow ITOM product
The Dynatrace-to-ServiceNow integration seamlessly integrates Dynatrace alerts and its real-time dependency model with ServiceNow, allowing companies to remediate problems faster and update their Configuration Management Databases (CMDB) in ServiceNow in real-time. The app also integrates with ITOM products, thus making it easier to drill deeper into the Event Management dashboard. With this integration benefit you can expect the following:
Dynatrace OneAgent automatically discovers what software services and applications are running in your IT environment and provides their real-time, precise operational status.
Reduce TCO, single source of monitoring for entire infrastructure.
Enhanced end user experience with 100% transactional visibility into every single digital customer journey.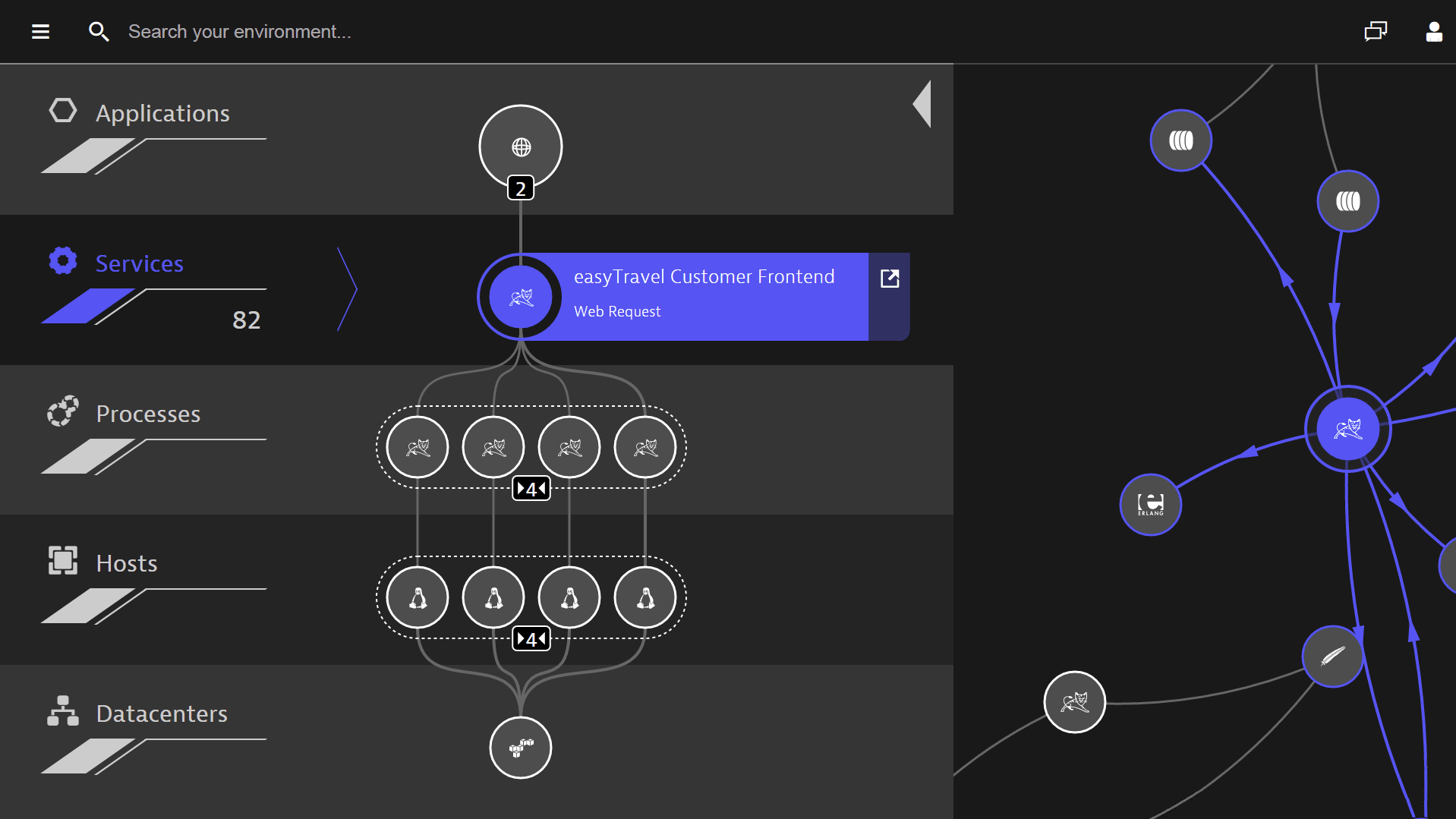 }/capabilities/application-topology-discovery/), from each customer's web browser to your applications, down to containers, infrastructure, and cloud."}
Resolve incidents faster and reduce MTTR with Dynatrace and ServiceNow
Put your IT Operations on auto-pilot
Dynatrace, with ServiceNow integration capabilities, is the perfect way to detect and react on IT service related issues within your organization. This is a huge win for operations, who can spend massive amounts of time-consuming efforts manually mapping their system environments. With Dynatrace monitoring all your systems and pushing the data into ServiceNow in the context of business health and conversion, operations teams can focus on innovation vs. troubleshooting. Benefits to your business?
More value for operations
Less time manually troubleshooting, more time focusing on innovation
Single agent implementation.
Less tools
End-to-end: all users, all apps, all digital channels
One complete source of information
20x faster MTTR
Single root cause for fast remediation
Understand business impact - focus on what matters
Auto-remediation with accuracy and confidence
Optimal user experience

Raymond James
"At Raymond James we rely on ServiceNow to understand our critical IT systems behavior and rely on it as our solution for incident management. The out of the box integration with Dynatrace solution adds tremendous value to find and analyze deep application code level problems. This joint solution helps us eliminate service outages and disruption to end users and improves our SLAs to customers."
- Jeff Palmiero, Manager of Application Performance Monitoring
Featured messaging & alerting integrations
Start my 15-day free trial!