Dynatrace and ServiceNow together drive tangible automation outcomes for customers.
Dynatrace's integration with ServiceNow enables organizations to achieve rapid resolution of common problems through auto-remediation. The video below demonstrates how Dynatrace's AI, Davis®, enables auto-remediation by identifying a problem's precise root cause. With this critical information, Davis creates a ServiceNow ticket and kicks off a remediation workflow. ServiceNow updates Dynatrace that the auto-remediation is taking place, as well as other ChatOps toolsets such as Slack, Teams, etc., to ensure cross-team collaboration. Once remediated, Dynatrace and ServiceNow close the problem and resolve the incident.
Dynatrace's ability to identify root cause is transformative when strategically embedded within an organization's Incident Management and Auto-Remediation processes. By automating remediation, Dynatrace customers have realized millions of dollars' of value through avoided manual triage and war rooms, while improving service levels for customers.
Dynatrace brings its power to ServiceNow, the Incident Management platform of choice for today's Global 2000, by enabling companies to digitize and automate these critical processes.
Davis pinpoints precise root cause
An effective Incident Management process creates actionable incidents, assigned to the correct team, with the appropriate level of priority, the first time. This "Right First Time" approach does not work if the root cause of the problem is not specifically and accurately identified.
Dynatrace's AI, Davis, enables auto-remediation by reliably identifying issues and the underlying root cause. Without this deterministic approach to problem identification, it is not possible to automatically fix something, because you cannot be sure of the cause. Davis' precise answers are the key to auto-remediation and kick off the process with ServiceNow.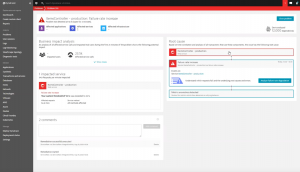 ServiceNow integration fuels dynamic workflow
Those who work in the ServiceNow ecosystem value its ability to digitize workflows and processes that are often collaborated via disconnected email conversations and attachments. Dynatrace harnesses the power of digitized workflows from ServiceNow.
However, setting up the notification is easy, ensuring the created Incident is "Right First Time" is not. We help our customer with this in three ways:
Mapping the Dynatrace identified root cause entity to a distinct ServiceNow Configuration Item (CI)
Assigning a Group to the Incident
Ensuring the Incident has the right level of priority and severity, so the most critical Incidents are clearly identified and prioritized as such.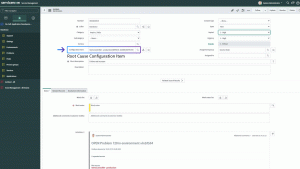 Automation saves the day
For those incidents that are repetitive and/or have a programmable remedy, any number of solutions such as Ansible Playbooks, PowerShell Scripts, API calls, etc., as well as ServiceNow can be used for remediation.
Auto-remediating problems free up valuable resources to work on higher priority initiatives thereby innovating faster, but only if Dynatrace accurately flags the problem and root cause. This information is critical to creating a variable-driven approach to problem remediation at scale, and not a pile of technical debt that is unwieldy to manage.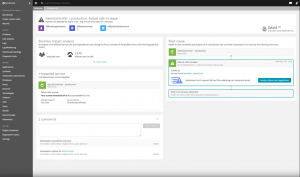 Collaborate across teams
The use of autonomous methodologies doesn't mean there should be ignorance to what is happening in one's environment. More than ever, companies are investing in ChatOps and related collaboration tools. Significant milestones such as Problem Opening, Incident Created, Remediation Started, Remediation Complete, Problem Closed, Incident Resolved should be posted to the platform of choice (i.e. Slack, Teams, etc.) with all the relevant meta information and hotlinks. The enables teams to operate from a clear, consistent and complete information flow while breaking down silos to allow IT to operate more effectively.
What's in it for you?
While leveraging these automation efforts, we've worked with customers to identify millions of dollars of value and improved services. Typically, customer value is realized across the following areas:
Observability: Real-time, deep insights into environment health and root cause reduce war room triage sessions
Availability: Naturally, auto-remediated problems are resolved faster, thereby making digital services more available
Efficiency: Reducing or eliminating manual tasks reduces operational overhead and redeploys resources to be more productive.
Interested in getting started? Get in touch with our Autonomous Cloud Services Team today if you're interested in embarking on this ACE journey with us.