There are more than 1,000 break-out sessions at re:Invent 2017, so even if you have a time-turner, it would be physically impossible to get to all the events you want to see.  Here's a quick cheat-sheet of a few sessions we're super excited about and recommend that you don't miss. See you there!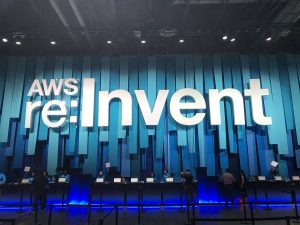 1. Get a Grip on Microservices
Looking to master the micro-container? RedHat is going to share their experiences with designing, implementing and managing Kubernetes, Docker, Amazon EC2, Elastic Load Balancing, and persistent storage in a Linux environment. Check them out at the Aria on Thursday 11/30, at 1:45pm, Aria, Level 3, Juniper 3, "CON207 – Digital Transformation: Adapt or Perish" 
2. 
Sort Out All Your Cloud Visibility Headaches
Got a complicated application environment, with containers and microservices and all sorts of nooks and crannies where bugs can breed? You need to attend this talk. Expert full-cloud tracers Alois Reitbauer and Daniel Khan are going to walk you through "SRV309 – Keys to Successfully Monitoring and Optimizing Innovative and Sophisticated Cloud Applications" on Wednesday, 11/29, at 2:30pm PT in the Aria, Level 3, Ironwood 5 – 470, T1. Don't miss this one!
3. Scale Exponentially Without the Exponential Fear
Are you trying to migrate to the cloud but still wearing legacy technical debt around your neck like a millstone? This is the session for you. Mandus Momberg from Amazon will walk you through how to use platforms like OpenShift and CloudFoundry to clear the way for an uncomplicated migration. At the MGM on Monday, 11/27, at 4pm, Level 1, Grand Ballroom 117. "GPSTEC320 – GPS: Paving the Yellow Brick Road to the Cloud"
4. SPaaS is the New Black
You think you have pressure? Netflix has over 100 million subscribers who will take to Twitter in a rage if they can't get the next episode of Bloodline. Learn how Netflix uses AWS to scale to over a trillion events and 3 PB of data in the Keystone infrastructure. Friday 12/1, at 10am in the Aria, Level 3, Juniper 1  "ABD320 – Netflix Keystone SPaaS: Real-time Stream Processing as a Service" 
5. Get Your Data Consolidation Act Together, Like Citrix
Citrix is consolidating disparate databases using Matillion ETL and RedShift. Check them out to see how they manage to juggle different analytics workloads without going cross-eyed. They'll be at the Venetian, Level 1, Casanova 602 on Tuesday, 11/28, at 3:15pm MSC203 – How Citrix Uses AWS Marketplace Solutions to Accelerate Analytic Workloads on AWS 
6. Deal With Your Legacy Baggage 
It would be hard to imagine a company with more technological baggage headaches than a phone company that traces its roots to 1877, when your great-great-grandfather was yelling "Operator!" into half a handset. Let's face it, Verizon knows way more than you about upgrading from legacy technology. They're going to talk about how they've been operationalizing existing on-premises infrastructure with AWS to move into a hybrid cloud. You need to hear what they are preaching. See them at the MGM on Level 3, Premier Ballroom, 312 on Wednesday, 11/29, at 4pm.  WIN307 – Verizon: Modernizing Enterprise Infrastructure with AWS
 
7. Scale With Grace
Go from zero to millions of users without breaking a sweat. Joel Williams from AWS is going to share best practices for getting started and quickly scaling your infrastructure in the cloud. Tuesday 11/28 8:30am Venetian, Level 2, Venetian E,  ARC201-Scaling Up to Your First 10 Million Users
What's on your list of "can't miss" sessions at the show?  Tweet them at us @Dynatrace!