According to Gartner, "the long-term impact of AIOps on IT operations will be transformative."
AIOps will have a long-term and transformative impact on IT operations. The research firm predicts a significant uptick in AIOps investments over the next two years as organizations look for ways to improve IT outcomes, without breaking budgets or overworking technology staff.
The challenge? While some AIOps tools offer significant benefits over manual processes, not all of them can deliver the results organizations expect. To recognize both immediate and long-term benefits, organizations must deploy intelligent solutions that can unify management, streamline operations, and reduce overall complexity.
Here's how.
What is AIOps and what are the challenges?
Artificial intelligence operations (AIOps) is an approach to software operations that combines AI-based algorithms with data analytics to automate key tasks and suggest solutions for common IT issues, such as unexpected downtime or unauthorized data access. In practice, AI-driven solutions help reduce the burden on IT teams by allowing them to offload routine monitoring and management tasks so they can focus on mission-critical concerns.
What challenges do AIOps tools address?
Consider data from our recent 2020 Global CIO Report, which found that 86% of organizations are now using cloud-native technologies and orchestration platforms such as microservices, containers, and Kubernetes to meet growing expectations from stakeholders, customers and employees. Despite all the benefits of modern cloud architectures, 63% of CIOs surveyed said the complexity of these environments has surpassed human ability to manage. To tame this complexity, organizations now use an average of 10 different monitoring tools. Despite these investments, these organizations have complete visibility into just 11% of the applications and infrastructure in their environments.
AIOps solutions offer the potential to increase observability, automate processes, and enhance value at scale.
Choosing the right AIOps tools for your needs
As reported by Forbes, AIOps is "moving from marketing hype to a useful tool being adopted across the enterprise." While broader business deployment stems from increasingly sophisticated AI algorithms and the growing speed at which they're able to discover new data relationships, it's also a recognition of a new IT reality: AIOps is here to stay and improving quickly.
But not all approaches to AI are the same, and some are more effective than others for AIOps in modern environments.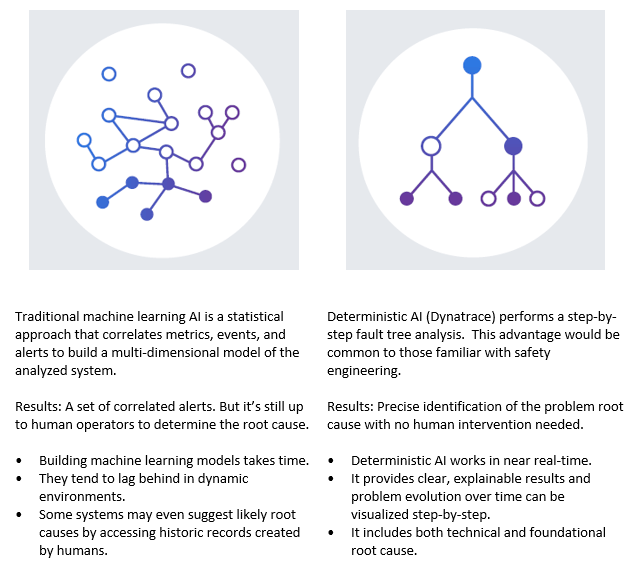 The traditional machine learning approach relies on statistics to compile metrics and events and produce a set of correlated alerts. While this statistics-based approach can find and prioritize many alerts, it still relies on humans to analyze the output and determine the root cause of any anomalies or errors. It takes times to train statistics-based machine learning solutions, and this approach doesn't scale easily with modern, dynamic cloud-native environments.
Another approach is deterministic AI, which uses systematic fault-tree analysis to immediately determine the root cause of a problem. This approach instantly detects anomalies — a service responding slowly, for example — and examines all its dependencies and all their dependencies (and so on) to pinpoint exactly what's happening and where, in real time. Accompanied by an easily visualized map of the original malfunction's route through all downstream processes, the deterministic AI approach can find the exact point the problem was triggered and its downstream effects, so analysts can focus on implementing solutions, automating responses, and developing new innovations.
As DevOps teams evaluate what AIOps solution to adopt, it's important to know exactly what each does and how, since they don't all provide the same level of autonomous insight.
What are the benefits of AIOps tools?
In theory, implementing an AIOps solution across enterprise IT environments can improve efficiency, drive better overall business value, and improve customer success. But what does this look like in practice?
Effectively deployed, potential benefits of AIOps initiatives include:
Improved alert management
Many IT teams now suffer from "alert fatigue" as the volume, velocity, and variety of alerts increase exponentially in multicloud environments. As noted by CDO Trends, however, effective AIOps implementation can help reduce false alarms by up to 90% and reduce the impact of redundant or irrelevant notifications.
Enhanced event prioritization
Which alerts demand priority response, and which can wait? The sheer volume of data sources and potential security concerns makes this challenging for any IT team — add in multiple cloud environments and open-source resources, and effective management becomes almost impossible. AIOps solutions that use advanced algorithms based on fault-tree analysis can immediately identify the alerts that matter so teams can respond rapidly, automate more processes, and stay focused on what drives the business.
Reduced IT spend
According to our research, IT and cloud operations teams spend 44% of their time just "keeping the lights on" — ensuring tools and technologies work as expected and on-demand. By applying automated, AIOps tools, however, companies could save an average of $4.8 million each year.
Streamlined digital transformation
Digital transformation now drives business success, but only if organizations can manage the complexity of their modern environments with a common language and a single source of truth for all aspects of digital performance. Here, AIOps tools can help companies accelerate their digital transformation by consuming and analyzing the ever-increasing amount, diversity, and velocity of data in their multi-cloud environments, and applying AI analytics to streamline and automate their operations workflows.
What is the impact of AIOps on the business?
While AIOps tools offer a host of potential benefits for IT teams, the biggest practical impact for organizations can be summed up simply: reducing the need for humans to perform manual tasks.
Here's why it matters: for many businesses, increasing investments in cloud and mobile technologies are critical to retaining a competitive market edge at the cost of increased management complexity for IT teams. Standard management strategy is to expand the number of monitoring tools in use, which boosts the amount of actionable data available, but also puts IT teams in the unenviable position of trying to sort through disparate reports, alerts, and recommendations manually. This is a tough task for even large, experienced teams at the best of times, and almost impossible with the increasing use of third-party and open-source tools and technologies.
AIOps solutions offer a way to deliver on IT operations priorities such as complete observability across multi-cloud environments, accurate and reliable business metrics, and prioritized alerting that reduces the need for manual intervention.
Streamlining Success: a single AIOps platform
Despite the increasing maturity and availability of AI-driven tools, just 19% of operational processes for digital experience management and observability have been automated on average. So what's holding companies back? Forty-eight percent of CIOs point to lack of internal technical skill, while 43% highlight the absence of a common data model to enable accurate and consistent AI decisions. Furthermore, 42% percent cite the lack of existing frameworks to effectively implement automation.
To break through this barrier to automation, organizations need a single source of software intelligence they can rely on. AIOps tools that use statistical, correlation-based machine learning can't scale with ever-increasing IT complexity. That's why we built the Dynatrace platform to use deterministic AI with fault-tree analysis, which can provide immediate and accurate answers with no guessing or time-consuming model training.
Automatic, end-to-end observability of the entire software stack from a single source provides automated insights teams can use to automate and streamline operations so they can focus their time on solving issues that matter.
Curious about the evolving state of AIOps and the advantage of intelligent solutions? Read the AIOps Done Right eBook and discover the Dynatrace difference.