While the Dynatrace observability platform has long delivered value for customers in identifying root cause, it has evolved far beyond traditional monitoring to address myriad use cases for unified observability and security.
While customers use observability platforms to identify issues in cloud environments, the next chapter of value is removing manual work from processes and building IT automation into their organizations.
At the Dynatrace Innovate conference in Barcelona, Bernd Greifeneder, Dynatrace chief technology officer, discussed key examples of how the Dynatrace observability platform delivers value well beyond traditional monitoring.
While the Dynatrace observability platform has long delivered return on investment for customers in identifying root cause, it has evolved to address far more use cases for observability and security, to address customers' specific needs.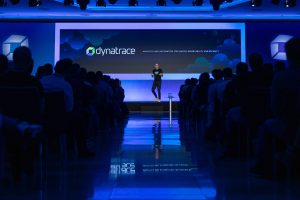 "How do we make the data accessible beyond the use cases that Dynatrace gives you, beyond observability and security?" Greifeneder said. "You have business use cases that are unique to your situation that we can't anticipate."
Greifeneder noted that now, with Dynatrace AutomationEngine, which triggers automated workflows, teams can mature beyond executing tasks manually. They can be proactive in identifying issues in cloud environments.
"It allows you to take answers into automation, into action, whether It's predictive or reactive," Greifeneder explained.
The road to modern observability
As organizations continue to operate in the cloud, they discover that cloud observability becomes paramount to their ability to run efficiently and securely. Observability can help them identify problems in their cloud environments and provide information about the precise root cause of a problem.
For Dynatrace customers, identifying root cause comes via Davis AI, the Grail data lakehouse, which unifies data silos, and Smartscape, which topologically maps all cloud entities and relationships. As a result, customers can identify the precise source of issues in their multi- and hybrid cloud environments.
But as Greifeneder noted, "just having the answers alone isn't enough."
Organizations need to incorporate IT automation into their processes to take action on the data they gather. As customers continue to operate in the cloud, their needs for efficiency and cost-effectiveness only grow.
As a result, they need to build in greater efficiency through IT automation. Data suggests that companies have come to recognize the importance of building in this efficiency.
According to Deloitte's global survey of executives, 73% of respondents said their organizations have embarked on a path to intelligent automation.
"That's why we added to Dynatrace AutomationEngine, to run workflows, or use code to automate," Greifeneder explained. "It allows you to take answers into automation, into action, whether It's predictive or reactive. Both are possible, tied to business or technical value–It's all there," he said.
This is precisely how executives anticipate getting value out of IT in the coming years. Indeed, according to a Gartner 2022 survey, 80% of executives believe that AI can be applied to any business decision.
Three use cases for IT automation and optimization: How Dynatrace uses Dynatrace
1. Developer observability as a service. For developers, IT automation can bring significant productivity boosts in software development. According to one recent survey, 71% of respondents said that building out developer automation was a key initiative.
With Grail, for example, a DevOps team can pre-scan logs. The plattorm can pre-analyze and classify logs . With this process, DevOps teams can identify whether code includes a high-priority bug that has to be fixed immediately. By taking this approach, Dynatrace itself reduced bugs by 36% before flaws arrived in production-level code.
2. Security. As security threats continue to mount, it's impossible for teams to identify threats with manual work alone. "Security has to be automated," As Greifeneder noted, identifying threats quickly is critical to prevent applications and data from being compromised. "When there is something urgent, every second matters," Greifeneder said.
He noted that Dynatrace teams used the platform to reduce time spent identifying and resolving security issues. By unifying all relevant events in Grail, teams could identify suspicious activity, then have the platform automatically trigger the steps to analyze those activities.
Next, the platform can automatically classify activities that needed immediate action or route information to the right team to take action. As Greifeneder noted, Dynatrace teams reduced the entire process of identifying and addressing security vulnerabilities from days to minutes. "This is massive improvement of security and massive productivity gain."
Greifeneder noted. Moreover, data is scattered and needs to be unified. "All security data is in silos." The goal for modern observability is to automate the process of identifying suspicious activity. The Dynatrace platform uses AutomationEngine and workflows, automatically triggering steps to analyze threats.
3. Data-driven cloud optimization. In this use case, Greifeneder said, the goal was to optimize the Dynatrace platform itself and make it "as performant and cost-effective" for customers as possible.
The Dynatrace team gathered cloud billing data, infrastructure data, networking data, and analyzed that data in Dynatrace Notebooks. As a result, the team found that cloud architecture had resulted in overprovisioning of resources. By analyzing the data in Dynatrace Notebooks, the team discovered,
"There is too much cross-availability-zone traffic," Greifeneder recalled. "There are way over 30 availability zones. By running those queries team found that theycould not only reduce data transfer costs but also reduce the monthly data volume by 23 petabytes–that's massive and brings an even higher-performant Grail to you. These are both wins—business and technical."
As Greifeneder noted in the session, these new capabilities are designed to enable customers to extract greater value from the platform through multiple uses. As Greifeneder noted, the data residing in the unified platform enables a variety of uses.
"It was you as customers who told me,' Dynatrace's data is gold.'"