This week, we're at AWS re:Invent in Las Vegas, which promises to be jampacked with over 1,000 breakout sessions, hackathons and workshops providing hands-on experience with AWS.
If you're heading there yourself, feel free to drop by and say hi to the Dynatrace team at The Venetian Booth 807 and The Quad at Aria booth 205 – please don't be shy.
What lies ahead…
What makes people's mouths drop when they see our demo? What challenges are attendees facing that keep them guessing and losing time? Who are our experts at the booth to come and meet?
Watch this quick video to find out.
Going beyond the booth
These big events are a great way for the IT community to get together to exchange tips with peers and hear from industry experts on how to maximize their investments in technology.
It's also a great place for AWS and their partners to announce their latest capabilities and innovations.
There's sure to be no shortage of news coming out of the show, and we're really excited that Dynatrace has announced some major innovations of its own to kick things off.
Monitoring the serverless world
Today, we announced some awesome new capabilities to provide businesses with visibility into the impact that AWS Lambda and Amazon Echo are having on application performance. This is pretty major.
Why? Because Lambda is quickly becoming the de-facto infrastructure for event-driven applications like IoT and voice interaction, given that serverless computing is the most cost-effective way of supporting high volumes of devices that are used sparingly and sporadically.
However, the complexity inherent in emerging technologies has meant that until now, it's been very difficult to see the impact that Lambda and IoT devices are having on user-experiences.
That's left organizations with a growing blind-spot that could become a huge problem – but not anymore! Find out more here.
Wait, who's that? Our Chief Tech Guys
As well as being on hand at our booths to talk about this announcement, Dynatrace's AWS re:Invent tech expert #1, Alois Reitbauer, and Daniel Khan (resident tech expert #2) will be taking to the stage at Aria, Level 3, Ironwood 5 on Wednesday November 29th at 2.30pm.
Here's a pic of the two of them now.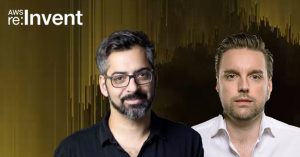 Tomorrow, these guys hit the stage with a knock out presentation which will hit on how you can now successfully monitor and optimize innovative and sophisticated cloud applications.
Join us – we'd love to see you there!