Lots to digest and share as we progress through to the tail end of re:Invent 2017.
First up, our AWS partnership gets the spotlight
What a thrill to see our logo up on stage as AWS Privatelink on AWS Marketplace was announced. And then tweeted to 58k followers…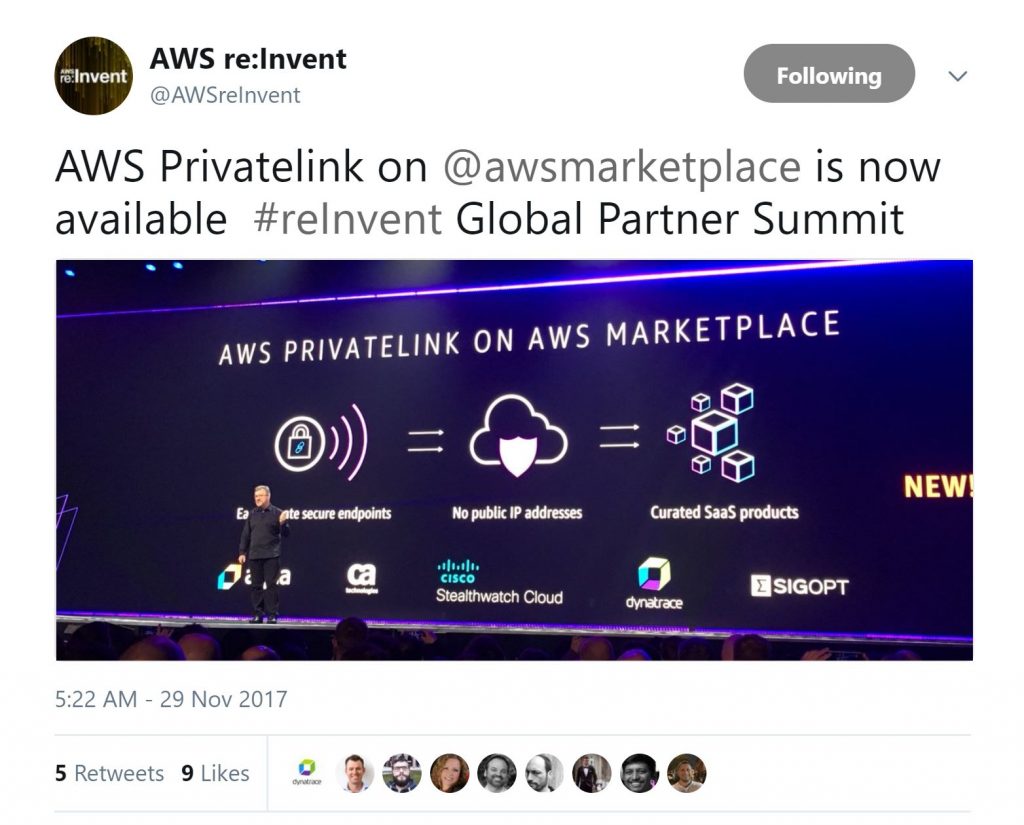 How good is that?!
And then while Alois Reitbauer, our Chief Tech Strategist, was busy being interviewed by one of the UK's most influential cloud writers, we saw our two major pieces of AWS news land in the press:
Alexa for Business
Alexa for Business took center stage at AWS re:Invent on Day #4. Naturally, here at Dynatrace, we're pretty happy with this news because it plays perfectly to our strengths.
I grabbed a quick chat with our Alois (who was interviewed by IT Pro on this very topic) to discuss the significance of the news and how it will change the way we work. Interestingly, he believes:
Amazon's announcement of Alexa for Business marks the start of what will be rapid adoption of voice and digital assistants among software companies. By mid-next year, we should expect to see all major industries rolling out voice-based interfaces.
Companies can greatly increase productivity without having to follow set workflows but, as adoption increases, it will be crucial to maintain a good user experience. This presents a new challenge in terms of visibility into whether things are working and, if not, why.
Enterprises need to be able to find errors, see the whole user journey and understand how long it takes to respond. They can't afford to have any problems because once voice is done successfully and people grow accustomed to the experience, it will become the new standard and extremely difficult to revert to anything else. That's just how innovation works, so it's important to get it right, without user issues.
Changing cultures with the UFO
What a pleasure to see Andi Grabner at work on the booth, at ease delving into demos and listening to the IT challenges surfaced by attendees as they stopped by for a chat.
For those yet to meet Andi, here's a quick interview we shot today:
We hope everyone who attended the event has made new friends, gathered up some fresh knowledge and….not been stuck on the shuttle bus too long.
From all the Dynatracers at re:Invent 2017, see you next year. Thanks for visiting!