That's a pretty bold statement now isn't it?!?  We think so too…which is why we're saying it!
Dynatrace has deep roots with synthetic monitoring.  With its merger of Keynote, who invented browser-based synthetic monitoring in 1995, and its integration of Gomez in 2009, digital experience monitoring (DEM) has always been a core pillar of our monitoring solutions.
Unfortunately, since those early days in the 1990s and 2000s, the world of applications has changed drastically but synthetic monitoring hasn't.  The basic capability of driving a web browser to follow a pre-scripted user journey from static locations around the globe is fundamentally the same.  This was great in a time when only one major web browser and platform existed (Internet Explorer on a Windows desktop), websites were static (scripting user journeys was easy and manageable), and applications had little change (DevOps and Agile were just being experimented with).  Fast forward 20 years and we not only have multiple browsers and platforms (Chrome, Firefox, IE, Windows, iOS, and Android) but the pace of application changes and ways of engaging with customers through mobile and IoT devices (smart phones, tablets, virtual assistances, washing machines and even microwaves!) has increased exponentially.
To make matters worse, the vast majority of the market is still selling and using synthetic monitoring as a stand-alone tool.  It is often just "another data feed" of metrics and alerts requiring yet another tool to make sense of it among a complex sea of tools and data already in place.  As I wrote in my earlier blogs—The Pitfalls of Traditional Synthetic Monitoring (part 1, part 2)—there has to be a better way to cut through this noise and find answers faster…and now there is!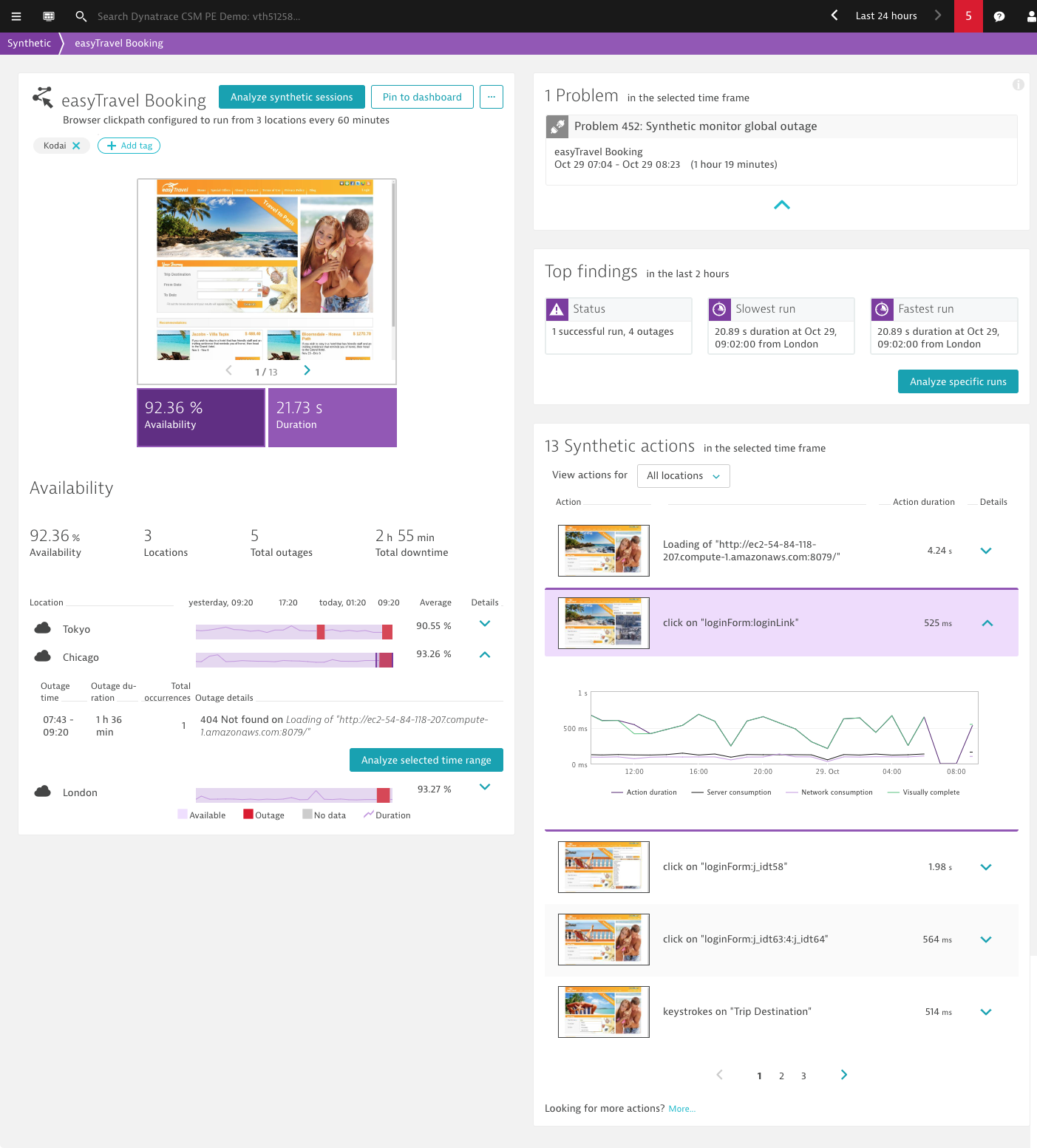 "Dynatrace synthetics have changed our perception of what we CAN do" —Jourdan McClure, First Tech Federal Credit Union
Dynatrace has spent the last four years building the industry's only 3rd-generation monitoring platform that seamlessly brings together application performance management, cloud infrastructure monitoring, AIOps, and digital experience monitoring into an all-in-one, automated solution with artificial intelligence powering its core.  This new platform, which we simply call "Dynatrace", fundamentally changes how applications are monitored and helps bring together development, operations, and business teams to drive performance results.  No stone (or line of code) was left unturned…and this includes our synthetic monitoring capabilities.
First Tech Federal Credit Union has been a long-time customer of our traditional synthetic monitoring solution, called "Synthetic Classic".  This platform was developed years ago and brought into Dynatrace through Keynote and Gomez.  (Most customers still call it "Gomez"!)  When Jourdan McClure, a senior systems engineer at First Tech Federal Credit Union, started using our next generation of synthetic monitoring, he was blown away at how easy it was to use: "Dynatrace synthetics has changed our perception of what we CAN do…its cleaner, efficient and reliable."  He goes on to say, "The best part is that building and recording a synthetic test takes no time at all.  Its gorgeous results coupled with reporting impresses and informs both technical and non-technical audiences."  Those were his words, not mine.  I love hearing customer feedback like this!  It validates what we worked so hard to accomplish—a fresh approach to synthetic monitoring that is purpose-built for modern applications and DevOps teams who support them.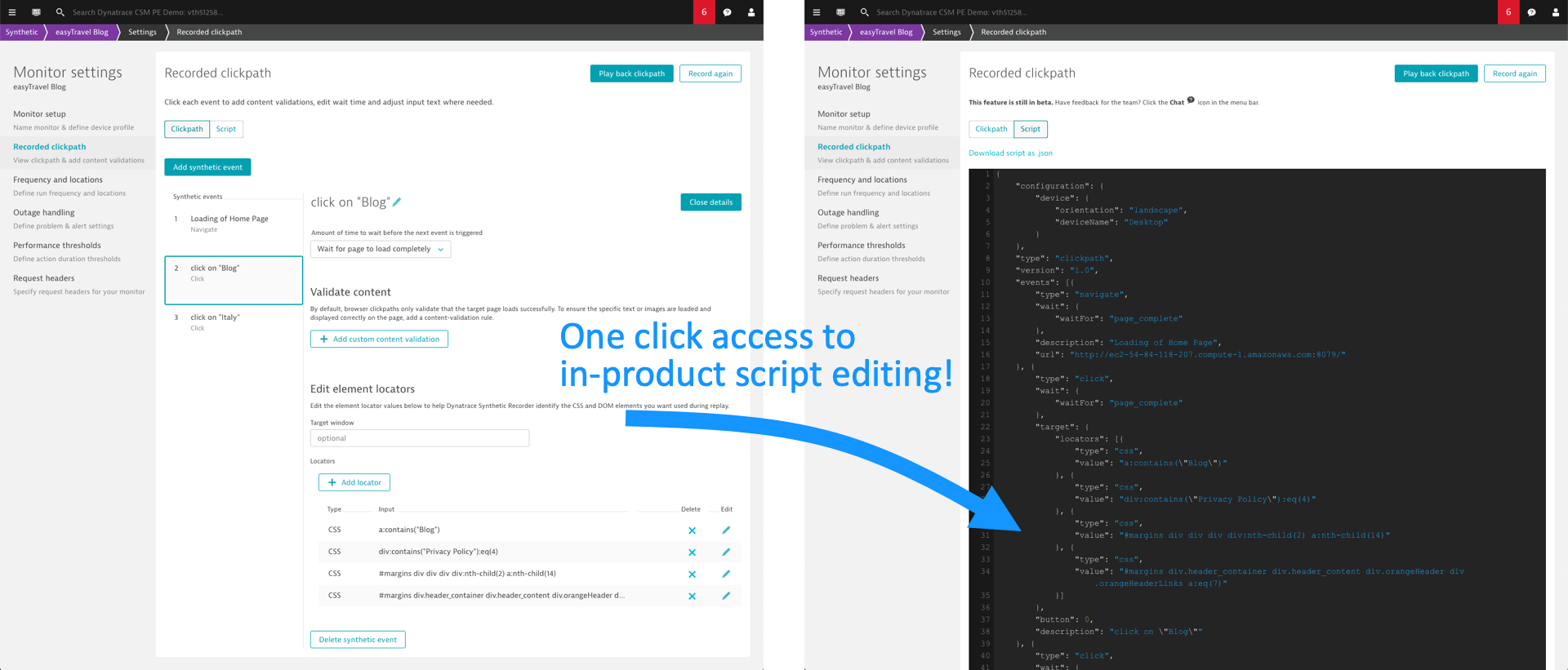 Managing digital experience requires more than just synthetic monitoring
We also took the opportunity to tightly integrate Real User Monitoring (RUM) and Session Replay capabilities to make our synthetic monitoring even more powerful.  Legacy synthetic monitoring solutions can tell you there's a problem but not where or how big that problem is.  With Dynatrace, all this is immediately visible within a single view.  With one click, you can drill down to see exactly which of your customers were affected and how your business was impacted using modern metrics like Visually Complete.  With Session Replay, you can literally see what your customers experienced and eliminate the back-n-forth that happens when trying to reproduce the problem.
We believe a holistic DEM strategy is so important that we even changed the way you buy and consume our synthetic monitoring.  We created a new consumption model called "DEM Units", which are similar to XF Measurements in Synthetic Classic, but now you can use the same investment to access any of our DEM capabilities at no at no additional cost!  This gives you the ultimate flexibility in when and how to use synthetic, RUM, Session Replay, and future DEM capabilities we are working on!  This also allows you to combine DEM volumes to get even greater overall discounts—a win/win!
With all these advancements, plus many more, we are excited to announce that we will be upgrading all Synthetic Classic customers to Dynatrace over the next 12 months and retiring the Synthetic Classic platform on October 31, 2019.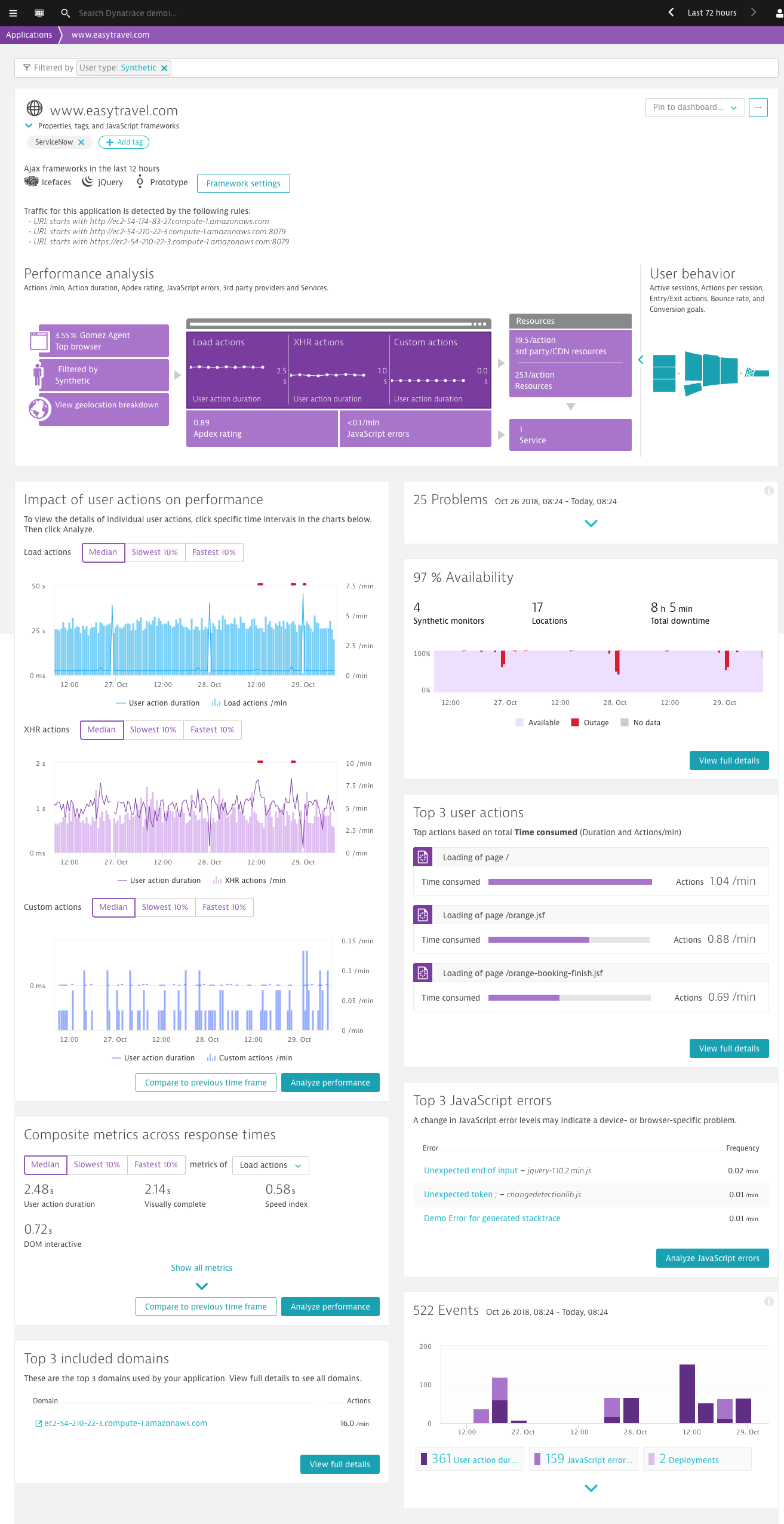 When can I start my upgrade to Dynatrace?
If you are an existing Synthetic Classic customer, you are hopefully asking yourself, "When can I start using this new platform?"  I have good news for you.  You can get started today!  There are over 1,000 customers getting value from Dynatrace and using its synthetic monitoring to monitor the health of their mobile, web, and backend applications.  Get a jump start and check out our Synthetic Upgrade Center to learn more.  (Login required.)
We created an automated process making upgrading to Dynatrace as easy as a few simple clicks.  You will soon see an "Explore Dynatrace" option in the navigation menu of your Synthetic Classic portal.  From this starting point, you will be able to create a new or associate your existing Dynatrace environment to your Synthetic Classic account.  All users with matching domain email addresses (@companydomain.com) will automatically be ported and invited to your Dynatrace environment.  Once completed, you can start to explore Dynatrace, not just DEM but also our full-stack monitoring capabilities.  (We've added 10,000 Host Unit hours, in addition to RUM, so that you can really explore all that Dynatrace can do.)
Next month, we will be releasing a "Test Conversion Utility" to your Synthetic Classic Portal.  Through this utility, you will be able to select your synthetic tests, perform an assessment of portability to Dynatrace, and automatically recreate and associate existing alert configurations in Dynatrace.  Your tests will run in both platforms allowing you to compare and baseline results.  You should expect performance differences between the two platforms as Dynatrace uses a more current version of Chrome and leverages more reliable cloud-based locations.  After reviewing the data, applying Custom Scripting, or alert configuration tweaks, you can disable your tests in Synthetic Classic.  I assume you'll want to baseline the data for at least 30 days in Dynatrace, but you can go longer if you find it necessary, so you never end up with a gap in your monitoring while exploring Dynatrace.
If you want to have the Explore Dynatrace option enabled right away, contact your Customer Success Manager (CSM) or Account Executive.  If you do not have a CSM or unsure who your Account Executive is, you can email us and one of our support engineers will assist you.
Final thoughts.
We know any change can be disruptive.  We want you to be successful as you upgrade to Dynatrace and we are here to help.  Because we set out to take a different and more modern approach to synthetic monitoring, there will be some differences and we will work closely with you to learn, setup, and transition to Dynatrace.  Also, our Business Insights team has developed a program where they will do all the heavy lifting for you while leveraging their 20+ years of experience to incorporate industry-specific best practices to your upgrade.  Contact your CSM or Account Executive if you want to learn more about Business Insights.
When we asked Jourdan McClure why he loves Dynatrace Synthetic so much, he was straight to the point, "Ultimately, Dynatrace synthetics has allowed us to get a BIG picture in one place with EASE…QUICKLY.  You don't even need to have a background in Synthetics…Dynatrace makes it all MAKE SENSE!"  I couldn't have said it any better.  Everyone here is just as excited about this upgrade.  We hope you will soon agree…