It was an exciting week for a lot of us at the most recent SpringOne Platform by Pivotal in Austin, TX. Here's a recap sharing a few highlights and partnership news.
VMware and Tanzu buzz  
At this year's event, there was a lot of focus on the previously announced VMware acquisition and VMware's Tanzu, a new portfolio of products and services that will enhance the current capabilities of VMware's Pivotal Container Service.
Tanzu will allow organizations to build applications with velocity, run open-source Kubernetes with consistency, and manage entire footprint with confidence. Pat Gelsinger, CEO at VMware, said "We see Kubernetes as a connective tissue, with VMware and Pivotal Platform in a unique position to bring dev and ops in tighter collaboration."
At Dynatrace we're excited about because Tanzu extends VMware offerings with a seamless, hybrid experience in building, operating and managing application workloads across cloud and on-premise environments – and Dynatrace was built from the ground up for this exact purpose. We already took a first step towards supportability in becoming VMware PKS certified.
Learning how to build autonomous operations 
Automation was a hot topic at the event and Dynatrace had the opportunity to host a workshop "Building Autonomous Operations for Pivotal Platform with Keptn".
We took a look at, that as organizations migrate to Pivotal Platform to increase the speed of their application delivery, one last hurdle may be mastering the complexity that comes with cloud, microservices, and containers across a vast technology landscape, and at scale.
The workshop taught best practices that companies can look at towards automating more of their environment and tame and better manage the complexity. It focused on Keptn, an open-source framework for building continuous delivery. It's a pluggable, serverless event-based approach helping users transition from continuous delivery to continuous operations by building automation into continuous integration systems (like Concourse) across four key areas:

Interested to learn more about Keptn – visit: www.keptn.sh  
Getting answers using three pillars of observability & Dynatrace 
If you stopped by our area at SpringOne, you might have caught up with our team discussing and demonstrating technology strategies for adding monitoring and observability for your Pivotal Platform in a simple and cohesive way.
Our team demonstrated how Dynatrace OneAgent discovers all the processes you have running on a host, including dynamic microservices running inside containers. New components are auto instrumented on the fly, with no code change required, and capturing observability data is good. But it's even better when it's done automatically.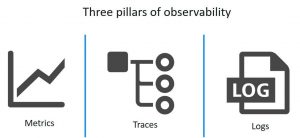 If you missed our demonstration, or you'd like more information on this topic, see "How to get the answers you deserve using the three pillars of observability" to learn how Dynatrace is radically different in using the three pillars of observability in context for automatic problem detection and root-cause analysis. 
Pivotal and Dynatrace – Serving our customers better together 
To round off the event nicely, we were thrilled that Dynatrace was awarded the Pivotal Partner of the Year Award for Customer Impact and excited to share this news with you!
This award recognizes Dynatrace for delivering a Software Intelligence Platform that significantly contributes to the success of Pivotal customers. We're thrilled to receive this award because Dynatrace and Pivotal are a great fit together, and it's always satisfying for our teams to enable organizations to accelerate their digital transformation and deliver innovation faster together. Read the full news piece here Dynatrace Awarded Pivotal ISV Partner of the Year for Customer Impact.