Like digital transformation, transforming customer experience is a continuous journey. Our company vision of "a world where software works perfectly" is the standard we hold ourselves to in supporting our customers with experiences that work perfectly. Dynatrace ONE, our customer experience program, delivers this vision by removing silos that exist in traditional customer support and success teams. We apply an agile mindset to everything we do to improve and continuously provide more value to our customers. In support of this, last year, I shared a multi-phased plan that re-visions how our customers engage with Dynatrace when they need assistance.
First, we announced a new Dynatrace Community platform that is more engaging, more personalized and celebrates more the contributions of our active community members. We then introduced our Support Center, which unifies all our knowledge and support assets. This made it easier to find the technical information you need to get the most power from Dynatrace. Shortly after that, we rolled out a new support ticketing platform, which was the first phase in streamlining and unifying how customers communicate with our team of technical experts—from Product Consultants to Technical Engineers. I'm now excited to share the next phase of our plan.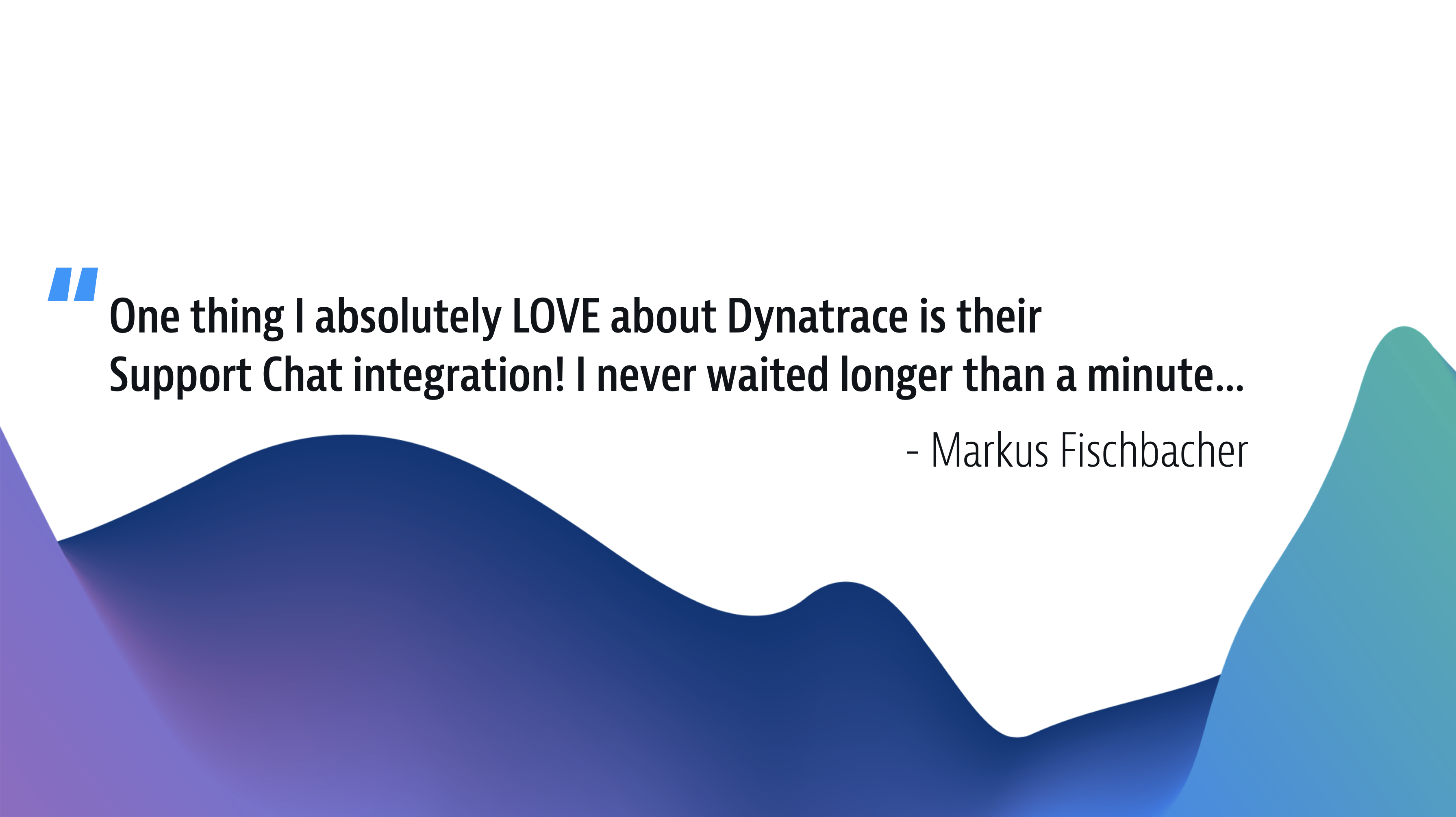 It's about conversations, not tickets.
The mission of Dynatrace ONE is "Transforming the customer experience, one conversation at a time." For us, conversations have always been central to understanding our customers' needs and the experiences we know you expect. Starting next month, you'll see a new look and feel while conversing with us using in-product assistance (aka "chat") from your Dynatrace environment. Our new chat widget seamlessly integrates with our support ticketing platform, giving you quick access to your support tickets inside your Dynatrace environment. When you use in-product assistance to start a conversation with one of our engineers, you no longer need to fill out a lengthy form or exit the Dynatrace web UI. Select the chat icon and start a conversation with one of our Product Experts; we'll take it from there. Check out this video to see it in action!
Get a response within minutes
Because we know the context that each user is working in when they contact us from their Dynatrace environment, you can expect to receive a response within minutes when you have a question, seek advice, or want to let our team know about a challenge that you're encountering. With real-time conversations, no matter the question or issue, our data shows that if you initiate contact via in-product chat, your issue is resolved 50% faster. Also, 95% of our chat conversations receive a four or five-star rating, so we know that our customers love the experience. One of our customers recently shared on Twitter, "One thing I absolutely LOVE about @Dynatrace is their Support Chat integration! I never waited longer than a minute for the first reaction and each and every request was handled great by the support guys!"
What's the catch? There's no catch; it's automatic.
The transition to the new system will be automatic and seamless. No action is required on your part. With the release of Dynatrace version 1.242 (Dynatrace Managed version 1.244), we'll introduce the new chat widget. Any open chats will be automatically converted into support cases, allowing existing conversations to continue over email. To open a new conversation or see an update to a current conversation or support case, select the chat icon in the upper-right corner of the Dynatrace web UI.
All the basic functionality in previous versions will remain, including copying and pasting images, file uploads, and even emojis. 😄 New features include more secure file uploads and automatic translation within the chat widget. Additionally, when a conversation that begins in the chat widget is later escalated to one of our Support Engineers, the Support Engineer will now have access to the earlier conversation. A summary of the support case and any open or recently closed conversations are also accessible from the widget. Of course, you can still open support tickets from the Support Center, but the new approach is easier and faster. Here is a FAQ with more details.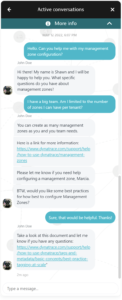 Technology can help break down silos
One of the benefits of the Dynatrace all-in-one platform is that it can bring teams together. When different groups use different tools to achieve the same outcome, it can lead to siloed thinking, inefficient processes, and data discrepancies. All this gets in the way of innovation. We see this frequently with our customers, and it was true for us too until recently. Previously, we used one technology to support in-product assistance and another for support tickets. Even with tight integration, this caused inefficiencies and missed opportunities in understanding the context of each customer issue.
With the new chat widget, we're unifying our technology and building upon the foundation we laid last year. You'll soon see more personalization and automation within the new chat widget, bringing in content from other knowledge sources, so you don't have to locate it manually. Internally, handoffs to product area experts and real-time collaboration will be faster and easier, translating into a better experience for you. Also, our Customer Success Managers, who already work closely with our Product Consultants and Support Engineers, will be able to communicate with you using this integrated channel.
After more than a year of planning, developing, and talking to many of you about how best to improve your experience, we are excited about our progress over the past year. If you have questions, please start a conversation with us using in-product assistance, or contact your Customer Success Manager. Also, please share your thoughts with us in the Dynatrace Community.
Did you know: All Dynatrace customers have access to our award-winning customer experience program, Dynatrace ONE. For a more personalized and proactive experience, you can upgrade to Dynatrace ONE Premium, which includes 24/7 Premium Technical Support (including in-product assistance), weekly technical one-on-one coaching, and more. For full details, see the Dynatrace ONE Premium fact sheet.