Web application management
Real-user and synthetic monitoring seamlessly integrated
See your apps the way customers do
Learn about customer facing errors
Monitor performance and SLA 24/7
Understand user behavior
Try free for 15 days!
You'll be up and running
in under 5 minutes:
Analyze user behavior to optimize customer experience
Dynatrace behavioral analytics provides out-of-the-box insights into user behavior powered by artificial intelligence, leveraging end-to-end monitoring of every single customer journey.
Focus on relevant entry points and conversions when optimizing performance.
Track customer adoption to maintain focus on important new-feature development.
See where your customers are dropping off and eliminate costly technical issues.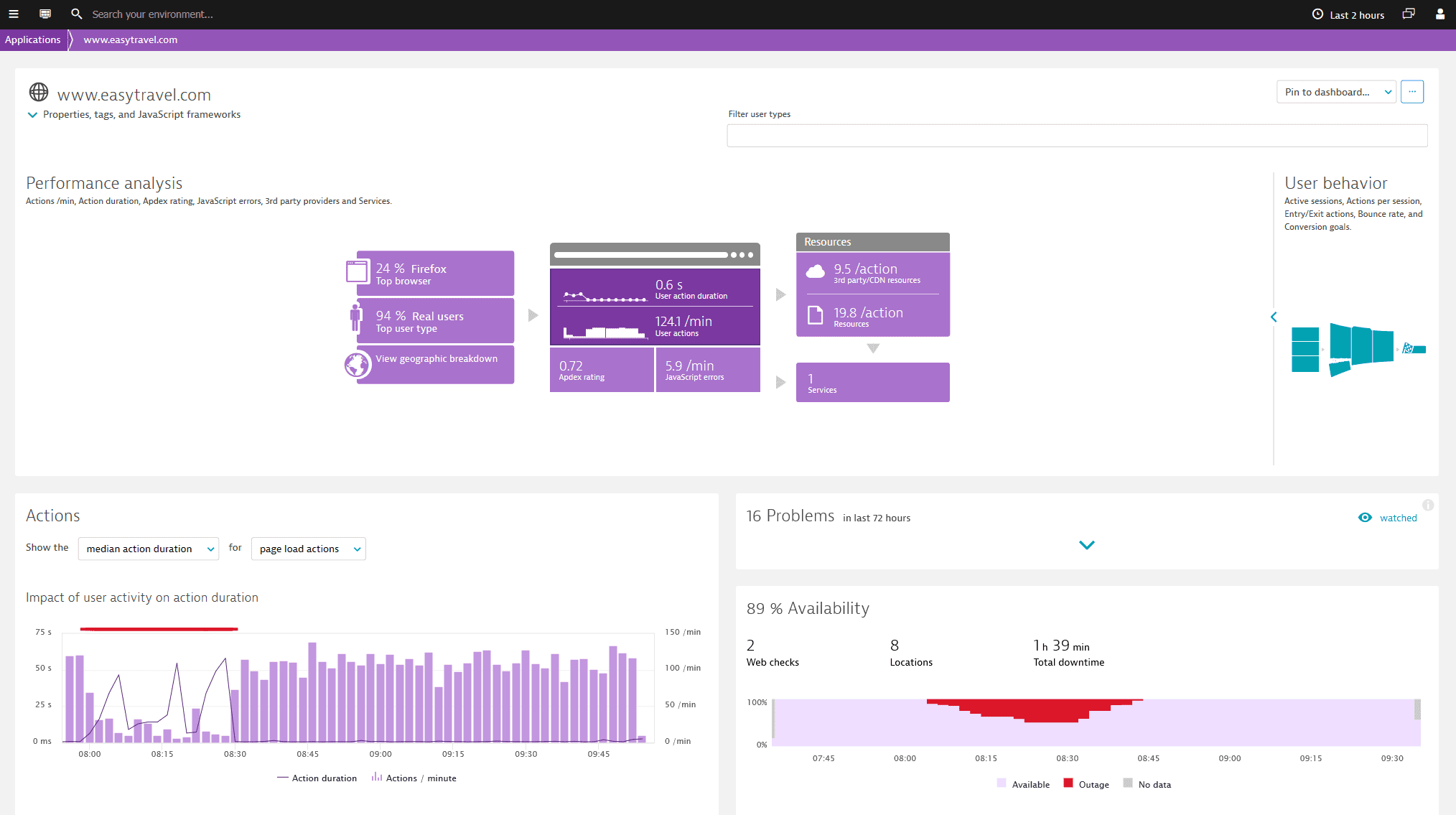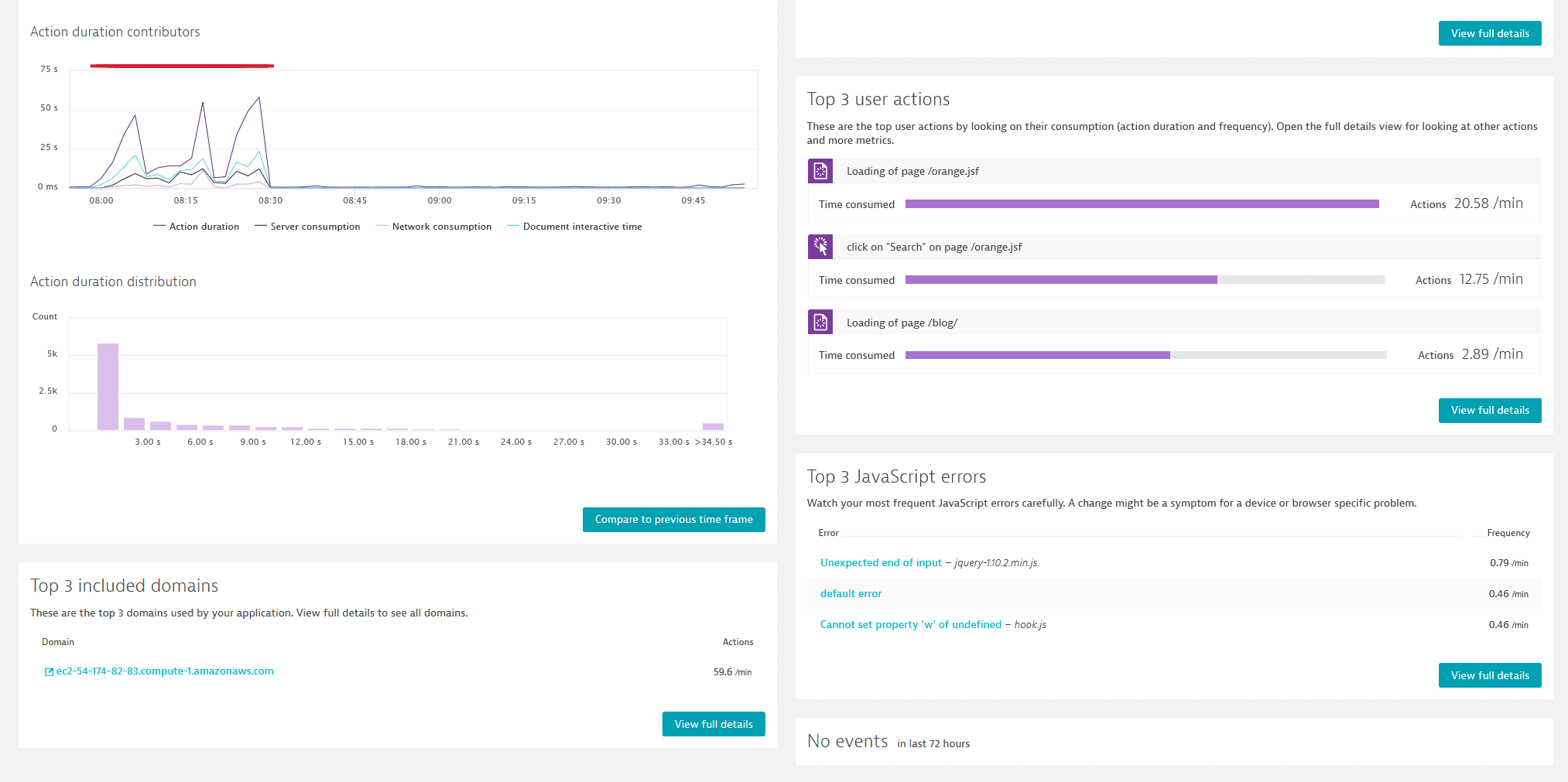 Quickly identify JavaScript errors
JavaScript errors can render the entire application unresponsive to the end user.
Especially in the case of Angular apps it is most crucial that you find JavaScript errors quickly; prioritize by those having the biggest impact and fix them before they have a negative impact on the end user performance.
Dynatrace makes it easy to find JavaScript errors and provides line numbers and stack traces which can be used to fix them. On a single infographic you can have an overview of:
The number of errors for a particular time frame
The number of user actions being effected by the errors
The distribution of browsers (with version) on which the end users are experiencing them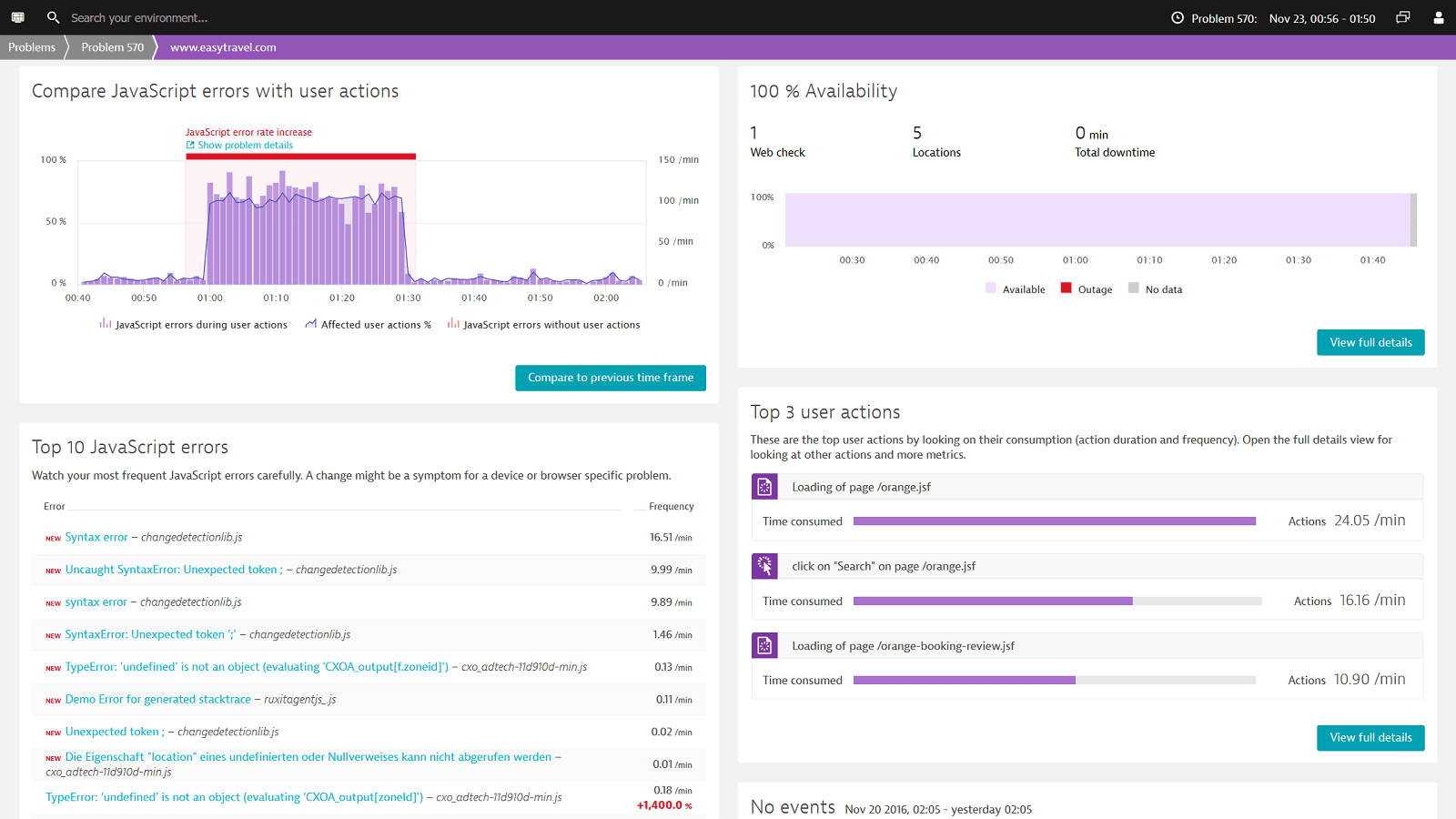 "As an online retailer, website and mobile performance is critical to us because it directly correlates with the customer experience and revenue generation. That's why we rely on Dynatrace."

"Instead of using separate tools for web monitoring, application performance management and server monitoring we now have a single all-in-one solution, Dynatrace."
Find performance issues and improve user experience with Dynatrace!
Manage your CDN and Third Party providers
Up to 2/3 of your Single Page Application content is coming from your Third Party or CDN providers. They have a bigger impact on your applications than your own datacenter. Constantly seeing the errors and performance issues is key to understand the impact of them on your users and business results.
See the performance of your Third Party providers through the lens of your users eye
Watch your providers if they meet their SLAs
Know when in certain regions the performance of your CDN is bad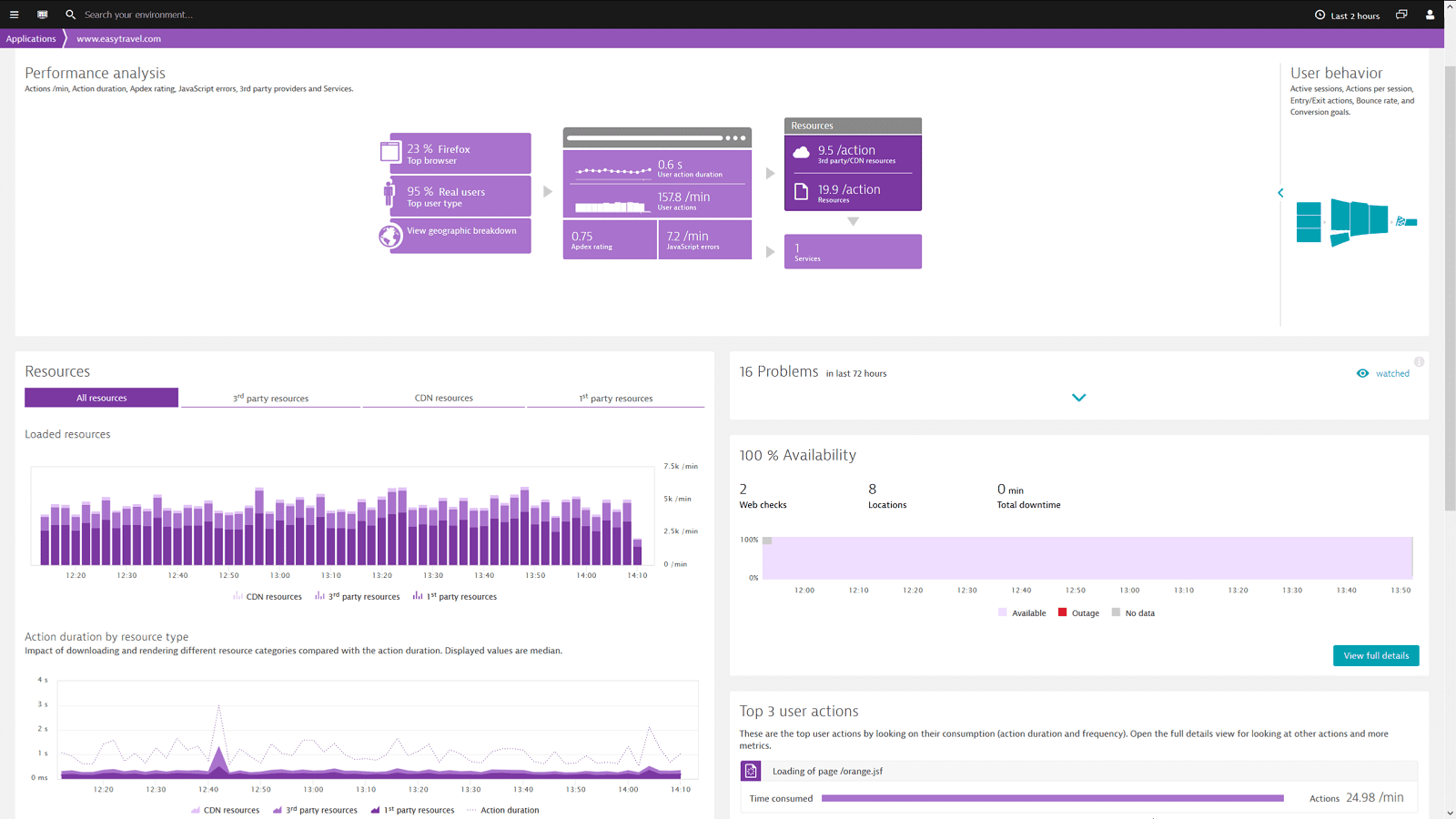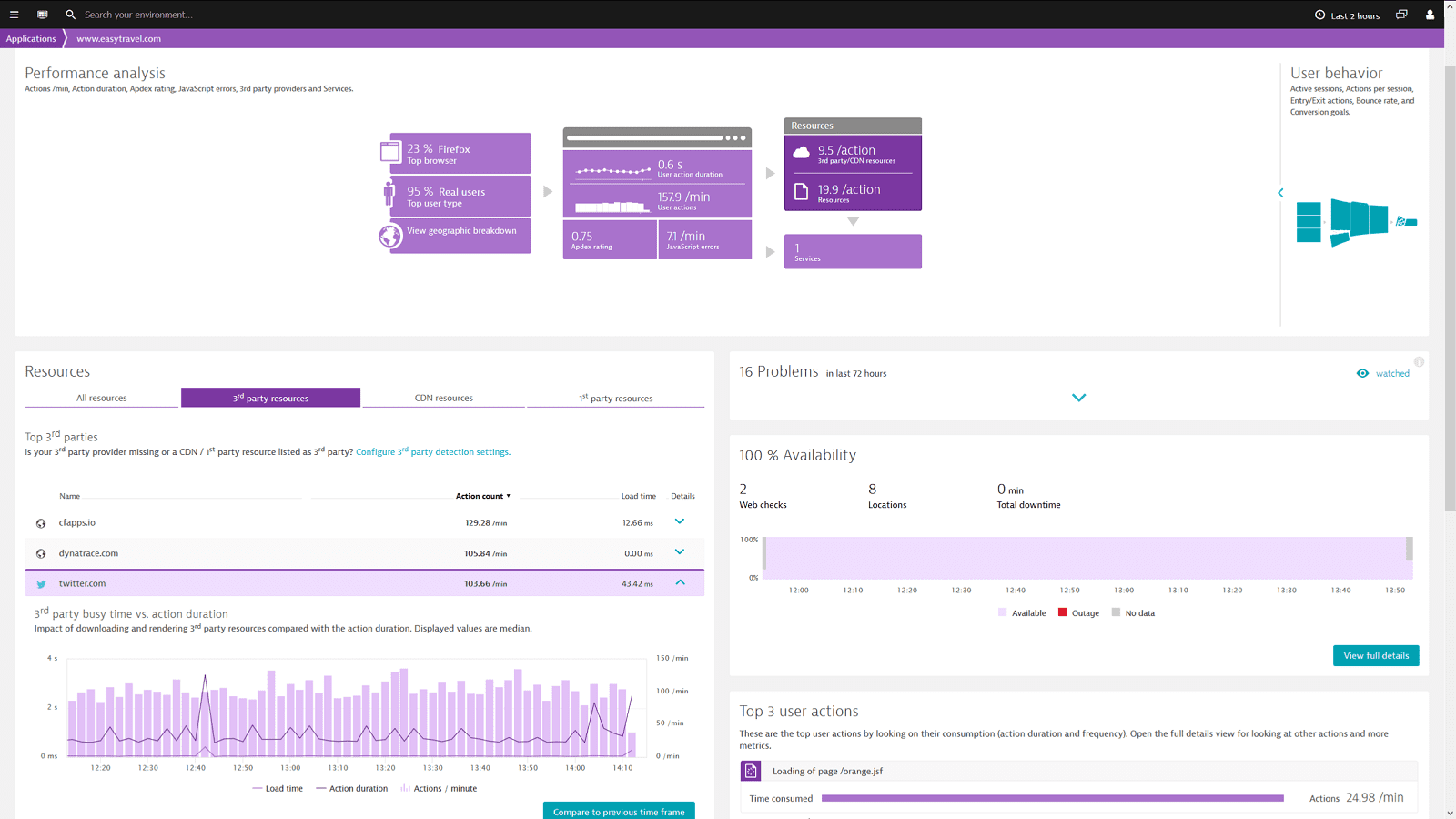 Monitor your application 24/7 to meet your SLAs
Ensure that your Angular app is available and performs well across 5 continents to meet your SLAs.
Ensure that your key APIs, web pages and mobile pages perform properly from all customer locations, all the time.
Analyze data from across the Internet to isolate issues that are "at the edge" all the way to your application hosting environment.
Dynatrace uses all major desktop and mobile browsers to comprehensively simulate customer journeys from thousands of locations around the world.
60% of top retailers including Amazon, Walmart, Dell, Staples and Macy's rely on Dynatrace to monitor eCommerce.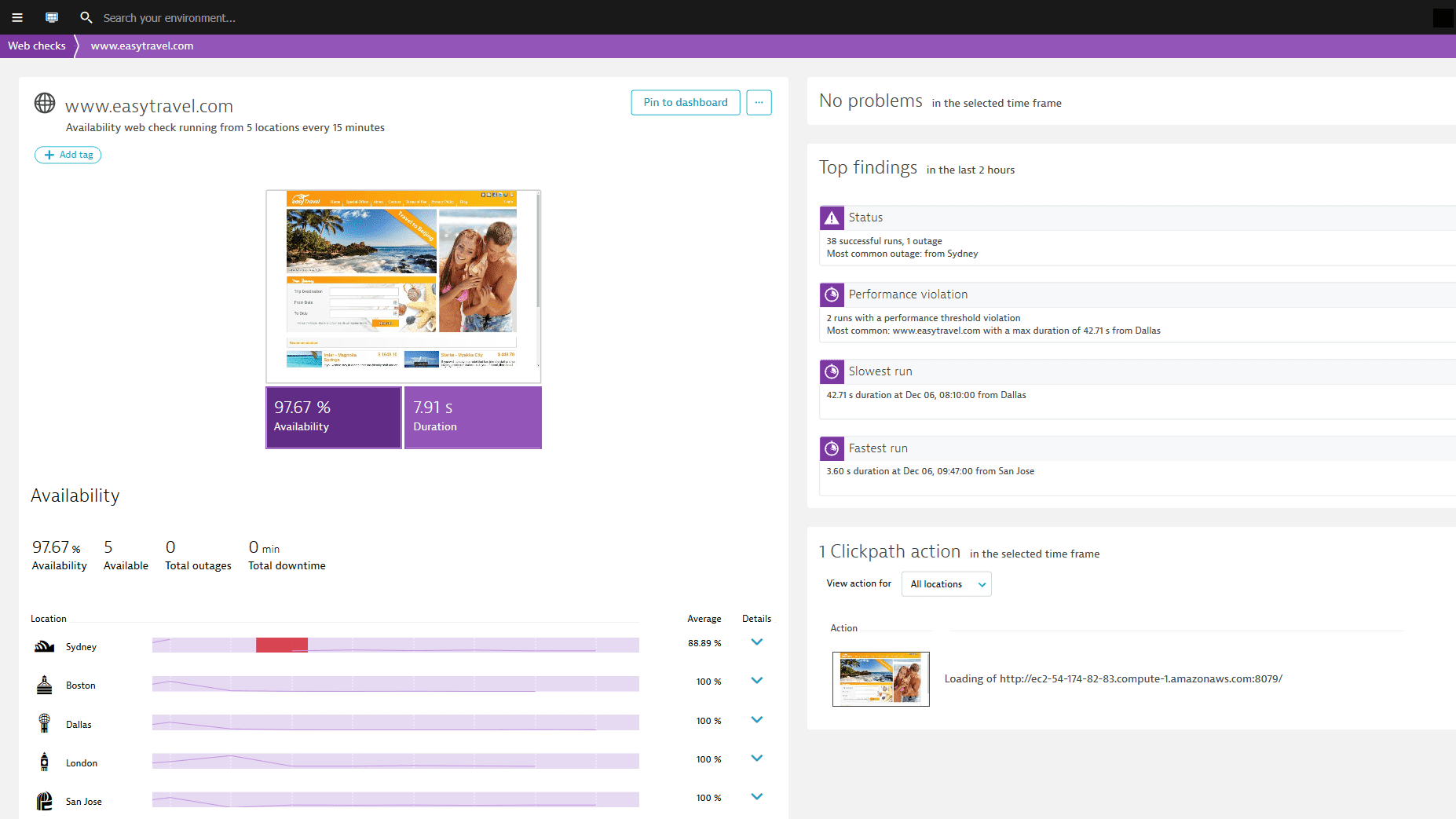 Supported web monitoring technologies
AMP

AngularJS

Backbone.js

Dojo

Ember.js

Ext JS

generic XHR

GWT

ICEFaces

jQuery

MooTools

prototype

React.js

Richfaces

ZK
Sign up for Dynatrace web application monitoring today!
---
You'll be up and running in under 5 minutes:
Sign up, deploy our agent and get unmatched insights out-of-the-box.
Just a few of our enterprise customers