A portfolio of products and services to transform the way enterprises build, run and manage applications on any cloud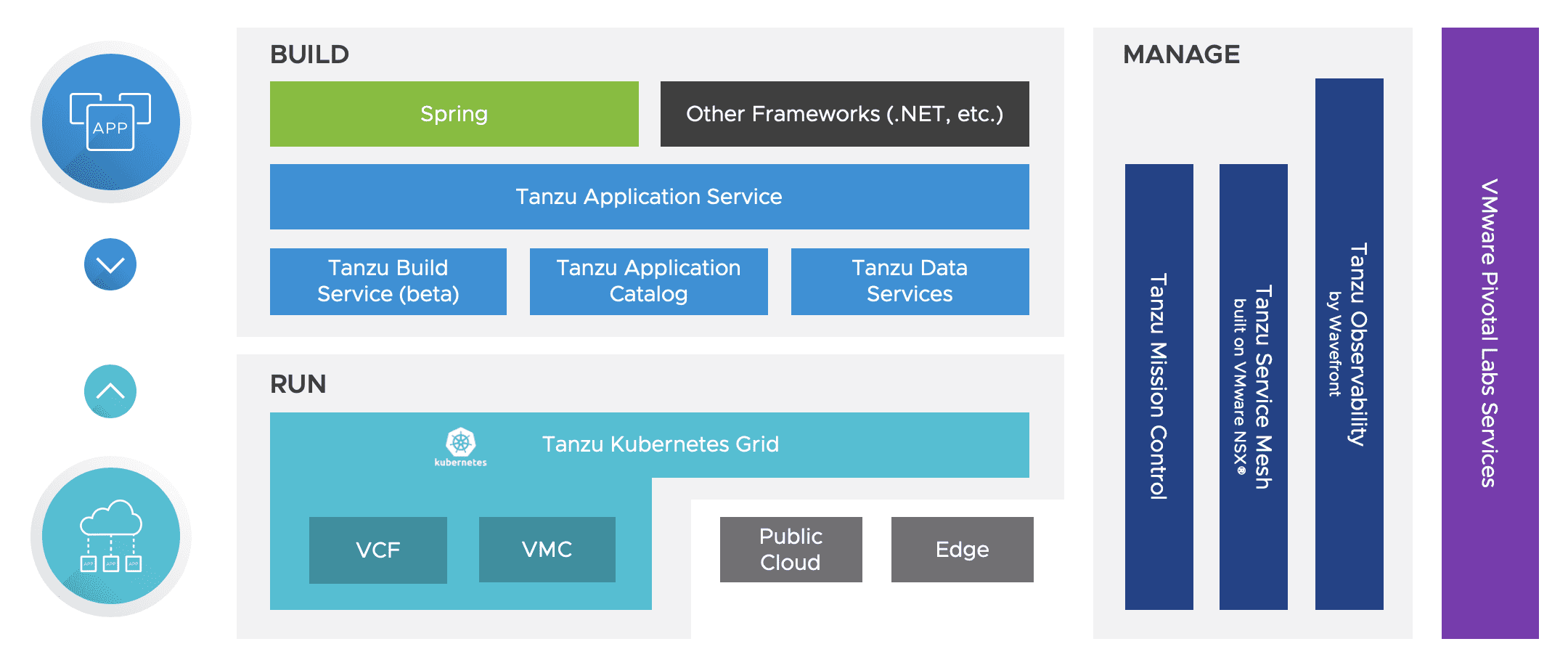 Simplify infrastructure
Extend an enterprise-ready Kubernetes operating model across data center and clouds to support modern applications. Simplify how you run and manage your modernized workloads alongside your existing software. Build the infrastructure your developers love to use and you love to manage.
Modernize existing applications
Do you have millions of lines of custom software code that need an update? Dive into what might be your most important job: app modernization. Transform your teams and apps with the help of VMware Pivotal Labs, while simplifying ops across multi-cloud infrastructure.
Adopt Kubernetes at scale
Don't let Kubernetes complexity hold you back. VMware Tanzu offers an enterprise-grade, consistent Kubernetes runtime that you can deploy everywhere: on-premises, public clouds, and edge. Centralize lifecycle and policy management for all of your Kubernetes clusters regardless of where they reside.
Improve the developer experience
Help developers focus on their code, not on running infrastructure. VMware Tanzu provides a modern software supply chain for getting code to production quickly and continuously. Run your software at scale: Java or .NET, Windows or Linux, containers or code, public or private cloud.
VMWare Tanzu and Dynatrace Partnership
VMware Tanzu is great for development teams who are tasked with "You build it. You own it." It is here where VMware Tanzu shines by allowing developers to focus on deploying quality apps faster without worrying about infrastructure. Dynatrace is a perfect partnership with VMware Tanzu because of it's full stack, AI and automation capabilities. It provides users with deep visibility into the performance of their applications and optimizes how their microservices and containers are operating in highly dynamic environments. Together, Dynatrace and VMware Tanzu accelerate a companies ability to build, deploy and scale applications and deliver on the promise Continuous Delivery.
Dynatrace is proud to be an Advanced Technology Alliance Partner
Check out our all-in-one software intelligence solution on the VMware Tanzu website.
Monitor your VMWare Tanzu applications, platform and infrastructure in minutes
---
Purpose-built for cloud, container, and microservices environments, while also supporting traditional applications and infrastructure, Dynatrace automated deployment will have you up running in minutes.
1

Sign up for the free trial
2

Install the Dynatrace Full-stack Add-on for VMware Tanzu
3

You're now monitoring your VMware Tanzu environment
VMware and Dynatrace together have enabled us to take advantage of AI, automation and the cloud to speed up development and deliver innovation to our customers at the pace they expect."
Jay Cotton, Perfomance Engineer Lead at Kroger

Watch video
Start your free Dynatrace trial today!
---
You'll be up and running in under 5 minutes:
Sign up, deploy our agent and get unmatched insights out-of-the-box.
Just a few of our enterprise customers
Dynatrace and VMware Tanzu Resources
---