End user performance monitoring
Internet access speeds are faster than ever before, and online consumers are demanding. When websites are slow, users will find your competitor. Few users will choose to wait—to opt for frustration over searching for an alternative only a few clicks away. One way you can help prevent users of your website or web application from leaving disappointed with your brand is by monitoring and managing the end user experience.
End user performance monitoring tools measure the performance of your website, mobile app, or other type of application from the perspective of end users. End user performance monitoring provides essential insight into the behavior of your users, their computing devices, their connections, and their geographic locations, enabling you to deliver a consistently positive user experience and better support to each and every customer.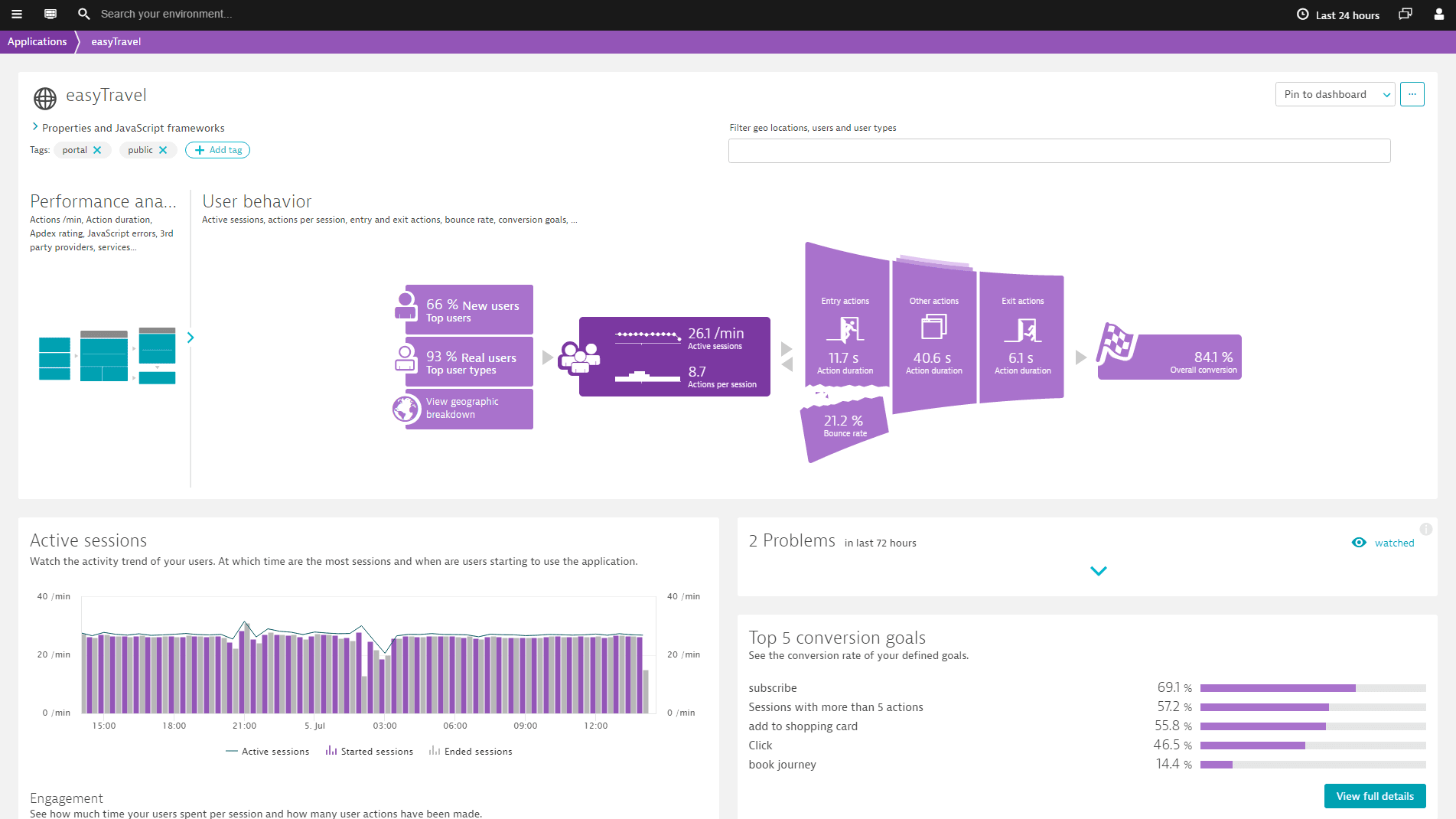 End user performance monitoring: Optimize application performance and enhance the user experience
End user performance monitoring is typically implemented through the use of synthetic monitoring tools, SDK-based mobile app monitoring tools, and real user browser monitoring tools using JavaScript injection.
Active or synthetic website monitoring tools use pre-recorded scripts to simulate user behavior on a website to test availability and performance—from various geographic locations or under certain conditions—and to proactively find and eliminate UX issues before users are impacted. Passive website or mobile app monitoring tools monitor real user behavior from the user's browser or from within the app. They enable you to identify dissatisfied users or blocks of users, view individual user sessions, and isolate the root cause of errors, crashes, and performance degradation—whether caused by a device issue, a problem in the application, or actions taken by the user.
Both types of end user performance monitoring tool collect a variety of response time and user experience metrics, which are vital for assessing the customer experience on digital platforms. Both are essential for finding ways to optimize application performance, stability, and usability for your particular user base—and ensure a positive user experience. When used in conjunction with intelligent software analytics tools, end user performance monitoring tools can even help you predict problems before they arise.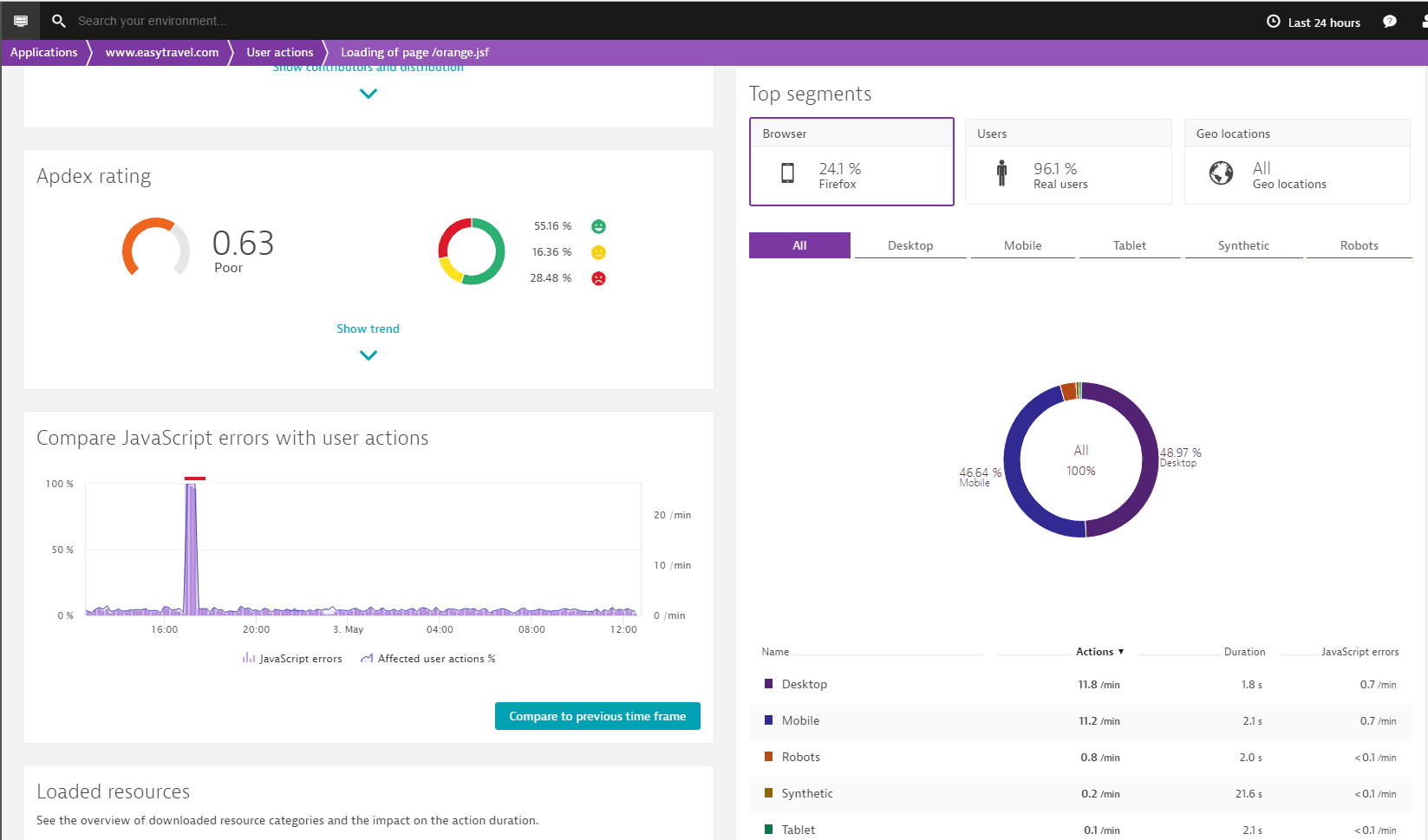 End user performance monitoring for omni-channel UX management with Dynatrace
Supplying you with end user performance monitoring capabilities for your websites, cloud-based applications, and hybrid as well as native mobile apps, Dynatrace gives you an integrated view of the user experience across multiple channels. Incorporating AI-powered software analytics, Dynatrace is a powerful digital performance monitoring solution that not only monitors your users on every device and for every type of application but provides you with actionable insight into the customer journey.
Dynatrace's mobile app and real user monitoring tools help you identify and resolve performance issues in real time before users complain while our synthetic monitoring tool enables 24/7 application availability monitoring from thousands of locations around the world and proactive digital performance management.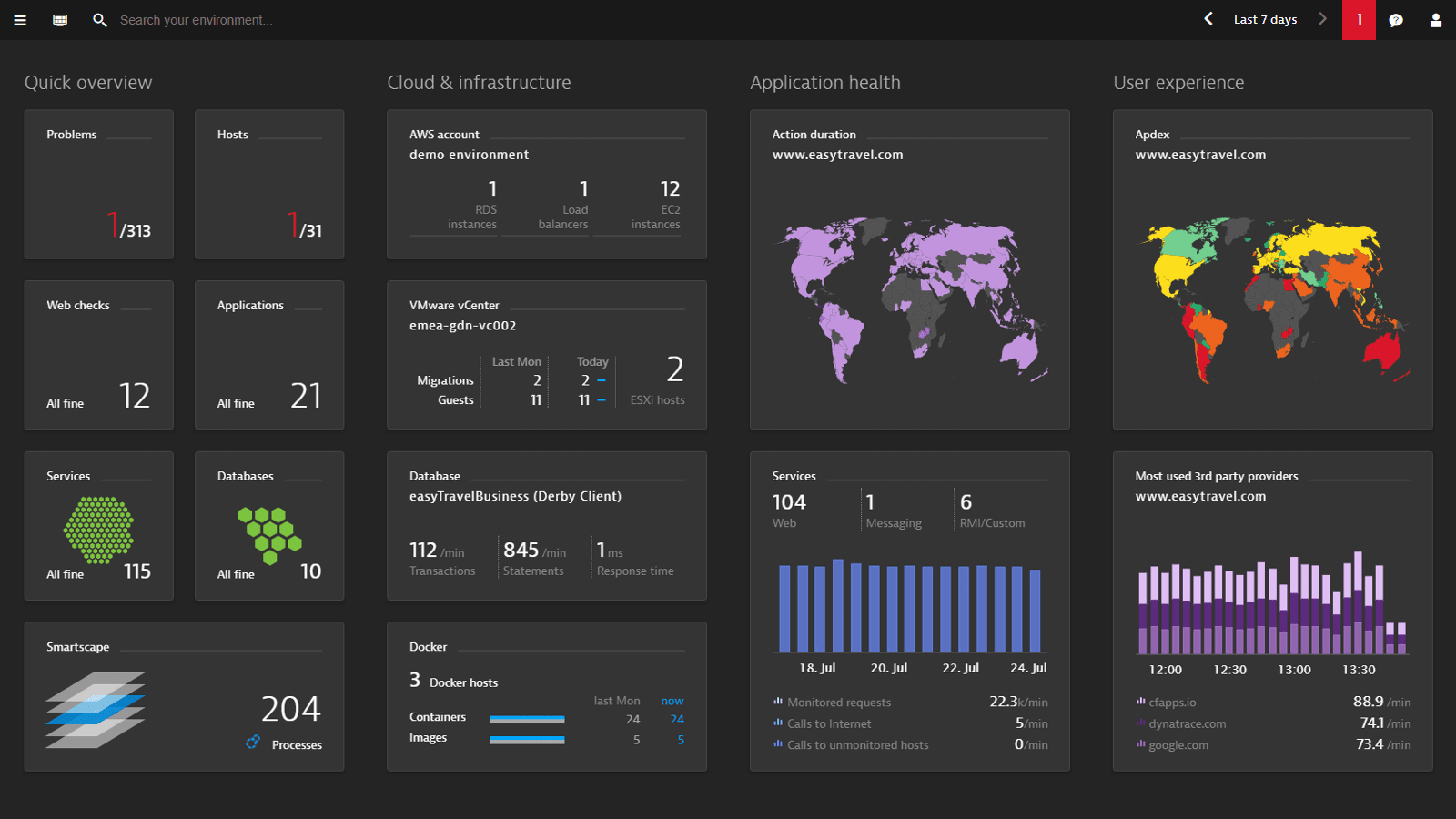 Start a free Dynatrace trial today!