AWS Lambda monitoring
Discover the fastest and easiest way for monitoring and tracing AWS Lambda functions in web-scale web applications end-to-end.
Try for free
See the magic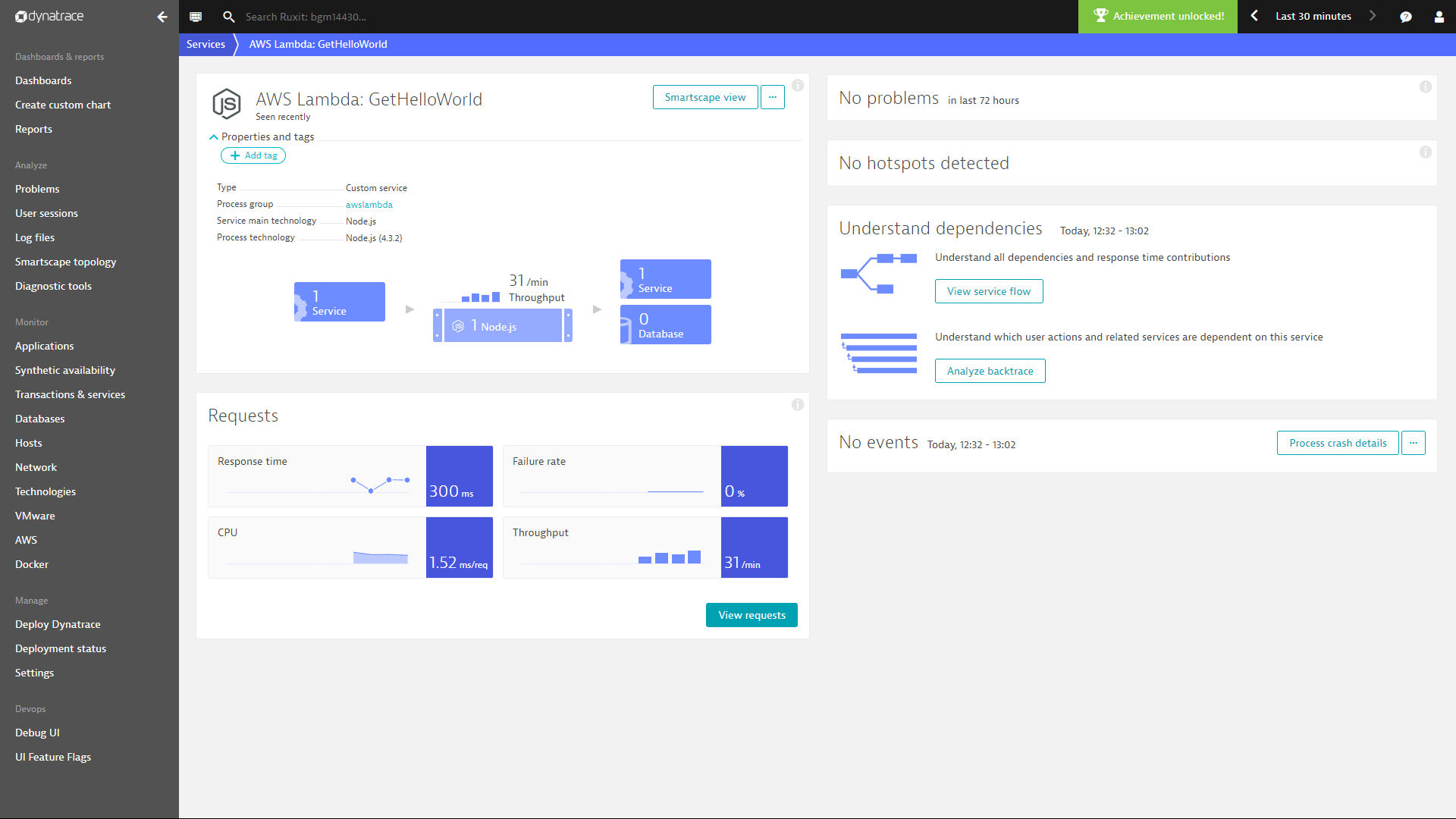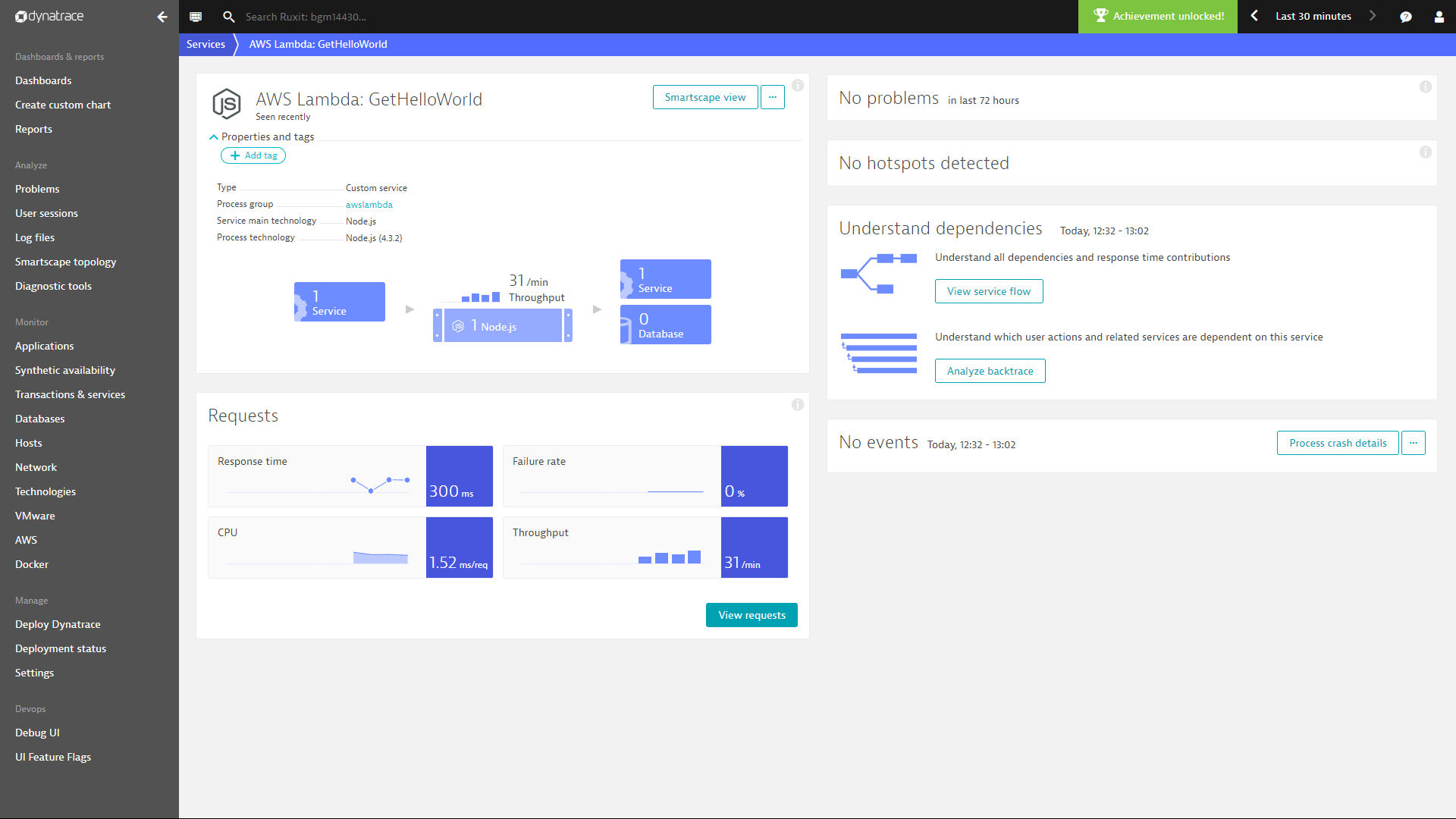 What is AWS Lambda?
---
AWS Lambda is currently the most popular offering in the space of "Function as a Service" or "Serverless" computing.
AWS Lambda lets you run code without provisioning or managing servers. It executes a function only when needed and it scales automatically, from a few requests per day to thousands per second. A Lambda function is a piece of code running in a dedicated container in AWS. It is triggered by other AWS services, eg data inserted into a database, or an event coming from an IoT device. You can even build entire applications based on a Lambda architecture.
Why do you need end-to-end monitoring for AWS Lambda?
---
The short answer is to get full visibility into all tiers of your stack. Think of a Lambda function that calls a slow API. This will not only extend the runtime of your function and add costs, it will also affect the overall performance of your application. Are you building large applications based on Lambda or micro service architectures? Then Lambda monitoring helps you to
optimize response time hotspots
optimize timing hotspots
simplify error analytics
understand and optimize your architecture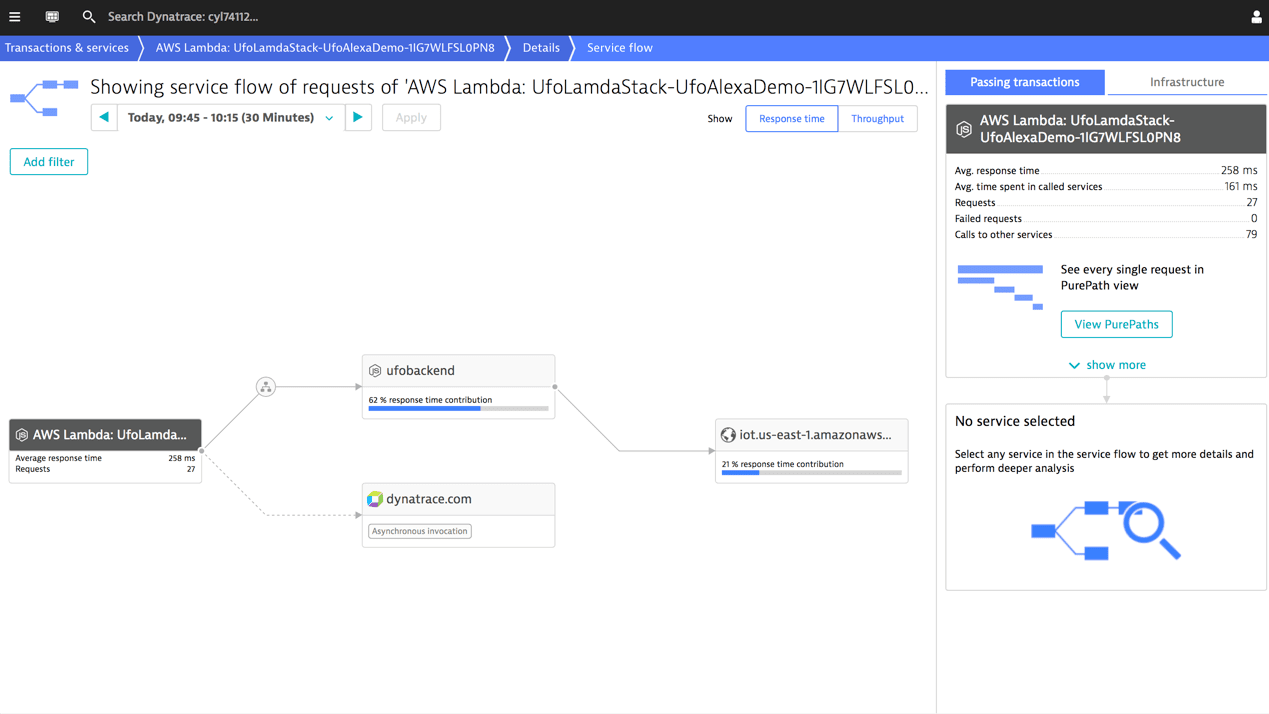 Lambda monitoring done right
---
Out-of-the box, Dynatrace comes with the full set of Amazon CloudWatch metrics. In addition Dynatrace provides:
end-to-end tracing to and from Lambda functions
response times
failure rates
CPU metrics
memory metrics
event loop metrics for Node.js
full integration of Lambda metrics into the system-wide AI-powered root-cause-analysis for instant problem detection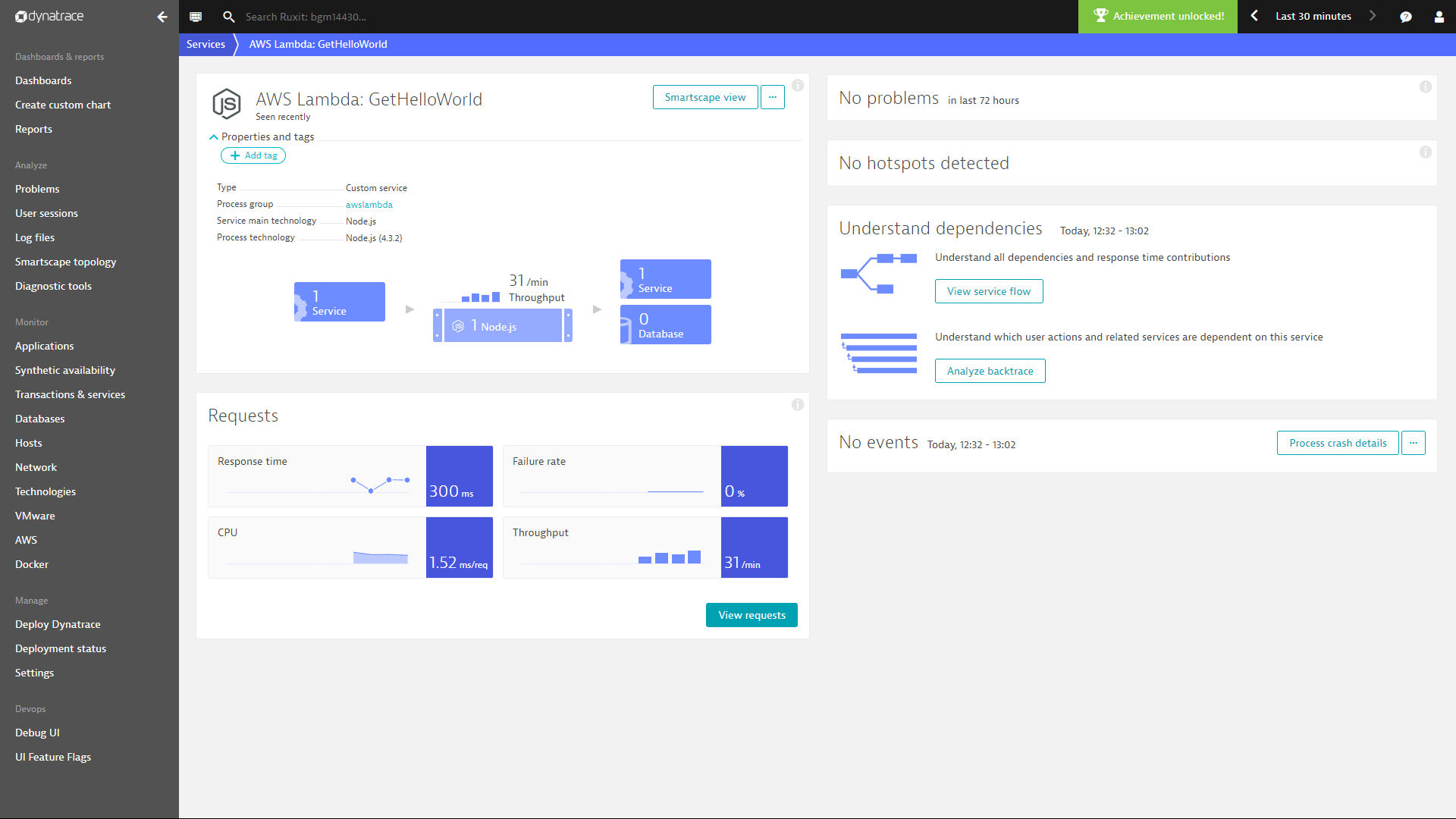 Faster time-to-market and less cost with AI-powered monitoring
---
Get started in 5 minutes with OneAgent installation and auto-discovery
Detect and pinpoint issues automatically powered by AI
Built on cloud-native technologies, Dynatrace scales with your business
Start monitoring your Lambda functions and AWS powered applications now!
---
You'll be up and running in under 5 minutes:
Sign up, deploy our agent and get unmatched insights out-of-the-box.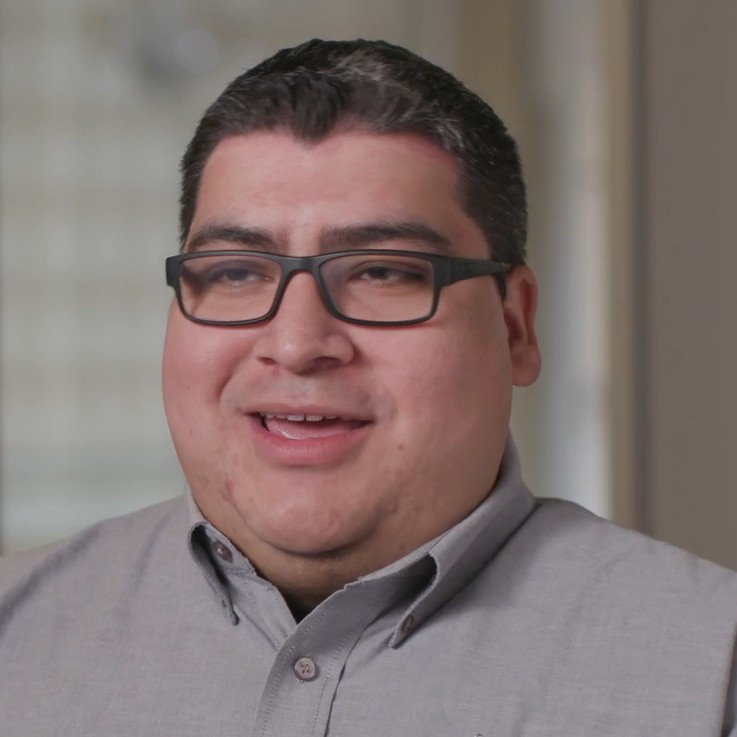 "Dynatrace gives you the full picture of why your apps crashed and how to prevent it from happening again. You get instant value from Dynatrace."
Nestor Zapata, Lead Systems Administrator at Citrix

The 5 minute power demo that might just change your life.
---
Live from AWS Sydney, Solution Engineer Kevin Leng takes you on a quick demo of the Dynatrace value.
Why use AWS Lambda?
---
A big advantage of Lambda is how it charges the user. Rather than needing to pay for entire servers to run code, or pay for blocks of time, Lambda only charges for the compute time you are using – specifically, charging every 100 ms that the code is executed and the number of times the code is triggered.
With Dynatrace you can replace multiple tools with one unified monitoring solution: user experience, application performance, AWS metrics including Amazon CloudWatch data, 3rd party monitoring, network metrics and log monitoring.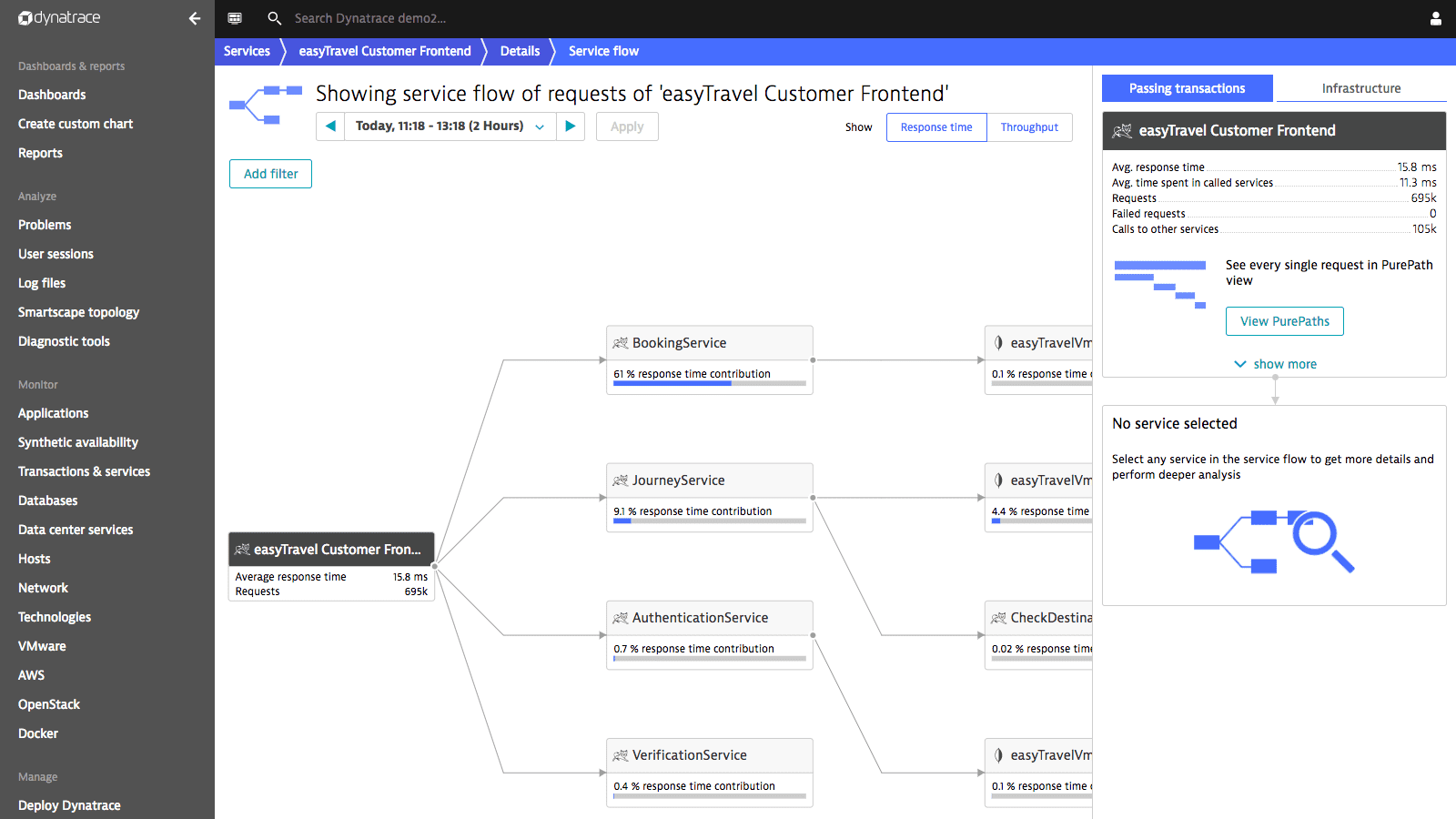 Related content
---
PurePerformance Podcast: Episode 42 - Serverless
Ebook: Cloud-Native Evolution - How Companies Go Digital
Start your free Dynatrace trial today and join thousands of successful customers!
---
You'll be up and running in under 5 minutes:
Sign up, deploy our agent and get unmatched insights out-of-the-box.