Endace
Partnership enables deep-dive analysis of historical network performance. Seamlessly drill down into "back in time" packet-level data.
Endace complements Dynatrace by extending the capability to capture retrospective ("back in time") packet-level data of all network traffic across multiple 10GbE networks.
EndaceProbes™ technology accurately captures, indexes, and stores 100% of network traffic to give you an accurate historical record of network activity. The Endace connection enables Dynatrace users to rapidly pivot from an event and seamlessly drill down into to packet-level data to pinpoint exactly what happened along the network.
Using both real-time and retrospective network performance data, with packet-level detail, provides deeper, faster root cause analysis.
The Dynatrace Agentless Monitoring Device (AMD) can run on any deployed EndaceProbe in Endace Application Dock™, receiving real-time access to the same 100% accurate packet data stream being captured to disk.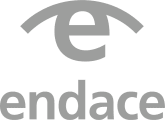 Real-time capture and retrospective "back in time" retrieval of packet-level data for multiple 10Gb Ethernet networks:
Enables fast and easy collaboration between network and application teams
Provides immediate access to network data for faster troubleshooting
Delivers contextual packet-level data for post-event analysis
Facilitates data center consolidation and efficiencies