Google Cloud monitoring
Software intelligence for Google Cloud workloads. All-in-one monitoring of Google Cloud Platform services, applications and infrastructure. Leverage AI to proactively identify performance hotspots. Out-of-the-box distributed tracing for Kubernetes and App Engine stacks for faster troubleshooting
Try for free
See the magic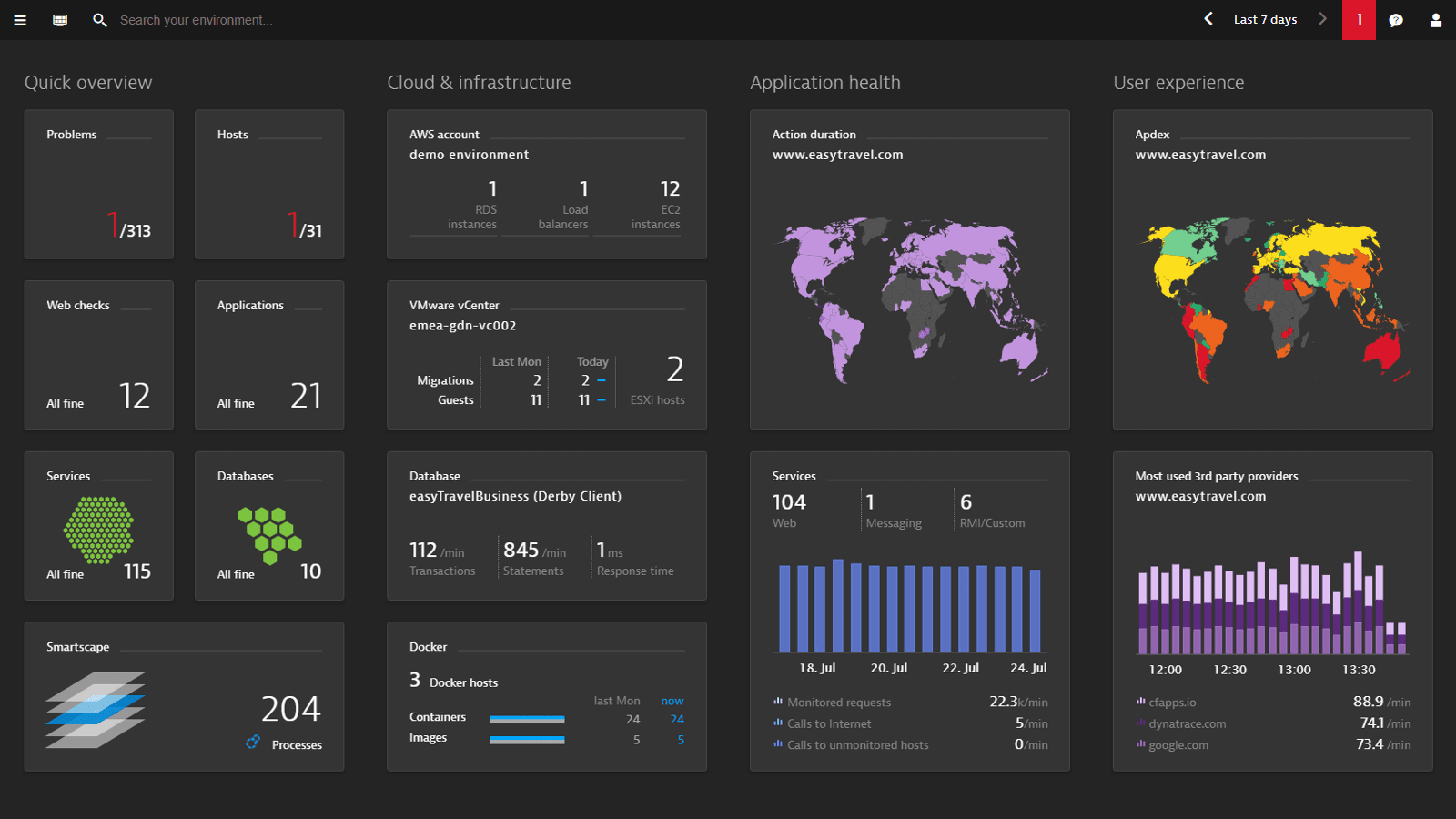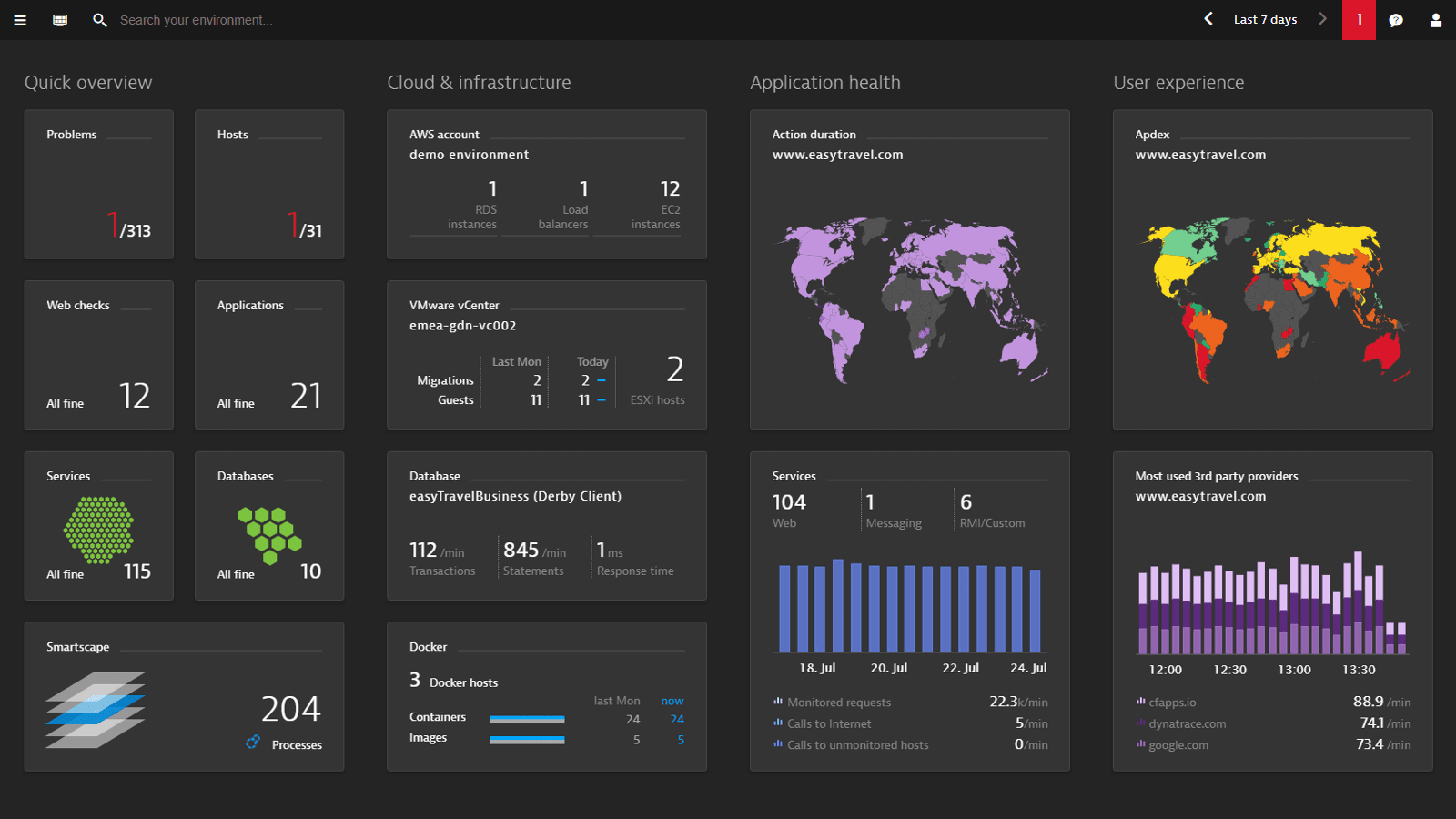 Fully automated, AI-assisted monitoring of Google Cloud
---
One click installation
Install just one agent, one time, forever—zero manual configuration.
Hands-free monitoring
Let AI analyze problems in milliseconds to pinpoint the underlying root causes of problems.
Less noise, more problem-solving
Let Dynatrace consolidate all related performance issues into a single actionable notification.
Seamlessly monitor the full stack
---
Use a single platform to analyze application performance throughout your Google cloud services, applications and infrastructure, down to individual transactions across all layers and technologies.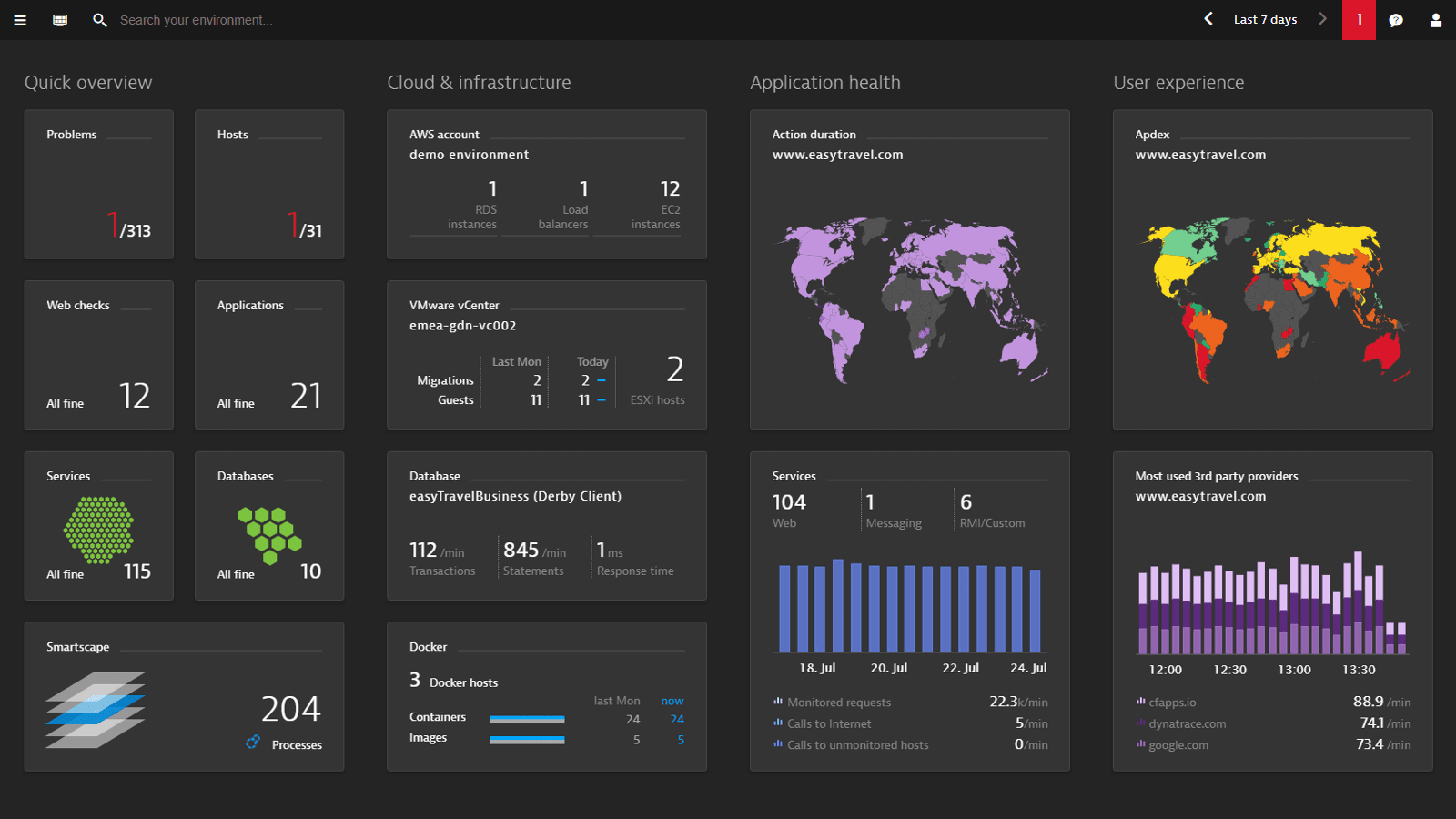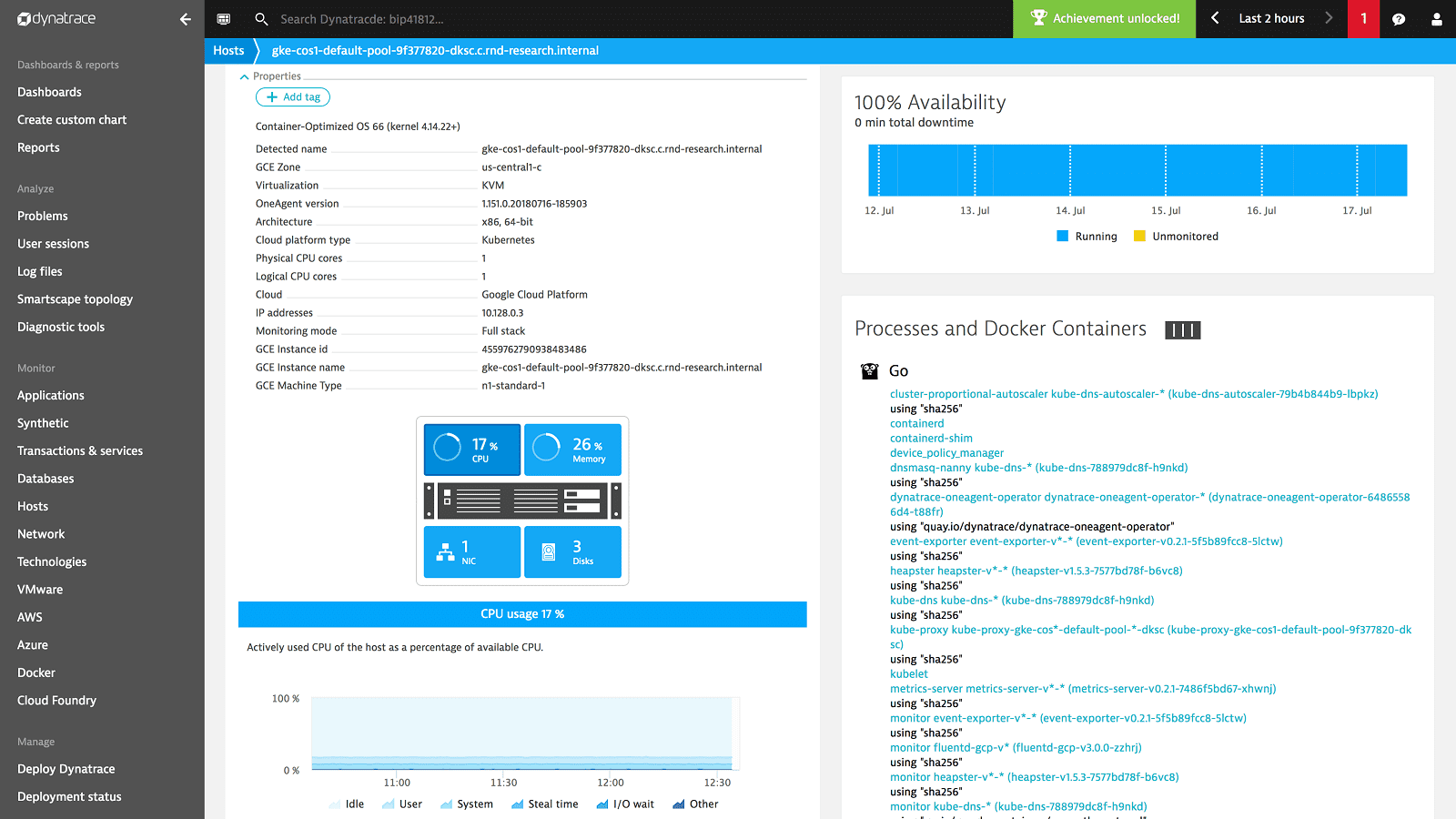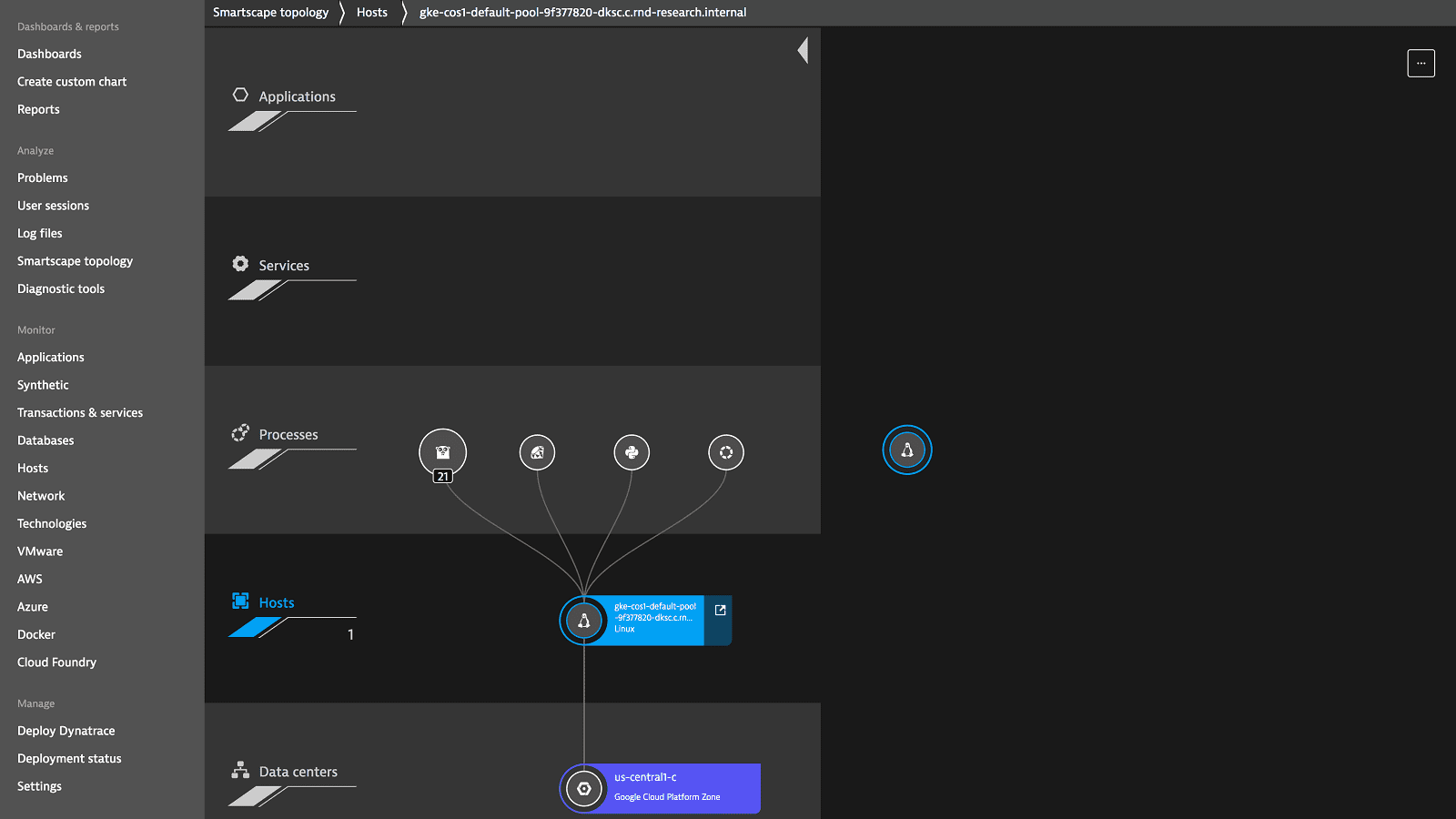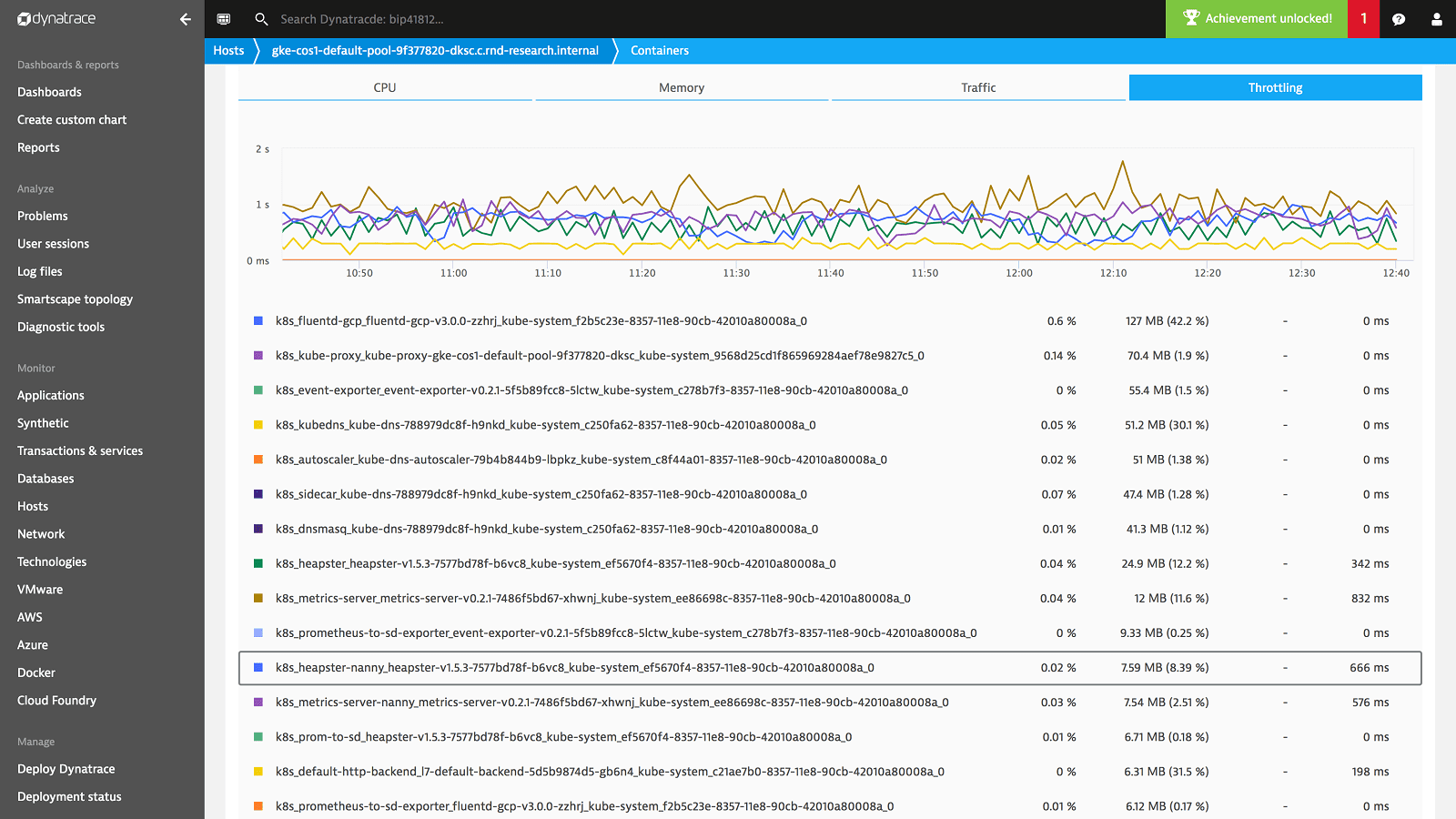 End-to-end Google Cloud monitoring without gaps
---
Integrated support for Google Compute Engine
Full support for Google Kubernetes Engine including Google's Container-Optimized OS
Full support for Google App Engine flexible environment, including code-level visibility, distributed tracing and real-user monitoring
The definitive set of enterprise monitoring capabilities for Google Cloud
---
Web-scale deployment in minutes with one-click installation
Immediate auto-discovery of your entire Google Cloud stack
Real-time Smartscape maps of all application & infrastructure interdependencies
Automated, AI-assisted root cause analytics for all Google workloads well beyond Stackdriver
First enterprise monitoring with full-stack GKE Container-Optimized OS support
The only solution to provide out-of-the-box distributed tracing for Kubernetes and App Engine stacks
Seamless integration with the entire application environment
Deploy Dynatrace as SaaS or on-premise, and monitor application environments across multiple cloud technologies with one platform
Start monitoring your application on Google Cloud now!
---
You'll be up and running in under 5 minutes:
Sign up, deploy our agent and get unmatched insights out-of-the-box.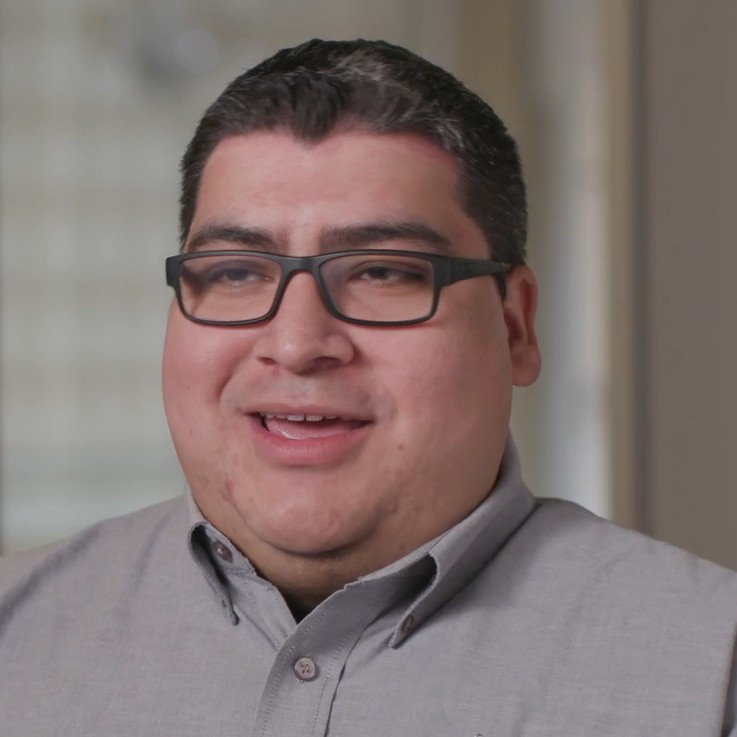 Citrix
"Dynatrace gives you the full picture of why your apps crashed and how to prevent it from happening again. You get instant value from Dynatrace."
Nestor Zapata, Lead Systems Administrator at Citrix

Dynatrace is proud to be a Google Cloud technology partner
---
Check out our all-in-one software intelligence solution on the Google Cloud Platform (GCP) marketplace
One comprehensive solution for hybrid application environments
---
Dynatrace detects application dependencies and provides one consolidated view on application performance for:
Google Cloud, Microsoft Azure, Amazon Web Services, SAP Cloud Platform, and all other leading cloud and container technologies
3rd party services and components and CDNs
On-premises applications and data centers
Get started in 3 easy steps
---
1. Sign up
For our 15 day free trial no credit card is required. You will be up and running in less than 5 minutes.
2. Install the agent
We use artificial intelligence to:
auto-discover your environment
learn how your application works
set smart baselines
3. You are all set ... really!
Intuitive dashboards provide full insights immediately. In case of performance issues you get one single notification including the root cause of the issue.
All without any configuration!
Start monitoring Google Cloud in under 5 minutes
---
You'll be up and running in under 5 minutes:
Sign up, deploy our agent and get unmatched insights out-of-the-box.
Just a few of our enterprise customers