What is Azure?
Simply put, Microsoft Azure is a cloud computing platform with an ever-expanding set of cloud services to help your organization meet your business challenges. It lets you build, test, deploy, and manage applications and services wherever you might be, allowing you to operate hybrid seamlessly.
Cloud computing skyrocketed onto the market 10+ years ago and has been widely adopted for the scalability and accelerated innovation it brings organization. Now, organizations are evolving their cloud strategy to include hybrid, multi-cloud, which enables cloud-native application development and deployment.
As organizations shift to hybrid cloud environments, there are two platforms really dominating the market and Microsoft Azure is the fastest growing with adoption rates skyrocketing.
Let's dig into what Azure is all about and some of the use cases.
What can Azure do for my business?
As on-prem data centers become obsolete, and organizations look to modernize, Azure has the flexibility and scalability to adapt to the business needs of your organic IT landscape. Azure shines when it comes to building and running your software with speed and agility, empowering developers to build productively and innovate faster.
Microsoft Azure has an abundant number of service offerings to drive innovation such as Azure HDInsight for Apache Hadoop, Spark and Kafka, Azure Container Instances for easy container deployment, and Azure Kubernetes Service, diverse use cases from development with containers and Kubernetes, serverless, and more.
Modernization comes with challenges
Azure is a platform designed to transform your business but, as with all transformation, there will be some challenges along the way. For example, will you know how to keep track of all the movement inside these new environments? Hybrid, multi-cloud application, and infrastructure environments can't be siloed – visibility is needed for critical interdependencies. It's beyond human capacity, with thousands of business-critical services and related dependencies. Trying to do that manually puts a tremendous strain on operations teams and can be error-prone.
That's why monitoring plays such a critical role in Azure environments. But monitoring needs to go beyond just "APM", it needs to understand application workloads and Azure infrastructure, providing collaboration between apps and infrastructure teams for seamless cross-team collaboration. Monitoring needs to provide observability on everything running, including containers to show how everything is talking to each other across the IT layers, with real-time dependency models that detect deviations from normal behavior. This is a critical component in being able to identify the root cause of a problem.
Dynatrace brings value to Azure and solves modernization challenges
Dynatrace's Software Intelligence Platform is a single source of truth for your cloud platforms, allowing you to monitor the health of your entire Azure environment (infrastructure and applications) and beyond including other public and on-prem clouds, data centers, and mainframes. Dynatrace recently announced enhanced AI-powered observability for Microsoft Azure, including all Azure Monitor services to deliver more precise AI-powered answers, enabling organizations to efficiently deploy and run cloud environments and accelerate digital transformation. Only Dynatrace can provide these key business values:
End-to-end coverage of hybrid, multi-cloud
Single source of truth, removing limited visibility for Azure services
Smartscape provides context to services so you can easily track dependencies between entities with no additional configuration
Davis understands the dependencies between Azure services and can provide precise root-cause analysis
Automation/enterprise readiness, single platform enables collaboration between app & infrastructure teams​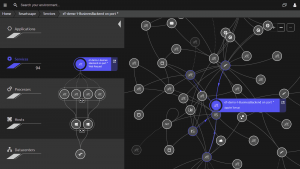 For more information on Dynatrace and Azure, check out our Power Demo, Advancing Cloud Performance: Applying AI and Automation to Microsoft Azure or see the magic first hand with our free trial.