Dynatrace announced the general availability of Cloud Foundry full-stack monitoring with the Dynatrace OneAgent BOSH release in May 2018. We are now happy to announce a new release of the Dynatrace OneAgent BOSH add-on (version 1.0.4).
The new release of the BOSH add-on for Dynatrace OneAgent offers the following capabilities:
Host metadata and tagging, which allows you to define additional metadata for your BOSH-managed VMs at deployment time and subsequently create tags based on this metadata
Host groups, which allow for segmentation of large environments into groups of related hosts that can be configured and monitored collectively
Cloud infrastructure monitoring mode, which provides infrastructure-only health data, with no application or user performance data
The Dynatrace OneAgent BOSH add-on supports the deployment of Dynatrace OneAgent to BOSH-managed VMs, including Linux as well as Windows Diego cells.
Additional metadata and tags for BOSH-managed VMs
Dynatrace automatically detects and displays several metadata values related to VMs that constitute your Cloud Foundry foundations. For instance, we've recently introduced the automatic detection of additional BOSH instance metadata. You'll now find BOSH instance ID, BOSH instance name, BOSH availability zone, and BOSH deployment ID in the host properties of each of your BOSH-managed Cloud Foundry VMs.
With the new release of the BOSH add-on for OneAgent, you can now also specify additional host metadata and tags for your Cloud Foundry VMs during OneAgent deployment. This extra information can be used to define tags or management zones in Dynatrace.
In the example below, we've specified the tags BOSH-managedVM and ILDemo  (Foundation) as well as additional metadata that describes the Cloud Foundry environment via the OneAgent BOSH add-on.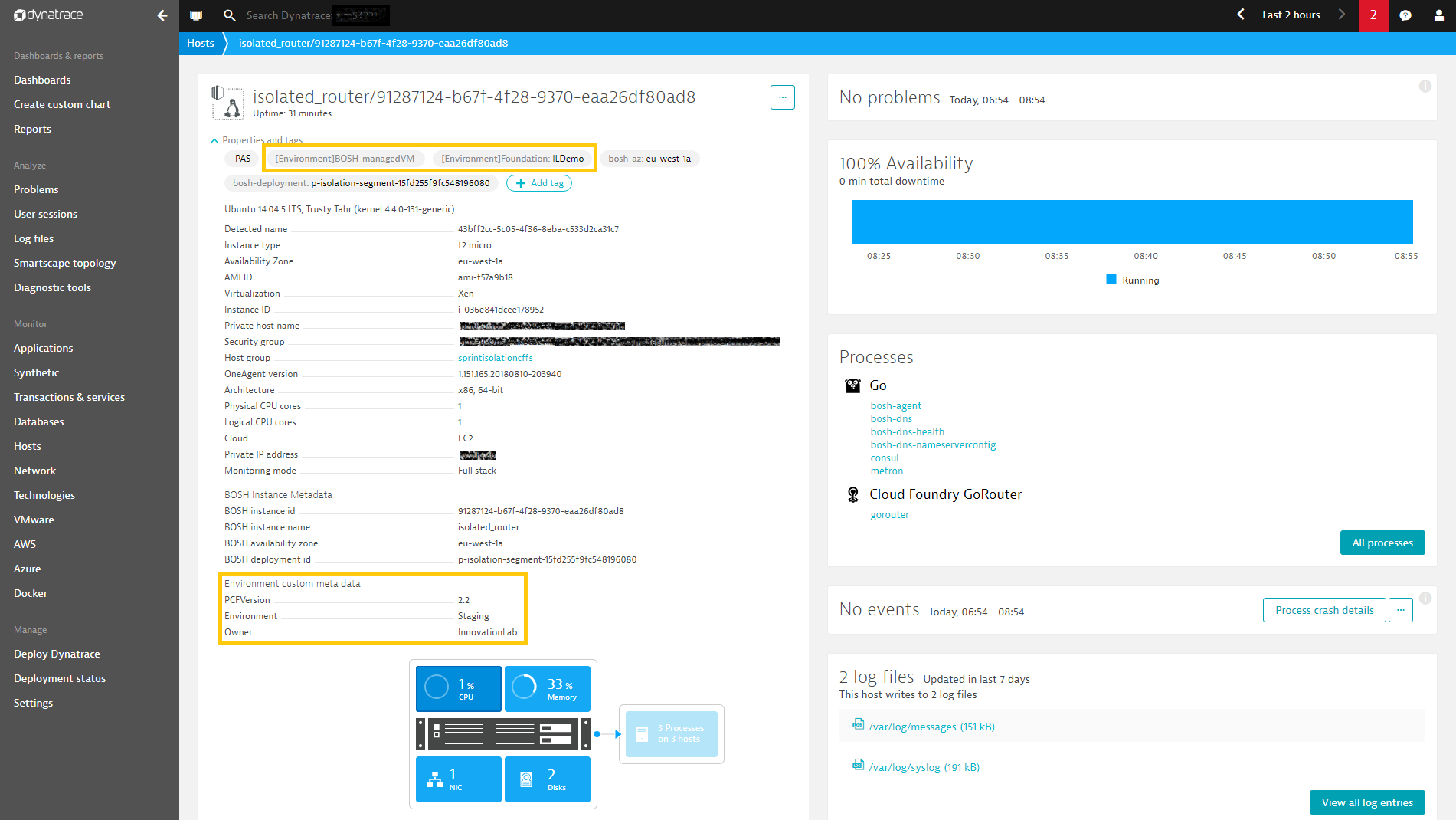 Organize large Cloud Foundry environments with host groups
The complexity of large Cloud Foundry environments, which may include multiple BOSH deployments or span multiple BOSH availability zones, increases the need to collectively configure and monitor groups of related BOSH-managed VMs.
With the new release of the Dynatrace OneAgent BOSH add-on, you're now also able to assign BOSH-managed VMs (which relate to specific BOSH deployments) to host groups.
Note: A host can only be assigned to a single host group during OneAgent installation. To change a host group assignment, you need to uninstall and re-install OneAgent.
You can specify anomaly detection rules as well as OneAgent update behavior per host group (i.e., per BOSH deployment). Host groups also affect the detection of process groups. For instance, if you're running one or more Gorouter processes related to different BOSH deployments (for example, sprintfullcffs and sprintisolationcffs), Dynatrace will create multiple Gorouter process groups based on the specified host groups (as shown below). Host groups require OneAgent version 1.146 or above and are currently in beta. You can find additional details in our host groups announcement. Detailed host group documentation will be available before host groups are generally available.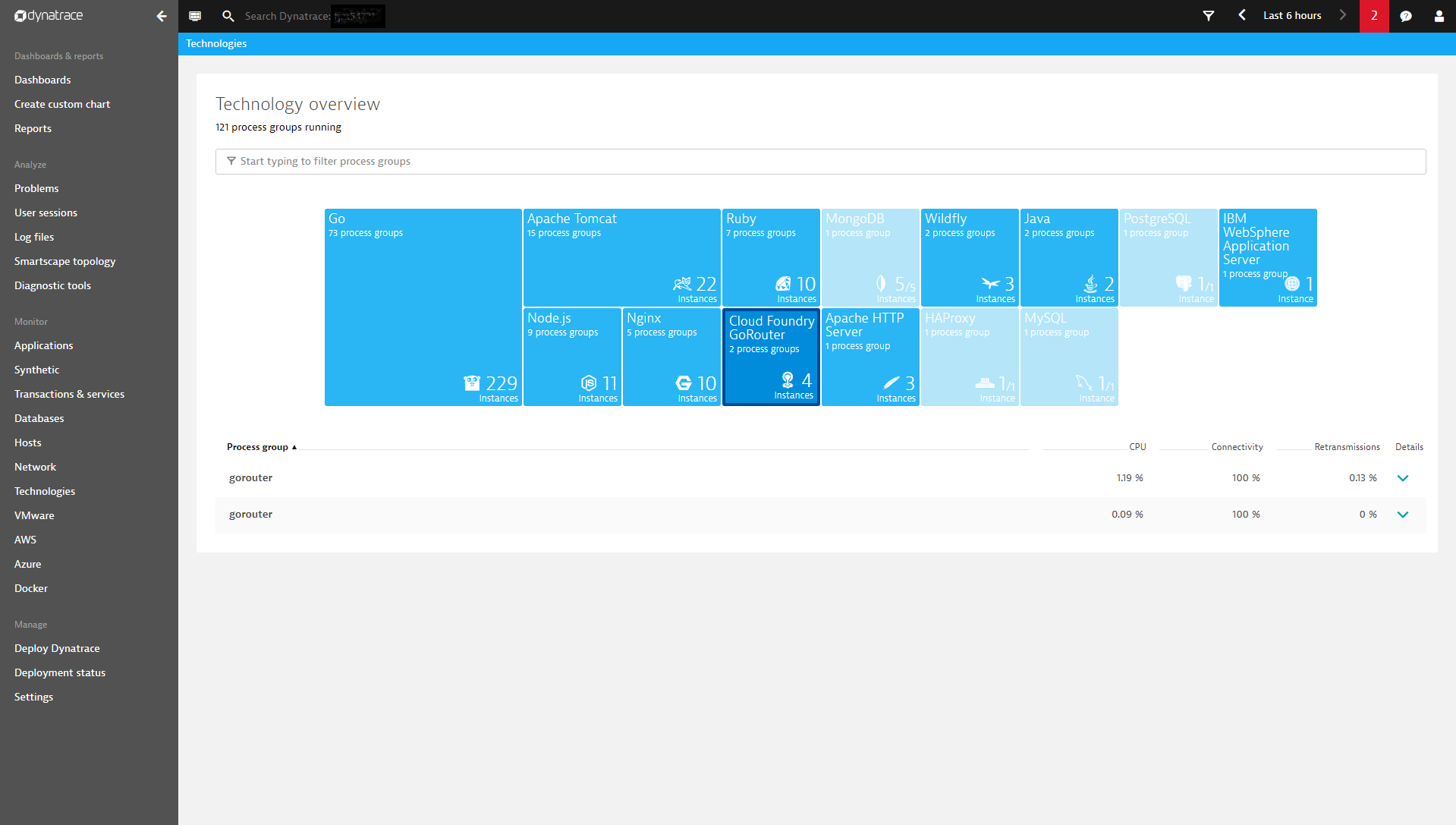 Activate cloud infrastructure monitoring mode
The new release of the Dynatrace OneAgent BOSH add-on allows you to choose between cloud infrastructure monitoring mode versus full-stack monitoring mode. Cloud infrastructure monitoring mode allows you to monitor just your Cloud Foundry infrastructure components (e.g., BOSH-managed VM health data only), but with this approach, you miss out on application and user performance data.
Please note that cloud infrastructure monitoring mode doesn't support automatic monitoring of Cloud Foundry applications, so you can't benefit from the built-in auto-injection for Garden-runC containers.
Stay tuned
We have many great new capabilities planned for Cloud Foundry monitoring with Dynatrace. For instance, you'll soon be able to benefit fully from management zones to manage your Cloud Foundry foundations in terms of Organizations.
We'd love to know what you think about the new OneAgent BOSH release. Please share your feedback with us at Dynatrace Community.