Dynatrace scored highest in strategy and execution.
Research in Action (RIA), a leading independent research and consulting company, named Dynatrace the overall leader in its 2022 Vendor Selection Matrix™ for AIOps Platforms. RIA surveyed 1,500 enterprise IT and business managers with budget responsibilities. This placement recognizes Dynatrace's focus on customers and pushing the art of what's possible in AI and automation as it's applied to observability, security, and business analytics.
Why is Dynatrace ahead of the pack?
With a strategy and execution score of 4.73 each, Dynatrace finished first, ahead of 17 other AIOps solution providers.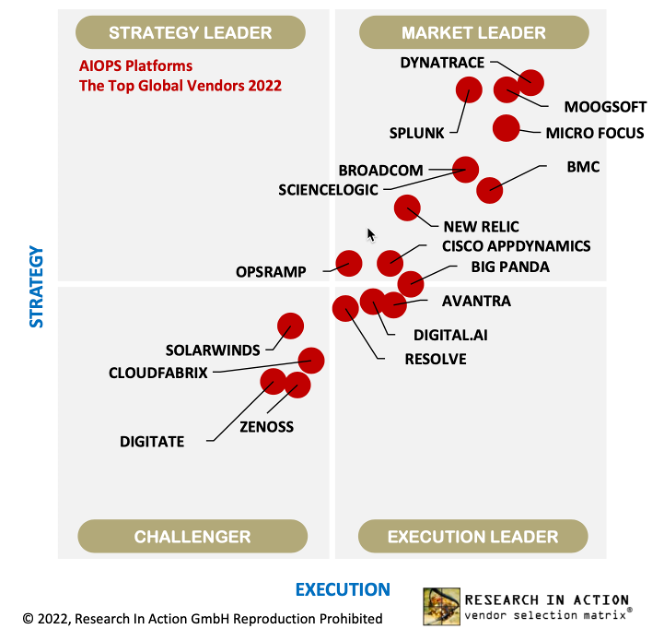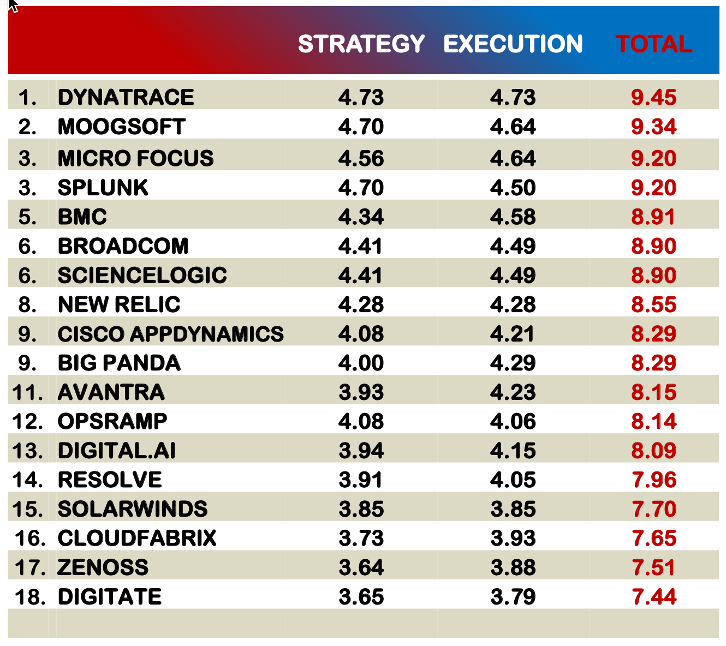 The highest score in strategy was attributed to Dynatrace's focus on self-healing and proactive automation. The deterministic, causation-based AI engine, Davis, continuously analyzes dependencies, anomalies, and event sequences. Additionally, it provides precise root-cause determination.
Dynatrace's core technologies, such as OneAgent, receive data from everything along your application delivery. It automatically adapts to your dynamic environment as it changes. PurePath automatically analyzes transactions from browsers all the way down to the code and database levels. Smartscape creates a fully connected, real-time model of the environment that keeps itself continuously updated. This closed-loop set of Dynatrace technologies enables users to cut through the noise and automate the remediation process.
The highest score in execution was attributed to Dynatrace's ability to help the world's largest organizations run their software perfectly with precise answers and intelligent automation. More than 3,300 customers across every industry use Dynatrace to modernize and automate enterprise cloud operations, produce higher-quality software faster, and provide their customers with the best digital experiences possible.
"[The] Dynatrace Software Intelligence Platform provides IT enterprise organizations with excellent speed, efficiency, and simplicity in managing complex hybrid cloud environments," according to the report.
What is trending in AIOps?
The report identifies the following three AIOps market trends:
1. AIOps is a capability within observability.
AIOps provides meaning to data from observability. By processing observability data, AI helps improve the quality and availability of services and applications. The result ensures systems are resilient with high uptime.
2. AIOps will expand atop observability.
DevOps, site reliability engineering, and chaos engineering continue to grow in adoption across IT organizations. Each of these modern ways to plan, deploy, release, operate, and monitor applications and services benefit from AIOps.
3. AIOps' promise of anomaly detection is attractive.
AIOps can help an organization shift from the reactive way of responding toward proactive management of applications and services, as it moves toward a "cloud-native" future.
To learn more about AIOps trends and dig deeper into the results, download the report.