Kubernetes cluster and workload monitoring
Using AI and automation to accelerate Kubernetes observability has never been easier

Dynatrace is the trusted solution for monitoring Kubernetes
A truly automated approach to monitoring Kubernetes
---
Kubernetes is the standard platform for running and managing containerized workloads in distributed environments. There are many container runtimes available now—Docker, CRI-O, containerd, as well as layers running atop of K8s, like Istio and Linkerd service mesh. Dynatrace auto-discovers them all and gives you full visibility without changing any code.
Deploy at speed and scale with the Dynatrace OneAgent Operator
---
Dynatrace is the only full-stack monitoring platform that provides fully automated, zero-config, distributed tracing, metrics, and code-level visibility into distributed applications without changing code, Docker images, or deployments.
Deploying Dynatrace OneAgent Operator
---
By deploying and managing the Dynatrace OneAgent Operator, the OneAgent becomes a native, first-class citizen of the platform.
Makes full-stack, automated monitoring a platform feature
Ensures every app and microservice you deploy is always monitored
Eliminates the need to deploy, configure, and update agents
Monitors 1,000's of nodes and applications with ease
Monitor your Kubernetes clusters and workloads in minutes
---
Purpose built for cloud, container, and microservices environments, while also supporting traditional applications and infrastructure, Dynatrace automated deployment will have you up running in minutes.
1
Sign up for the free trial
2
Install the Dynatrace OneAgent Operator
3
You're now monitoring your Kubernetes environment
Automated distributed tracing
---
Distributed tracing is about seeing how requests flow through 1,000s of different services. It is key to finding the cause-and-effect relationship of breakdowns or performance issues. While other solutions require manual instrumentation and have limited visibility into containers, Dynatrace provides
Real time discovery of all containers and microservices
Automated instrumentation of services running inside of containers with zero changes of the code, container images or deployments
Code level visibility for fast problem resolution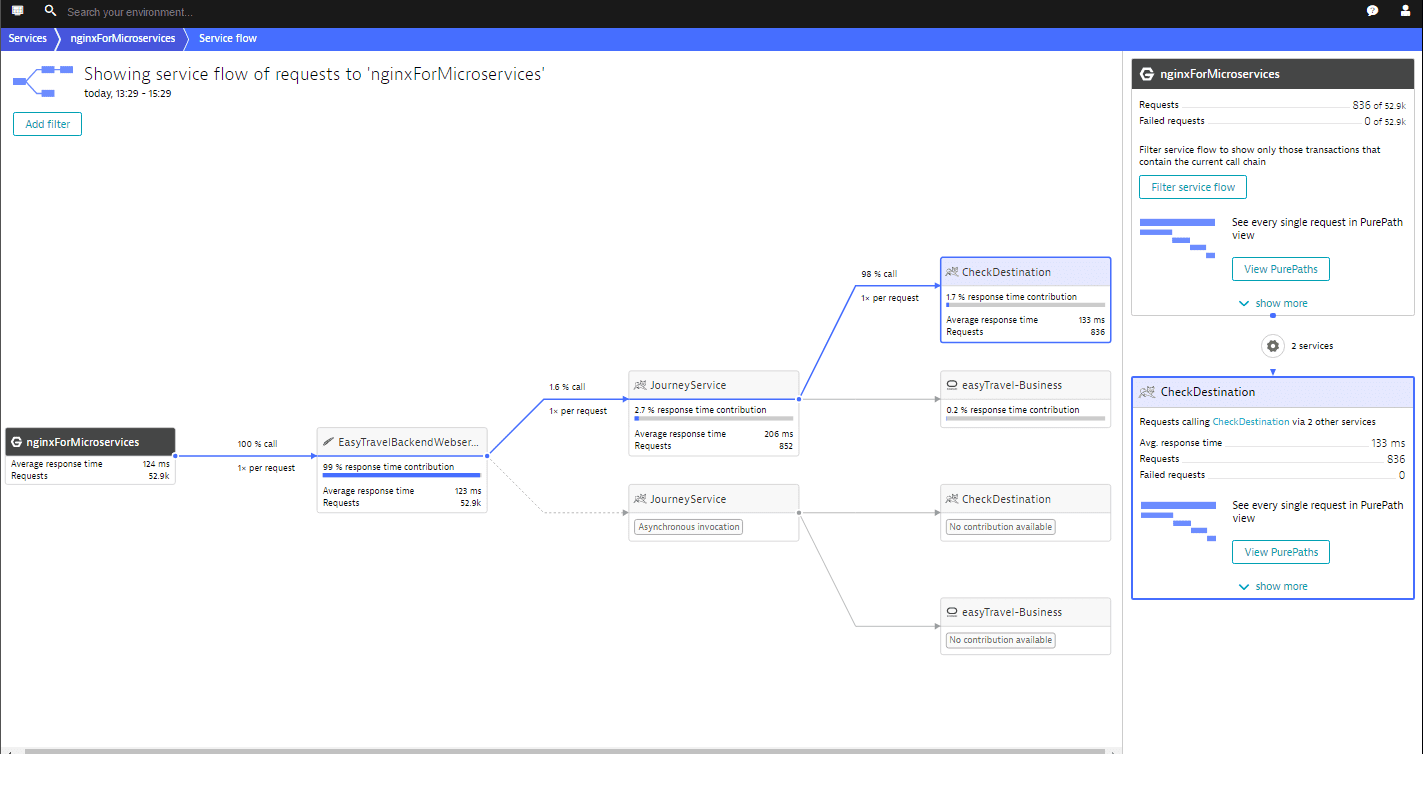 Cluster health and utilization monitoring
---
Kubernetes clusters are typically shared across teams. Cluster owners are responsible for providing enough resources and capacity to properly host and run workloads and support the teams who rely on them. Dynatrace provides the needed insights.
Cluster health and utilization of nodes
Health status of individual nodes
Requested usage of resources compared to actual usage
How much additional workload can be deployed per node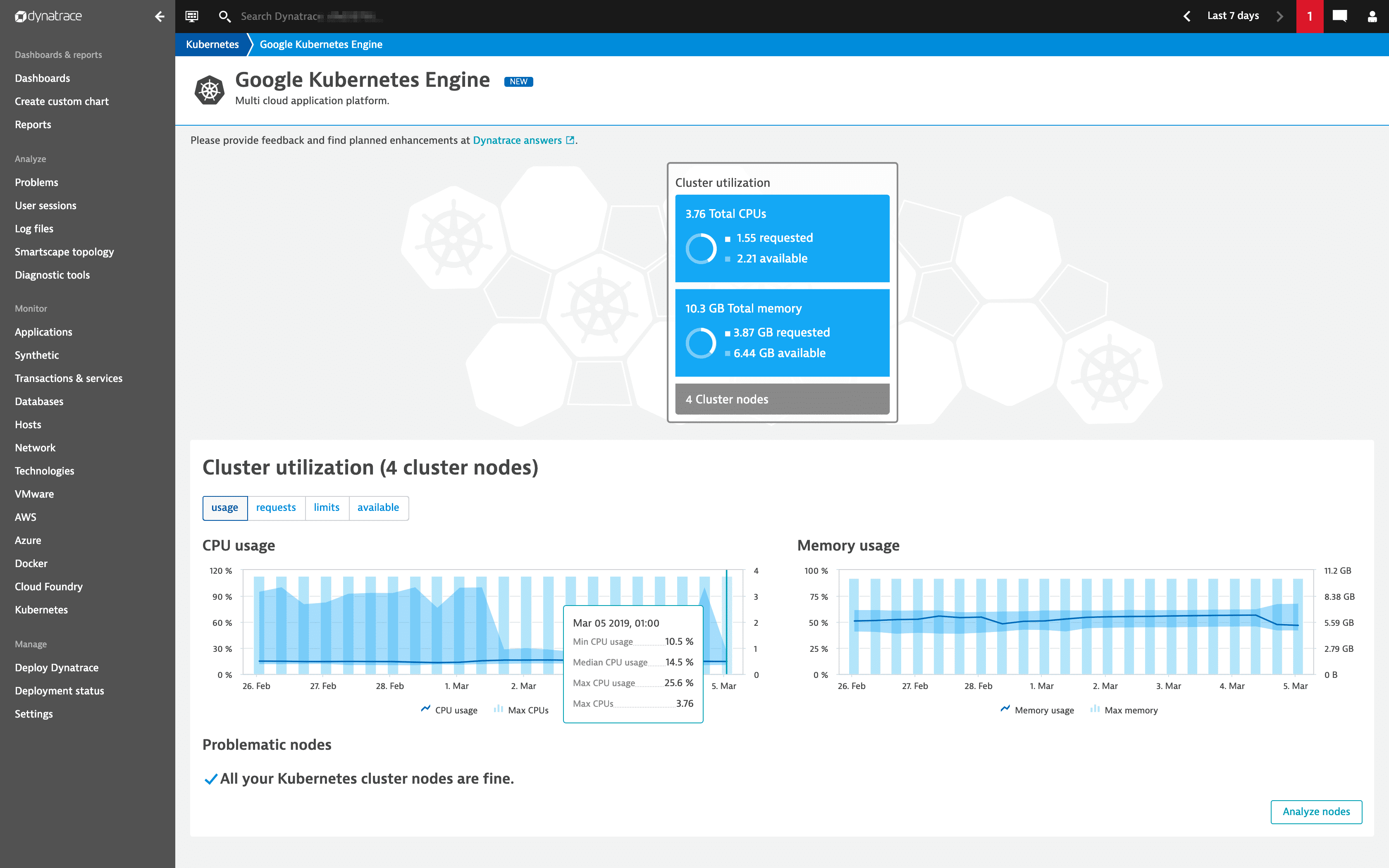 Understand cause of failing microservices
---
Davis, the Dynatrace AI engine, is built from the ground up to automatically pinpoint anomalies in highly distributed containerized environments. Real time visibility into containers at start-up combined with semantically enriched log, tracing and real user data are the foundation for Davis to precisely determine the:
Functional root cause of a performance or availability problem
Foundational root cause, that is the deployment or configuration change responsible
Impact to real users and business KPIs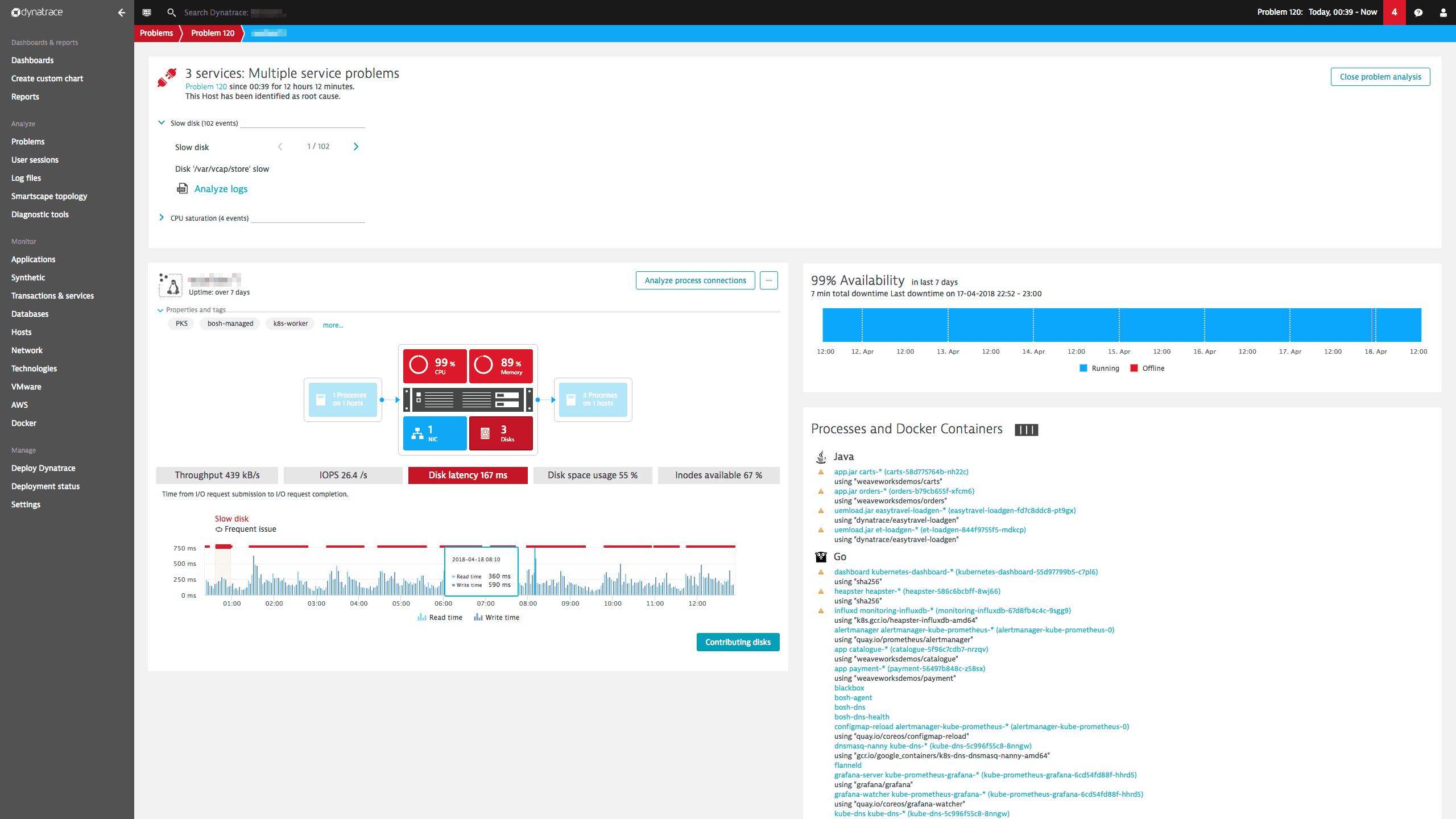 "We adopted Kubernetes because it would help us accelerate time-to-market, and Dynatrace helps us to do just that. Dynatrace is a great solution that automates the monitoring of Kubernetes workloads at scale and provides AI-powered answers, allowing us to focus our efforts on innovation."
—Felix Gratz, Application Performance Management and System Architecture, Daimler AG
See what makes Dynatrace unique
---
See the magic
Unique scalability and deployment capabilities
---
Web-scale
With a common big data architecture and enterprise-proven cloud technologies, Dynatrace is engineered to easily scale to 100,000+ hosts.
Enterprise grade
With unique role-based access, and advanced security functionality, Dynatrace is purpose-built for enterprise wide adoption.
Flexible deployment
The simplicity of SaaS, or the flexibility of managed on-premise, means you control your data while we take care of running the platform.
Dynatrace + Kubernetes resources
---