Dynatrace Synthetic Platform 2017.08.09 release notes
The Dynatrace team is proud to announce the latest release of Dynatrace Synthetic available on August 9, 2017.
What's new in Dynatrace Synthetic?
New Test overview
The new Test overview, accessible from the Operational summary, provides interactive analysis and workflows for quick diagnosis of issues and detailed performance analysis of critical business transactions. The Test overview includes key performance metrics, active alerts, analysis of errors, trend charts, automatically detected anomalies, location breakdowns, step breakdowns, and 1st/3rd party resource analysis.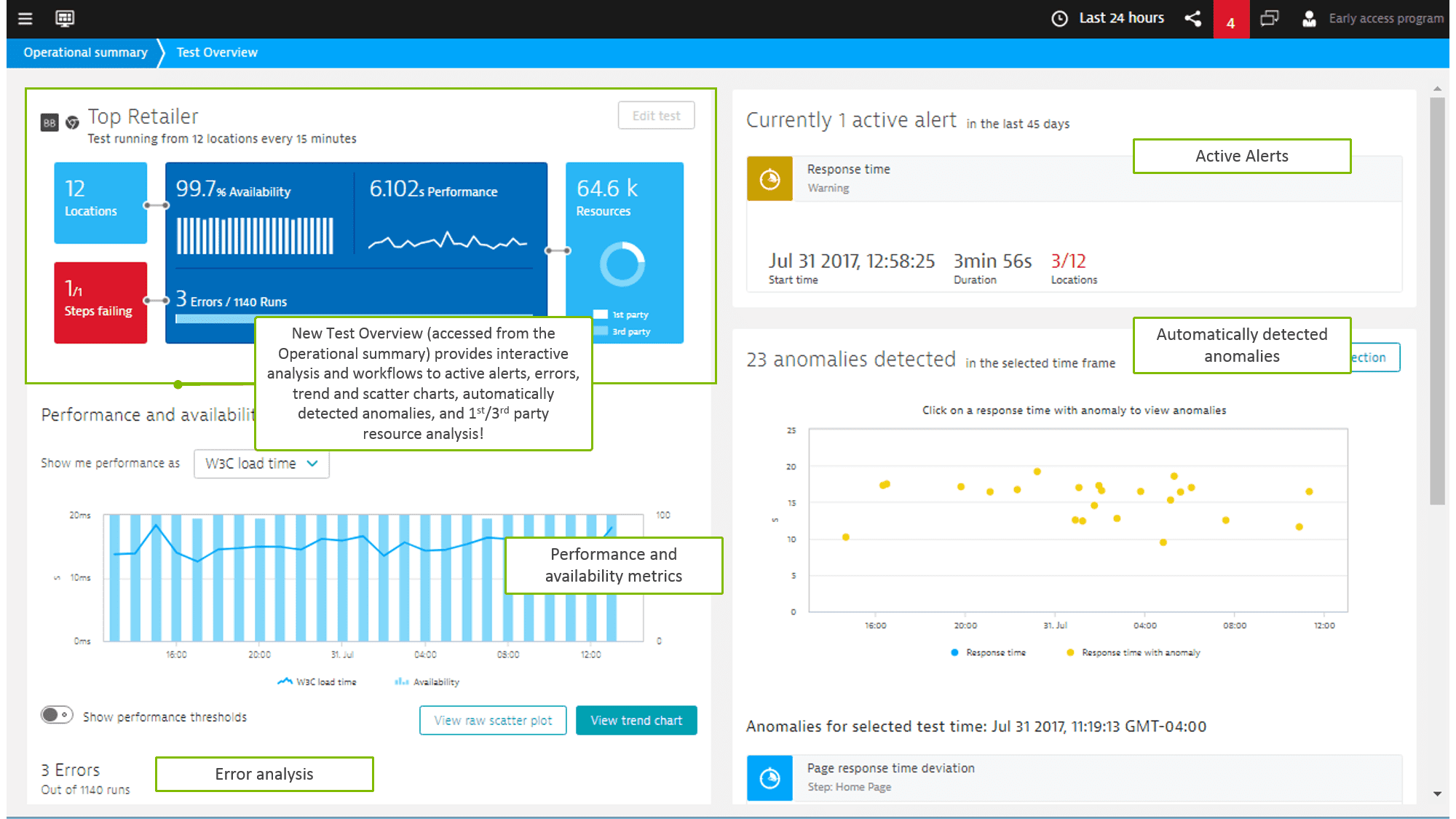 Key performance metrics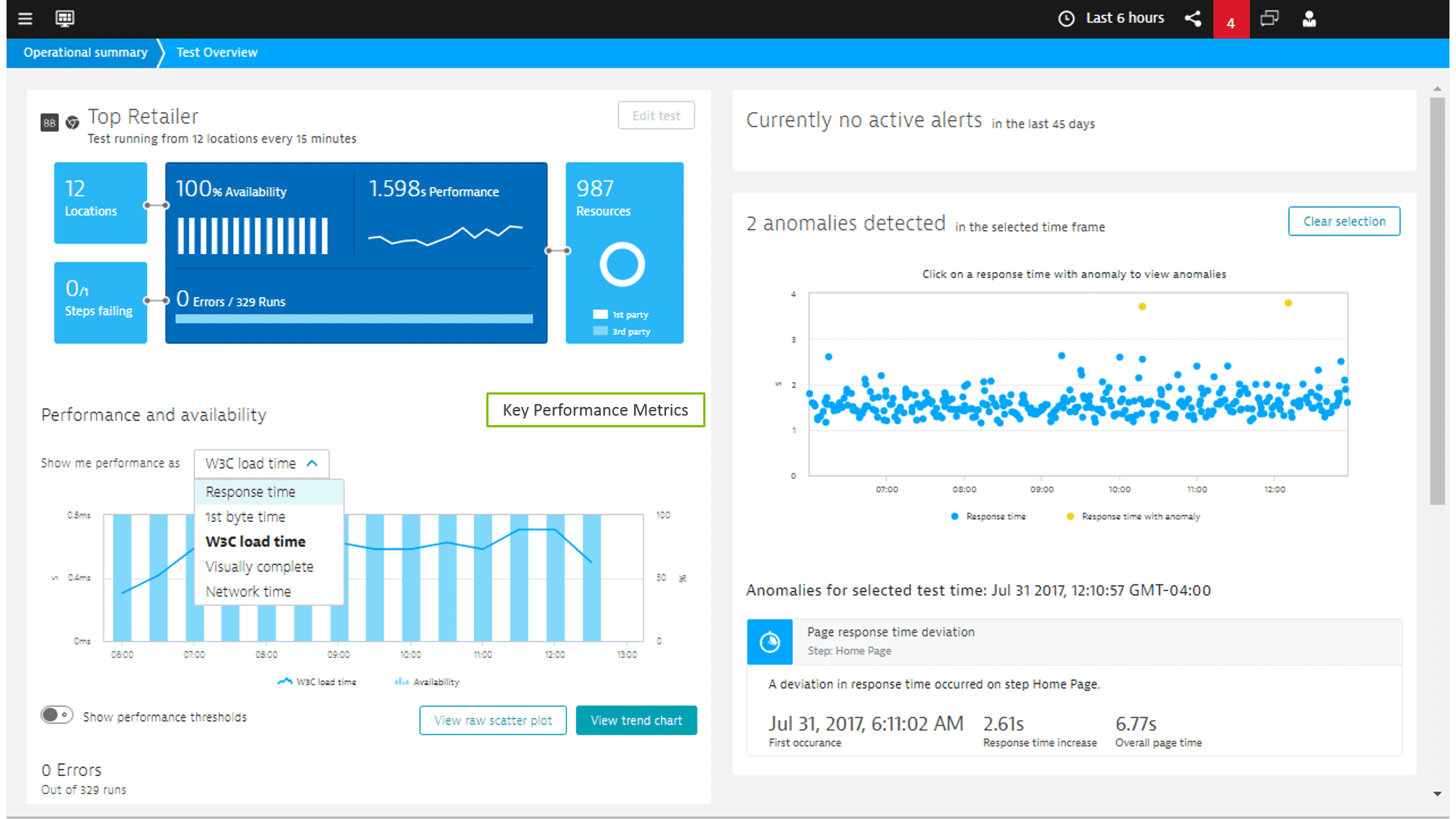 Step breakdown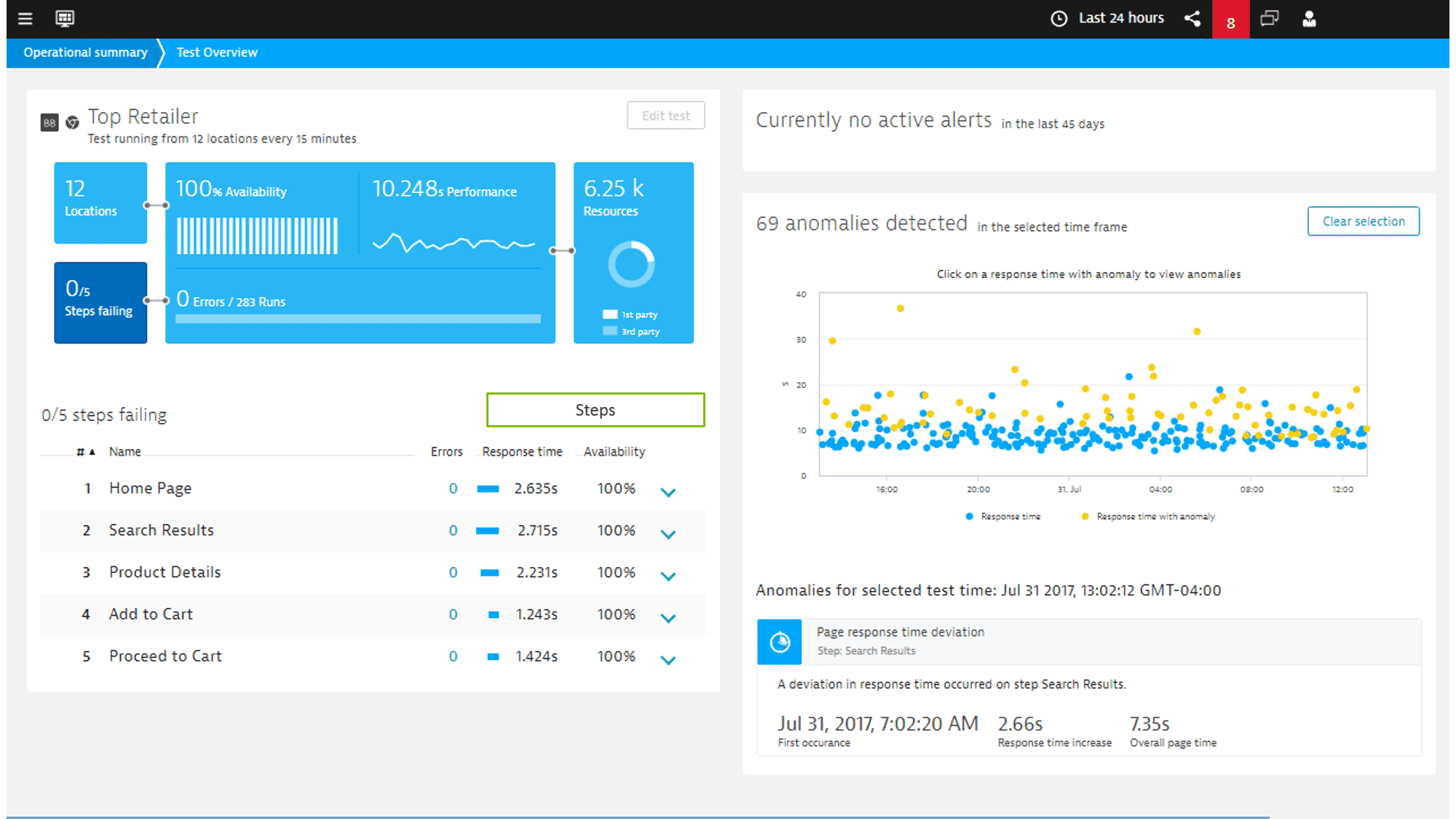 Location breakdowns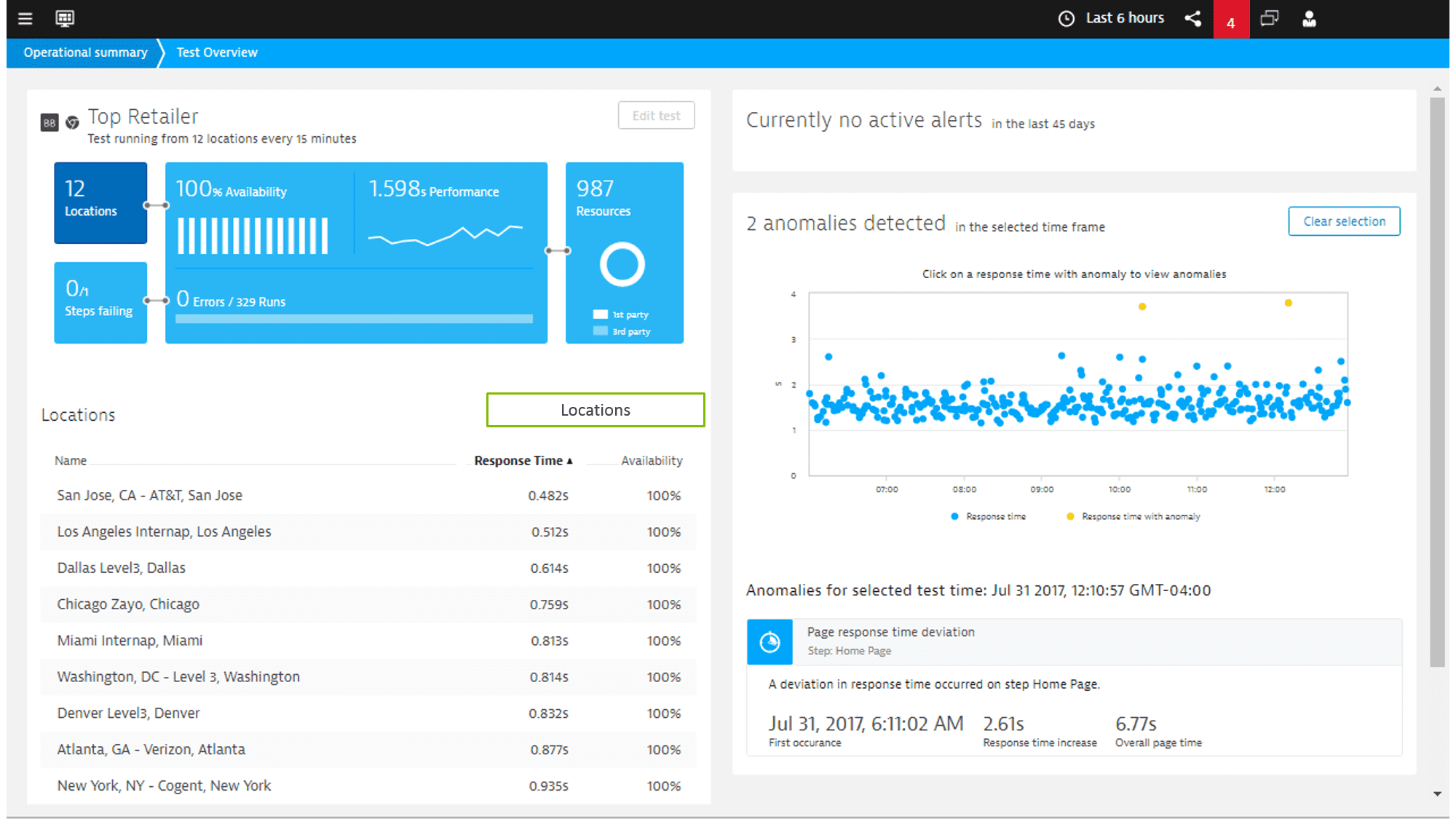 1st party / 3rd party performance analysis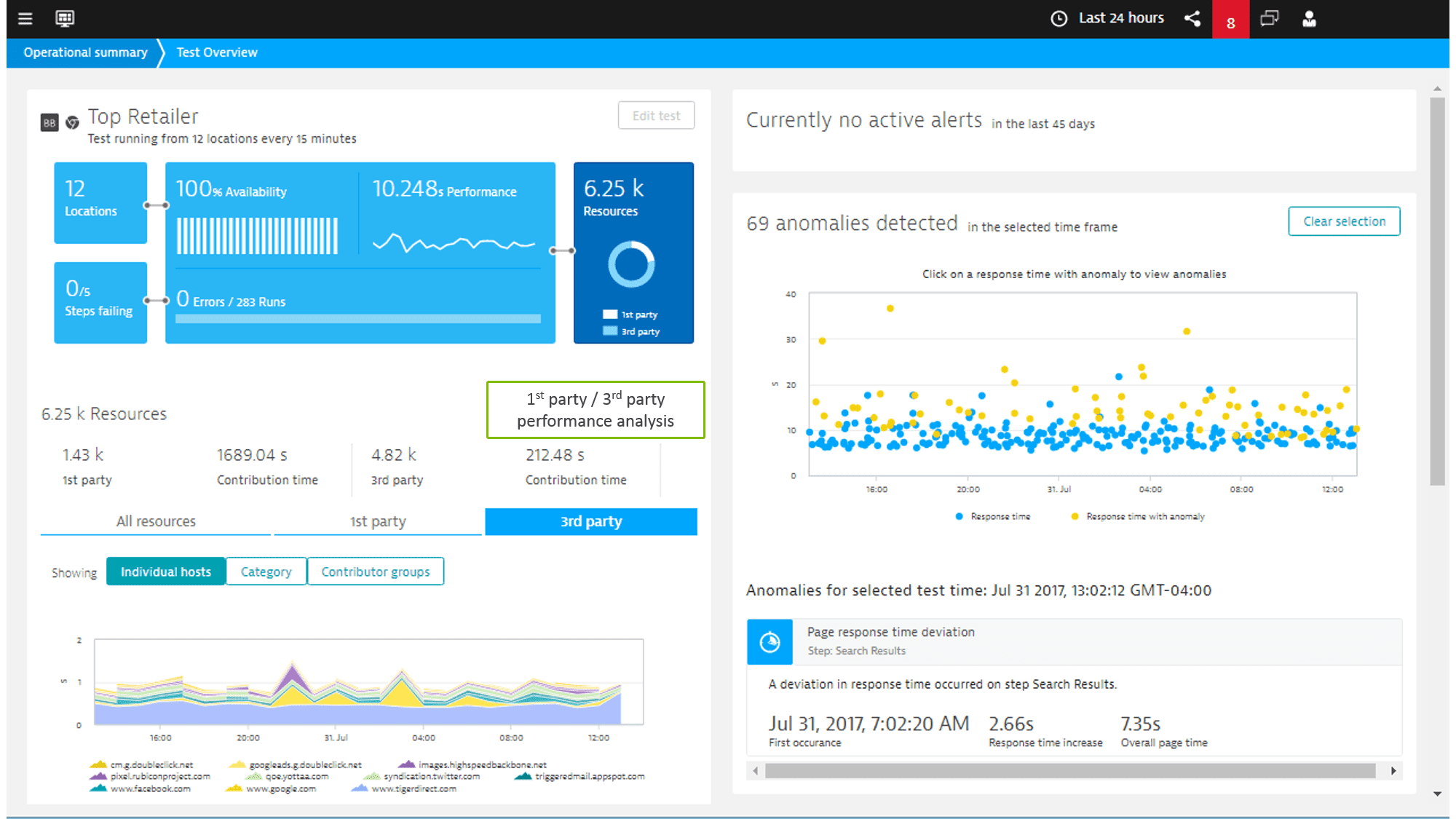 Inline visualization of Dynamic Problem Analysis results
In June 2017, we introduced Dynamic Problem Analysis, a real-time anomaly detection engine for your measurement results. We've updated it to include an inline visualization of automatically detected anomalies in the new Test Overview. Anomalies are highlighted in yellow and can be interactively analyzed with an easy workflow to the Problem analysis page.
Enhanced benchmark filters in the Operational summary
You can include or exclude all benchmark tests in the Operational summary page just by "flipping a switch". As of the July 2017 release, Benchmarks folders are included in the folder filter list, so you can focus on any set of benchmark tests that you define by grouping the tests in a folder.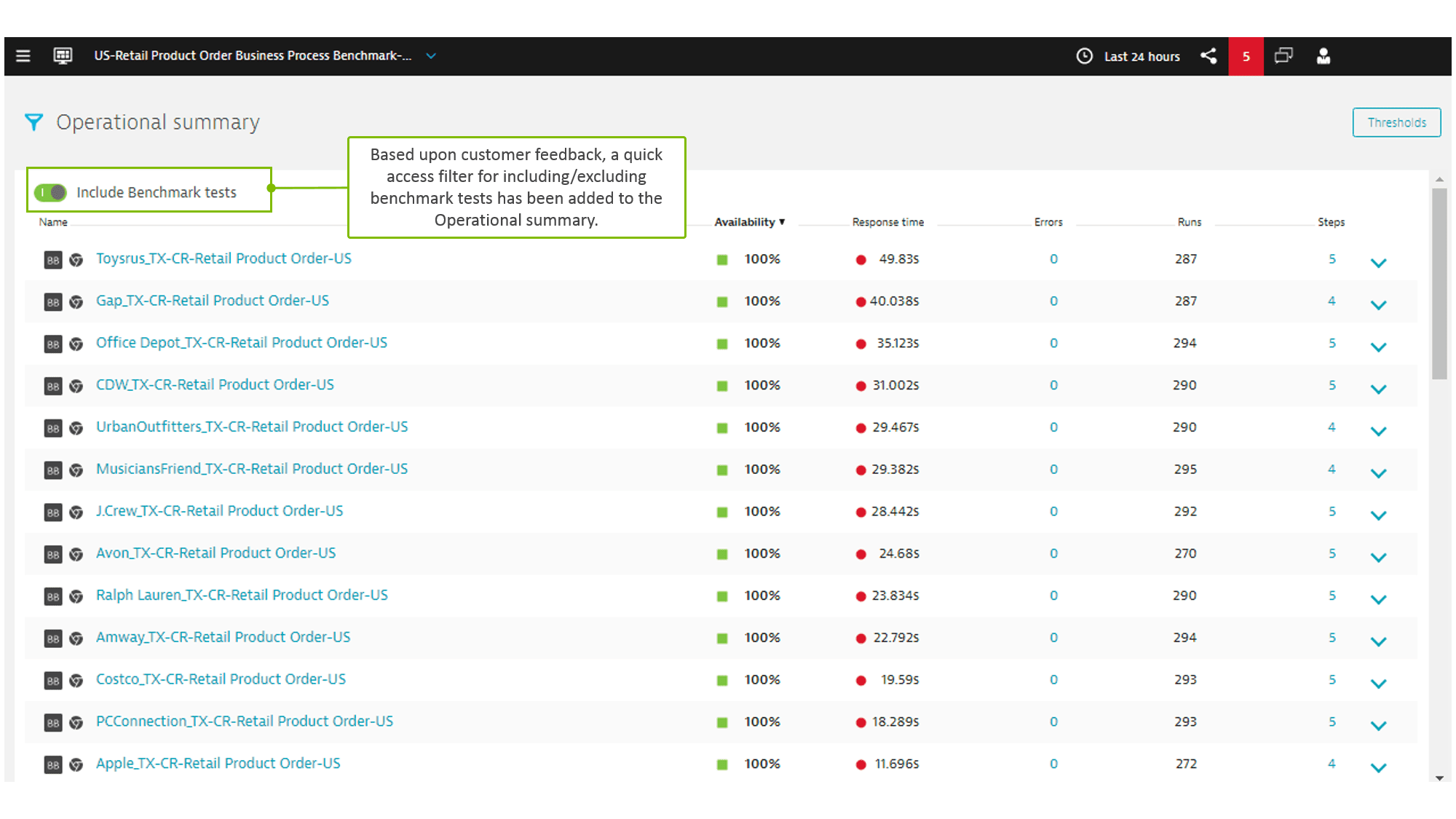 REST API enhancements
The following enhancements have been made to the REST API Version 3.2:
API support for histograms for any metric supported.
API support for Benchmark data.
API support for metric data trimming
Superseded features
Based on customer feedback, we continue to make changes in our approach to 3rd party categorization and analysis. In April, we released the new interactive waterfall analysis with automatically identified 3rd party resources and the new API Version 3.2 that enables easy access to 3rd party data. With this update, we've included 3rd party resource analysis inline in the new Test overview.
We are retiring the following features in favor of the recently released 3rd party capabilities:
Third party services dashboard

Third party tab in the Performance dashboard

Third Party page in the Synthetic Mobile app – Note that the tab remains in the app but no information will be displayed.
Resolved issues
This issue has been resolved in the 2017.08.09 release:
PORTAL-6922 – New user could not be created if the user's email address contained an apostrophe.
Technical notes and known issues
While this release has been tested extensively to ensure that it works with all supported platforms and technologies, certain issues cannot be addressed from the product side. See the technical notes and known issues page for supported environments, significant technical details, and product limitations. Refer to our knowledge base for tips and workarounds.
News from the Dynatrace Community
Subscribe to the Synthetic Monitoring News feed to receive email notifications of new items.
To be notified of outages, planned maintenance, and scheduled upgrades, click Watch on these pages:
Check out the Dynatrace Synthetic Monitoring training modules available from Dynatrace University. Look for the series about monitoring best practices as well as other recently recorded training courses that will show you how to become more productive with Dynatrace Synthetic Monitoring.