Synthetic Monitoring Platform 2017 June release notes
The Dynatrace team is proud to announce the latest release of Dynatrace Synthetic available on June 21, 2017! This release includes:
What's new in Dynatrace Synthetic?
Dynamic problem analysis, Software Private Agent, enhanced navigation, and more!!
The new capabilities include:
Dynamic problem analysis
Software Private Agent
Enhanced navigation, and more (We're listening to you!)
Enhanced Web Recorder
Dynamic problem analysis gives you a powerful tool for improving performance
If a test execution has errors or performance anomalies, the Waterfall summary includes an Analysis section that identifies the page where the issues occurred and summarizes for the issues that contributed to the overall problem. From the Waterfall summary, you can go to the Problem analysis page for dynamic analysis of the underlying issues and contributing factors.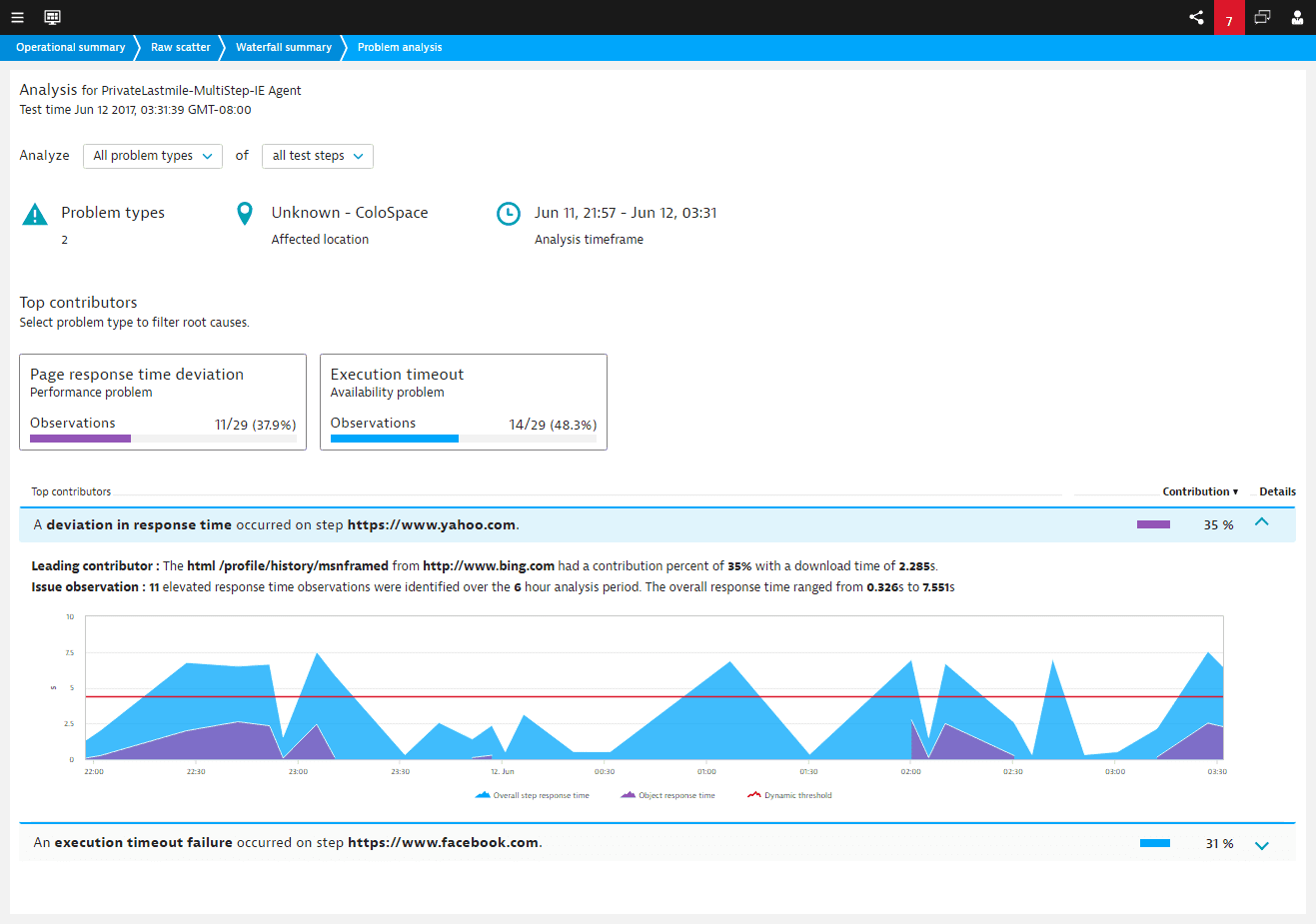 The Software Private Agent helps you monitor internal applications
Enterprise web applications and partner-facing apps running on secure intranets and extranets demand high availability and performance. Dynatrace Synthetic's new Software Private Agent now helps you monitor performance and availability of internal applications.
Download and deploy to as many physical, virtual and Cloud servers when and where needed.
Software-based installation means that control the hardware and operating systems making it easier to comply with internal security processes.
Monitor internal and private web applications and digital web services.
Agents are secure and scalable to thousands of tests per hour.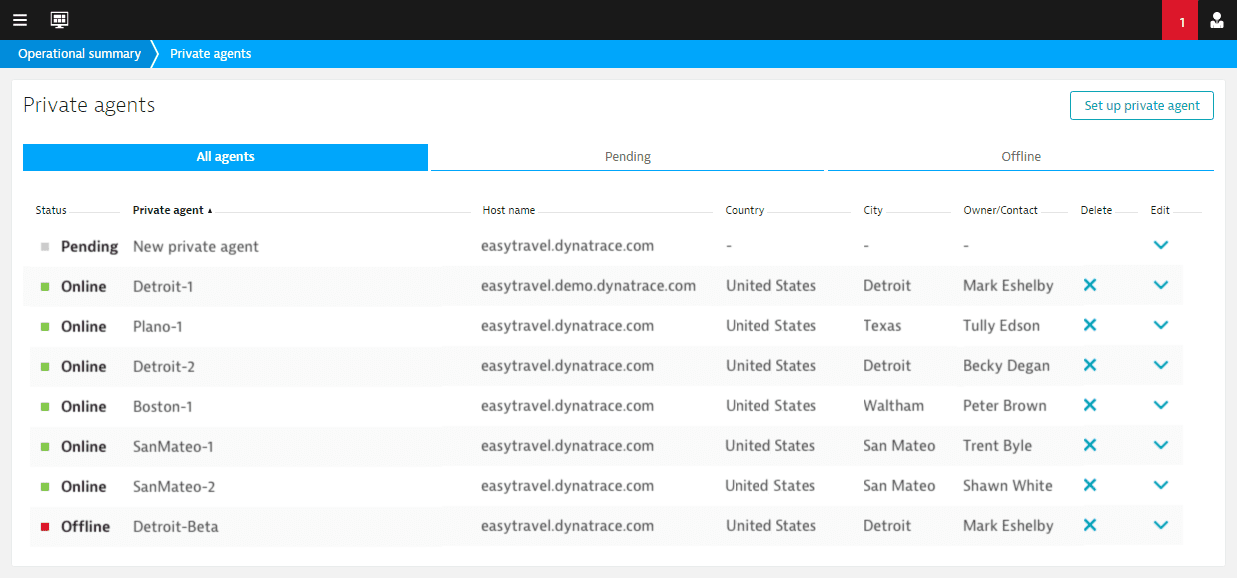 We're listening to your product ideas
Raw scatter chart
As requested, we've added a direct link from the Operational summary to Raw scatter.
In the Raw scatter chart, you can select any two datapoints to compare in a combined waterfall chart.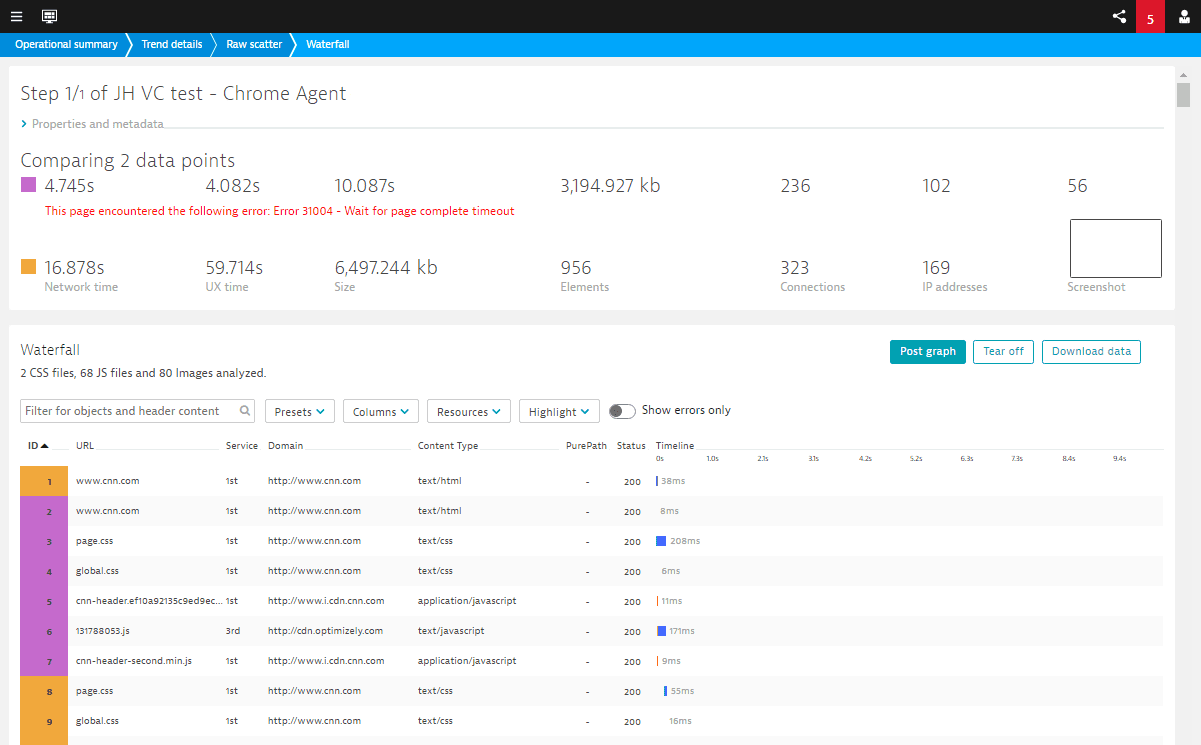 The Raw scatter page now includes error data in the tables below the chart. From the Summary table, you can drill down directly to Error analysis. We also added links for easy access to the Screen capture viewer (when SCoE is enabled) and the Waterfall summary.
Check out the new tooltips!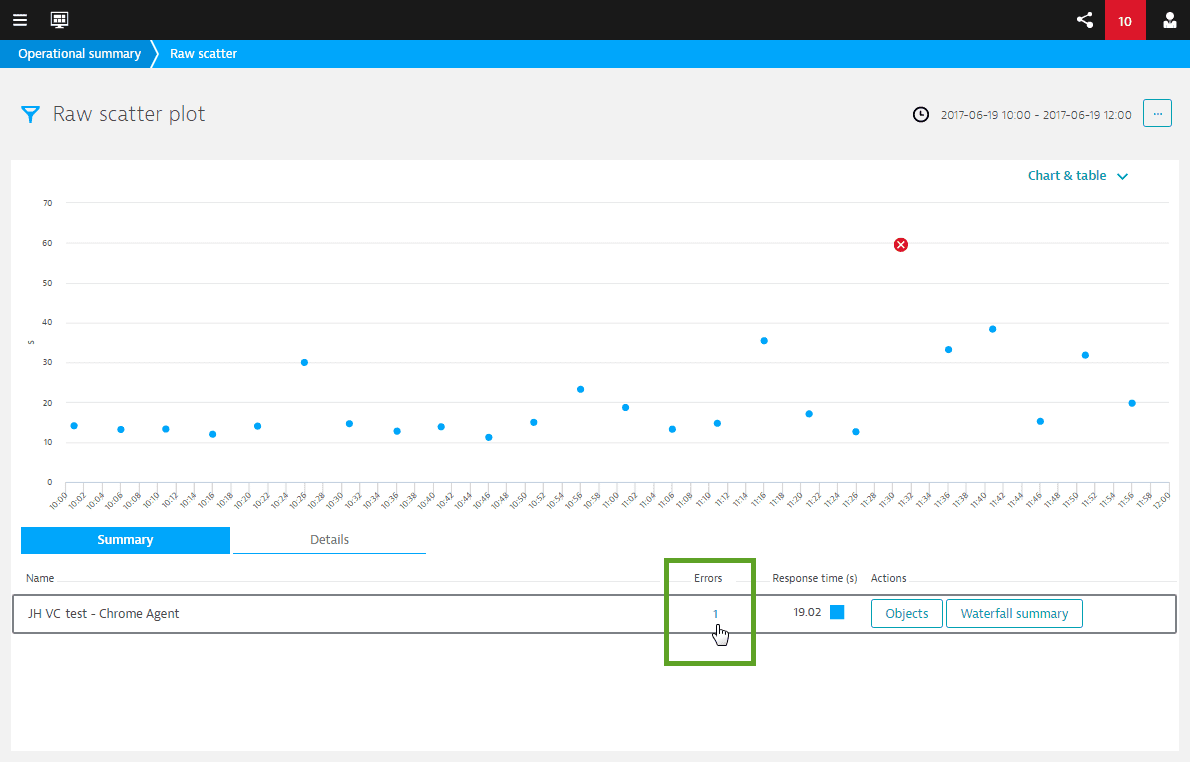 Contributor groups
The Contributor groups page is redesigned with a simplified process for creating and editing groups.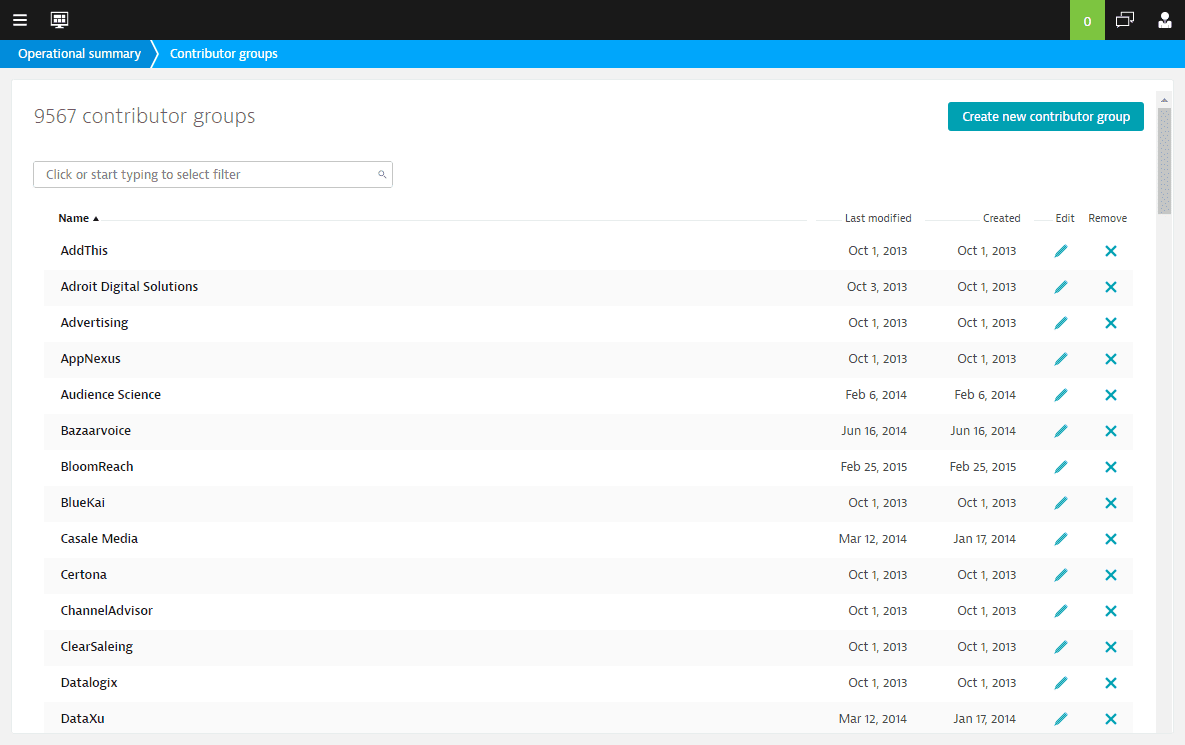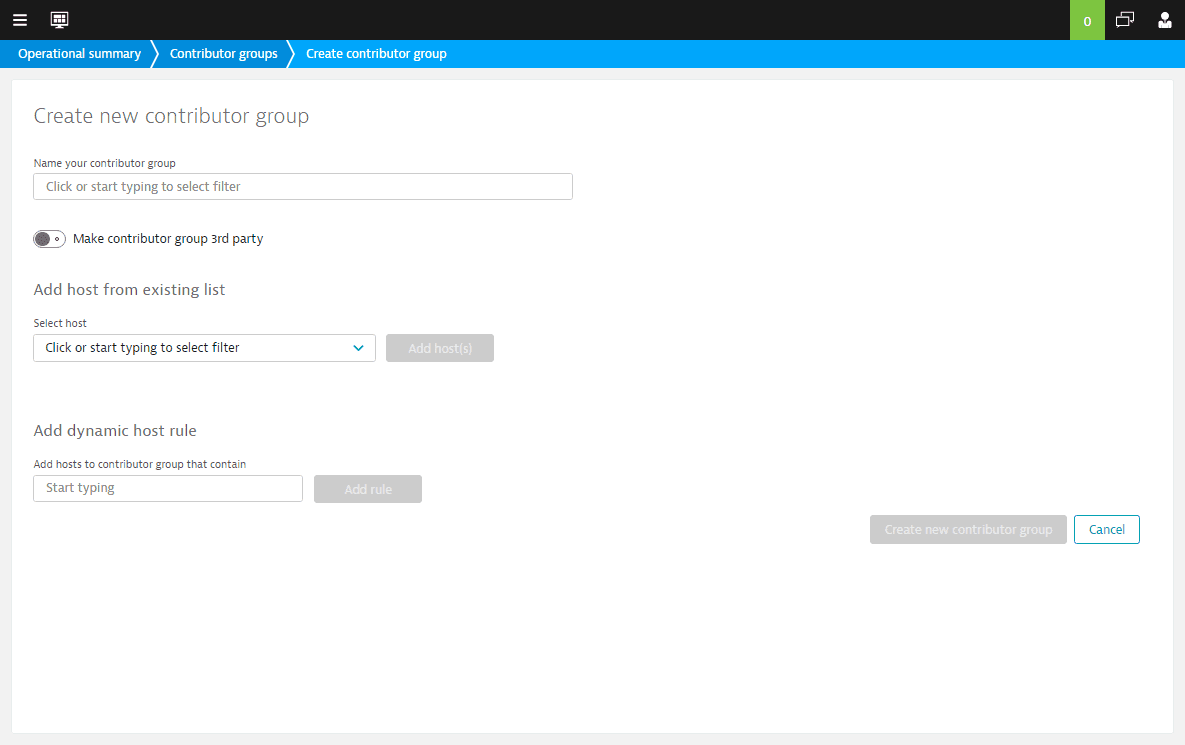 The Web Recorder adds support for scripting RESTful APIs and web services transactions
New HTTP command support in the Web Recorder makes the Web Recorder the go-to place for creating and editing synthetic transactions that monitor URLs, RESTful APIs, and web services transactions.
The HTTP action allows you to add HTTP requests to your script to measure call URLs, web services, and RESTful APIs.
Custom script support (added in the April 2017 release) allows you to support more complex service transactions such as extracting variables from an HTTP request (e.g. authentication token) and substituting it in a subsequent call.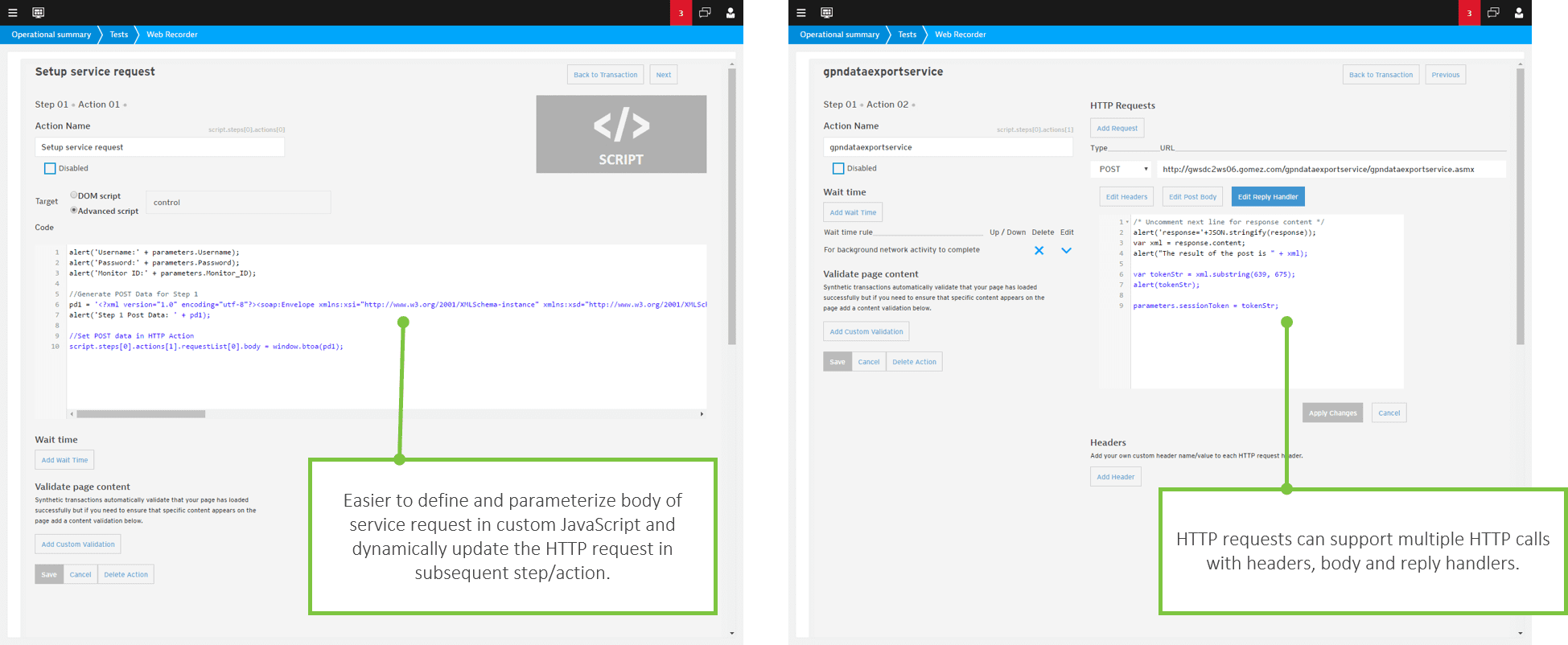 The Web Recorder now provides all the primary features of the Windows Recorder, accessed from within the Dynatrace Portal.
Resolved issues
These issues have been resolved since the June 2017 release:
PORTAL-6744 – Account settings page incorrectly showed usage overages.
SMRP-4416 — Web Recorder sent obsolete User-Agent string when recording.
SMRP-4483 — In the Web Recorder, text validation incorrectly failed on local playback.
SMRP-4527 – A "Page Unresponsive" error occurred when using the Web Recorder.
These issues are resolved in the June 2017 release:
SMRP-3968 – Test failed when trying to open a PDF file.
SMRP-4241 – IE Agent tests failed on new Backbone nodes.
SMRP-4303 – FormFill action failed in some Chrome Agent tests.
SMRP-4317 – Website search failed when Web Recorder extension was enabled.
SMRP-4380 – Tests were not suspended during a one-time maintenance window.
SMRP-4416 – Web Recorder was sending obsolete User-Agent string when recording.
Technical notes and known issues
While this release has been tested extensively to ensure that it works with all supported platforms and technologies, certain issues cannot be addressed from the product side. See the technical notes and known issues page for supported environments, significant technical details, and product limitations. Refer to our knowledge base for tips and workarounds.
News from the Dynatrace Community
Subscribe to the Synthetic Monitoring News feed to receive email notifications of new items.
To be notified of outages, planned maintenance, and scheduled upgrades, click Watch on these pages:
Check out the Dynatrace Synthetic Monitoring training modules available from Dynatrace University. Look for the series about monitoring best practices as well as other recently recorded training courses that will show you how to become more productive with Dynatrace Synthetic Monitoring.