To go to the Tests page, click

> Tests.
The Tests page lists the tests provisioned for your account.
Test table
The test table displays the following information:
Name – The icons preceding the test name indicate the test type and agent type.
Steps – The number of steps in the test.
Last modified – If the test was never modified, this column displays the date and time it was created. The column head lists the account time zone relative to GMT.
Modified by – The user who most recently modified (or created) the test.
Ext. XF points/month – The estimated number of XF points the test consumes per month.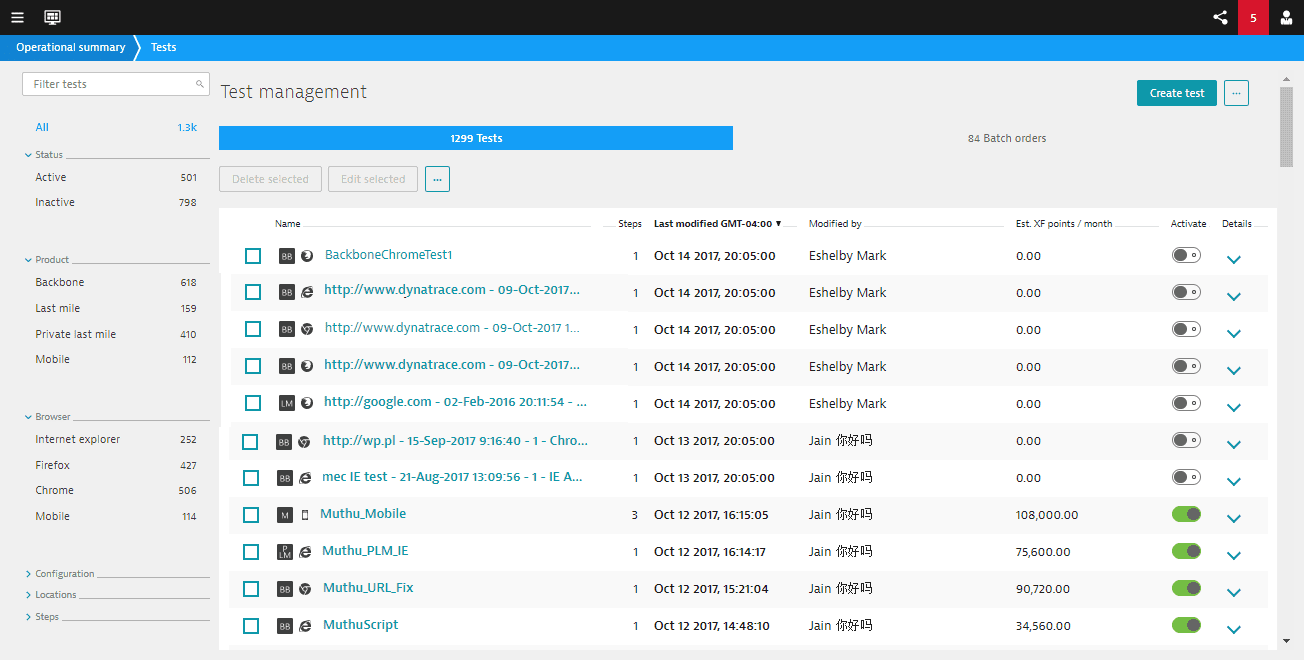 Filter the Tests page
Use the filters in the left sidebar to quickly find a specific test.
To search for a specific test, type any part of the test name in the Filter tests field.
To filter the test table by one or more configuration details, click the appropriate filters. You can filter by:
Status – Active or Inactive tests
Product – The test types: Backbone, Last Mile, Private Last Mile, Mobile
Browser – The Browser Agent(s) on which the tests run
Configuration – Include Objects enabled or disabled in the test settings, and Screen Capture on Error (SCoE) enabled or disabled
Locations – A specified number of measurement locations
Steps – A specified number of steps in the test
View test details
To view summary information about a test's configuration, click the expand icon

in the Details column.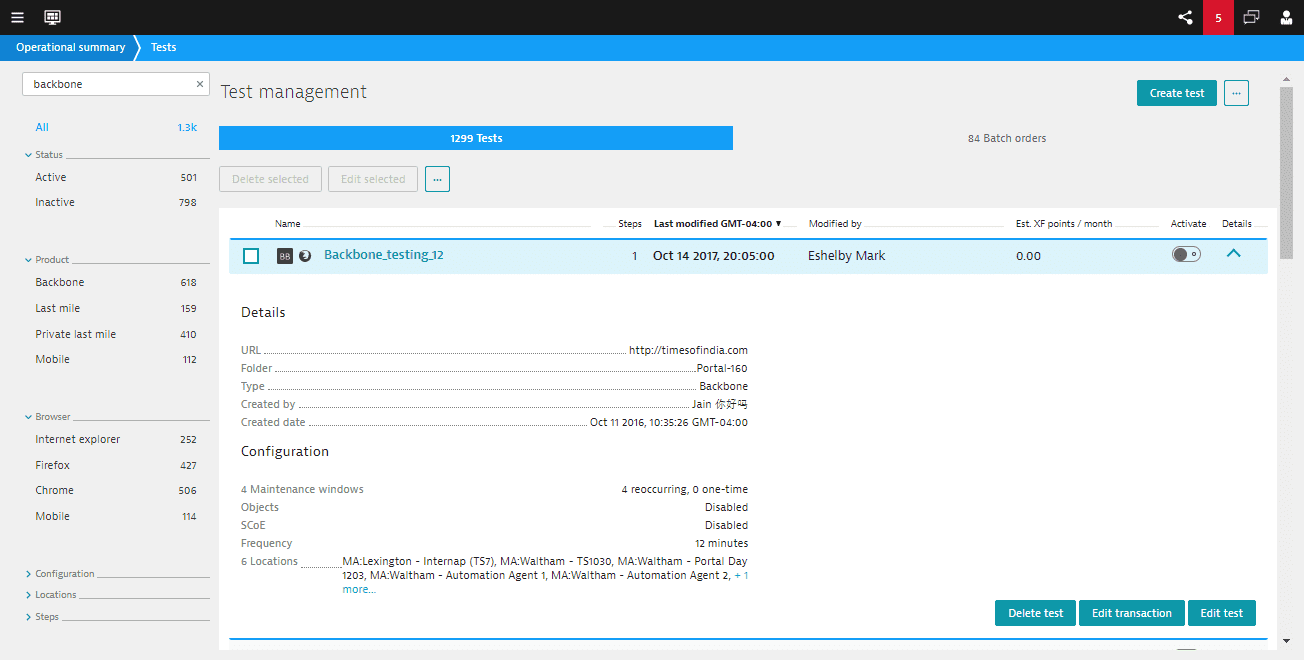 Manage tests
From the Tests page, you can:
Add new tests – Click Create test at the top of the page. See Adding tests for details.
Delete a test – Expand the test and click Delete test. Note that deleting a test cannot be undone, and you will not be prompted to confirm the deletion.
Edit the transaction – Expand the test and click Edit transaction to open the test into the Web Recorder. If the test was provisioned from a Windows Recorder script, see Opening a Windows Recorder script into the Web Recorder for more information.
Edit the test settings – To open the test into the test settings page, either click the test name or expand the test and click Edit test. For information about the test settings, see:
To manage multiple tests at the same time:
Select the check boxes for the tests.

Click the control above the test table:

Delete selected
Edit selected
– Activate or deactivate the tests
Export the test table
To export the test table with configuration details, click the more icon

at the top right corner of the page and select whether to export the list in CSV or XLS format.
Manage batch orders
Select the Batch orders tab to view and manage batch orders for your account. For more information, see Batch orders.
To manage templates, select

> Test templates.