Viewing object-level data
You can drill down to an Objects list and object chart from a chart tile in a custom dashboard, through the raw scatter drilldown from the Trend details view of the tile.
To analyze test performance at the object level, click a data point in the interactive chart and select *Object from the context menu.
By default, the Object chart displays a line graph of Average Response Time by Object for each selected object for which data is available.
The table below the chart identifies each object by color and lists the average value of the charted metric.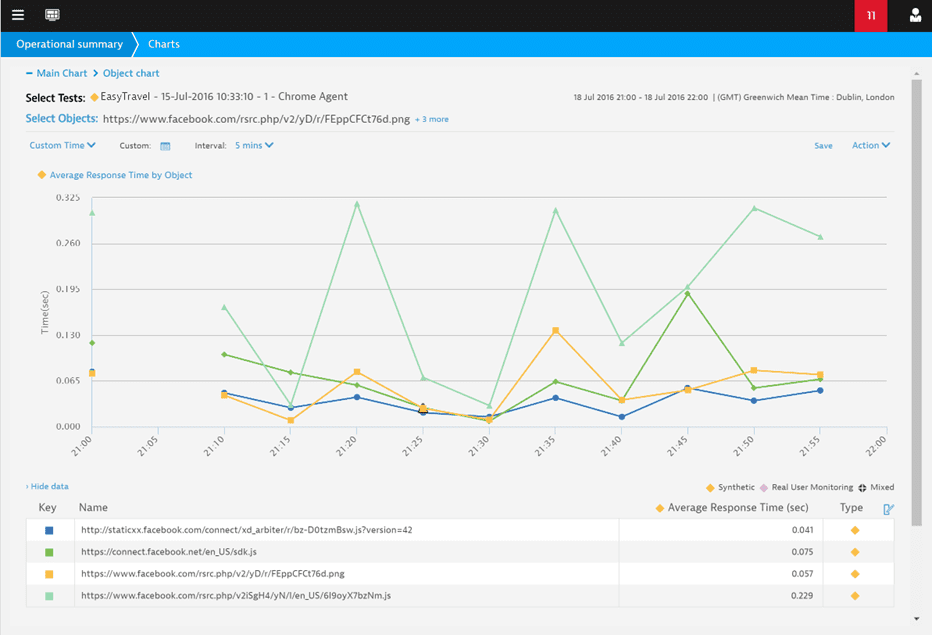 You can change the chart configuration, just as you can in the main interactive chart.
You can save or share the chart, and export the chart data. For details, see Managing interactive charts.
Selecting objects to chart
In the Interactive Chart: Objects window, select the objects to chart.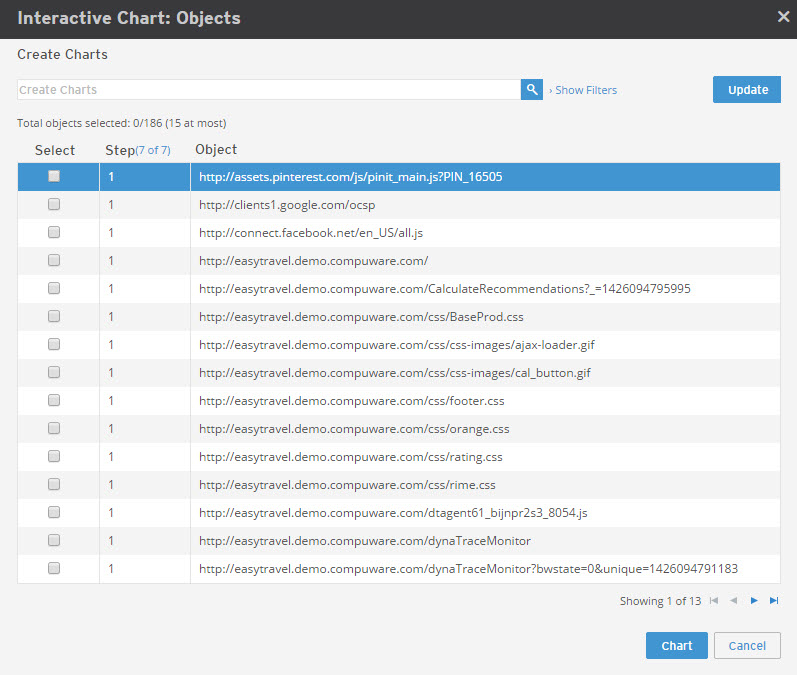 Optionally, enter any part of an object name in the search field to search for objects containing that string.
Search results are updated dynamically in the table.
Optionally, click Show Filters to filter the objects table by test runs.
How to filter the objects table
Click Show Filters, located to the right of the search field, to display the filters.
Click Hide Filters to hide these filters.

Select to include or exclude specific test runs:

Select the specific number of previous test runs
From the drop-down list, select the number of hours back from a specific date, hour, and minute.
Select the specified test run. This option only appears when selecting objects to chart from the Raw Data table.

Select to ignore parameters.
Click Update.
The objects matching the filter(s) appear in the table.
In the table below the search field, select the objects to chart.
You can select a maximum of 15 objects.
Optionally:
Click Step <#> of <#> and click:
Click Select/Clear All to select or clear all steps.
A step number.