There are many reasons why Dynatrace is the APM market leader. Our unified digital performance monitoring platform helps more thousands of organizations optimize customer experience, modernize operations, and accelerate innovation across cloud and on-premises environments. We've even revolutionized the way that businesses manage the operational complexity of today's highly dynamic environments with the introduction of the world's first AI-assisted monitoring solution.
It's true that Gartner has recognized Dynatrace as a Magic Quadrant leader for 6 years in a row, but we're most proud of the ways that we've helped our customers overcome their digital-performance challenges and grow their businesses. Nothing shows off the value of Dynatrace better than customer testimonials.
Here are just some of the reasons that our customers love what we do.
Dynatrace works out of the box
"Coming from New Relic we could be easily convinced by the ease of setup and an amazing dashboard."
— BARBRI (USA)
"Dynatrace is the best tool for monitoring our fully Dockerized application stack. Out-of-the-box it offered deep insights into our hosts, Docker containers, and the services that they provide."
— Axel Springer Ideas (Germany)
"When we saw how easy it would be to integrate Dynatrace into our AWS environment, we decided to give it a try."
— Lemniscus (Germany)
"Dynatrace's ease of deployment and its auto-detection capabilities that reduce installation effort to near zero really impressed us. We got meaningful alerts right away."
— Ofertia (Spain)
"We're intrigued by its capability to work almost out of the box as well as being able to monitor system aspects as well as application performance and user experience."
— Sofico (Belgium)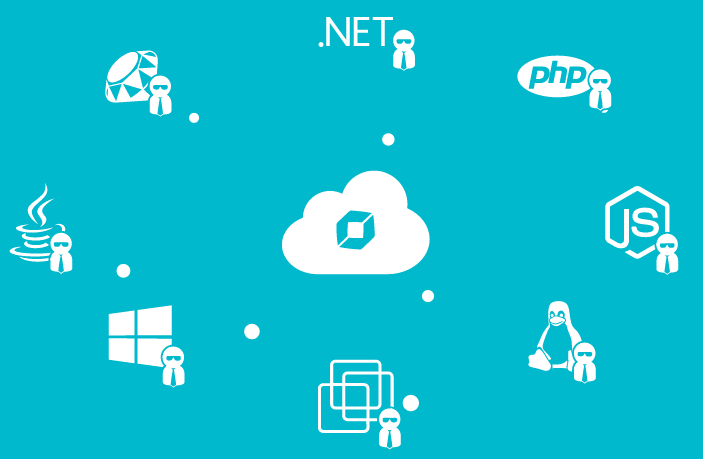 Dynatrace works proactively, not reactively
"We chose Dynatrace over New Relic and other companies because it allowed us to identify and get in front of performance issues more quickly and efficiently. With Dynatrace, we can be more agile, proactive, and address issues before they ever reach our customers."
— ZoomInfo (USA)
"Instead of waiting for a customer to call in and report a problem, we can now see where the problems and slow applications occur and fix them before they affect the customers."
— Stratsys (Sweden)
"Since changing over from New Relic, we have been able to take more proactive approach to our decision making and less reactive takes the guesswork out of fixing issues."
— Norwall PowerSystems (USA)
"Dynatrace gives us the ability to catch any problems before they happen as we continue to improve our site."
— Lucky Vitamin (USA)
"We started with Nagios and similar tools. The problems with both solutions were the same: Adding new hosts and adjusting monitoring as well as defining proper thresholds for alerts was always an issue. Wrong thresholds in too many cases led to alert spamming. As if this was not bad enough it also resulted in us missing the really important problems."
— CHIP Digital (Germany)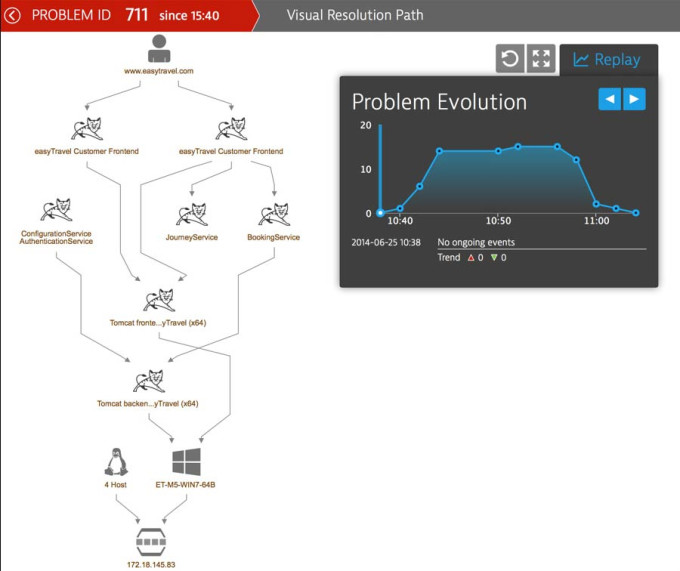 Dynatrace pinpoints the root causes of problems—fast
"After deploying a new release, we spent over 30 hours trying to find a performance problem. Once we found the issue, it only took us 30 minutes to fix it. With Dynatrace, finding a similar problem would only take us minutes to identify, saving us precious time and resources."
— ZoomInfo (USA)
"When we first implemented Dynatrace, we saw immediate and impressive benefits. No other APM product gives you the ability to address issues as quickly as Dynatrace does."
—McGraw-Hill Education (USA)
"Now, none of us have to waste time going through logs to remediate issues. We just look at the dashboard, drill down and get the answer."
— Woodmen of the World (USA)
"A lot of other monitoring tools are great, but they are too noisy. We don't have time for noise. Dynatrace tells us the problem and points to the root cause fast."
— III Digital Rock Studios (USA)
"It is obviously designed to help identify problems rather than overwhelm us with metrics."
— Usersnap (Austria)
img class="alignnone size-full wp-image-14836″ src="https://dt-cdn.net/wp-content/uploads/2016/08/rootcause-devops-member-800.png" alt="rootcause-devops-member-800″ width="800″ height="450″ />
Dynatrace shows you the full picture
"We were using NewRelic, but we never got the full picture of our production environment."
— BARBRI (USA)
"Our software stack looks easy on the whiteboard, but the reality is much more complex. Smartscape helps us to get real-time visibility into the health of our systems and show where we need to optimize."
— mediaDESK (Austria)
"For monitoring I often went with AppDynamics and for pure local machine code-level insight I used tools like JProfiler. Often I had to combine them with other tools to get the full picture. Now I only need to check the Dynatrace mobile app."
— Lemniscus (Germany)
"Consolidation and migration is a key part of our daily work. Understanding the dependencies of our application is a prerequisite for us. Dynatrace is the only solution that can provide this."
— CHIP Digital (Germany)
"The dashboard kicks ass and what they call 'Smartscape' provides an excellent overview of system components. The shortcuts to response time analysis for the slowest percentile definitely comes in handy."
— Sofico (Belgium)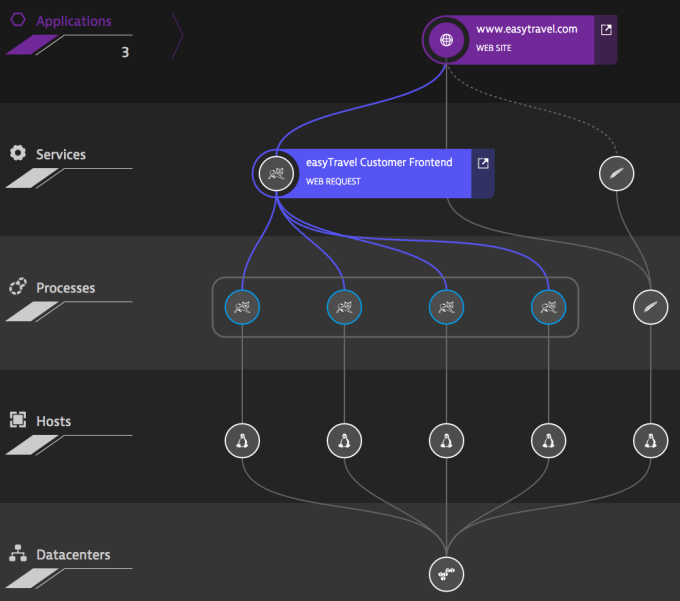 Dynatrace is an all-in-one monitoring tool
"We want to have the right tool. Instead of using separate tools for web monitoring, application performance management and server monitoring we now have a single all-in-one solution, Dynatrace."
— Channel IQ (USA)
"We needed visibility of the front-end too, but New Relic Browser was too expensive. We decided to go with Dynatrace because it provides better full-stack monitoring and proactive alarms at a more affordable price."
— Bluesoft (Brazil)
"Having reassessed the market, we quickly realized that Dynatrace was the only provider able to offer the level of visibility that we needed."
— Bond International Software (UK)
"If something isn't the way it is supposed to be, our DevOps Engineers have the full picture within one tool. We get to the root cause much quicker and only involve team members that are actually needed for fixing."
— Planon (USA)
"We wanted a tool that could monitor our infrastructure, application, and real user experience—and provide deep dives, too. Not only is Dynatrace easy to use with its simple user interface, it was painless to install and begin monitoring our environment."
— Document Processing Solutions (DPS) (USA)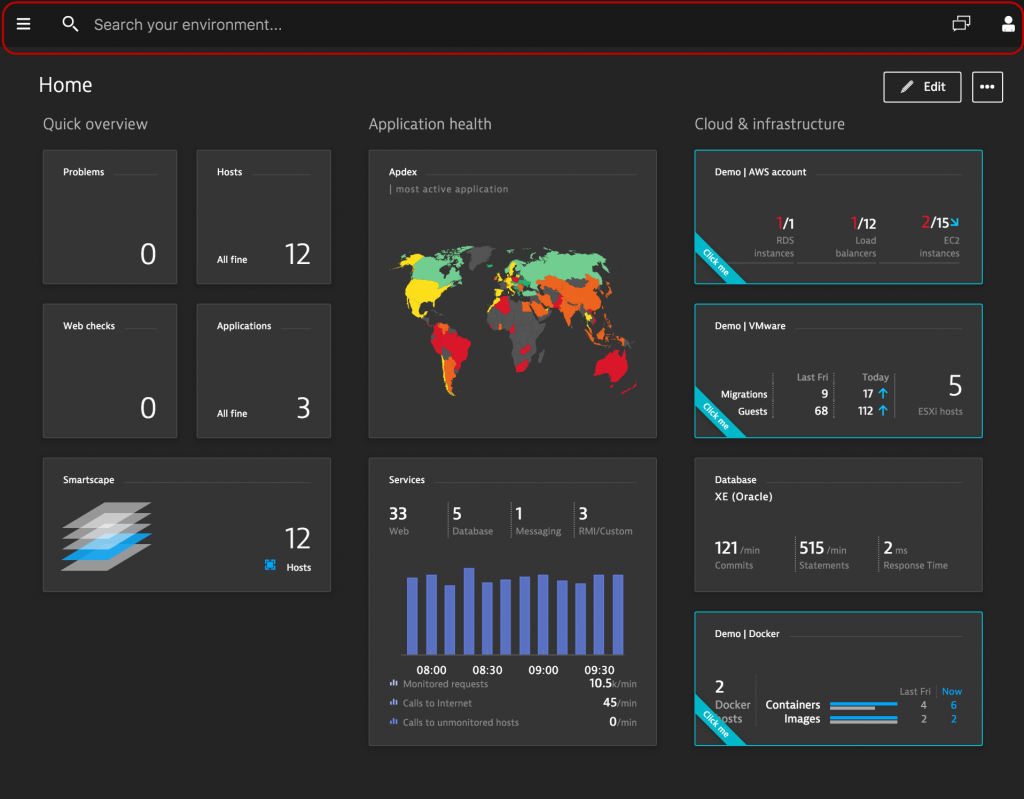 Dynatrace delivers premium customer service
"I really like the support I've received from Dynatrace on several occasions—responsive, honest, accurate."
— Corporate Value Metrics (USA)
"The guys at Dynatrace are really responsive. . . . Privacy and data security is a major issue for our customers, including world market leaders in security critical industries. Dynatrace's chief software architect addressed all our security concerns personally in a comprehensive call."
— Planon (USA)
"The Dynatrace guys were great to work with, and pricing turned to be great value for money."
— BARBRI (USA)
"Dynatrace's expert leadership is off the charts. They've met our expectations and delivered great value to my organization. They've always gone above and beyond what was ask of them and more."
—Regions Bank (USA)
"In the past, we partnered with other monitoring vendors. Dynatrace is special in that it not only is very easy to do joint business and drive additional revenue but also made us part of their ecosystem connecting us with their user base."
— FCamara (Brazil)
As you can see, our customers love Dynatrace for a number of reasons. It's our customers who have made Dynatrace #1 in APM market share for three years in a row. So if you're looking for actionable insights to master complexity, gain operational agility, and grow revenue by delivering amazing digital customer experiences, join our customers and give Dynatrace a try.