Digital transformation is happening everywhere. It starts with an expectation that whatever an organization does in the real world is supported by—and expands through—its digital presence. As the process continues, digital transformation should drive innovative ways to engage customers, get the most from resources and differentiate its way into completely new markets.
All these great expectations come from both within and outside an organization, and can add up to a big challenge for any team. According to MIT Sloan Management Review, "Preparing for a digital future is no easy task. It means developing digital capabilities in which a company's activities, people, culture and structure are in sync and aligned toward a set of organizational goals." (MIT SMR, July 26, 2016)
Meanwhile, your customers get more demanding each day. The applications and environments you use to reach them are super complex, multi-layered and growing. But as long as you can see the details of your system up-time, availability, or the number of help desk tickets opened per month, you're moving forward—right?

Maybe. Maybe not.
Many organizations invest in technology to monitor some digital indicators. That's simply not enough anymore. Digital businesses need to look at the whole end-user experience, net promoter scores, JD Power rankings and app store reviews—along with how much revenue comes through digital channels. They also need to act on this information and measure the outcomes of those actions. These are the new SLAs for digital transformation.
You may think that you monitor everything you need to succeed in the new digital world, but how do you know? Are you moving in the right direction? Having the right technology installed is one thing. Making sure that you're using it to generate the best forward velocity is something else.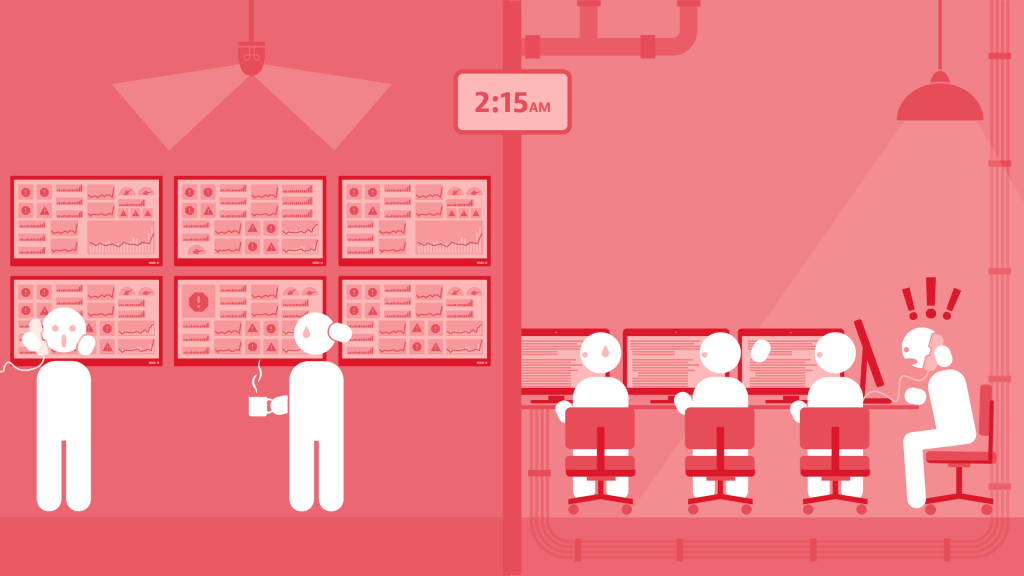 Let me give you an example from a friend of mine. We'll call him "Bob."
Bob was a bit overweight and certainly not getting any younger. To start some positive change, Bob's wife gave him a Fitbit for his birthday. One year later, Bob made a proud post to Facebook: "I am happy to report that I've worn this fitness device every day since I received it. I know how many steps I take. I know how many calories I burn. Of course, my diet is still mainly cheese and beer, and I just sit here on the couch all day, so, not much has really changed…"
It seems obvious that you can't simply buy a piece of technology, strap it to yourself, and, then, reap the benefits of weight loss, increased energy, reduced stress—whatever. That takes commitment and willingness to change. It also takes some work.
This isn't always so obvious in more complex situations.
Take digital transformation, for example. Technology alone won't get you there. Just having the right monitoring technology strapped to your wrist—or enterprise—won't guarantee success. Just seeing how many steps you take or how many calories you burn isn't enough. You have to take action. As MIT Sloan Management Review pointed out: you need to adjust your "activities, people, culture and structure" also. But how?
For Bob to have been successful with his Fitbit, it would have helped if he had committed to a healthy lifestyle; set goals, exercised, eaten healthier—and changed some of his bad habits. The monitoring technology he has provides all the information he needs to get started. Unfortunately, that's only part of the picture. Moving to best practices based on that information is something else.
Of course, in an organization, changing how people and processes, strategy and culture work together can be truly difficult. For starters, it takes breaking down business silos and—somehow—all sharing the same language and goals.
There is a lot to lose if you don't.
"Every enterprise requires commitment to common goals and shared values. Without such commitment, there is no enterprise; there is only a mob." – Peter F. Drucker, The Essential Drucker
Changes in culture, strategy and processes are required to be successful in any business initiative—especially ones that involve innovation and operational excellence to achieve the best customer experience.
In my next installment, I'll explain what an enterprise looks like that's successful with digital transformation. Then, I'll show how our experience has helped us to build a proven program that our customers can use to bring together stakeholders and become digital innovators.