This spring, COVID-19 brought a sudden shock to all of us. Dynatrace customers were no exception; they experienced massive shocks to how they do business with customers, their market opportunities, and to how their employees work and live. While there have been many great stories of how customers relied on the Dynatrace platform as their "Single source of truth" during the chaos, and how it enabled them to deliver massive transformation seemingly over-night, one story of a banking customer solving an 11-figure (dollars) problem stands out to me.
US Paycheck Protection Program
The rapid spread of COVID-19 forced much of the US economy to shut down in March. To keep the US economy going, and avoid catastrophic impacts on people's livelihoods and lives, the US government quickly deployed a program to deliver half a trillion dollars to small businesses. This program, the Paycheck Protection Program (PPP), was structured as forgivable loans disseminated through commercial banks. The scale and speed of the program triggered challenges for these banks that they had never before imagined. How can we…
Scale to previously unheard-of loan volumes?
Speed up loan processing to deliver critically needed relief to small businesses?
Adapt quickly to rapidly changing regulation, guidance, and user feedback?
Measure the business impact?
"What I couldn't do in two years, I did in 21 days with Dynatrace"
Prior to COVID-19, we talked to customers about their digital transformations and they would share 3- and 5-year plans. This customer's COVID-fueled transformation lasted only 21-days. They, along with some help from Dynatrace Services, were able to onboard 10 business-critical applications in four days. Such efforts to gain advanced observability into applications can only be enabled by the automation built into the Dynatrace Software Intelligence Platform. Based on the success, this customer has started adopting Dynatrace enterprise-wide and has already onboarded 50+ applications with over 1500 microservices.
Full speed ahead
Using the deep application insights Dynatrace provides, the bank was able to deliver new applications to support the PPP in only 7 days. With the addition of the Digital Experience Monitoring (DEM) module in Dynatrace, they were also able to see every user session down to every click and every backend transaction. This end-to-end visibility allowed the bank to easily identify and address both software and human bottlenecks, thus increasing daily loan processing volumes times three. With disparate legacy tools, this wouldn't have been possible.

Adapting to change
Prior to this, the bank had regular monthly release cycles. Now, the entire program would be over in less than one release cycle: they needed a new way forward. How could the business incorporate regulation and guidance changes, fast-feedback, and enhancements into daily releases? The bank was able to easily integrate Dynatrace with its delivery pipeline, which uses Jenkins and Ansible playbooks. This enabled the team to proactively find and solve the problem before 3,000 bankers were impacted.
Business outcomes
While the PPP was a set of unprecedented challenges, it was also an unprecedented opportunity. The bank's ability to quickly deliver critically needed relief to small businesses was not only the right thing to do but also critical to the bank's bottom-line for 2020. With unprecedented shifts in the US economy, the impacts on various sectors, including banking were quite uncertain. For the PPP, the fastest banks would capture the most loan volume and associated fees.
Dynatrace Business Analytics enabled the bank to have real-time dashboards showing the business KPIs and the most success relevant IT metrics of all the hard work. The customer's CIO was leveraging a Dynatrace dashboard showing the number of PPP loans and value processed and drive business conversations. These real-time insights allow customers to make smarter business decisions.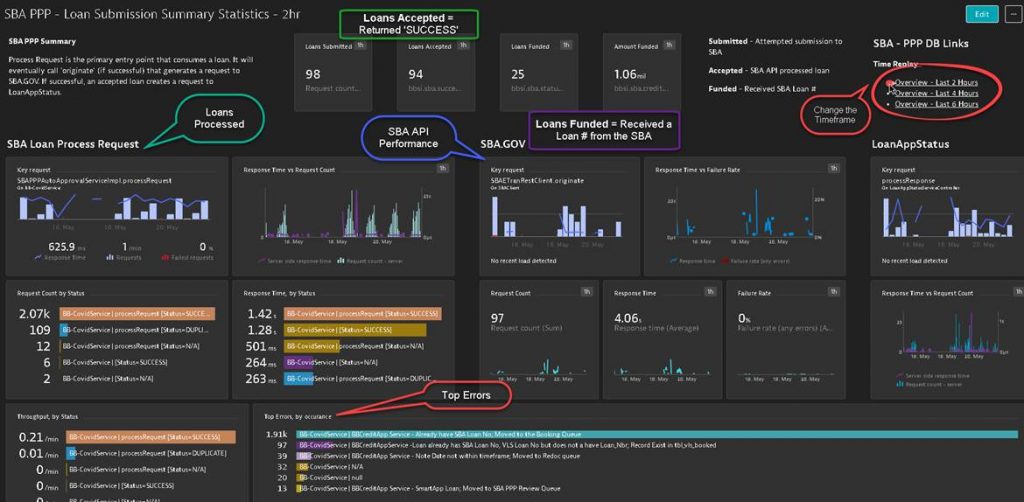 Jumpstart your transformation
Not already using Dynatrace? Give our free 15-day trial a try.
Need better insights into the software that runs your business? Let your Dynatrace Sales Engineer know you want to get started with Business Analytics.
Need ongoing or big project help? Dynatrace Expert Services is here to help!
Special thanks to Dynatrace Guardians supporting this customer:
Alejandro Arenas
Derek Darling
Matt Gibiec