Dynatrace Software Intelligence Platform scored highest for Portfolio Attractiveness and Competitive Strength
Information Services Group (ISG), an authority for marketplace intelligence on the global technology and business services industry, and a trusted partner to more than 75 of the world's top 100 enterprises, just released the results of its new ISG Provider Lens™ Cloud–Native Container Services Report for 2020 in the U.S. I am excited to announce that ISG analysts positioned Dynatrace highest for portfolio attractiveness and competitive strength in the Cloud-Native Observability Solutions Quadrant.
As part of the Cloud–Native Container Services report, ISG designed the Cloud-Native Observability Quadrant to help organizations select the best observability solution for cloud-native environments that use Kubernetes, service mesh, microservices, and serverless architectures. ISG explicitly focused on solutions that are purpose-built for cloud-native applications and architectures, which excluded traditional APM and monitoring vendors from the study.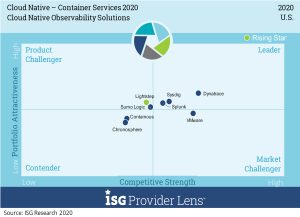 Dynatrace's deep understanding of enterprises' cloud-native needs stands out
The study for the ISG Provider Lens™ Cloud-Native Observability Quadrant measures the breadth, depth, quality, and vision of a product portfolio's offering, and its competitive strength in the marketplace, customer satisfaction, business innovation, and go-to-market strength. All the vendors ISG analysts evaluated provide dedicated solutions that apply distributed tracing for observability of cloud–native applications. Vendors had to demonstrate that they understand how each containerized app or service behaves, and how they communicate with each other. Vendors must also have resources that help enterprises understand and implement their software solutions. ISG was looking for specialized capabilities that come with a solution that is purpose-built for cloud-native applications and architectures.
The ISG report states that "Dynatrace's software has a comprehensive set of functionalities that can help enterprises better understand the performance of cloud-native and legacy applications. The company has invested significantly in providing a single-pane-of-glass experience ― to help enterprises go from seeing a problem to understanding where it came from – connecting application workloads, infrastructure, and digital experience, in ways that few other players in the market can offer."
The report further recognizes Dynatrace's strengths, including its comprehensive functionality and deep understanding of enterprises' cloud–native needs. It also recognizes Dynatrace's robust Autonomous Cloud Enablement services offerings, which include continuous enablement and technical support, microlearning, training and certification, enterprise adoption, automation and integration, advanced analytics, and performance optimization. These capabilities set Dynatrace apart and demonstrated to ISG that Dynatrace clearly understands what organizations need to get the most out of their cloud–native applications and architectures.
Dynatrace has always provided distributed tracing with code-level insights across the full software stack. When we reinvented the Dynatrace platform in 2015 in anticipation of DevOps accelerating, and the demands of cloud–native technologies, microservices, and containers, we extended full-stack observability beyond the standard logs, metrics, and traces into behavior, code, and metadata. Dynatrace organizes this broad set of data into a common, purpose-built model in the precise context of a real-time topology to easily and automatically support many use cases at web-scale.
With this context, Dynatrace applies AI-assistance and continuous automation to deliver precise answers, not just statistical guesses, about application performance, infrastructure monitoring, AIOps, digital experience, and Business Analytics. By eliminating reactive manual work, time-consuming war rooms, and unproductive finger–pointing, digital teams can shift from reactive to proactive and spend less time firefighting and more time driving innovation and strategic business value.
ISG affirms Dynatrace's commitment to digital transformation and cloud migration
Digital transformation is accelerating, and it's happening in dynamic multiclouds, which add complexity and steal time from innovation. Organizations need a radically different approach: transformation with automatic and intelligent observability.
The outcome of the 2020 ISG Provider Lens™ Cloud-Native Observability Solutions Quadrant Report further affirms Dynatrace's commitment to providing organizations with the native-cloud observability and software intelligence they need to drive their businesses forward in a digital environment that demands precision.
Take a deeper look into the 2020 ISG Provider Lens™ Cloud-Native Observability Solutions Quadrant Report.