Here's how digital experience management (DEM) can help companies create omnichannel approaches that deliver seamless end user experience.
The ideal end user experience is friction-free: users can access available and functional applications how, when, and where they want. But how do companies ensure they're delivering this level of omnichannel user experience? Obtaining feedback directly from users can be time-consuming and unreliable, and even detailed reports may point to symptoms rather than root causes.
In a Dynatrace Perform 2022 session, Steve Amos (IT Experience Manager at Vitality), Seth Voorhies (Vice President of Services, Business Insights at Dynatrace), and Peter Vinh (Solution Lead of Digital Experience at Dynatrace) examined how companies can use an AIOps platform approach to Digital Experience Monitoring (DEM) to create and deliver seamless, omnichannel user experiences.
How DEM helps drive end user experiences for better business outcomes
When it comes to Dynatrace DEM, Vinh puts it simply: "We focus on providing answers instead of just more data."
These answers are now critical for business success. 65% of businesses report that 40% of their customers now engage with them through mobile devices, and 70% of digital businesses will require IT and Ops to report digital metrics by 2025.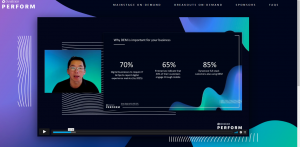 Dynatrace monitors IT front-ends and provides insight into issues, such as mobile application crashes — with in-depth analysis of what went wrong, when, and most importantly, why. In addition, as part of the Dynatrace observability offering (including Apps & Microservices and Infrastructure), Dynatrace provides end-to-end visibility with AIOps and automation.
With capabilities such as web and mobile real user monitoring (RUM), synthetic monitoring, and session replay, Dynatrace provides a comprehensive overview of end-user behavior. This insight into factors that impact user experiences helps pinpoint potential issues with application infrastructure and functionality. These are the most impactful areas to end users and the business. For example, Dynatrace DEM offers struggle detection by recording metrics such as "rage clicks" to help companies understand what's happening in real time that can impact user satisfaction and overall business.
Case study: The value of DEM for Vitality
"Our team helps customers get the most out of DEM through configuration, data expertise, and analysis," says Voorhies. But what does this look like in practice? Along with Amos, he walks through a real-world example of Dynatrace DEM in action.
U.K.-based Vitality is a market-leading health, life, and car insurance company and investment provider. It looks to "reward its members for better living today so we can live a better life tomorrow," Amos says. Vitality's platform is designed to let customers take control of their own wellness by creating insurance and investment frameworks that best meet their needs. The company's goal is to get 100 million people 20% more active by 2025. To achieve this goal, seamless and omnichannel user experiences are key.
DEM in action
For Vitality, DEM starts at the development level. First, the company uses synthetic monitoring to develop user experience benchmarks and determine if applications are performing within expected thresholds. Once they make necessary changes, the team moves solutions into pre-production environments where they use RUM tools to ensure data integrity.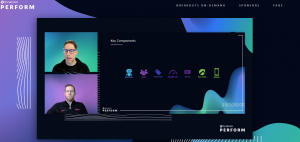 Soft launch comes next. The Dynatrace Insights team works closely with Vitality to copy over user action naming rules, dashboard configurations, and other key settings. This ensures the initial launch goes smoothly. When applications move into production, Amos says both business and technical teams at Vitality leverage Dynatrace Real User Monitoring and Session Replay to get full user experience visibility. As traffic picks up, Real User Monitoring detects HTTP and JavaScript errors, while Session Replay adds experience and error validation to help drive remediation.
As an example, Amos offers Vitality's "Cinema Experience" DEM dashboard. Cinema Experience lets users redeem vouchers for cinema tickets and is one of the company's most popular programs. Dynatrace DEM helps pinpoint problems that lead to users leaving the page. For example, slow load times or voucher codes that fail unexpectedly.
AIOps leverages user experience data to inform DevOps
Armed with application and customer experience data, Vitality then uses AIOps, powered by Dynatrace Davis, to inform ongoing app development. Using Dynatrace PurePath, Amos' team can pinpoint long individual requests or multiple requests that result in subpar application performance.
Additionally, Vitality uses AIOps to validate new versions of their mobile app. AIOps also determines if older versions that haven't been updated are the cause of some user frustrations.
Omnichannel DEM from development to ongoing experience monitoring also sets the stage for Vitality's next goal: becoming proactive.
Amos highlights a new executive-level project that proactively identifies user issues. It also automatically generates a notification with self-service instructions to solve these problems.
Putting omnichannel user experience into practice
As Voorhies notes, achieving effective DEM means creating a reliable and repeatable process for success.
He suggests starting small: select synthetic monitoring or RUM to get DEM off the ground. Next, it's critical to develop a performance — and quality-first — culture to ensure teams can address problems as early as possible. Voorhies also points to leveraging baselines to define key experience standards, identify best practices, and create SLAs and budgets.
In practice, error data tells companies where to prioritize their efforts. Focus on areas that have the biggest business impact and identify specific areas that create frustration for users. This way, it's possible to reduce user frustration and deliver a seamless experience from end to end.
To hear the full conversation, see the replay session Using Digital Experience Management (DEM) to Continuously Improve User Experience.
For more coverage of Dynatrace Perform 2022, check out our Dynatrace Perform 2022 conference coverage guide Themes to watch at Dynatrace's annual conference.