Dynatrace vs. Splunk
---
Discover why Dynatrace is rated the top monitoring platform in the industry.
Top 3 reasons people choose Dynatrace over Splunk
---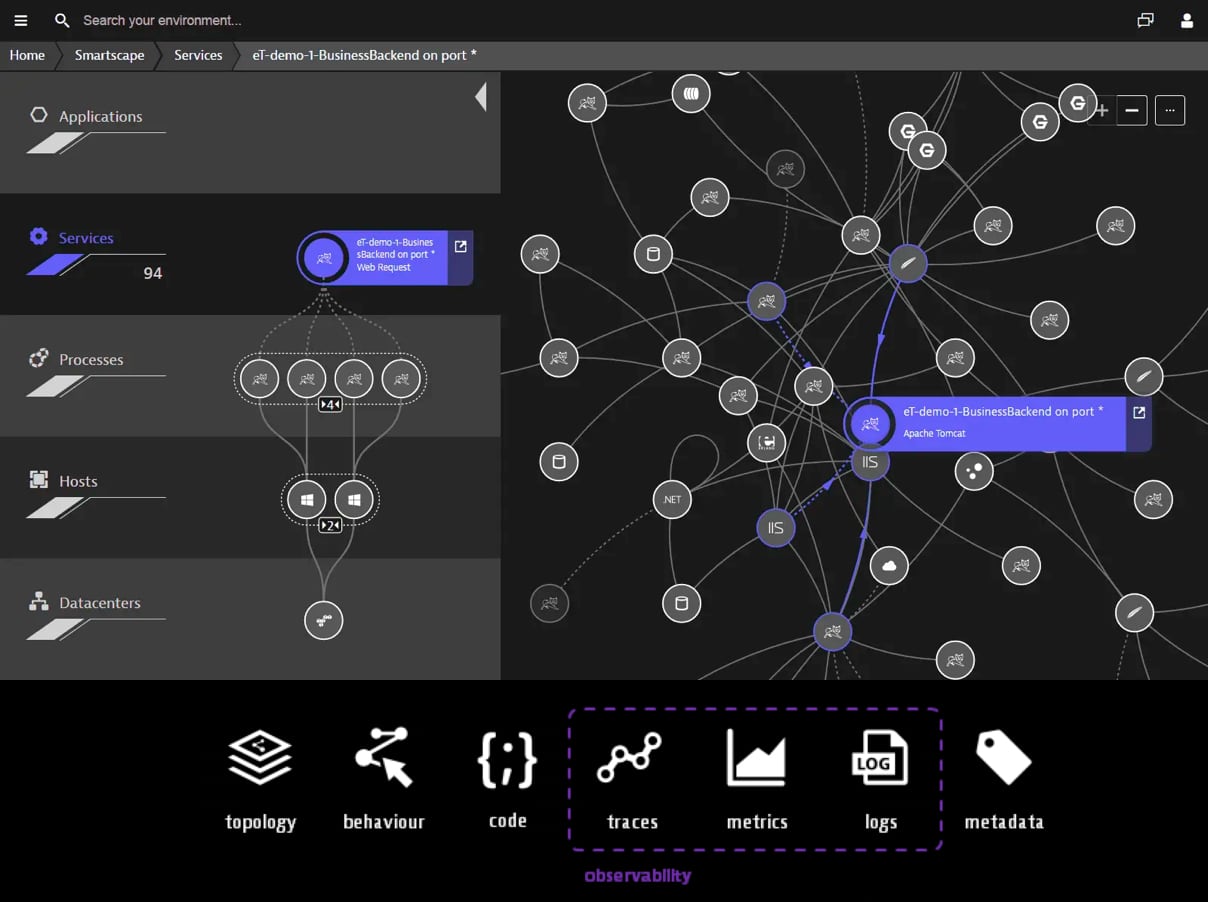 1
---
The broadest depth and widest scope
Advanced observability in context, so you get the complete picture of every app, every user, across every cloud, down to code-level, traces, metrics, logs, and metadata.
2
---
Smarter with AI-Assist
Davis, the Dynatrace AI-assistant, provides real-time answers and actions into root cause, behavioral intelligence, and business impact.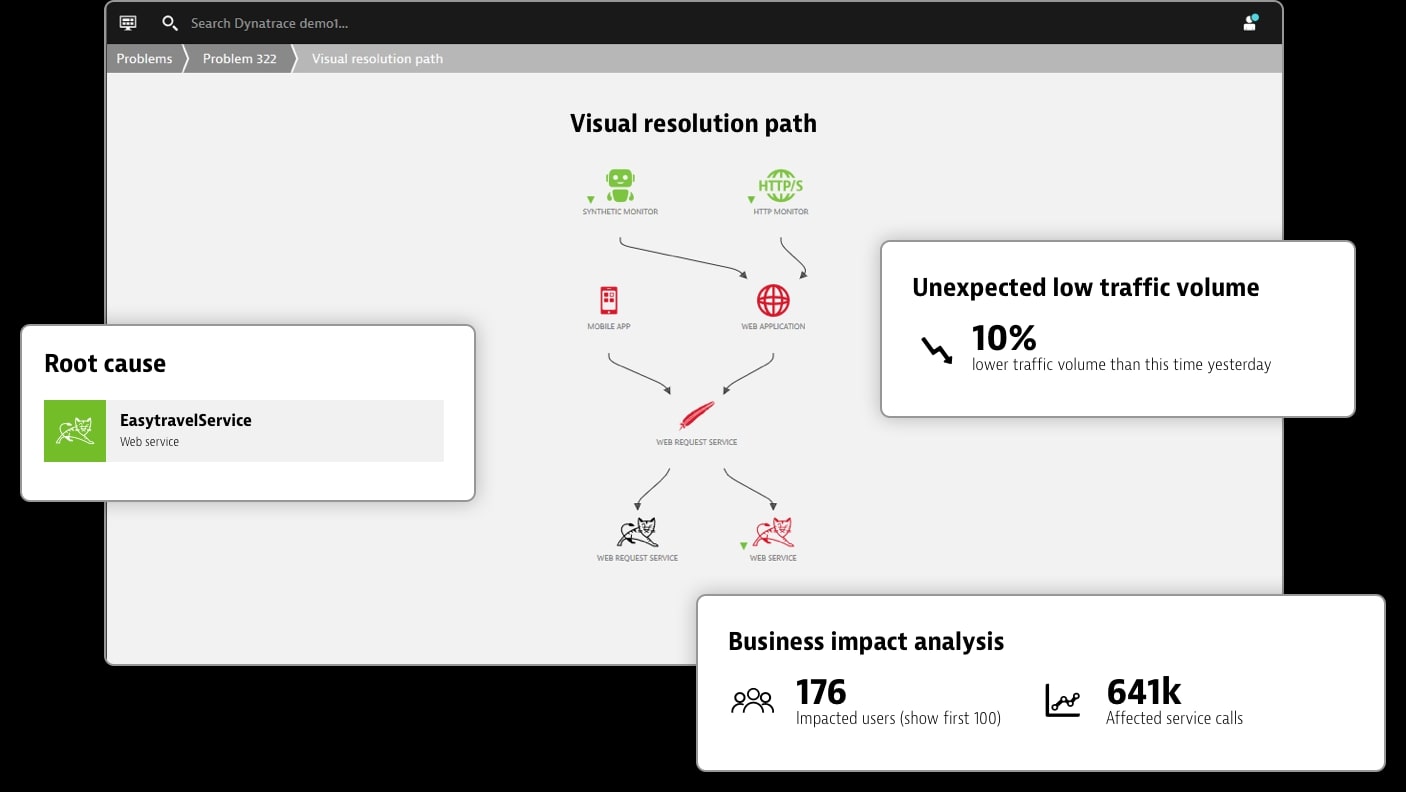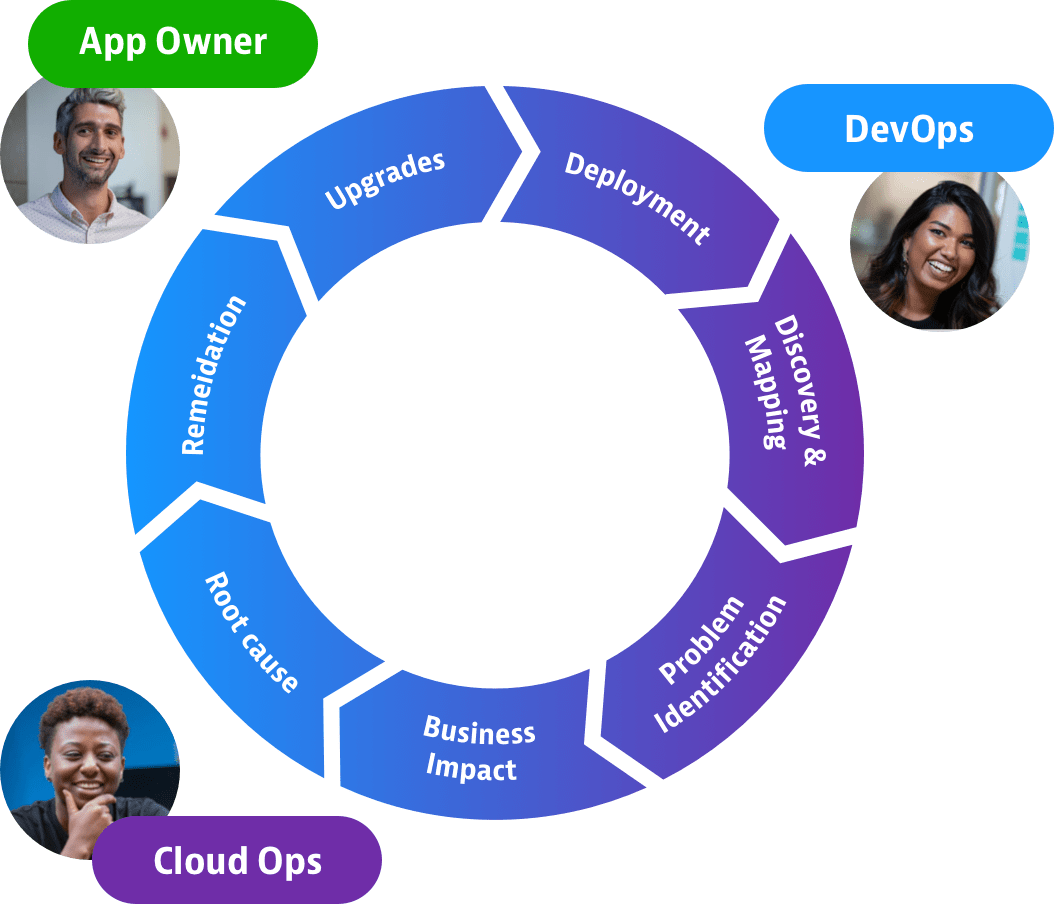 3
---
Simpler and easier
Automatic deployment, configuration, thresholds, dashboards, upgrades. Dynatrace was designed to make it easy for all BizDevOps teams to collaborate through a single source of truth.
Compare Dynatrace and Splunk
---
Dynatrace
Splunk
Advanced observability

Dynatrace

Beyond 3 pillars of metrics, traces and logs with user experience data, auto instrumentation, and designed to automatically adjust for dynamic workloads across every cloud platform, containers, microservices and Kubernetes

Splunk

Cannot auto-discover and auto-adjust as your tech stack changes. No unified platform for full stack observability, lots of bolt-on, siloed tools. No automatically built topology map to uncover application and infrastructure dependencies
Beyond 3 pillars of metrics, traces and logs with user experience data, auto instrumentation, and designed to automatically adjust for dynamic workloads across every cloud platform, containers, microservices and Kubernetes
Cannot auto-discover and auto-adjust as your tech stack changes. No unified platform for full stack observability, lots of bolt-on, siloed tools. No automatically built topology map to uncover application and infrastructure dependencies
Continuous Automation

Dynatrace

Zero-config, auto-upgrades, self-discovering, auto-baselining, continuously updated entity maps with AI-Assistance continuously watching everything 24x7 automatically

Splunk

Manual dependency connections, manual configuration and manual troubleshooting wastes time and resources
Zero-config, auto-upgrades, self-discovering, auto-baselining, continuously updated entity maps with AI-Assistance continuously watching everything 24x7 automatically
Manual dependency connections, manual configuration and manual troubleshooting wastes time and resources
AI-Assistance

Dynatrace

Davis, AI-assistance, continually learns so there are no wasted resources even as environment changes. Solves precise root cause automatically, prioritized by business impact – acting as a force multiplier for your teams and enabling you to focus on what matters without wasting time

Splunk

Correlation-based data engine, with no root cause and the inability to address the "unknown unknowns" means wasting time and resources to comb through the data and manually find issues and their causes
Davis, AI-assistance, continually learns so there are no wasted resources even as environment changes. Solves precise root cause automatically, prioritized by business impact – acting as a force multiplier for your teams and enabling you to focus on what matters without wasting time
Correlation-based data engine, with no root cause and the inability to address the "unknown unknowns" means wasting time and resources to comb through the data and manually find issues and their causes
Cross-team Collaboration

Dynatrace

All-in-one platform provides a single source of truth across APM, infrastructure monitoring, digital experience, and business analytics – breaks down silos and enables easier collaboration across Biz/Dev/Ops teams

Splunk

Siloed tools that make up their observability suite, means your teams are not on the same page, and you have to spend time and resources to stitch disparate tools to get anything done
All-in-one platform provides a single source of truth across APM, infrastructure monitoring, digital experience, and business analytics – breaks down silos and enables easier collaboration across Biz/Dev/Ops teams
Siloed tools that make up their observability suite, means your teams are not on the same page, and you have to spend time and resources to stitch disparate tools to get anything done
Omni-channel User Experience & Business Analytics

Dynatrace

Single data model across every digital channel that automatically ties together full-stack performance, user experience and business metrics, creating an outside-in perspective for better business outcomes. Shared business context empowers IT and business teams to prioritize and take the initiative to optimize and fix issues before they impact users

Splunk

Siloed tools across web and mobile channels, with no linkages to business metrics. You have to burn resources and time to bridge the silos between digital channels and manually tie to biz impact and fix issues
Single data model across every digital channel that automatically ties together full-stack performance, user experience and business metrics, creating an outside-in perspective for better business outcomes. Shared business context empowers IT and business teams to prioritize and take the initiative to optimize and fix issues before they impact users
Siloed tools across web and mobile channels, with no linkages to business metrics. You have to burn resources and time to bridge the silos between digital channels and manually tie to biz impact and fix issues
Dynatrace is a G2 Leader
in APM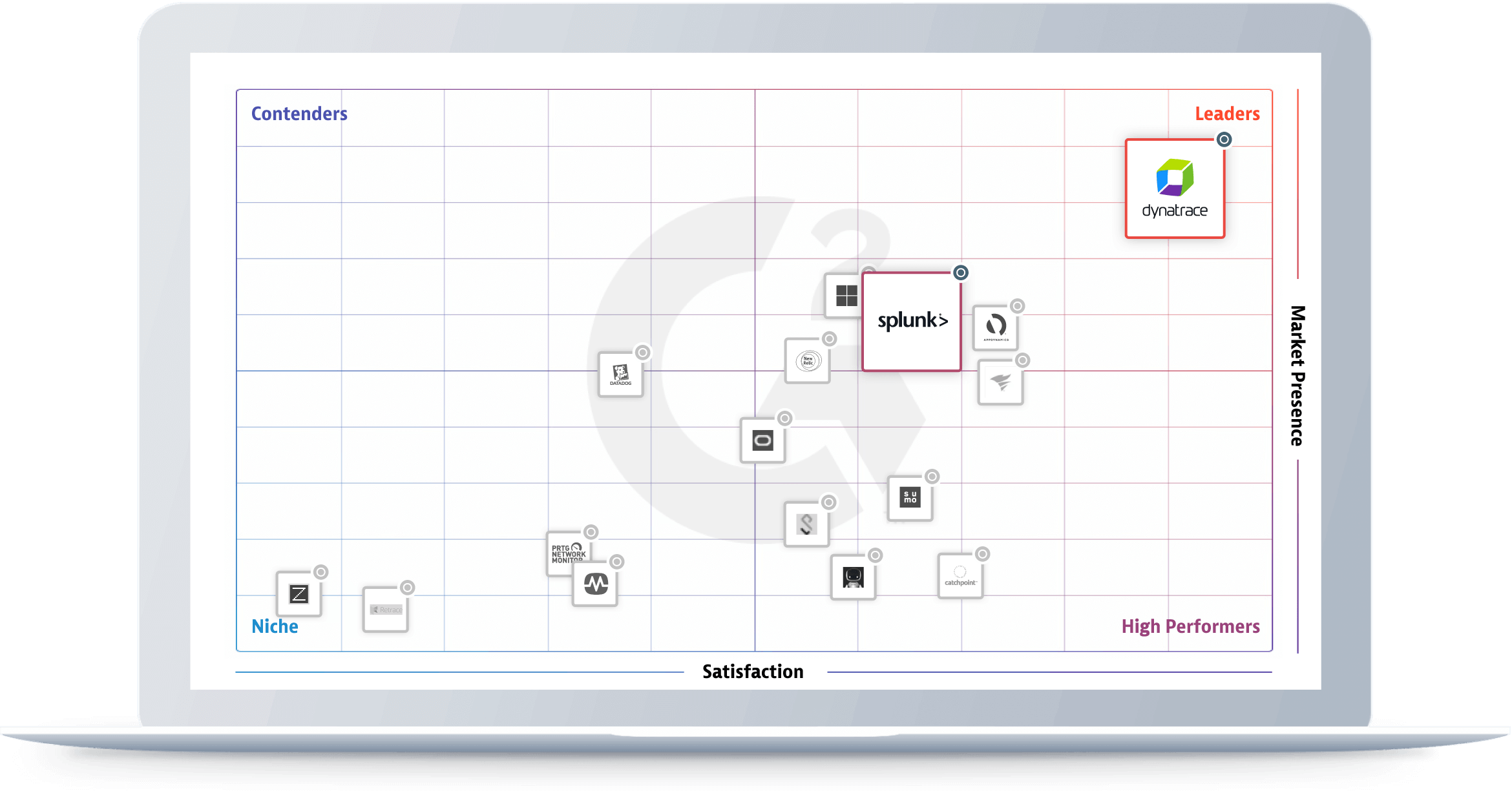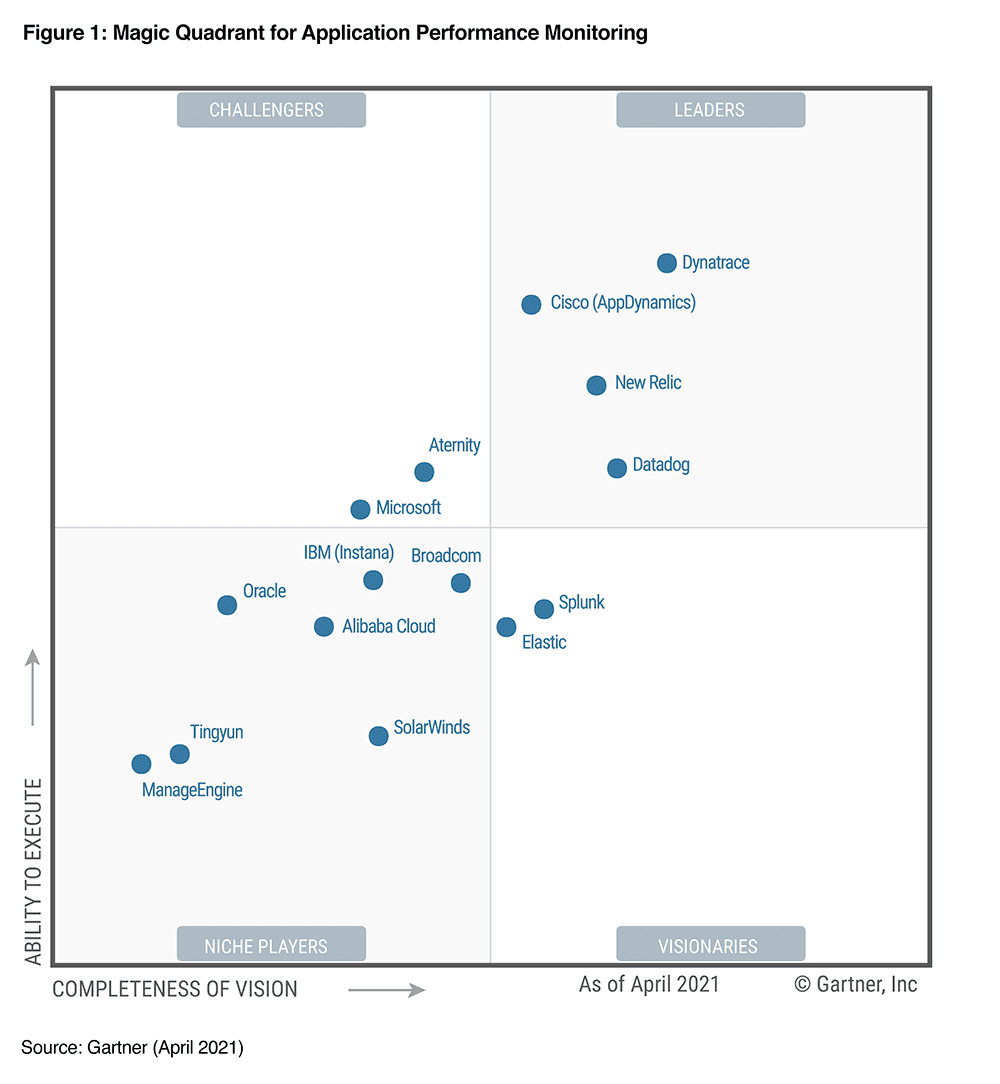 Positioned highest for Ability to Execute and furthest for Completeness of Vision
2021 Gartner APM Magic Quadrant
Download the report
Discover more
---