Dynatrace goes head-to-head with AppDynamics and New Relic
What makes for a great APM (application performance management) solution? Is it built-in AI? Or is it an ability to scale with hypercomplex cloud environments without missing a beat?
At first glance it can be difficult to distinguish one APM vendor from another, but as soon as you scratch the surface, you quickly see there is only one leader. Let us show you how we stack up.
If you want to take the fast lane, get hands on in under 5 minutes with the Dynatrace free trial.
Dynatrace vs. Cisco AppDynamics vs. New Relic
Enterprise unified monitoring
| | Dynatrace | Cisco AppDynamics | New Relic |
| --- | --- | --- | --- |
| Full-stack monitoring in a single solution: users, applications, cloud and infrastructure including process and network metrics and log analytics | | | |
| User experience analytics: individual session visibility, web and mobile applications, all digital touchpoints | | | |
| 100% technology coverage: cloud-native, enterprise technologies and packaged apps | | | |
| Built for DevOps & Continuous Delivery processes | | | |
AI-powered analytics & embedded expertise
| | Dynatrace | Cisco AppDynamics | New Relic |
| --- | --- | --- | --- |
| Self-learning AI automatically locates problem inflicting components and identifies root causes while eliminating alert spam | | | |
| Real-time discovery and visualisation of application topologies enterprise-wide: components, dependencies and deployments | | | |
| Orchestration layer integration and automated problem remediation | | | |
| AI-powered VoiceOps and ChatOps | | | |
Built for cloud-native environments
| | Dynatrace | Cisco AppDynamics | New Relic |
| --- | --- | --- | --- |
| Full AWS and Azure integration into AI causation engine | | | |
| Native PaaS platform support for Cloud Foundry, OpenShift | | | |
| Touch-free discovery and full stack monitoring of Docker containers and containerized applications | | | |
| AI-powered full stack monitoring of IoT and serverless computing functions | | | |
Fully automated hyper-scale monitoring
| | Dynatrace | Cisco AppDynamics | New Relic |
| --- | --- | --- | --- |
| Single agent deployment, automated instrumentation including log file discovery, full-stack coverage | | | |
| SaaS, On-premises and hybrid deployment packages, architectural high availability | | | |
| Scalability to 100,000+ hosts | | | |
| Elastic pricing models: consumption based, annual plans, perpetual licenses | | | |
Raymond James chooses Dynatrace over AppDynamics
"Before buying Dynatrace we had very little visibility into our applications. The factor that makes it difficult is the complexity of the heterogeneous environment. You also have external influences. You need a system to be able to actually see the whole ecosystem and see where the performance problems are. Customer experience is key. The minute the user satisfaction goes down it's a call to action. We jump on problems before the first call comes in."
Jeff Palmiero, APM Manager at Raymond James
Monitoring redefined - Every user, every app, everywhere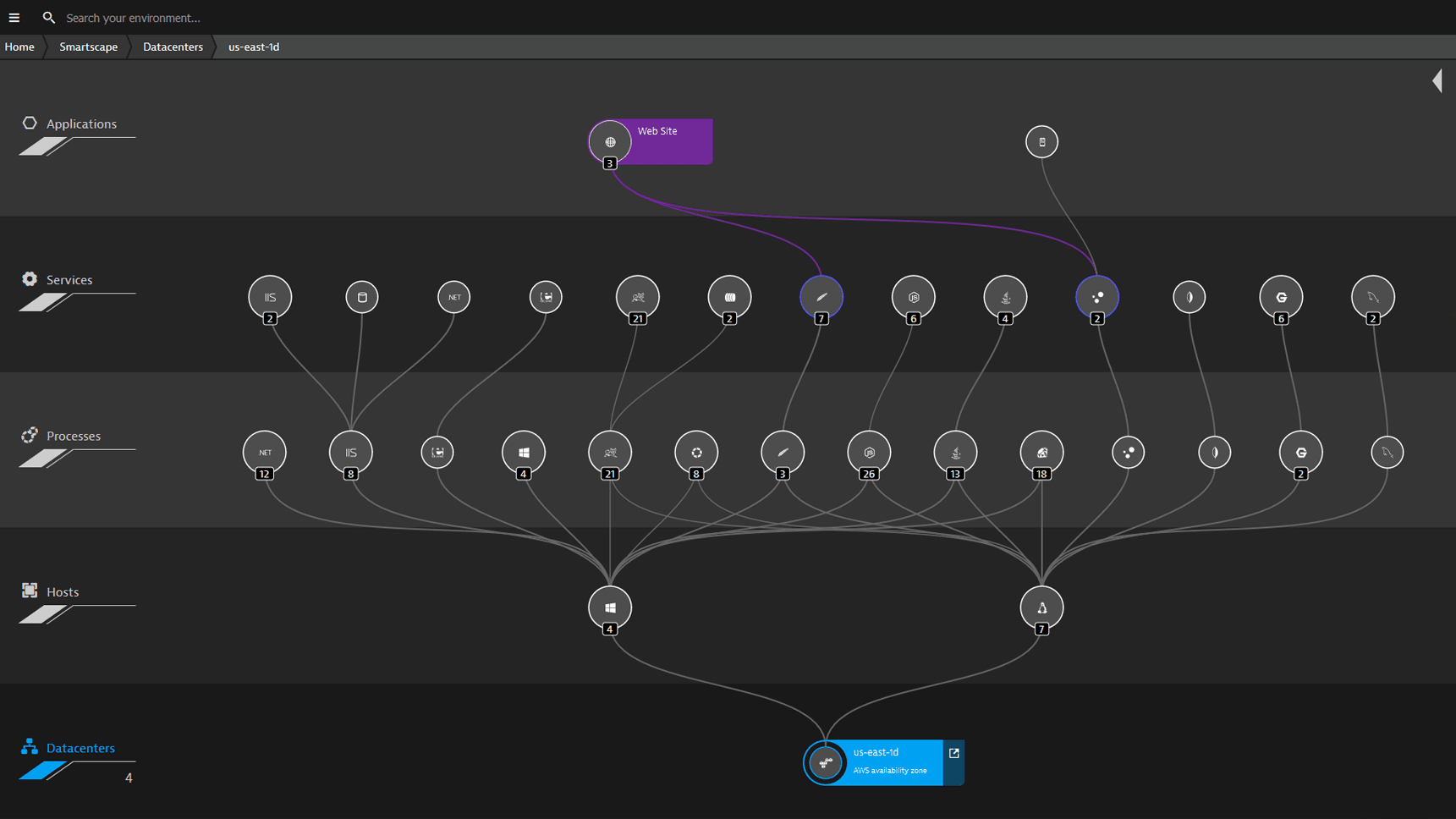 A single Dynatrace OneAgent per host gathers all performance data. Smartscape creates a unified causation model as core of the AI-powered analytics engine.
Dynamic blueprint of your ecosystem
Auto discovery of application topology, deployments and environment changes
AI understands dependencies and causation throughout your entire stack
Auto baselining and AI-powered anomaly detection make configurations obsolete
Performance issues are automatically traced back to the underlying root causes
Multidimensional pattern recognition enables auto remediation of recurring issues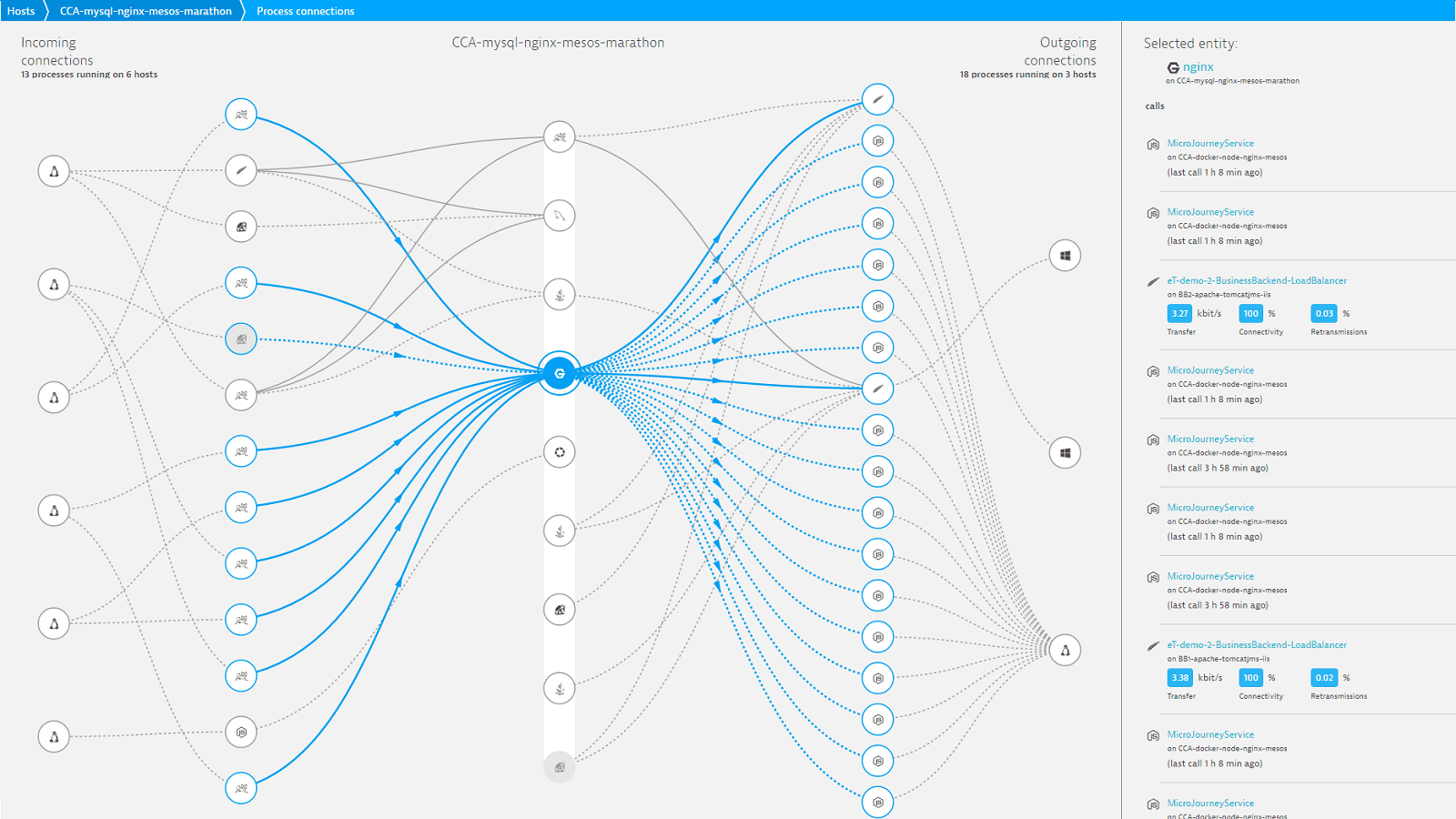 Dynatrace uses AI capabilities to simply monitor performance and interpret information of all ecosystem components and their impact on customer experience.
Business metrics
Real user experience
Synthetic monitoring
Mobile apps
Applications and Databases
Containers
Processes, logs and network
VMs and servers
Cloud and infrastructure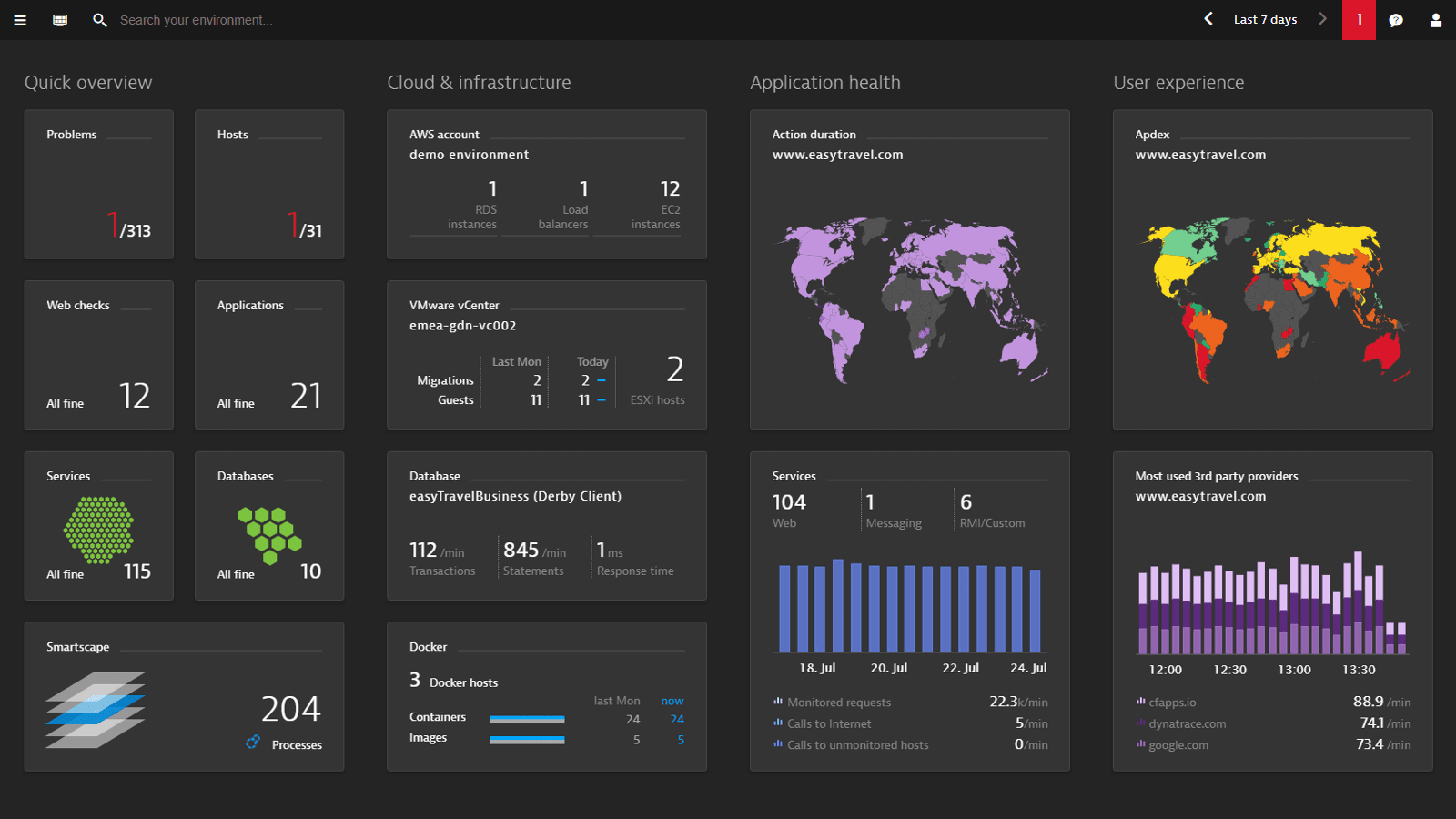 Dynatrace was built for automation and hyper-scale application ecosystems.
Scales up to 100,000+ hosts
Architectural high availability built in for managed on-premises or SaaS deployments
Full integration of cloud native technologies in hyper elastic environments
Containerized application monitoring without modifying Docker images
IoT monitoring for smart sensors and devices, gateways and hyper scale applications
Powerful APIs for seamless integration into enterprise orchestration layers
Still need convincing? Go ahead. Take Dynatrace for a spin.
Our 15-day free trial doesn't require any credit card, or any manual configuration. It just works.